How do you orienteer and plan your routechoices in the terrain used for the Orienteering Festival – accompanying event to the World Orienteering Championship 2008? The Orienteering Festival WOC 2008 – staged from July 14th until July 19th 2008 in Czech Republic – is one of the events featured in the article series "Top Multiday O-events 2008″ at World of O – giving you event presentations with a special twist! Read more about the "Top Multiday O-events 2008″ feature articles here – including information about how to submit your event. The content in this article is written mostly by the organizers, and World of O is not responsible for any inaccuracies.
The terrain – and how to master it!
Same as the World Orienteering Championship 2008, Orienteering Festival will feature various sorts of terrains – from typical central European terrain with mixed forest, lot of vegetation features, deep valleys and erosion gullies, in around 500 mts altitude, to mountains spruce forest with marshes and stone elements in 800 mts altitude. Thus you don't need to be worry about extremely difficult maps, but still lot of challenges can be found.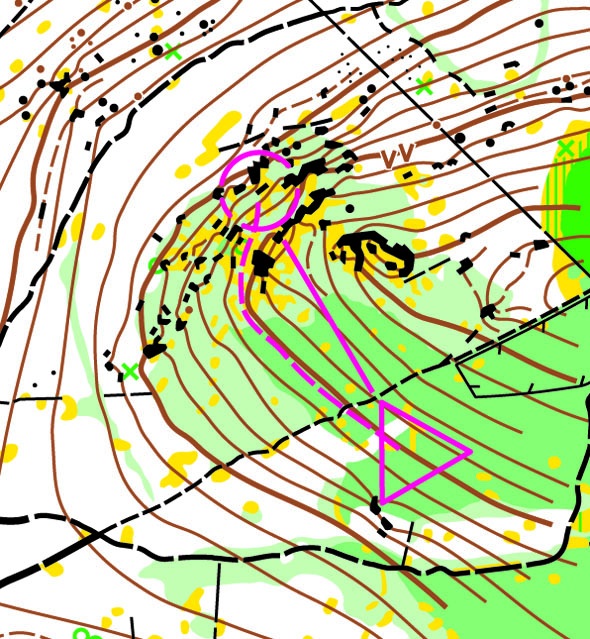 Try to plan your route choices in such a way that you do not approach the controls directly from above…
Some parts of the Orienteering Festival terrain (and also the WOC terrain) will include areas with complex labyrinths of rocky features. Most of these features will be at levels below that at which you approach them, which means they are much more difficult to navigate when orienteering while descending. Also bear in mind that most of the rock features drawn on Czech maps are smaller and more subtle compared with their Scandinavian counterparts. Suggestion is to use also other features – such as clearings, single tress, etc. – when navigating your way through these areas. Try to plan your route choices in such a way that you do not approach the controls directly from above (as shown on the map sample). By moving a short distance along the contour in one direction or another you may obtain a far clearer picture of the terrain. All features will become much easier to read when contouring.
Green areas are very usual in Czech terrains, mapped in detail and frequently used by the course setters. Precise compass control and understanding of the map is necessary. Whenever entering a green area, make sure you know exactly at which place you are entering it and in which direction you are entering it.


Typical routechoice challenges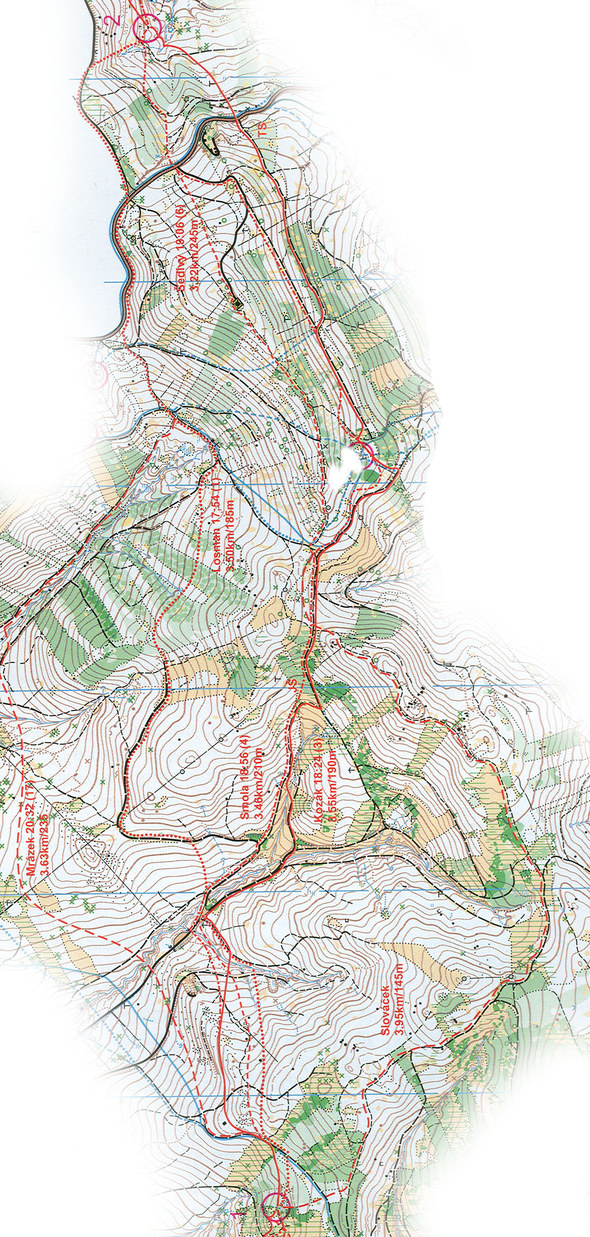 "Leisure" runners might prefer longer route around, avoiding as many valleys as possible…
Those Orienteering Festival events which will take place in the same terrains a WOC, will be located to quite hilly areas, with many valleys, situated in various directions. This gives to the course-setter many possibilities to create legs across valleys and hills, where various route choices might appear. This map sample is from men's elite class route of Czech Champs on Long in 2007, thus not directly from the area of WOC, but still similar (especially to WOC Long/Relay competitions) and giving reasonable idea, what course-setter can create. Of course, what matters most is the ability to make the right decision, since the time difference between the different options can be often quite considerable. So take time to make the right decision before embarking on any such leg. Five to ten extra seconds of thinking can really be a good investment, which will certainly pay off in the end. Unless the leg is at the very beginning of the race, it is important to think of the choice in advance. The right choice naturally depends also on your condition, better trained athletes won't be so afraid of more straight choice across valleys. "Leisure" runner might prefer longer route around, avoiding as many valleys as possible, but it is really important to look at the map carefully – more straight choice might be just a little more hilly but considerably shorter! But in case of long distance competition or hot weather for example, think also of your condition. Physically less demanding choice can pay off with tiredness coming later…
Choices from the northernmost to the southernmost
Jan Mrázek – almost longest and amongst the most hilly choice, going so far to north meant descending too much to valleys,
Petr Losman – this runner was the fastest on this leg, but since he is excellent uphill runner, others would probably deal slowly with this. Anyway this choice might be considered as good.
Osvald Kozák – choice with similar parametres as the of Petr, but more using roads. The middle section of the Petr's choice through forest might be physically more demanding. This might be considered the best choice, unless for less trained runners, who would probably run more around valleys.
Michal Smola – similar choice as the Osvald's, and since Michal is top Czech O-runner, the slower time was probably caused by slightly more climbing during second half of the route. (But Osvald was in very good shape at that time and won the race in the end, beating Michal Smola by less than a second after 89 minutes !)
Jan Šedivý – not recommended for untrained runners… Quite hilly choice, on which the young perspective Czech team member proved his very good condition…
Tomáš Slováček – this runner is not amongst the top-elite ones, thus his time is not written for comparison. His choice is in general the one, which "average" runner on holiday event would probably take. And also for good runner, this might mean saving of forces for later, even if there is still long way to go.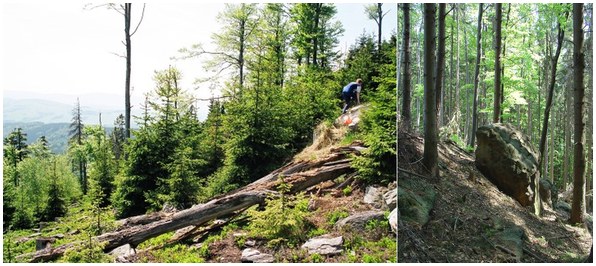 Why choose Orienteering Festival 2008?
This event has the unique advantage against the others – it is organized in parallel to the World Championship and thus the participants can naturally also enjoy the role of spectators of this top O-event. Three stages (E2, E4, E6) will pass in the same terrain as one of the WOC competition, in the daytime after the competition (or in between, in case of middle qualification and final). Three other stages take place in various other locations of the region, thus introducing again another terrains. It is necessary to travel a little bit more to particular stages and in various directions, but this means variability of terrains and also opportunity to see many beauties of the region.
Overall result will be counted from four of the six days, so it is not necessary to run every day and you can concentrate on WOC atmosphere, travel around the region or just relax. Last, but not least, Orienteering Festival is organized as full-value separate competition, not just poor relation to the WOC!
For more info about the WOC and the Orienteering Festival – take a look at the WOC guide.
You can find all information about the Orienteering Festival in World of O Calendar:
Orienteering Festival 2008: More than only orienteering!
… just drinking Czech beer or exploring other specialities of Czech kitchen
Olomouc, with over 100,000 inhabitants, is the fifth largest city in the Czech Republic and is the capital of the Olomouc Region. The city itself gives you many possibilities how to spend free time both with culture, leisure or just drinking Czech beer or exploring other specialities of Czech kitchen. The region all around, in any direction, is rich of various castles, chateaus as well as natural points of interests. The region, where WOC middle distance competition and E4 of OF will be located, is area of Czech second highest mountains Jeseníky.