Posted by Jan Kocbach, 24 Jun 2012@20:00

Jerker Lysell (Sweden) and Simone Niggli (Switzerland) took the victories in today's World Cup sprint organized in St. Gallen, Switzerland. A very interesting sprint with a lot of route choice options was offered.
In the men's class it was very close to being a fully Swiss day – three Swiss Matthias's were right behind Lysell on the results list – Kyburz ahead of Merz and Müller. But this time Lysell was stronger than the Swiss – just as the Swedes hopes to be at the World Champs in Lausanne in 3 weeks time.
- It was of course very nice to show the Swiss that we can be counted on ahead of the World Championships, Lysell said to orientering.se after the race.
Olav Lundanes keeps the overall World Cup lead after a strong 5th place in the sprint today.
- It was OK – [and nothing more than that], Olav Lundanes said to orientering.no after the race.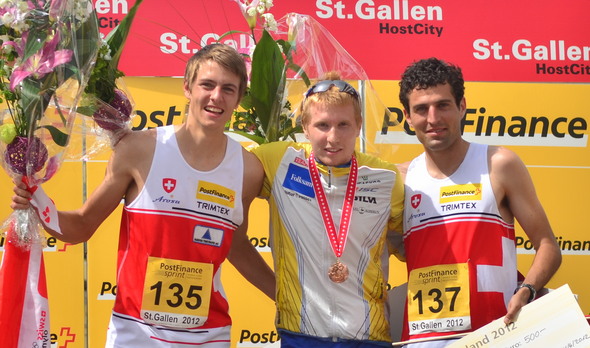 Big drama for the women – again!
Simone Niggli won her 5th World Cup race this season of 5 possible – and of course keeps her overall lead in the World Cup. However, just as at the European Championships, the biggest drama in the women's class was the jury decisions after the race, and not the race itself.  And again Danish Maja Alm was one of the main players. In the end Alm took the second spot ahead of Tove Alexandersson (Sweden) – but only after Alm having being disqualified for half an hour.
The reason for the disqualification was that Alm ran through a purple hatched area (see photo from a runners map below – this is not seen on the GPS tracking version of the map). However, the Danish team complained because the symbol used is not a forbidden area in the ISSOM – rather it means a dangerous area. The jury reinstated Alm on the result list – and the following Finnish protest was overruled.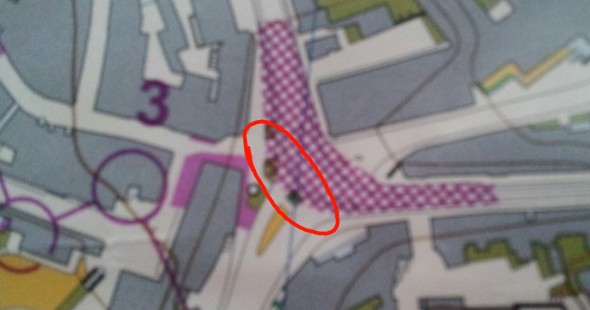 Maps
Results
Men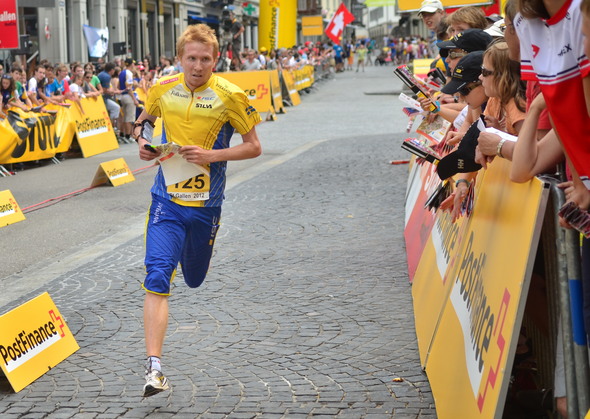 1   Jerker Lysell SWE 16:22 0:00
2   Matthias Kyburz SUI 16:34 +0:12
3   Matthias Merz SUI 16:39 +0:17
4   Matthias Müller SUI 16:53 +0:31
5   Olav Lundanes NOR 16:54 +0:32
6   Martin Hubmann SUI 17:02 +0:40
6   Vojtìch Král CZE 17:02 +0:40
6   Jonas Leandersson SWE 17:02 +0:40
9   Anders Holmberg SWE 17:03 +0:41
10   Kiril Nikolov BUL 17:07 +0:45
10   Jan Prochazka CZE 17:07 +0:45
Women
1   Simone Niggli-Luder SUI 14:44 0:00
2   Maja Alm DEN 14:58 +0:14
3   Tove Alexandersson SWE 15:27 +0:43
4   Venla Niemi FIN 15:40 +0:56
5   Annika Billstam SWE 15:44 +1:00
6   Ines Brodmann SUI 15:47 +1:03
7   Silje Ekroll Jahren NOR 15:54 +1:10
8   Judith Wyder SUI 15:59 +1:15
9   Helena Jansson SWE 16:01 +1:17
10   Tatyana Riabkina RUS 16:09 +1:25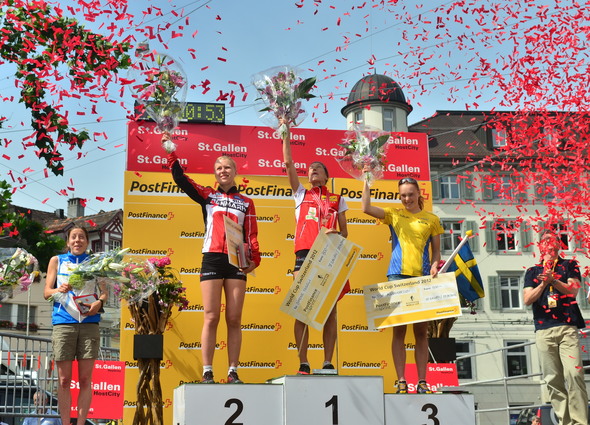 Possibly related posts