Posted by Jan Kocbach, 19 Jul 2012@16:59

Simone Niggli took her 19th WOC gold medal in a tough long distance race today. The Swiss superstar of orienteering came back after her middle distance "disaster" on Tuesday where she orienteered to the wrong control. Niggli was in the lead from the start until the finish – even a one minute mistake early in the race was not enough to let her competitors come past on the intermediate times.
Minna Kauppi finished second – 1:21 down on Niggli. The Finnish middle distance gold medalist had done some mistakes in the forest, but was still happy with her race. The World Champion on long distance from France 2011 – Annika Billstam – run early and set a leader time which at that time already looked like a medal run. In the end only Kauppi and Niggli could beat the Swedes time – and Billstam got her second bronze medal this WOC week after her bronze medal on sprint on Saturday.
Exceptional start by Niggli
Niggli had an exceptional start of the race – winning the 6 first legs – building up a lead of a minute to Annika Billstam. With one minute mistake at number 8, Billstam was up fighting with Niggli for a short time – but Niggli's fantastic 9th leg put her nearly 30 seconds ahead again. The rest of the race was not as perfect as the start – but more than enough to take home the godl medal for the Swiss Superwoman.
Looking at the performance index, it is also clear that Niggli was in her own class today – just like Olav Lundanes among the men.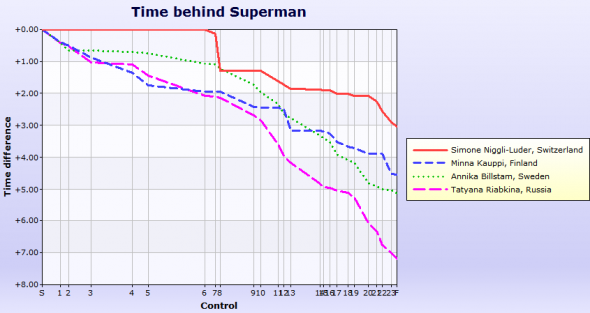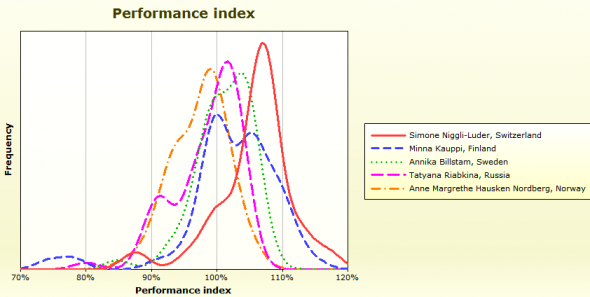 Maps
Results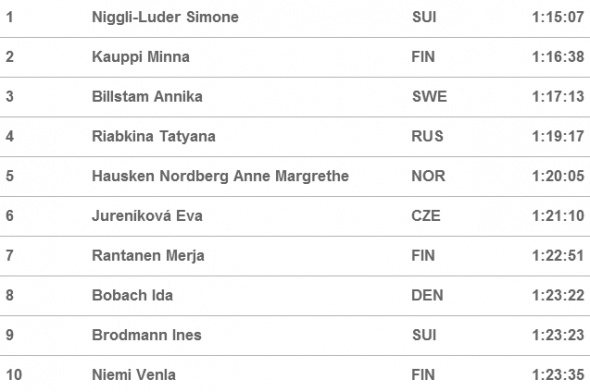 Possibly related posts