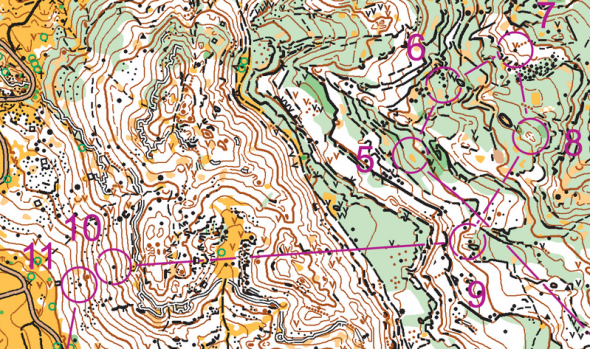 Olav Lundanes won the men's class in the dramatic middle distance World Championships were main favourite Thierry Gueorgiou – King of Long distance – skipped a control and was disqualified. Annika Billstam won a tight battle against Denmark's Ida Bobach in the women's race – in the end all medalists were within only 24 seconds!
Billstam decided on the last loop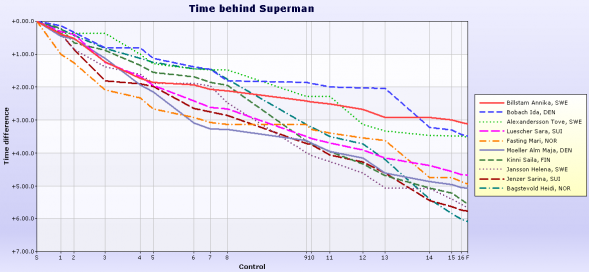 Race development graph women. Click for larger
In the women's race it was a tight fight between Annika Billstam, Tove Alexandersson and Ida Bobach. At the arena passing (control 11) Bobach had a 17 second lead to Tove Alexandersson with Billstam in third (+31 seconds). Ida Bobach ran very well to the next controls – winning both the tough uphill legs to control 12 and 13. At control 13 of 16 she had increased her lead to 53 seconds to Billstam. Alexandersson did a mistake at control 12, and was already more than a minute behind Bobach.
A mistake on the long leg to control 14 ruined the gold chances for Bobach (see illustration of the last loop below – comparing Billstam and Bobach). Bobach ran a route higher up which in theory should be safer – but did a mistake of more than a minute at the control. Billstam took the chance and passed Bobach – in the end winning with 22 seconds.  Alexandersson had a great finish, but did not manage to catch the necessary seconds on Bobach.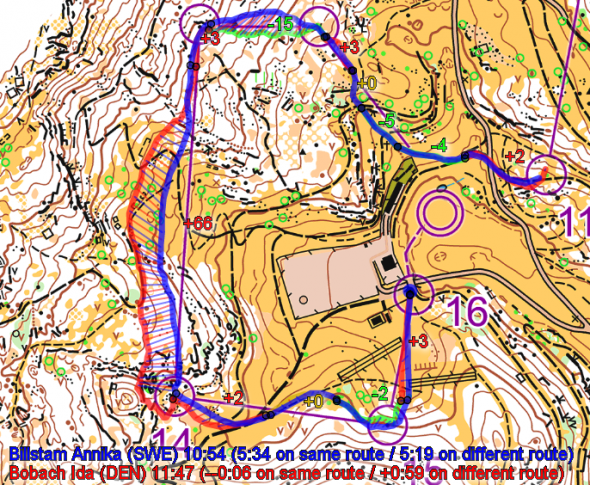 Heidi Bagstevold and Saila Kinni had very good starts of their races, but lost time towards the end.
A full analysis of the race will be published here tomorrow morning, and I will try to update with some more information tonight.
Dramatic men's race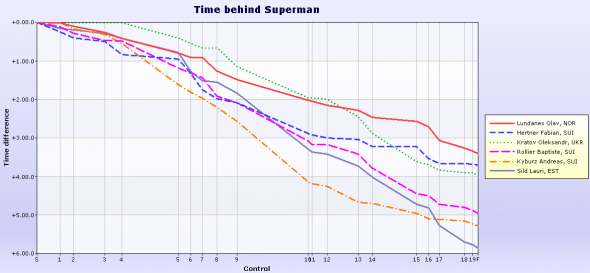 Race development graph men. Click for larger
The men's race was very dramatic. It all looked like a fight between Olav Lundanes and Thierry Gueorgiou – won by Gueorgiou – until Gueorgiou's SI chip was read out and it was discovered that he did not have a punch on the 6th control.
Thus the actual fight was between Olav Lundanes, Fabian Hertner and Oleksandr Kratov. Kratov had a fantastic start of his race – being in a clear lead after a few controls running. He was even in the lead at the spectator control with Lundanes just a few seconds behind, but lost some momentum in the last loop, but still got a clear bronze medal. Below you see a GPS comparison of the last loop of Kratov and Lundanes. Lundanes is stronger in the uphills, and also has a more offensive route choice to control 15. – The upper route choice is 30 seconds faster than going down, the course planner told before the race – and it looks like this is part of the reason why Kratov loses so much time here.
When it is going downhill again, Kratov uses his o-technical strength and gains some time on Lundanes – but Lundanes is already too far ahead.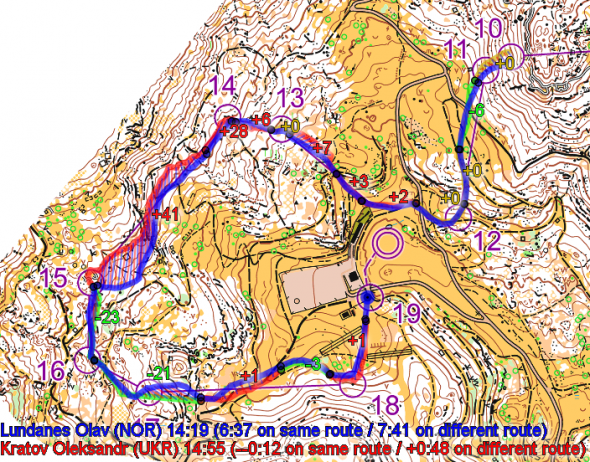 Strong finish by Hertner
Hertner had a very good finish of his race – having higher speed than Lundanes in the less technical part of the race after the arena passage. The below illustration compares Hertner and Lundanes on the last loop. Especially the last downhill part is strong by Hertner. Hertner might prove very dangerous in the relay tomorrow.
Hertner lost his gold medal chances in the most technical part of the race between control 5 and 8  – the area where Gueorgiou skipped a control. Note that the GPS is quite inaccurate in this part of the race for Hertner.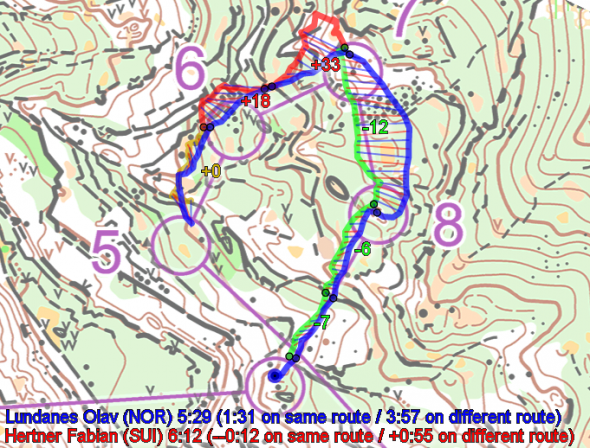 #Shortcut for Gueorgiou
Gueorgiou ran past the 6th control without punching – similar to his mistake from the WOC Relay in Trondheim in 2010 were he also missed a control. His Tweet after the race tells it all…
#shortcut pic.twitter.com/ysyiZabB4m

— Thierry GUEORGIOU (@tgueorgiou) July 11, 2014
Maps
Here are the maps/courses from today's middle distance race:
Results
Women
1 Annika Billstam Sweden 37:03
2 Ida Bobach Denmark 37:25 +0:22
3 Tove Alexandersson Sweden 37:27 +0:24
4 Sara Luescher Switzerland 38:37 +1:34
5 Mari Fasting Norway 38:53 +1:50
6 Maja Moeller Alm Denmark 39:00 +1:57
7 Saila Kinni Finland 39:29 +2:26
8 Helena Jansson Sweden 39:37 +2:34
9 Sarina Jenzer Switzerland 39:42 +2:39
10 Heidi Bagstevold Norway 40:01 +2:58
11 Emily Kemp Canada 41:19 +4:16
12 Claire Ward Great Britain 41:45 +4:42
13 Tone Wigemyr Norway 41:46 +4:43
14 Sabine Hauswirth Switzerland 41:59 +4:56
15 Hanny Allston Australia 42:02 +4:59
Men
1 Olav Lundanes Norway 38:12
2 Fabian Hertner Switzerland 38:30 +0:18
3 Oleksandr Kratov Ukraine 38:46 +0:34
4 Baptiste Rollier Switzerland 39:45 +1:33
5 Andreas Kyburz Switzerland 40:05 +1:53
6 Lauri Sild Estonia 40:39 +2:27
7 Carl Godager Kaas Norway 41:28 +3:16
8 Leonid Novikov Russia 41:29 +3:17
9 Gustav Bergman Sweden 41:54 +3:42
10 Jan Prochazka Czech Republic 41:57 +3:45
11 Daniel Hubmann Switzerland 42:21 +4:09
12 Hector Haines Great Britain 42:28 +4:16
12 Milos Nykodym Czech Republic 42:28 +4:16
14 Robert Merl Austria 42:48 +4:36
15 Lucas Basset France 42:53 +4:41
Full official results: