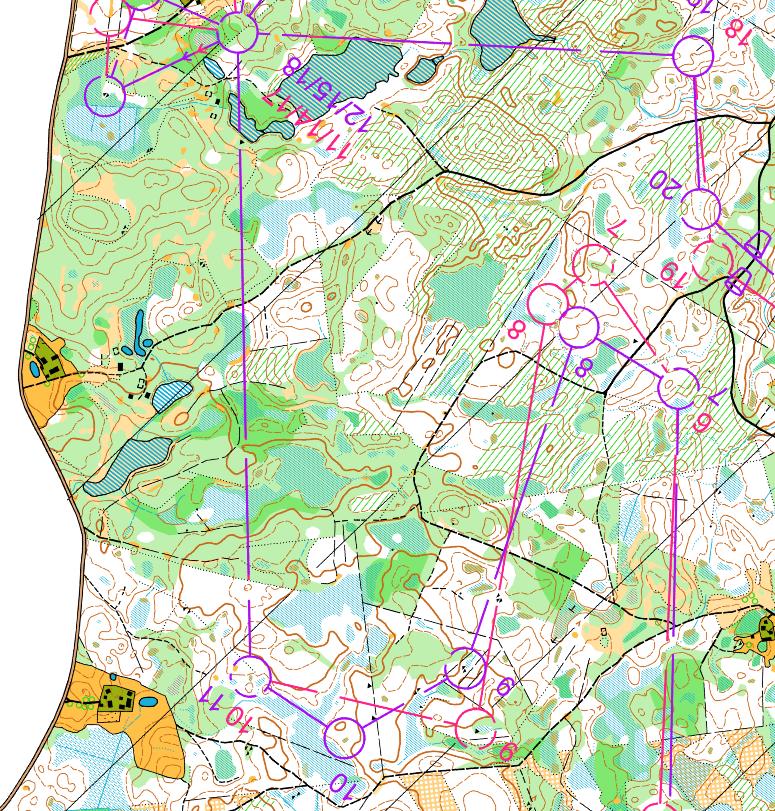 More than 250 runners participated in WOC 2017 selection races over sprint, middle and long distance in Estonia this weekend.  Some of the biggest favourites Maja Alm, Judith Wyder, Matthias Kyburz, Daniel Hubmann and Olav Lundanes confirm that they will be fighting for the medals in Estonia again – many others showed that they have prepared well and want to fight with for the top positions.
Due to the big start field, each category was divided into two heats based on nationality – with among others Switzerland, Norway, Denmark, France, Estonia, Belarus and Latvia in Heat 1 and Finland, Ukraine, Czech Republic, Russia, UK and Germany among others in Heat 2.
Even if athletes from different nations compete against each other in the selection races, selections are done per nation as usually, with each nation responsible for their selections, typically with different selection rules.
Maps and GPS-tracking
See below for the maps from middle and long distance. See also GPS-tracking from middle and long:
Maps Sprint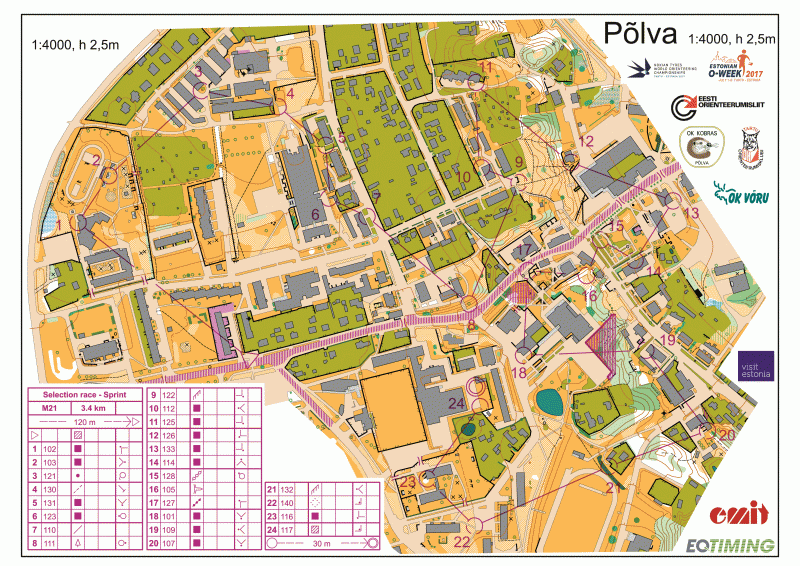 Maps Middle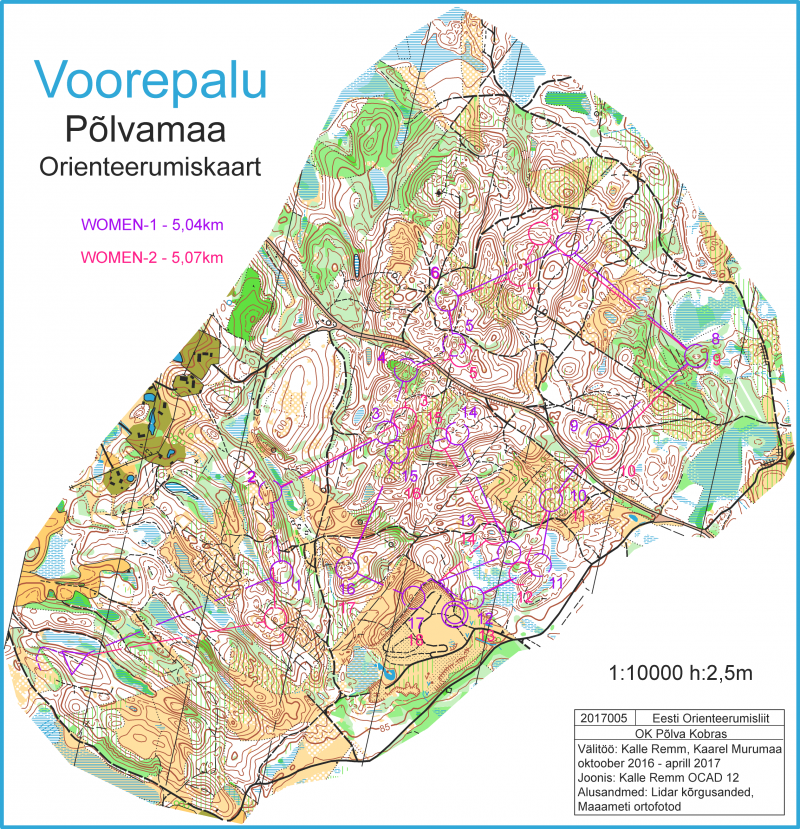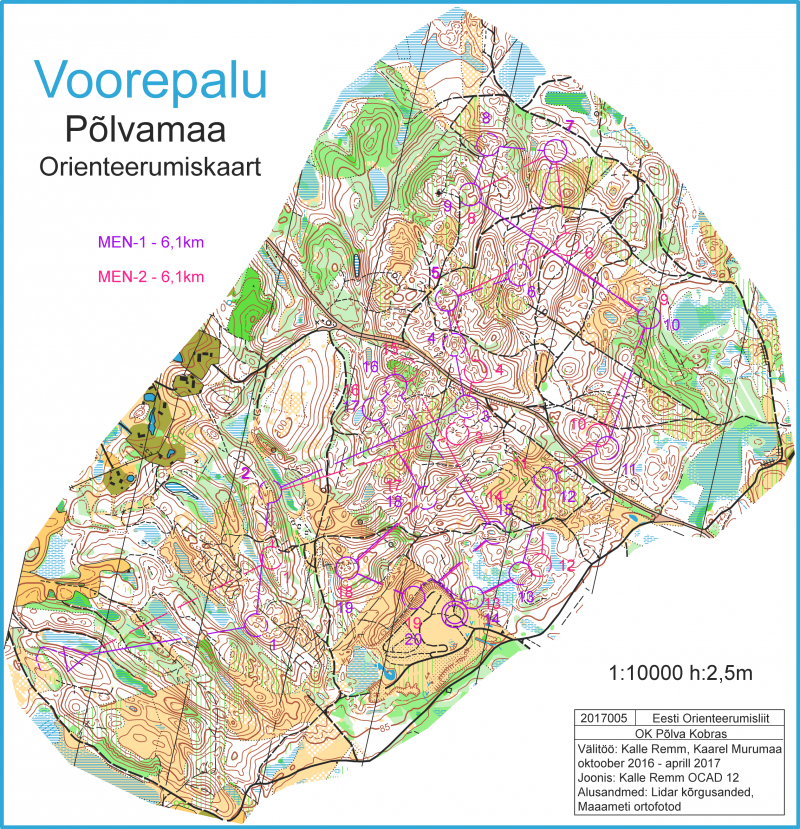 Maps Long
Results Sprint
Men
| | | | | |
| --- | --- | --- | --- | --- |
| 1. | Matthias Kyburz | Switzerland | 14:23 | (+0:00) |
| 2. | Kristian Jones | United Kingdom | 14:30 | (+0:07) |
| 3. | Daniel Hubmann | Switzerland | 14:33 | (+0:10) |
| 4. | Fabian Hertner | Switzerland | 14:50 | (+0:27) |
| 5. | Ralph Street | United Kingdom | 14:52 | (+0:29) |
| 6. | Florian Howald | Switzerland | 14:55 | (+0:32) |
| 7. | Martin Hubmann | Switzerland | 15:02 | (+0:39) |
| 8. | Fredric Portin | Finland | 15:03 | (+0:40) |
| 9. | Topi Raitanen | Finland | 15:08 | (+0:45) |
| 10. | Håkon Jarvis Westergård | Norway | 15:11 | (+0:48) |
| 11. | Øystein Kvaal Østerbø | Norway | 15:15 | (+0:52) |
| 12. | Aleksi Niemi | Finland | 15:16 | (+0:53) |
| 13. | Timo Sild | Estonia | 15:18 | (+0:55) |
| 13. | Jonas Egger | Switzerland | 15:18 | (+0:55) |
| 15. | Kenny Kivikas | Estonia | 15:21 | (+0:58) |
| 15. | Peter Hodkinson | United Kingdom | 15:21 | (+0:58) |
| 17. | Jon Aukrust Osmoen | Norway | 15:28 | (+1:05) |
| 18. | Christoph Meier | Switzerland | 15:29 | (+1:06) |
| 19. | Raido Mitt | Estonia | 15:30 | (+1:07) |
| 19. | Tue Lassen | Denmark | 15:30 | (+1:07) |
Women
| | | | | |
| --- | --- | --- | --- | --- |
| 1. | Maja Alm | Denmark | 15:20 | (+0:00) |
| 2. | Judith Wyder | Switzerland | 15:33 | (+0:13) |
| 3. | Sabine Hauswirth | Switzerland | 15:41 | (+0:21) |
| 4. | Venla Harju | Finland | 15:47 | (+0:27) |
| 4. | Elena Roos | Switzerland | 15:47 | (+0:27) |
| 6. | Sarina Jenzer | Switzerland | 15:57 | (+0:37) |
| 7. | Martina Ruch | Switzerland | 16:04 | (+0:44) |
| 8. | Ida Marie Naess Bjoergul | Norway | 16:13 | (+0:53) |
| 9. | Natalia Gemperle | Russia | 16:15 | (+0:55) |
| 10. | Kirsi Nurmi | Finland | 16:16 | (+0:56) |
| 10. | Megan Carter-Davies | United Kingdom | 16:16 | (+0:56) |
| 12. | Anastasia Denisova | Belarus | 16:20 | (+1:00) |
| 13. | Tessa Strain | United Kingdom | 16:23 | (+1:03) |
| 14. | Sari Anttonen | Finland | 16:24 | (+1:04) |
| 14. | Cecilie Friberg Klysner | Denmark | 16:24 | (+1:04) |
| 16. | Merja Rantanen | Finland | 16:25 | (+1:05) |
| 17. | Anna Närhi | Finland | 16:27 | (+1:07) |
| 18. | Marika Teini | Finland | 16:29 | (+1:09) |
| 19. | Sofia Haajanen | Finland | 16:35 | (+1:15) |
| 19. | Nikoline Ekeberg Schjerve | Norway | 16:35 | (+1:15) |
Results Middle
Men – Heat 1
| | | | | |
| --- | --- | --- | --- | --- |
| 1. | Daniel Hubmann | Switzerland | 32:29 | (+0:00) |
| 2. | Matthias Kyburz | Switzerland | 32:32 | (+0:03) |
| 3. | Olav Lundanes | Norway | 32:33 | (+0:04) |
| 4. | Magne Dæhli | Norway | 33:04 | (+0:35) |
| 5. | Frédéric Tranchand | France | 33:05 | (+0:36) |
| 6. | Thierry Gueorgiou | France | 33:12 | (+0:43) |
| 7. | Fabian Hertner | Switzerland | 33:15 | (+0:46) |
| 8. | Timo Sild | Estonia | 33:19 | (+0:50) |
| 9. | Gaute Steiwer | Norway | 33:39 | (+1:10) |
| 10. | Florian Howald | Switzerland | 33:44 | (+1:15) |
| 11. | Jon Aukrust Osmoen | Norway | 33:52 | (+1:23) |
| 12. | Eskil Kinneberg | Norway | 34:04 | (+1:35) |
| 13. | Kenny Kivikas | Estonia | 34:06 | (+1:37) |
| 14. | Jo Forseth Indgaard | Norway | 34:21 | (+1:52) |
| 15. | Martin Hubmann | Switzerland | 34:26 | (+1:57) |
| 16. | Ulf Forseth Indgaard | Norway | 34:27 | (+1:58) |
| 17. | Håkon Jarvis Westergård | Norway | 34:34 | (+2:05) |
| 18. | Martins Sirmais | Latvia | 34:47 | (+2:18) |
| 19. | Thomas Natvig Årstad | Norway | 34:48 | (+2:19) |
| 20. | Tue Lassen | Denmark | 35:03 | (+2:34) |
Men Heat 2
| | | | | |
| --- | --- | --- | --- | --- |
| 1. | Olli-Markus Taivainen | Finland | 34:24 | (+0:00) |
| 2. | Ruslan Glibov | Ukraine | 34:37 | (+0:13) |
| 3. | Jan Sedivy | Czech Republic | 34:53 | (+0:29) |
| 4. | Olli Ojanaho | Finland | 34:59 | (+0:35) |
| 5. | Vojtech Kral | Czech Republic | 35:14 | (+0:50) |
| 6. | Fredric Portin | Finland | 35:23 | (+0:59) |
| 7. | Ralph Street | United Kingdom | 35:33 | (+1:09) |
| 8. | Aleksi Anttolainen | Finland | 35:36 | (+1:12) |
| 9. | Aleksi Niemi | Finland | 35:39 | (+1:15) |
| 10. | Otto Simosas | Finland | 35:41 | (+1:17) |
| 11. | Einari Heinaro | Finland | 35:42 | (+1:18) |
| 12. | Elias Kuukka | Finland | 35:47 | (+1:23) |
| 13. | Topi Anjala | Finland | 36:04 | (+1:40) |
| 13. | Aaro Asikainen | Finland | 36:04 | (+1:40) |
| 15. | Hannu Airila | Finland | 36:18 | (+1:54) |
| 16. | Miika Kirmula | Finland | 36:26 | (+2:02) |
| 17. | Pavel Kubat | Czech Republic | 36:33 | (+2:09) |
| 18. | Jussi Suna | Finland | 36:36 | (+2:12) |
| 19. | Milos Nykodym | Czech Republic | 36:49 | (+2:25) |
| 20. | Jan Petrzela | Czech Republic | 37:01 | (+2:37) |
Women Heat 1
| | | | | |
| --- | --- | --- | --- | --- |
| 1. | Judith Wyder | Switzerland | 33:49 | (+0:00) |
| 2. | Marianne Andersen | Norway | 34:24 | (+0:35) |
| 3. | Andrine Benjaminsen | Norway | 35:25 | (+1:36) |
| 4. | Maja Alm | Denmark | 35:49 | (+2:00) |
| 5. | Sabine Hauswirth | Switzerland | 35:56 | (+2:07) |
| 6. | Ingjerd Myhre | Norway | 36:05 | (+2:16) |
| 7. | Ida Bobach | Denmark | 36:20 | (+2:31) |
| 8. | Evely Kaasiku | Estonia | 36:41 | (+2:52) |
| 9. | Silje Ekroll Jahren | Norway | 36:51 | (+3:02) |
| 10. | Lisa Holer | Switzerland | 36:55 | (+3:06) |
| 11. | Julia Gross | Switzerland | 36:59 | (+3:10) |
| 12. | Anne M Hausken Nordberg | Norway | 37:09 | (+3:20) |
| 13. | Isia Basset | France | 37:17 | (+3:28) |
| 14. | Ida Marie Naess Bjoergul | Norway | 37:21 | (+3:32) |
| 15. | Elena Roos | Switzerland | 37:24 | (+3:35) |
| 16. | Lizzie Ingham | New Zealand | 37:32 | (+3:43) |
| 17. | Siri Ulvestad | Norway | 37:41 | (+3:52) |
| 18. | Emma Johansson | Norway | 37:53 | (+4:04) |
| 19. | Sandra Grosberga | Latvia | 38:00 | (+4:11) |
| 20. | Martina Ruch | Switzerland | 38:35 | (+4:46) |
Women Heat 2
| | | | | |
| --- | --- | --- | --- | --- |
| 1. | Venla Harju | Finland | 34:56 | (+0:00) |
| 2. | Sari Anttonen | Finland | 35:03 | (+0:07) |
| 3. | Marika Teini | Finland | 35:15 | (+0:19) |
| 4. | Saila Kinni | Finland | 35:31 | (+0:35) |
| 5. | Anna Haataja | Finland | 36:21 | (+1:25) |
| 6. | Natalia Gemperle | Russia | 36:22 | (+1:26) |
| 7. | Miia Niittynen | Finland | 36:51 | (+1:55) |
| 8. | Sofia Haajanen | Finland | 36:52 | (+1:56) |
| 9. | Svetlana Mironova | Russia | 36:58 | (+2:02) |
| 10. | Sanni Kivelä | Finland | 37:12 | (+2:16) |
| 11. | Kirsi Nurmi | Finland | 37:13 | (+2:17) |
| 12. | Merja Rantanen | Finland | 37:26 | (+2:30) |
| 13. | Tuulia Viberg | Finland | 37:35 | (+2:39) |
| 14. | Maija Sianoja | Finland | 37:56 | (+3:00) |
| 15. | Anna Närhi | Finland | 37:58 | (+3:02) |
| 16. | Lotta Karhola | Finland | 38:00 | (+3:04) |
| 17. | Vendula Horcickova | Czech Republic | 38:03 | (+3:07) |
| 18. | Karoliina Sundberg | Finland | 38:04 | (+3:08) |
| 19. | Jessica Tullie | United Kingdom | 38:07 | (+3:11) |
| 20. | Adela Indrakova | Czech Republic | 38:13 | (+3:17) |
Results Long
Men Heat 1
1.   226 Olav Lundanes             Norway       01:32.42  
   2.   160 Matthias Kyburz           Switzerland  01:33.14  
   3.   248 Thierry Gueorgiou         France       01:34.38  
   4.   220 Magne Dæhli               Norway       01:34.52  
   5.   150 Fabian Hertner            Switzerland  01:36.21  
   6.   198 Anders Nordberg           Norway       01:36.32  
   7.   146 Daniel Hubmann            Switzerland  01:36.41  
   8.   232 Eskil Kinneberg           Norway       01:37.16  
   9.   228 Håkon Jarvis Westergård   Norway       01:38.30  
  10.   224 Øystein Kvaal Østerbø     Norway       01:38.33  
  11.   208 Ulf Forseth Indgaard      Norway       01:40.03  
  12.   218 Yngve Skogstad            Norway       01:41.21  
  13.   244 Jon Aukrust Osmoen        Norway       01:41.26  
  13.   236 Jo Forseth Indgaard       Norway       01:41.26  
  15.   156 Florian Howald            Switzerland  01:41.39  
  16.   142 Andrey Salin              Belarus      01:43.22  
  17.   242 Gaute Steiwer             Norway       01:43.31  
  18.   216 Håvard Haga               Norway       01:44.31  
  19.   186 Kristo Heinmann           Estonia      01:45.08  
  20.   188 Sander Vaher              Estonia      01:45.23  

Men Heat 2

1.   157 Ruslan Glibov             Ukraine      01:37.46  
   2.   261 Fredric Portin            Finland      01:38.32  
   3.   119 Jan Sedivy                Czech Republ 01:43.04  
   4.   247 Einari Heinaro            Finland      01:43.16  
   5.   241 Jani Lakanen              Finland      01:43.48  
   6.   233 Eetu Savolainen           Finland      01:44.26  
   7.   231 Aleksi Anttolainen        Finland      01:44.56  
   8.   255 Miika Kirmula             Finland      01:45.33  
   9.   260 Olli-Markus Taivainen     Finland      01:45.45  
  10.   161 Artem Panchenko           Ukraine      01:45.54  
  11.   147 Alan Cherry               Great Britai 01:46.56  
  12.   227 Aapo Leskinen             Finland      01:47.32  
  13.   111 Pavel Kubat               Czech Republ 01:47.35  
  14.   121 Milos Nykodym             Czech Republ 01:48.23  
  15.   257 Aaro Asikainen            Finland      01:48.30  
  16.   251 Elias Kuukka              Finland      01:48.55  
  17.   205 Mikko Knuuttila           Finland      01:49.48  
  18.   197 Antti-Pekka Leskinen      Finland      01:50.37  
  19.   229 Sami Hämäläinen           Finland      01:50.58  
  20.   149 Ralph Street              Great Britai 01:51.17  

Women Heat 1

1.    15 Maja Alm                  Denmark      01:28.07  
   2.    30 Sabine Hauswirth          Switzerland  01:33.28  
   3.    69 Andrine Benjaminsen       Norway       01:36.40  
   4.    28 Julia Gross               Switzerland  01:37.36  
   5.    71 Ingjerd Myhre             Norway       01:38.40  
   6.    65 Silje Ekroll Jahren       Norway       01:39.36  
   7.    39 Elena Roos                Switzerland  01:39.38  
   8.    97 Isia Basset               France       01:39.59  
   9.    77 Marianne Andersen         Norway       01:40.22  
  10.    83 Emma Johansson            Norway       01:40.37  
  11.    87 Anne M Hausken Nordberg   Norway       01:41.31  
  12.    26 Martina Ruch              Switzerland  01:42.20  
  13.    73 Ida Marie Naess Bjoergul  Norway       01:43.25  
  14.    34 Sarina Jenzer             Switzerland  01:44.07  
  15.    35 Lisa Holer                Switzerland  01:44.13  
  16.    37 Judith Wyder              Switzerland  01:45.41  
  17.    85 Siri Ulvestad             Norway       01:46.29  
  18.    11 Cecilie Friberg Klysner   Denmark      01:48.00  
  19.    22 Anastasia Denisova        Belarus      01:48.35  
  20.    41 Isabelle Feer             Switzerland  01:48.47  

Women Heat 2

   1.    90 Sari Anttonen             Finland      01:32.37  
   2.    95 Saila Kinni               Finland      01:34.35  
   3.    92 Venla Harju               Finland      01:35.24  
   4.    88 Miia Niittynen            Finland      01:38.11  
   5.    91 Sofia Haajanen            Finland      01:38.52  
   6.    94 Merja Rantanen            Finland      01:40.20  
   7.    54 Anu Tuomisto              Finland      01:40.33  
   8.    93 Marika Teini              Finland      01:40.55  
   9.    24 Charlotte Watson          Great Britai 01:40.59  
  10.    86 Sanni Kivelä              Finland      01:42.01  
  11.    82 Maija Sianoja             Finland      01:42.21  
  12.    80 Outi Hytönen              Finland      01:42.45  
  13.    27 Jessica Tullie            Great Britai 01:43.25  
  14.    74 Karoliina Sundberg        Finland      01:43.42  
  15.     3 Vendula Horcickova        Czech Republ 01:44.01  
  16.    64 Lizzie Ingham             New Zealand  01:45.11  
  17.    78 Tuulia Viberg             Finland      01:45.30  
  18.    60 Paula Iso-Markku          Finland      01:46.02  
  19.    68 Anna Haataja              Finland      01:46.27  
  20.    70 Kirsi Nurmi               Finland      01:48.22 



All results: