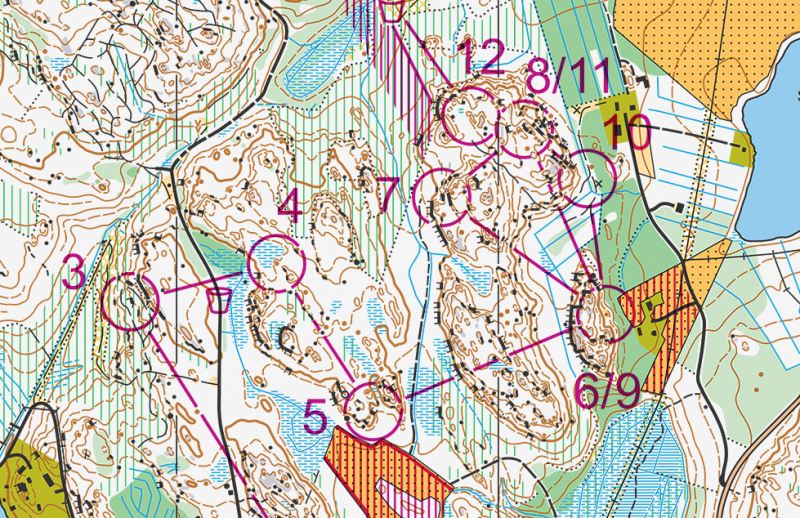 The third gold in a row for both Simona Aebersold (Switzerland) and Olli Ojanaho (Finland) at today's Junior World Championships Long distance.
Very impressive by these two runners who manage to deliver top performances under high pressure day after day.
Men: Close battle all the way to the finish
In the men's class, Sweden took both silver and bronze after a very tight and exciting finish. Simon Imark finished 2nd 43 seconds behind Ojanaho and Simon Hector another 13 seconds behind. Finland's Aleksi Sorsa finished in 4th, only 14 seconds behind the bronze medal.
Ojanaho had a slow start and was more than a minute behind after one third of the course – he was however stronger than everybody in the end.
Women: More than three minutes for Aebersold
In the women's class Aebersold took a very clear victory – with more than 3 minutes down to Finnish Veera Klemettinen and with Switzerland's Sofie Bachmann in 3rd, nearly 7(!) minutes behind.  Here is a comparison between the two best women – Aebersold takes most time at the long route choice from 10 to 11.
Today's courses had several routechoice legs – with one really long leg on each course; control 10 to 11 in the women's course and control 13 to 14 in the men's course.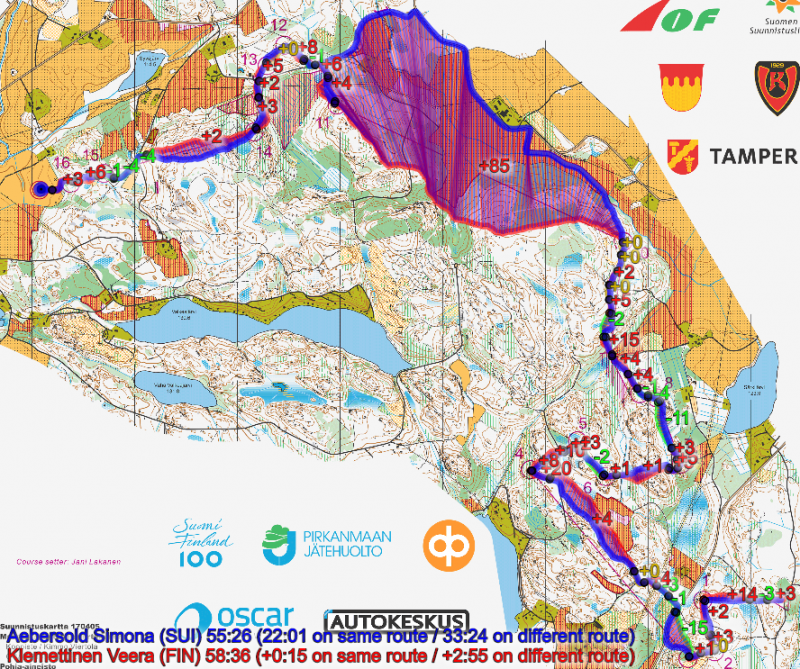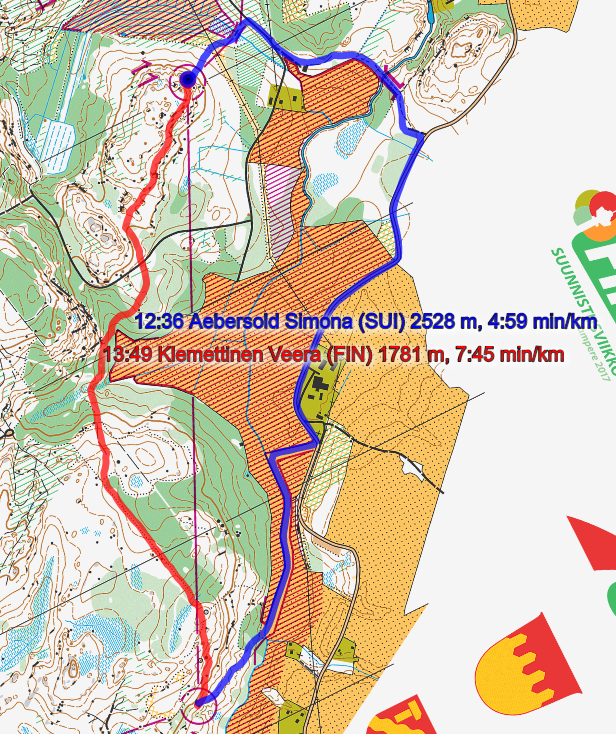 Maps and GPS-tracking
JWOC 2017 Long Men

» See map in omaps.worldofo.com
JWOC 2017 Long Women

» See map in omaps.worldofo.com
Results
Men
1
125
Olli Ojanaho
Suomi
1:05:11
2
151
Simon Imark
Ruotsi
1:05:54
+43
3
166
Simon Hector
Ruotsi
1:06:07
+56
4
171
Aleksi Sorsa
Suomi
1:06:21
+1:10
5
174
Audun Heimdal
Norja
1:07:27
+2:16
6
160
Mathieu Perrin
Ranska
1:08:01
+2:50
7
146
Alexander Chepelin
Iso-Britannia
1:08:08
+2:57
8
64
Akseli Ruohola
Suomi
1:08:15
+3:04
9
172
Pascal Buchs
Sveitsi
1:09:00
+3:49
10
97
Elias Jonsson
Norja
1:09:24
+4:13
11
42
Henrik Johannesson
Ruotsi
1:09:43
+4:32
12
49
Einar Melsom
Norja
1:09:44
+4:33
13
122
Kasper Fosser
Norja
1:10:09
+4:58
14
113
Isac von Krusenstierna
Ruotsi
1:10:11
+5:00
15
142
Jannis Bonek
Itävalta
1:10:15
+5:04
16
84
Jesper Svensk
Ruotsi
1:11:40
+6:29
17
163
Rafael Dobnik
Itävalta
1:12:13
+7:02
18
133
Veit Slodowski
Saksa
1:12:52
+7:41
19
45
Tuomas Heikkila
Suomi
1:12:54
+7:43
20
162
Uldis Upitis
Latvia
1:14:08
+8:57
Women
1
347
Simona Aebersold
Sveitsi
56:03
2
344
Veera Klemettinen
Suomi
59:17
+3:14
3
299
Sofie Bachmann
Sveitsi
1:02:52
+6:49
4
318
Linnea Golsater
Ruotsi
1:03:23
+7:20
5
313
Marie Olaussen
Norja
1:03:43
+7:40
6
330
Victoria Haestad Bjornstad
Norja
1:04:23
+8:20
7
310
Tereza Janosikova
Tšekki
1:04:25
+8:22
8
314
Zuzanna Wanczyk
Puola
1:04:40
+8:37
9
296
Ingrid Lundanes
Norja
1:05:33
+9:30
10
272
Valerie Aebischer
Sveitsi
1:05:46
+9:43
11
329
Agnes Kracht
Tanska
1:05:53
+9:50
12
251
Amy Nymalm
Suomi
1:05:55
+9:52
13
341
Jennifer Ricketts
Iso-Britannia
1:06:20
+10:17
14
309
Fiona Bunn
Iso-Britannia
1:06:26
+10:23
15
269
Anna Dvorianskaia
Venäjä
1:06:34
+10:31
16
349
Barbora Chaloupska
Tšekki
1:06:37
+10:34
17
292
Annika Simonsen
Tanska
1:06:50
+10:47
18
305
Josefine Lind
Tanska
1:07:10
+11:07
19
332
Sanna Fast
Ruotsi
1:07:21
+11:18
20
262
Grace Molloy
Iso-Britannia
1:08:11
+12:08