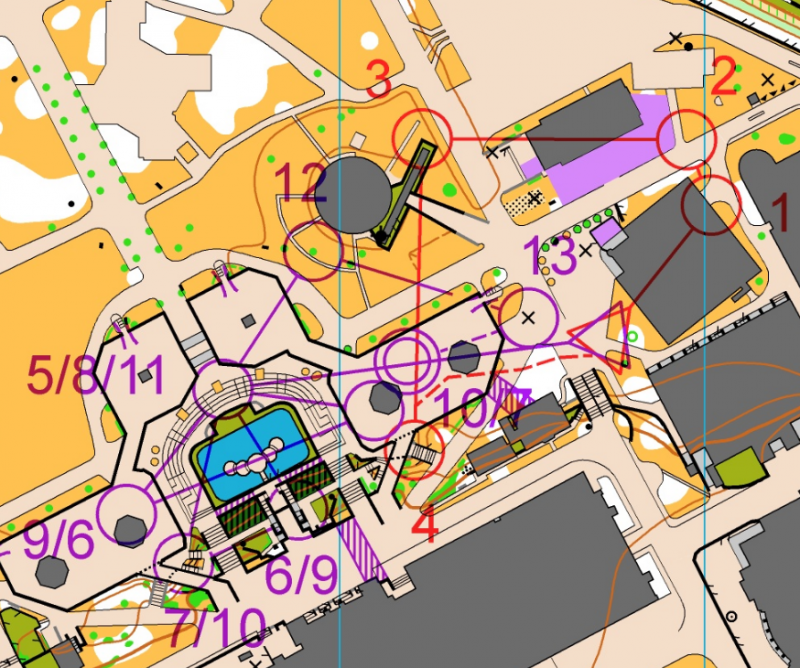 Vojtech Kral (Czech Republic) and Judith Wyder (Switzerland) won the Knock-Out Sprint which was the first of four races in the World Cup Final Orienteering 2018 in Czech Republic. 
We saw tight races already from the qualification in the morning, with two of the runners battling for the overall World Cup victory Natalia Gemperle and Olav Lundanes being disqualified already in the qualification. 36 men and 36 women qualified for the 6+6 quarter-finals – with the three fastest in each heat qualifying for the 3+3 semi-finals – always with 6 runners in each heat. This was the first real test of the "reborn" Knock-Out Sprint format in the World Cup, a format which will be part of the World Orienteering Championships in Denmark in 2020.
Both the quarter-finals and semi-finals where tight and interesting, including the first appearance of the "self choice forking" (or "map choice forking"?) in the World Cup, where the runners could choose one of three alternative courses A-C before the start. Some runners lost significant time due to a wrong choice already before the start – notably this was one of the reasons why Matthias Kyburz did not make it to the final.
Wyder against Ohlsson in the women's final
The six women in the final where Judith Wyder, Karolin Ohlsson, Tove Alexandersson, Sabine Hauswirth, Andrine Benjaminsen and Irina Nyberg. Overall World Cup leader (and nearly certaintly winner) Alexandersson was the big favourite, but a bad routechoice to the third control makes the Swede lose so much time that she is already nearly out of the battle for victory. Judith Wyder on the other hand runs a fast and good race, and decides the race against Karolin Ohlsson towards the end of the course. Tove Alexandersson and Andrine Benjaminsen battle for third place. A crash between them sees them both  lying on the ground for some seconds, with Alexandersson getting up first and taking the third place.
Results Women
1. Wyder Judith              SUI0051 C Switzerland                      6.16         
2. Ohlsson Karolin           SWE0062 C Sweden                           6.17   + 0.01
3. Alexandersson Tove        SWE0063 C Sweden                           6.38   + 0.22
4. Hauswirth Sabine          SUI0057 C Switzerland                      6.42   + 0.26
5. Benjaminsen Andrine       NOR0053 C Norway                           6.46   + 0.30
6. Nyberg Irina              RUS0057 C Russian Federation               7.02   + 0.46

Below a GPS-animation of the women's final is shown. Here a traditional "butterfly-forking/phi-loop" was used. This probably made the race nice, interesting and also fair for the athletes, but for the TV-viewers it was unfortunately impossible to understand much of what was happening.
GPS animation of women's #knockout final in #orienteering World Cup Prague 2018. @ToveAlexanderss does a bad routechoice to 4 and loses chance to win, Wyder fastest in the end and takes victory! pic.twitter.com/2xfqfs01wu

— WorldofO.com (@worldofo) October 4, 2018
Kral takes the men's
In the men's race, Vojtech Kral takes a clear victory on homeground ahead of the Swedes Jonas Leandersson and Gustav Bergman. Somewhat unexpectedly there were no Swiss runners in the final – when is the last time there were no Swiss men in the Top 6 in a Sprint race in the World Cup?
Results men
1. Kral Vojtech              CZE0014 C Czech Republic                   6.37         
2. Leandersson Jonas         SWE0009 C Sweden                           6.40   + 0.03
3. Bergman Gustav            SWE0010 C Sweden                           6.44   + 0.07
4. Tranchand Frederic        FRA0008 C France                           6.45   + 0.08
5. Michiels Yannick          BEL0002 C Belgium                          6.46   + 0.09
6. Merl Robert               AUT0001 C Austria                          7.22   + 0.45

Below a GPS-animation of the men's final is shown.
GPS animation of men's #knockout final in #orienteering World Cup Prague 2018 (unfortunately butterfly-forking makes it nearly impossible to understand what is happening here, but Kral solved the challenges best and wins!) pic.twitter.com/Q2nalB2YRK

— WorldofO.com (@worldofo) October 4, 2018
Knock-Out Sprint and Forking
There has been a lot of discussion about forking and Knock-Out Sprint. There have been two high-level events with Knock-Out Sprint lately; Euromeeting in Denmark with a very strong start field and this sprint in the World Cup. Two different concept where tested in the World Cup: The "self choice" method in quarter- and semi-finals and butterfly/phi-loop-forking in the final. At Euromeeting the courses where unforked. Unfortunately none of these methods seemed to work well, due to different reasons.
About #worldcup sprint. Have to say that the system is very confusing and it's hard to follow the gps on tv broadcast…and I understand maps a little bit. Maybe something clearer in the future😅🙏

— Minna Kauppi (@kauppi_minna) October 4, 2018
Unforked
To start with the unforked Euromeeting Knock-Out Sprint, this was in my opinion too much of a running competition. When the runners know that it is always safe to follow the runner ahead, the tactics are more "running tactics" or "cycling tactics" (stay in the shadow, run to the front towards the end) than "orienteering tactics" (earn time by taking your own routechoice). Mostly runners who know they are slow runners/sprinters make some "desperate" attempts to take a different route to try to earn some time. A typical example from the World Cup was the first control in the quarter-finals where the men kept together just to be in the group, instead of taking a risk with another choice.
Phi-loop/Butterfly
Next up the Final at the World Cup in Czech Republic. This was in my opinion simply impossible to understand for TV-viewers, with GPS-dots going in all directions and impossible to understand where the runners are heading and who is in the lead at any point in the race. Less complex butterflies and maybe also phi-loops can work to a certain extent, but there is always quite a large percentage of the time where you don't really know what is happening.
"Self choice"/"Map choice"
The "self choice"/"map choice" method at the World Cup showed some potential, but again the execution was in my opinion poor, making it difficult to understand what was going on in the forking part (but still a lot easier than for butterfly/phi-loop).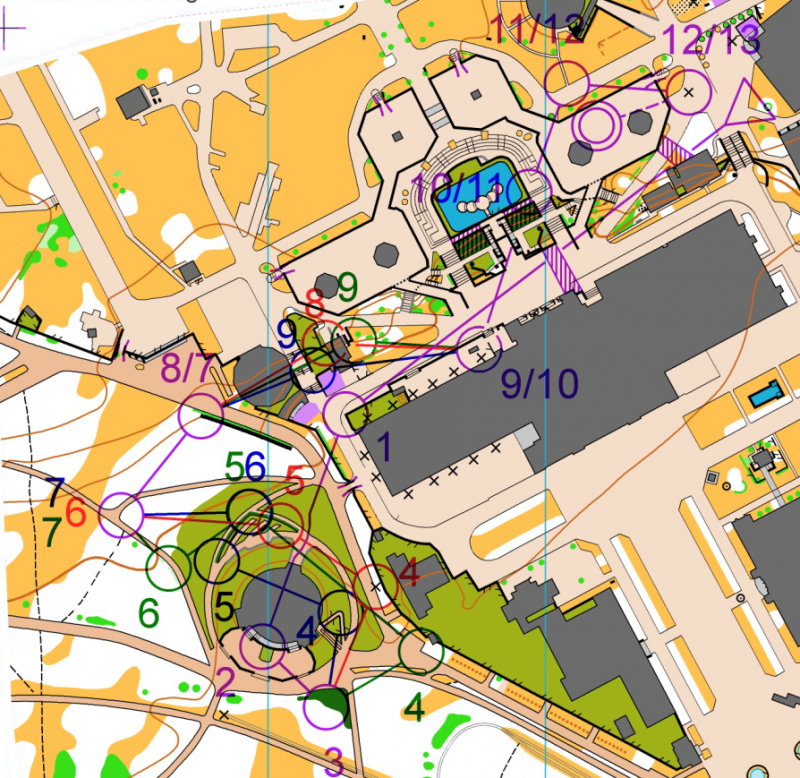 There would be some easy fixes to be done however, to make it a lot easier for the TV-viewers, as indicated below.
And (5) which must be done in course planning stage: Put forking in a place where the course is not crossing, see examples below. Changing (1)-(5) here would make it WAY easier to understand what is happening. The forking method has good potential, but execution not good enough pic.twitter.com/ZYRCy9ePy3

— WorldofO.com (@worldofo) October 4, 2018
And you should take it even a step further and use only "single control forkings", but several of them:
Agree about single control. But if the forkings are so simple that they can be understood by viewers, then they will probably be too easy for athletes, so until I see a race AND TV-presentation that actually works, I am sticking to no forking. Today was anyway very poor.

— Jørn Sundby (@JornSundby) October 4, 2018
These need to be simple on the map, but still have orienteering challenges. And just the knowledge of possible forking/different controls among the runners forces the runners to think instead of simply following.
Fairness
On the other hand, what about fairness? Is the "self choice" concept fair? Is it OK that part of the race is decided by a "route choice" the athletes make even before they start, with a tight 20 second time limit? In the World Cup semi- and quarter-finals it seemed to be to complex – it was difficult to understand the differences in the challenges. On the other hand, most of the men chose the correct choice even with this complexity, so maybe it is still OK? Also, you may gain an advantage through luck by taking the same choice as others (but at least it is a choice you have done based on what you think is fastest).
A butterfly/phi-loop is probably generally more fair from an athlete perspective, but also here you can have advantages when by luck getting the same forking as another runner.
The unforked alternative may be viewed as the most fair alternative, but on the other hand here it is possible to just run behind the better orienteer throughout the course and pass him in the final sprint. Is that more fair?
Maps and GPS-tracking
Maps and GPS-tracking is available here:
Men's final map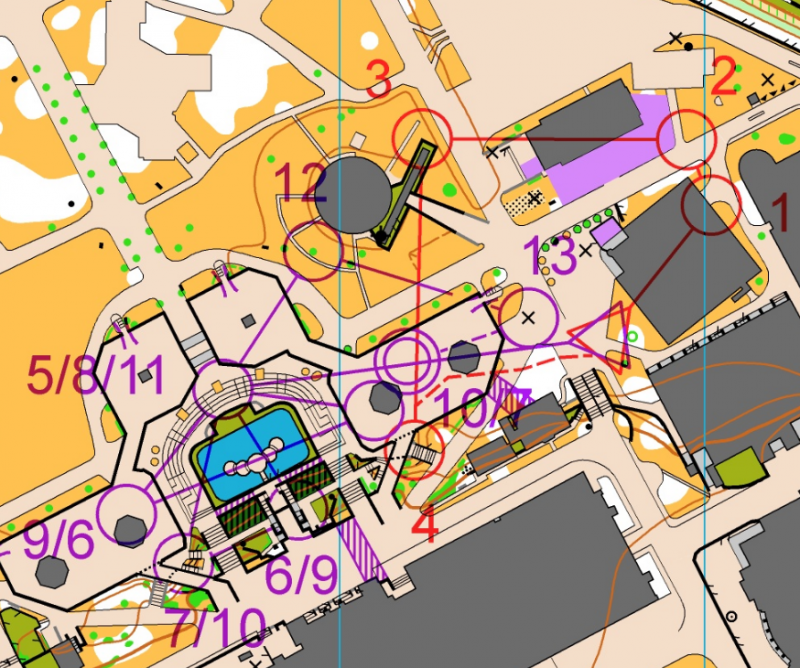 Women's final map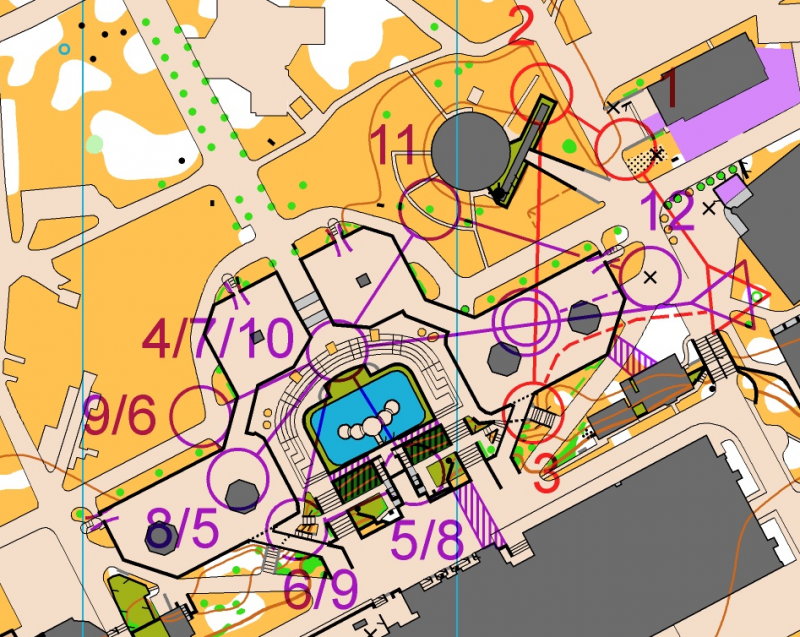 Results Final
04.10.2018 KnockOut Sprint (4)
M      1.30 km, 20 m, 13 points
-------------------------------------------------------------------------------------
1. Kral Vojtech              CZE0014 C Czech Republic                   6.37         
2. Leandersson Jonas         SWE0009 C Sweden                           6.40   + 0.03
3. Bergman Gustav            SWE0010 C Sweden                           6.44   + 0.07
4. Tranchand Frederic        FRA0008 C France                           6.45   + 0.08
5. Michiels Yannick          BEL0002 C Belgium                          6.46   + 0.09
6. Merl Robert               AUT0001 C Austria                          7.22   + 0.45
-------------------------------------------------------------------------------------
04.10.2018 KnockOut Sprint (4)
W      1.10 km, 15 m, 12 points
-------------------------------------------------------------------------------------
1. Wyder Judith              SUI0051 C Switzerland                      6.16         
2. Ohlsson Karolin           SWE0062 C Sweden                           6.17   + 0.01
3. Alexandersson Tove        SWE0063 C Sweden                           6.38   + 0.22
4. Hauswirth Sabine          SUI0057 C Switzerland                      6.42   + 0.26
5. Benjaminsen Andrine       NOR0053 C Norway                           6.46   + 0.30
6. Nyberg Irina              RUS0057 C Russian Federation               7.02   + 0.46
-------------------------------------------------------------------------------------
Results Semi-final
04.10.2018 KnockOut Sprint (3)
MA      1.20 km, 15 m, 12 points
-------------------------------------------------------------------------------------
1. Bergman Gustav            SWE0010 C Sweden                           6.12         
2. Leandersson Jonas         SWE0009 C Sweden                           6.13   + 0.01
3. Hubmann Martin            SUI0005 C Switzerland                      6.14   + 0.02
4. Kyburz Andreas            SUI0004 C Switzerland                      6.17   + 0.05
5. Egger Jonas               SUI0009 C Switzerland                      6.22   + 0.10
6. Kyburz Matthias           SUI0003 C Switzerland                      6.39   + 0.27
-------------------------------------------------------------------------------------

04.10.2018 KnockOut Sprint (3)
MB      1.20 km, 15 m, 13 points
-------------------------------------------------------------------------------------
1. Michiels Yannick          BEL0002 C Belgium                          6.21         
2. Merl Robert               AUT0001 C Austria                          6.22   + 0.01
3. Kvaal Osterbo Oystein     NOR0007 C Norway                           6.24   + 0.03
4. Peter Bejmer Max          SWE0011 C Sweden                           6.28   + 0.07
5. Ymsen Kerschbaumer Gernot AUT0003 C Austria                          6.49   + 0.28
6. Minar Marek               CZE0010 C Czech Republic                   7.01   + 0.40
-------------------------------------------------------------------------------------

04.10.2018 KnockOut Sprint (3)
MC      1.30 km, 15 m, 13 points
-------------------------------------------------------------------------------------
1. Kral Vojtech              CZE0014 C Czech Republic                   6.15         
2. Tranchand Frederic        FRA0008 C France                           6.16   + 0.01
3. Glibov Ruslan             UKR0001 C Ukraine                          6.19   + 0.04
4. Aukrust Osmoen Jon        NOR0005 C Norway                           6.21   + 0.06
4. Hubmann Daniel            SUI0006 C Switzerland                      6.21   + 0.06
6. Reiner Matthias           AUT0006 C Austria                          6.44   + 0.29
-------------------------------------------------------------------------------------

04.10.2018 KnockOut Sprint (3)
WA      1.20 km, 15 m, 11 points
-------------------------------------------------------------------------------------
1. Alexandersson Tove        SWE0063 C Sweden                           6.54         
2. Wyder Judith              SUI0051 C Switzerland                      7.02   + 0.08
3. Sianoja Maija             FIN0054 C Finland                          7.06   + 0.12
4. Strand Lina               SWE0061 C Sweden                           7.14   + 0.20
5. Olsson Alva               SWE0058 C Sweden                           7.26   + 0.32
6. Falck Weber Amanda        DEN0053 C Denmark                          7.28   + 0.34
-------------------------------------------------------------------------------------

04.10.2018 KnockOut Sprint (3)
WB      1.20 km, 15 m, 11 points
-------------------------------------------------------------------------------------
1. Ohlsson Karolin           SWE0062 C Sweden                           7.00         
2. Hauswirth Sabine          SUI0057 C Switzerland                      7.02   + 0.02
3. Enlund Alexandra          FIN0058 C Finland                          7.04   + 0.04
4. Fjellanger Kristine       NOR0056 C Norway                           7.33   + 0.33
5. Kosova Denisa             CZE0054 C Czech Republic                   7.42   + 0.42
6. Knapova Jana              CZE0055 C Czech Republic                   7.44   + 0.44
-------------------------------------------------------------------------------------

04.10.2018 KnockOut Sprint (3)
WC      1.30 km, 15 m, 12 points
-------------------------------------------------------------------------------------
1. Benjaminsen Andrine       NOR0053 C Norway                           7.05         
2. Nyberg Irina              RUS0057 C Russian Federation               7.06   + 0.01
3. Ruch Martina              SUI0053 C Switzerland                      7.07   + 0.02
4. Narhi Anna                FIN0053 C Finland                          7.09   + 0.04
5. Vinogradova Galina        RUS0053 C Russian Federation               7.15   + 0.10
   Bjessmo Emma              SWE0055 C Sweden                             MP         
-------------------------------------------------------------------------------------
Results Quarter-final
04.10.2018 KnockOut Sprint (2)
MA      1.50 km, 20 m, 9 points
-------------------------------------------------------------------------------------
1. Kyburz Matthias           SUI0003 C Switzerland                    
2. Tranchand Frederic        FRA0008 C France                         
3. Ymsen Kerschbaumer Gernot AUT0003 C Austria                        
4. Glonek Jakub              CZE0017 C Czech Republic                 
5. Perrin Arnaud             FRA0004 C France                         
6. Ahlbeck Emil              NOR0011 C Norway                         
-------------------------------------------------------------------------------------

04.10.2018 KnockOut Sprint (2)
MB      1.50 km, 20 m, 9 points
-------------------------------------------------------------------------------------
1. Leandersson Jonas         SWE0009 C Sweden                         
2. Aukrust Osmoen Jon        NOR0005 C Norway                         
3. Minar Marek               CZE0010 C Czech Republic                 
4. Kaario Otto               FIN0012 C Finland                        
5. Scalet Riccardo           ITA0003 C Italy                          
6. Hodkinson Peter           GBR0004 C Great Britain                  
-------------------------------------------------------------------------------------

04.10.2018 KnockOut Sprint (2)
MC      1.50 km, 20 m, 9 points
-------------------------------------------------------------------------------------
1. Kvaal Osterbo Oystein     NOR0007 C Norway                         
2. Bergman Gustav            SWE0010 C Sweden                         
3. Reiner Matthias           AUT0006 C Austria                        
4. Hirvikallio Joni          FIN0007 C Finland                        
5. Robertson Tim             NZL0002 C New Zealand                    
6. Fosser Kasper             NOR0010 C Norway                         
-------------------------------------------------------------------------------------

04.10.2018 KnockOut Sprint (2)
MD      1.50 km, 20 m, 9 points
-------------------------------------------------------------------------------------
1. Michiels Yannick          BEL0002 C Belgium                          
2. Egger Jonas               SUI0009 C Switzerland                      
3. Kral Vojtech              CZE0014 C Czech Republic                   
4. Popov Artem               RUS0001 C Russian Federation               
5. Meier Christoph           SUI0002 C Switzerland                      
6. Howald Florian            SUI0007 C Switzerland                      
-------------------------------------------------------------------------------------

04.10.2018 KnockOut Sprint (2)
ME      1.50 km, 20 m, 9 points
-------------------------------------------------------------------------------------
1. Glibov Ruslan             UKR0001 C Ukraine                          
2. Merl Robert               AUT0001 C Austria                          
3. Hubmann Martin            SUI0005 C Switzerland                      
4. Lind William              SWE0007 C Sweden                           
5. Regborn Martin            SWE0006 C Sweden                           
6. Hadorn Joey               SUI0008 C Switzerland                      
-------------------------------------------------------------------------------------

04.10.2018 KnockOut Sprint (2)
MF      1.50 km, 20 m, 9 points
-------------------------------------------------------------------------------------
1. Hubmann Daniel            SUI0006 C Switzerland                      
2. Peter Bejmer Max          SWE0011 C Sweden                           
3. Kyburz Andreas            SUI0004 C Switzerland                      
4. Zernis Rudolfs            LAT0005 C Latvia                           
5. Krivda Tomas              CZE0013 C Czech Republic                   
6. Bloemen Tristan           BEL0006 C Belgium                          
-------------------------------------------------------------------------------------

04.10.2018 KnockOut Sprint (2)
WA      1.30 km, 15 m, 8 points
-------------------------------------------------------------------------------------
1. Strand Lina               SWE0061 C Sweden                           
2. Benjaminsen Andrine       NOR0053 C Norway                           
3. Kosova Denisa             CZE0054 C Czech Republic                   
4. Mironova Svetlana         RUS0056 C Russian Federation               
5. Taylor Catherine          GBR0054 C Great Britain                    
6. Haajanen Sofia            FIN0051 C Finland                          
-------------------------------------------------------------------------------------

04.10.2018 KnockOut Sprint (2)
WB      1.30 km, 15 m, 8 points
-------------------------------------------------------------------------------------
1. Wyder Judith              SUI0051 C Switzerland                      
2. Vinogradova Galina        RUS0053 C Russian Federation               
3. Fjellanger Kristine       NOR0056 C Norway                           
4. Stadler Deborah           SUI0052 C Switzerland                      
5. Vercellotti Lea           FRA0055 C France                           
6. Ramstein Laura            AUT0053 C Austria                          
-------------------------------------------------------------------------------------

04.10.2018 KnockOut Sprint (2)
WC      1.30 km, 15 m, 8 points
-------------------------------------------------------------------------------------
1. Hauswirth Sabine          SUI0057 C Switzerland                      
2. Sianoja Maija             FIN0054 C Finland                          
3. Nyberg Irina              RUS0057 C Russian Federation               
4. Haataja Anna              FIN0052 C Finland                          
5. Fedorova Olena            UKR0051 C Ukraine                          
   Horcickova Vendula        CZE0059 C Czech Republic                   
-------------------------------------------------------------------------------------

04.10.2018 KnockOut Sprint (2)
WD      1.30 km, 15 m, 8 points
-------------------------------------------------------------------------------------
1. Ohlsson Karolin           SWE0062 C Sweden                           
2. Olsson Alva               SWE0058 C Sweden                           
3. Bjessmo Emma              SWE0055 C Sweden                           
4. Leake Alice               GBR0051 C Great Britain                    
5. Dvorianskaia Anna         RUS0059 C Russian Federation               
6. Teini Marika              FIN0056 C Finland                          
-------------------------------------------------------------------------------------

04.10.2018 KnockOut Sprint (2)
WE      1.30 km, 15 m, 8 points
-------------------------------------------------------------------------------------
1. Ruch Martina              SUI0053 C Switzerland                      
2. Enlund Alexandra          FIN0058 C Finland                          
3. Alexandersson Tove        SWE0063 C Sweden                           
4. Janosikova Tereza         CZE0056 C Czech Republic                   
5. Risby Lisa                SWE0060 C Sweden                           
6. Bachmann Sofie            SUI0056 C Switzerland                      
-------------------------------------------------------------------------------------

04.10.2018 KnockOut Sprint (2)
WF      1.30 km, 15 m, 8 points
-------------------------------------------------------------------------------------
1. Narhi Anna                FIN0053 C Finland                          
2. Knapova Jana              CZE0055 C Czech Republic                   
3. Falck Weber Amanda        DEN0053 C Denmark                          
4. Jakob Julia               SUI0055 C Switzerland                      
5. Ingham Lizzie             NZL0052 C New Zealand                      
6. Jenzer Sarina             SUI0054 C Switzerland                      
-------------------------------------------------------------------------------------