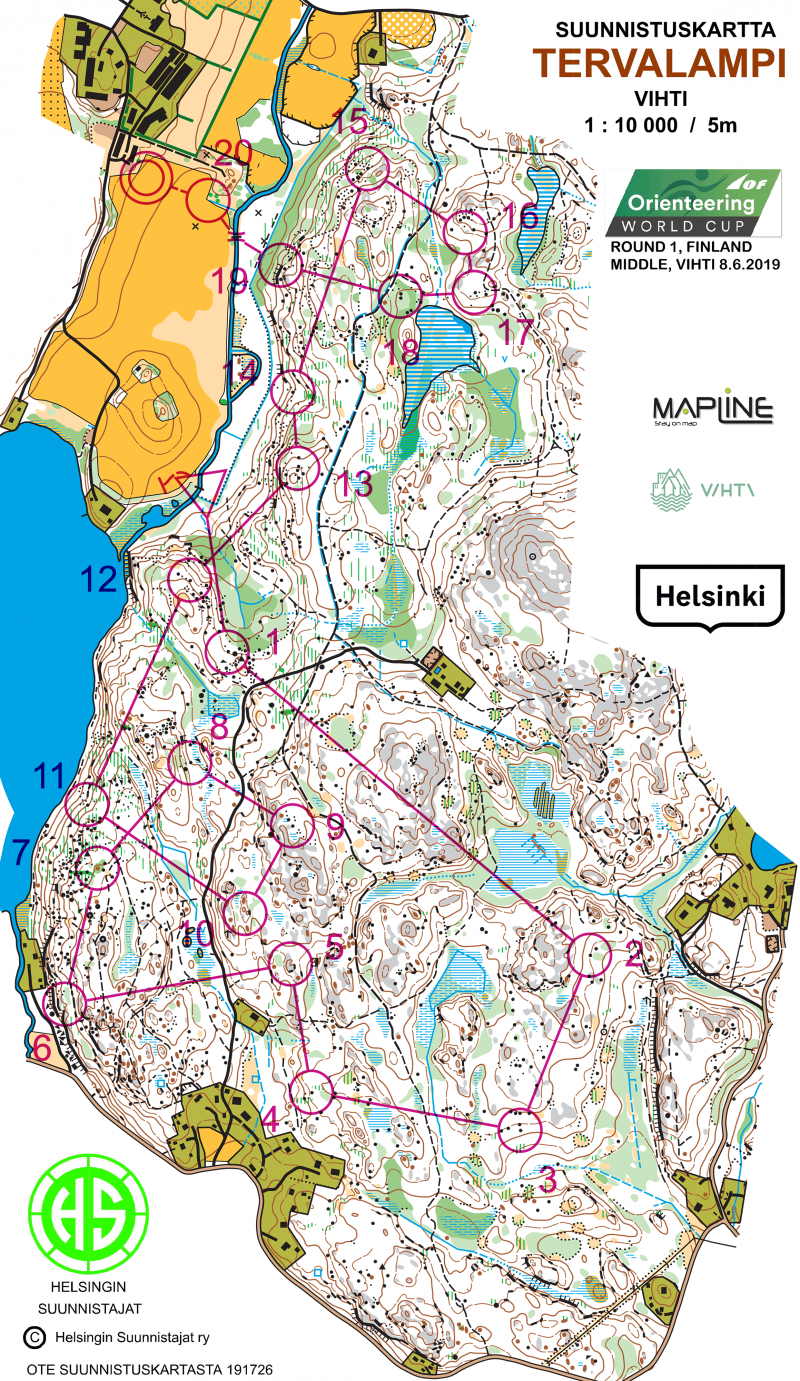 Swedish Double: Tove Alexandersson and Gustav Bergman won both Saturday's Middle distance and Sunday's Long distance in the first round of the 2019 Orienteering World Cup in Finland this weekend. with clear victories in Saturday's Middle distance, they both managed to keep the chasing runners on
In Saturday's Middle distance, Natalia Gemperle (Russia) and Marika Teini (Finland) followed closest to Alexandersson, with a gap of 1:38 and 1:59 up to the leading Swede, respectively. In the chasing start Teini picked up one place and ran in to second place 1:30 behind Alexandersson, and Kamilla Olaussen (Norway) picked three places, finishing third.
In the men's class Frederic Tranchand (France) took the second place on both days – the gap of 1:03 on the Middle distance was increased to a 2:19 gap after the chasing start. Olav Lundanes (Norway) took the third place on Saturday whereas another Norwegian, Magne Dæhlie, took the third place on Sunday's chasing start – again proving that he can run really well in chasing start races.
Middle distance Men: Bergman in own class, Basset with big miss
The Middle distance offered some interesting, technical orienteering, where several runners got trouble in some of the denser areas.  Below is a graphical comparison of split times for the 6 fastest runners. Note how Swedish Gustav Bergman is in his own class, with good speed and only very small mistakes, especially in the last part of the course. Most of the other runners lose significant time at one control or more, and can not keep up Bergman's speed either. The only ones who could keep up the speed was Lucas Bassed and Matthias Kyburz – both making big mistakes as shown further down.
Frederic Tranchand took the lead at the first control. The race lead then changed between Florian Howald (leading from the 2nd to 3rd control), Lucas Basset (leading at the 4th control), Gustav Bergman (leading from the 5th to 6th control, losing 20 seconds and the lead at the 7th) and Lucas Basset (leading from the 7th to 10th control, losing 2:55 at the 11th control and falling down to 28th place) until Gustav Bergman took over the lead at control 11 of 21 controls and kept it until the finish.
This illustration shows Basset's fall from a leading position at control 10 to a mediocre final result. Note also the bad start of one of the race favourites Matthias Kyburz, who loses more than 1:30 on the first and third control combined.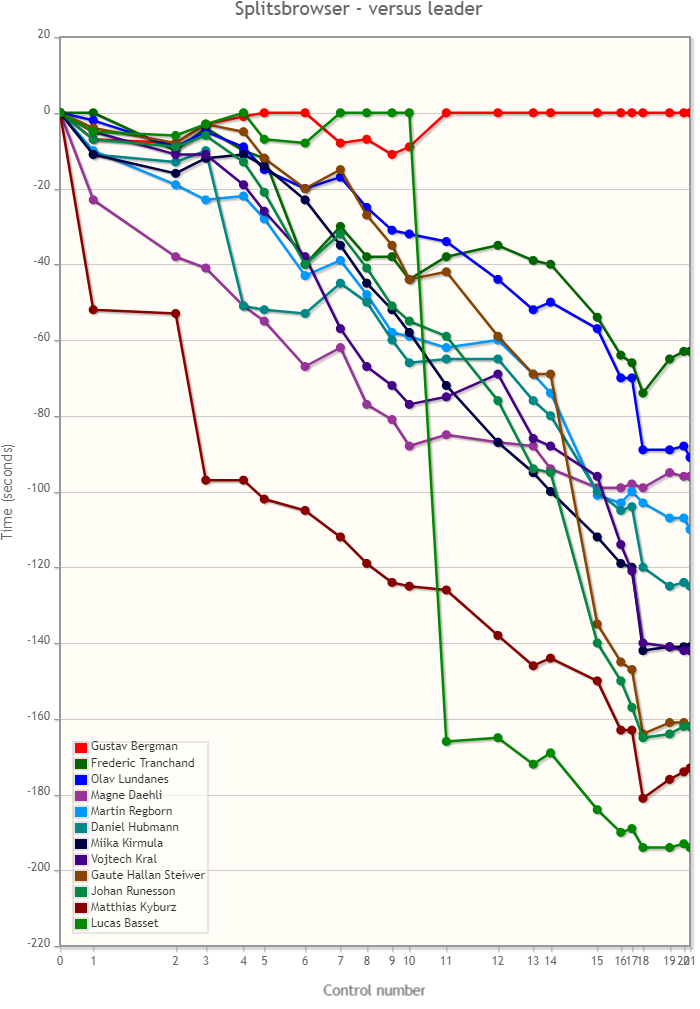 Looking at time behind comparing timeloss due to running speed and timeloss due to mistakes, it is clear that Bassed and Kyburz seem to be the only ones who could have challenged Gustav Bergman in this race, but their technical performance was far from good enough.
Hmmm :-( @lucasbasset pic.twitter.com/1CZmgZyLgP

— Simon Leroy (@simleroy_) June 8, 2019
First 12 men World Cup MD Finland (animation tracking simulated mass-start) pic.twitter.com/xvUjB5wwCV

— Eva Jurenikova (@evajurenikova) June 8, 2019
Middle distance Women: Alexandersson clearly best – Aebersold shows her class
Tove Alexandersson was in the lead all the way from the first control to the end of the race. Alexandersson did some small mistakes on the way, but nobody had the stability of Alexandersson. Kamilla Olaussen was closest in speed, but did big mistakes early in the race and was nearly 90 seconds behind already after two controls. Also, very interesting to see that young Simona Aebersold is ready to battle for the medals this year also in Nordic terrain – three control before the finish the Swiss runner was in second place, but big mistakes in the end cost her a lot of time, finishing in 9th.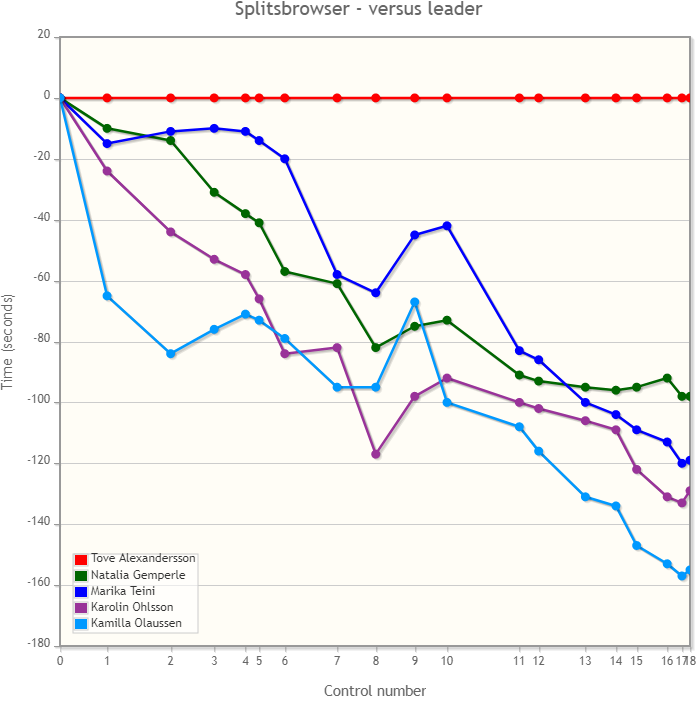 The second last control is one of the controls (see below for the women) where several athletes got trouble.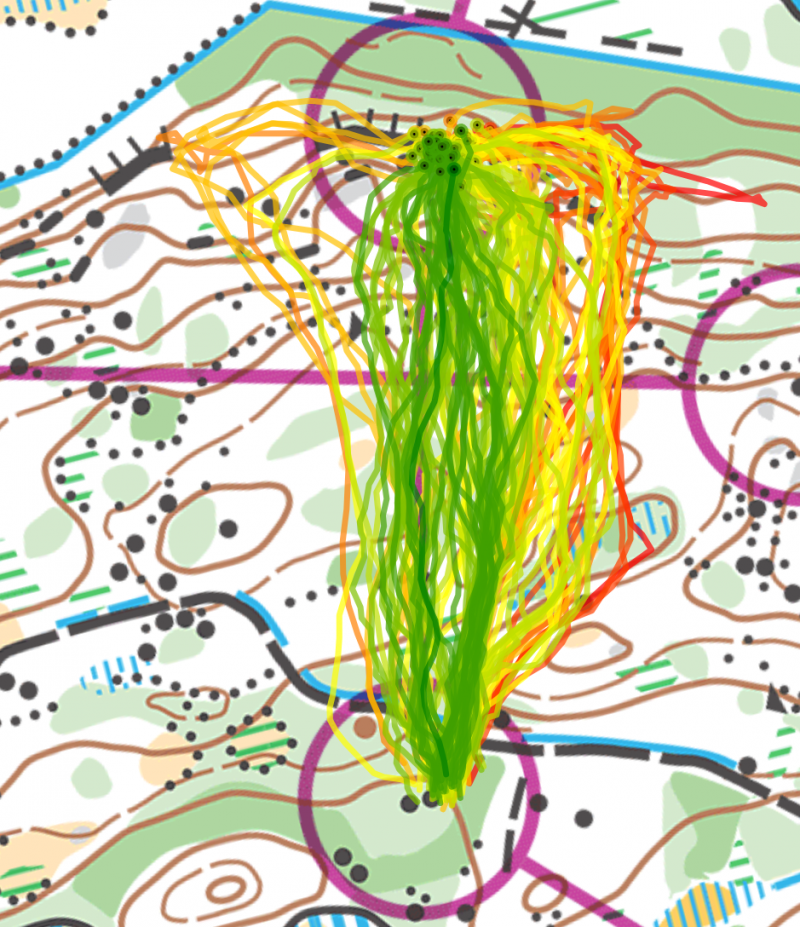 See below for a quick analysis of Tove Alexandersson's race from Eva Jurenikova's Twitter.
Tove was in a class of her own today, especially in the 2nd half of the course, but some runners could have been closer (especially Kamilla & Simona) if they avoided mistakes pic.twitter.com/nYDN3ciWUo

— Eva Jurenikova (@evajurenikova) June 8, 2019
Chasing start Men: Tranchand keeps the pack behind
See the below animation for an animation of how the men's chasing start was decided – and also analysis of some of the longer legs. Gustav Bergman runs a safe and good race in the lead – behind him Tranchand fights alone to keep his second place – and barely manages after some unsecurities on the way. Magne Dæhli wins the battle for third in the pack, with Finnish Kirmula less than a meter behind.
How it happened: Men's #owcup chasing start GPS-animation 🇫🇮 – follow @gustav_bergman to his second World Cup win in two days pic.twitter.com/TYupg0Dyqf

— WorldofO.com (@worldofo) June 9, 2019
For men the first control was a bit closer. Avoiding partly the first hill to the left and then straight was fastest https://t.co/aVyUz2Nqiw pic.twitter.com/nac9D5H6kx

— Eva Jurenikova (@evajurenikova) June 9, 2019
The longest leg for men (c18) – "Swiss" route choice around to the right on roads fastest, even if 800m longer than Kirmula's straight route https://t.co/F03nBIavOT pic.twitter.com/uSF0lfl5Nd

— Eva Jurenikova (@evajurenikova) June 9, 2019
Chasing start Women: Alexandersson again – Teini takes second
In the women's class nobody could challenge Tove Alexandersson. Kamilla Olaussen looked like she would manage to take the second place, but a mistake just before the arena passage made Marika Teini slip by and claim second. Natalia Gemerle lost too much time in the forking section and had to settle for fourth place.
How it happened: Women's #owcup chasing start GPS-animation 🇫🇮 – follow @ToveAlexanderss to her second World Cup win in two days pic.twitter.com/lWp6rJjTOe

— WorldofO.com (@worldofo) June 9, 2019
Maps and GPS-tracking
Results
Men Middle
Women Middle
Men Chasing start
Women Chasing start
All results: