Today's leg in Route to O-Season 2020 is a small tribute to the 25 years anniversary of PWT, as the first PWT events were held all the way back in 1996. This particular leg is from the second PWT stage in the PWT China tour in 2016, in Beijing Garden Expo Park (men's course).
Thanks a lot to Tuomas Kari for the tip, along with routes of the best athletes.
For those who don't know the PWT history, PWT started the orienteering discipline that later became "sprint orienteering". Here is an excerpt from the PWT webpage:
It started as a wild idea. A World Cup in park orienteering. A competition that would bring the orienteers into the cities, in front of the people and the crowds. One year after the premiere in June 1996, the Park World Tour attracted 5,000 spectators. Dozens of TV companies covered the series. The cash prizes amounted to more than half a million Swedish kronor. The world´s best orienteers competed in famous European cities like Budapest and Venice – and in 1998 they conquered the Chinese continent in the first international orienteering event ever held in Beijing. Now, interested organisers are queuing up for their turn. The newcomer has grown, through youth cups and national championships. In 2001, a World Championships race on sprint distance was added to the orienteering schedule.
Back to today's leg: The leg is as usually first provided without routes – you may take a look at it and think about how you would attack this leg (if the image is too small, you may click on it to get it larger):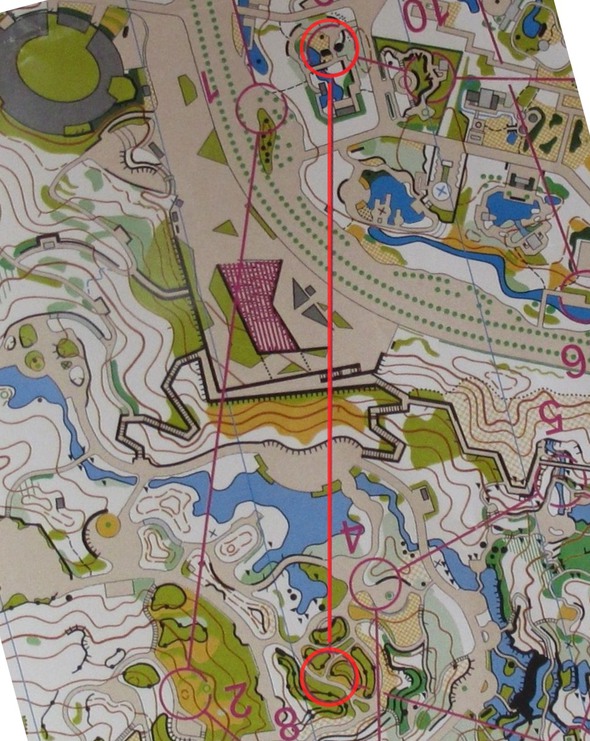 Location
You find other maps from the area in omaps.worldofo.com here. See also latest additions in 3DRerun from this area in order to learn more about this terrain type.
Webroute
Next you can draw your own route using the 'Webroute' below. Think through how you would attack this leg, and draw the route you would have made. Some comments about why you would choose a certain route are always nice for the other readers.
Then you can take a look at the possible routes below – and rethink if you still stand by your choice above.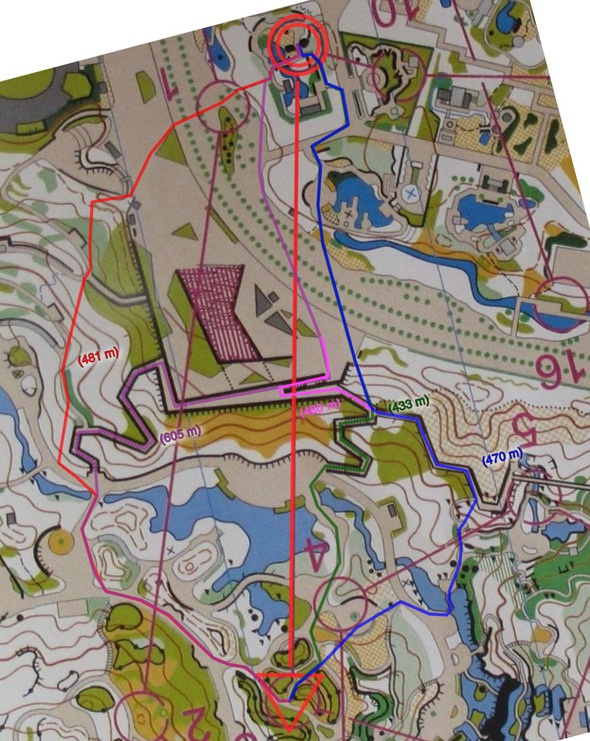 Then the leg times for the top 6 in the competition:
Oystein KO: 1.51 (1st on the leg) – green + blue 433 m
Timo S: 1.54 (2nd) – green + blue 433 m
Tim R: 1.58 (5th) – green + blue + purple 433 m
Aleksi N: 1.59 (6th) – green + blue + purple 433 m
Yannick M: 2.06 (15th) – red 481m (he took the left route partly because had ran there also on leg 1-2)
Johan R: 2.08 (18th) – green + pink + purple 480 m
Based on the splits, it looks like the green + blue option is the fastest; and the green + blue + purple the second fastest. Green + blue (and green + blue + purple) vs green+pink+purple saves you some extra meters; it seems like the terrain is faster than the stairs and extra length here. Going around to the left on the red route would be risky if Yannick hadn't been there before as it is difficult to know how the forest is, but even after having been there he lost some time.
Overall results:
1. Yannick Michiels BEL 14.09
2. Tim Robertson NZL 14.22
3. Oystein Kvaal Osterbo NOR 14.34
4. Timo Sild EST 14.35
5. Johan Runesson SWE 14.41
6. Aleksi Niemi FIN 14.52
Density map
See below for a density map of some of the ones who have drawn their routes so far (available during the day when some readers have drawn their route).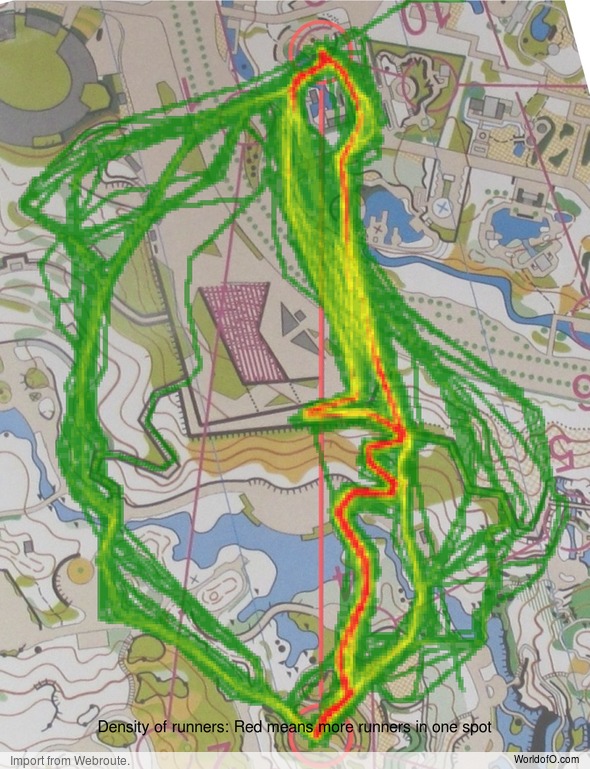 Additional information
You find the complete map in omaps.worldofo.com at this location.
Route to O-Season 2020 series
Route Choice Challenges while waiting for the real action: With the upcoming orienteering season indefinitely on hold in large parts of the the world due to COVID-19, regular orienteering route choice challenges may be one way to make sure those orienteering skills don't get completely rusty. I'll try to keep these coming daily, but need help from all of you out there to keep them coming and to keep up a certain quality.
Tips on good route choice challenges – either from races/trainings (even cancelled ones) or theoretical ones with accompanying analysis – are very welcome (please e-mail to jan@kocbach.net).
Not all legs are taken for the interesting routechoice alternatives – some are also taken because the map is interesting – or because it is not straightforward to see what to do on a certain leg. Any comments are welcome – especially if you ran the event chosen for todays leg!