For day 17 we travel to a really cool terrain in Ukraine. This course is actually from a training three days ago (December 14th) by a group around Oleksandr Kratov (Cherkassi Training Camp).  
Marshes are different from Scandinavian marshes – most often completely covered by high reed – so when you enter one you need to be really careful with direction because you don't see much (Oleksandr Kratov)
There is very limited GPS-data available for this leg, but after finding the course by chance on 3DRerun I thought this would still be a good leg for Route to Christmas as long as the leg is accompanied by some thoughts from one of the masters of orienteering on how to solve these types of legs. Please add a note in the comments if this is something to also consider in the future to be able to expand Route to Christmas to more countries, or if you rather want legs with "hard facts" about which route is the fastest (GPS, RouteGadget or similar data).
– Almost nothing that limits your running
– The terrain is mostly nice to run in with exception for the green area in the middle which was extra spiky and slow, Oleksandr Kratov explains about the runnability in the terrain. – There is almost nothing that limits your running in the white forest and on yellow. 
The marshes are a bit of a different story – although at this time of year they are quite fast from a runnability standpoint. –  Marshes are different from Scandinavian marshes – most often completely covered by high reed – so when you enter one you need to be really careful with direction because you don't see much, Kratov explains. – But the bottom was nice and almost dry at this time of the year, so it was OK to run there, like in light green areas.  
And the last tip from the Ukrainian top orienteer: – In this terrain I would recommend to check direction  often because everything looks alike, especially in the marshes.
Draw your suggested route based on December conditions
So your task is to draw the route based on how the terrain is today (in December) – with marshes which are quite well runnable but with low visibility.  At other times of the year when the water is high in the marshes, the route choices are another story. Feel free to draw a second choice for that time of year and mark accordingly in your comment if you want to spend some extra time with the leg.
The leg is as usually first provided without routes – you may take a look at it and think about how you would attack this leg (if the image is too small, you may click on it to get it larger):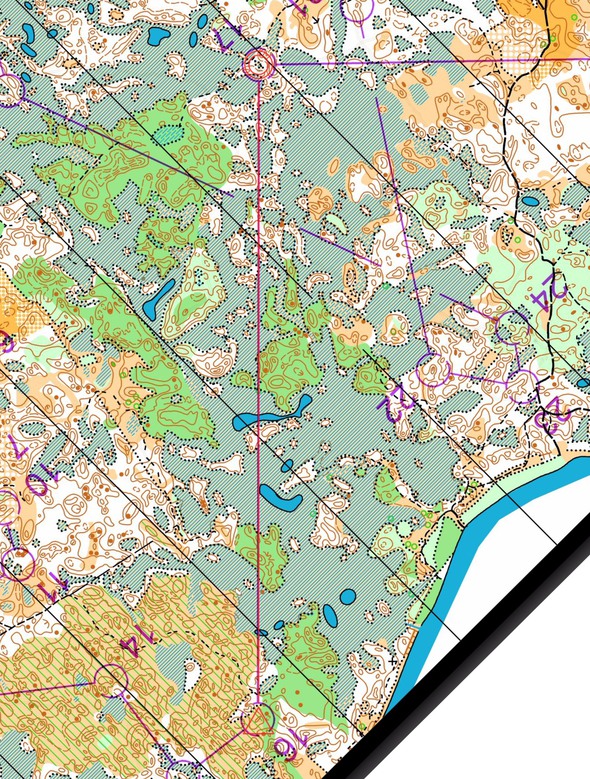 Location
You find other maps from the area in omaps.worldofo.com here. See also latest additions in 3DRerun from this area in order to learn more about this terrain type.
Webroute
Next you can draw your own route using the 'Webroute' below. Think through how you would attack this leg, and draw the route you would have made. Some comments about why you would choose a certain route are always nice for the other readers.
Then you can take a look at how the runners have solved this leg below. Note that there are only a limited number of runners, and most of them struggled with the technical part of the task in various ways – it is therefore not easy to get too much information out based on this. Kratov himself ran to the left (blue route).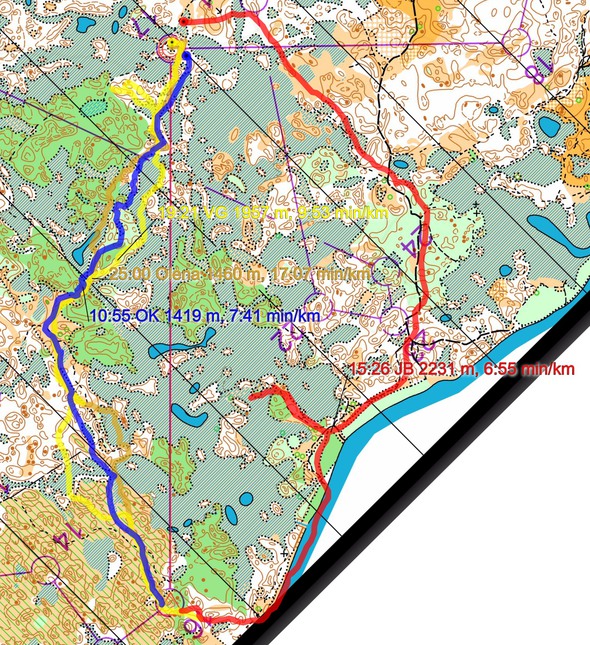 However, Kratov has provided us with his ideal choice at this time of year. On the map below four different alternatives are drawn.
– Knowing the terrain, today I would go as close to the line as possible avoiding dark green.  In another time of year when water is high I would run the B alternative in your illustration.
Thus based on Kratov's advice, something similar to the D-alternative (nearly straight, purple line) would be the fastest alternative at this time of year. Note however that this requires very accurate orienteering and good compass use. The A-alternative (red) being 100 meters longer but with some safer zones during the leg might be a very good option for most runners who do not have Kratov's technical level.
Do you know about similar terrains other places in the world? Drop a note in the comments below!
Density map
See below for a density map of some of the ones who have drawn their routes so far.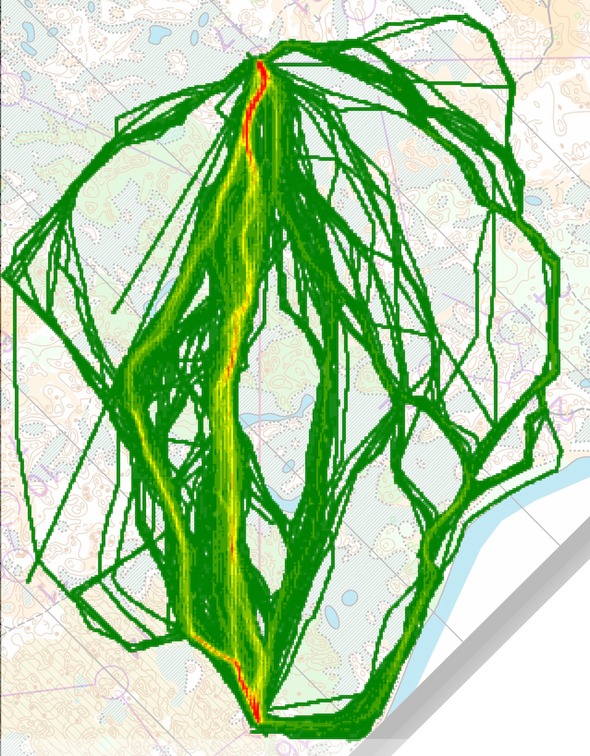 Additional information
You find the complete map in omaps.worldofo.com at this location.
Route to Christmas series
The Route to Christmas series at World of O has been very popular the last years – giving the readers the opportunity to do one Route Choice Challenge each day from December 1st until December 24th. If you have got any good legs in RouteGadget, GPSSeuranta or 3DRerun from 2015-competitions – or old forgotten ones which are still interesting – please email me the link at Jan@Kocbach.net, and I'll include it in Route to Christmas if it looks good. Route to Christmas will not be interesting if YOU don't contribute.
Not all legs are taken for the interesting routechoice alternatives – some are also taken because the map is interesting – or because it is not straightforward to see what to do on a certain leg. Any comments are welcome – especially if you ran the event chosen for todays leg!