A great day for Switzerland in the World Cup middle distance #4 in Appencell: Matthias Kyburz won the mens class 4 seconds ahead of Olav Lundanes while  Simone Niggli won the womens class ahead of Judith Wyder and Minna Kauppi in a shared 2nd place.
The comments about the course from the runners after the race were not too positive – few real route choices and a lot of running. But still the best orienteers were in the top of the results.
Maps
Below you see a comparison of Simone Niggli and Minna Kauppi for the first part of the course – where Kauppi was faster. Niggli used her "Turbo" to get away from Kauppi in the second part of the course.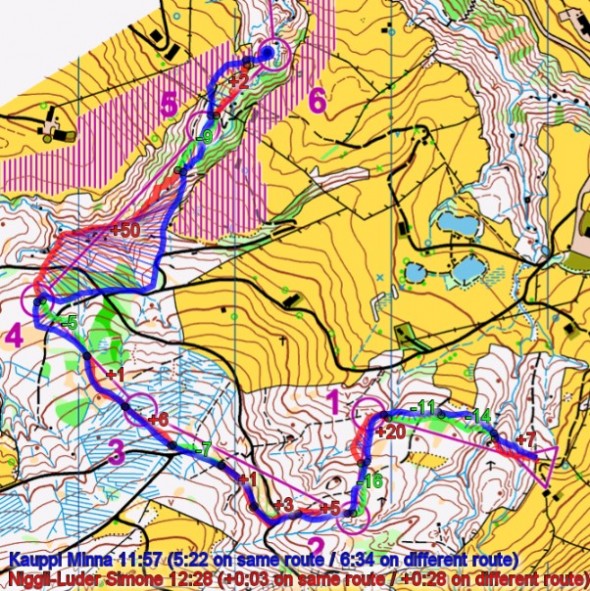 Results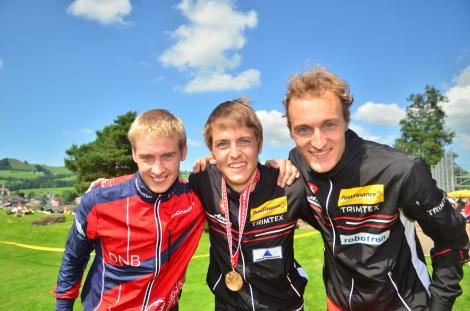 Men
1   Matthias Kyburz SUI 40:41 0:00
2   Olav Lundanes NOR 40:45 +0:04
3   Baptiste Rollier SUI 41:34 +0:53
4   Matthias Merz SUI 41:53 +1:12
5   Frederic Tranchand FRA 42:12 +1:31
6   Jan Sedivy CZE 42:15 +1:34
7   Marc Lauenstein SUI 42:17 +1:36
8   Valentin Novikov RUS 42:28 +1:47
9   Magne Daehli NOR 42:41 +2:00
10   Peter Öberg SWE 42:56 +2:15
Women
1   Simone Niggli-Luder SUI 40:18 0:00
2   Minna Kauppi FIN 41:02 +0:44
2   Judith Wyder SUI 41:02 +0:44
4   Tatyana Riabkina RUS 41:56 +1:38
5   Ida Bobach DEN 42:02 +1:44
6   Anne Margrethe Hausken Nordberg NOR 42:38 +2:20
7   Annika Billstam SWE 42:55 +2:37
8   Ines Brodmann SUI 43:13 +2:55
9   Rahel Friederich SUI 43:30 +3:12
10   Sabine Hauswirth SUI 43:35 +3:17