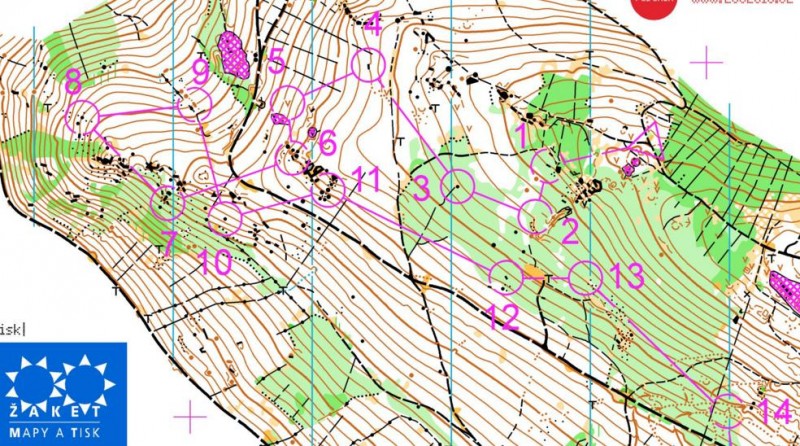 Reigning champion Daniel Hubmann missed the cut while trying to save energy for the final in the tight European Championships middle distance qualification Thursday. Johan Runesson (Sweden), Carl Godager Kaas ( Norway), Matthias Kyburz (Switzerland), Dana Safka Brozkova (Czech Republic), Cat Taylor (Great Britain) and Judith Wyder (Switzerland were heat winners.
The middle distance qualification often proves to be the qualification race were it is of the most tricky to make the cut for the A-final. This time one of the biggest favourites of them all – reigning European Champion middle distance and this year's European Champion Long distance from Tuesday, Daniel Hubmann, missed the cut. The tricky green areas in the slopes is one reason – but athletes also made mistakes on easier controls.
The first start in the middle A-final is Friday at 13:45 CET for the men and 15:30 CET for the women. The middle A-final TV-broadcast starts at 13.35 CET. Expect the decisions around 16:00 in the men's class and 17:45 in the women's class. Follow the middle final with live webTV, live results and live GPS-tracking here.
"Lazy" Hubmann
Hubmann explained to the EOC2016 webpage that he tried to save some energy for the final, not running at his maximum speed.
– Since I am running the whole programme, I need to save some energy somewhere to be ready for the finals, that's why I did not push maximum all the time, Hubmann explained. – And then I made some mistakes – at the 6th control, I thought it was an easy one, just in the white slope, but I missed over a minute there. I still thought I ran ok, because it is a tricky race and many others would make mistakes too. But still I was not running  aggressively enough, I was a bit lazy.
EOC (from 2006): 7-5-10-2-2-2-4-2-2-3-1-3-9-1-1-4-5-1-NotQ

WOC (from 2004): 9-9-2-3-29-4-5-7-2-3-4-1-3-1-2-1-7-3-3-7-1-4-5-4-5-7-2-2-11-2-6-1-1-2
With 9 seconds up to the safe 17th place, Hubmann gets an extra rest day before trying to take Switzerland to gold on the relay on Saturday. This was the first time Hubmann missed the cut to the final in an international championship. His series of results at EOC and WOC since his debut in 2004 is very impressive. Hubmann has always reached the final, and has only had two results not in the Top 10 (29th at WOC middle 2005 and 11th at WOC middle in 2014).
Below a comparison with Norway's Håkon Westergård who finished 17th. Hubmann was well ahead until the 17th control, then lost first 27 seconds to control 18 and another 29 seconds to control 19 – and with a slow finish on top of that Hubmann was out.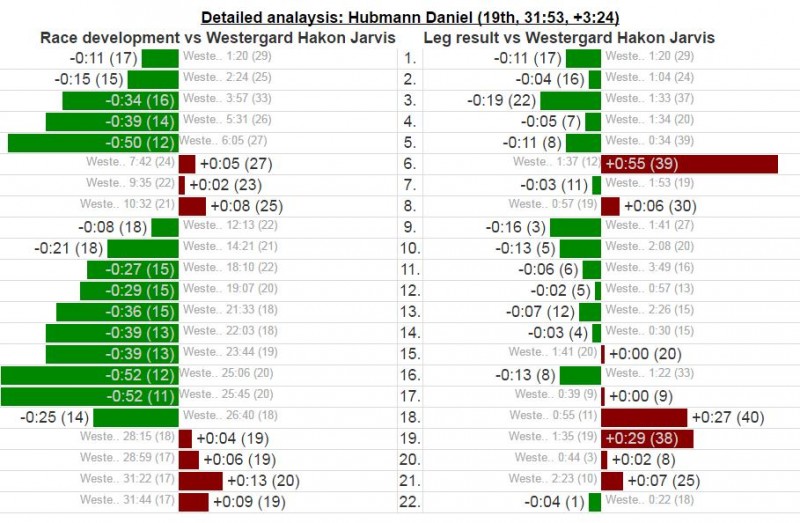 Other top runners missing the cut
Other top runners missing the cut includes Andres Rüedlinger (Switzerland), Hector Haines (Great Britain), Olli Ojanaho (Finland), Jo Forseth Indgaard (Norway), Ingjerd Myhre (Norway).
Maps & GPS-tracking
Results
The 17 best European athletes from each heat went to Friday's final; in addition non-European athletes finishing in the Top 17.
Men A
1. Runesson Johan SWE 0016 Sweden 28.29
2. Hubmann Martin SUI 0007 Switzerland 29.01
3. Basset Lucas FRA 0000 France 29.08
4. Novikov Valentin RUS 0023 Russian Federation 29.33
5. Leandersson Jonas SWE 0008 Sweden 29.36
6. Glibov Ruslan UKR 0000 Ukraine 29.41
7. Kubát Pavel CZE 0007 Czech Republic 30.06
8. Nykodým Miloš CZE 0013 Czech Republic 30.34
9. Taivainen Olli-Markus FIN 0038 Finland 30.54
10. Norbech Torgeir NOR 0010 Norway 30.55
11. Kerschbaumer Gernot AUT 0000 Austria 31.01
12. Blanc-Tranchant Olivi FRA 0001 France 31.08
13. Gröll Matthias AUT 0003 Austria 31.27
14. Cherry Alan GBR 0010 Great Britain 31.30
15. Dobrynin Sergey RUS 0003 Russian Federation 31.39
16. Bakó Áron HUN 0000 Hungary 31.41
17. Westergard Hakon Jarv NOR 0017 Norway 31.44
18. Rueedlinger Andreas SUI 0001 Switzerland 31.52
19. Hubmann Daniel SUI 0003 Switzerland 31.53
20. Haines Hector GBR 0007 Great Britain 32.00
Men B
1. Kaas Carl Godager NOR 0007 Norway 28.42
2. Sjöberg Oskar SWE 0017 Sweden 28.45
3. Sild Timo EST 0006 Estonia 28.57
4. Král Vojtech CZE 0006 Czech Republic 28.58
5. Rollier Baptiste SUI 0002 Switzerland 29.30
6. Procházka Jan CZE 0016 Czech Republic 29.46
7. Portin Fredric FIN 0027 Finland 29.52
8. Bergman Gustav SWE 0003 Sweden 30.09
8. Kyburz Andreas SUI 0000 Switzerland 30.09
10. Steiwer Gaute Hallan NOR 0014 Norway 30.18
11. Martinez Antonio ESP 0003 Spain 30.37
12. Coupat Vincent FRA 0003 France 30.45
13. Kratov Oleksandr UKR 0002 Ukraine 30.47
14. Sirakov Ivan BUL 0001 Bulgaria 30.50
15. Tcvetkov Dmitrii RUS 0033 Russian Federation 31.00
16. Kirmula Miika FIN 0009 Finland 31.11
17. Cederberg Björn DEN 0004 Denmark 31.17
18. Sirmais Martinš LAT 0012 Latvia 31.30
19. Gremmel Helmut AUT 0001 Austria 31.32
20. Hodkinson Peter GBR 0008 Great Britain 31.57
Men C
1. Kyburz Matthias SUI 0008 Switzerland 28.08
2. Ridefelt Albin SWE 0015 Sweden 28.41
3. Petržela Jan CZE 0014 Czech Republic 29.34
4. Öberg Peter SWE 0012 Sweden 29.40
5. Bertuks Edgars LAT 0001 Latvia 29.47
6. Khramov Andrei RUS 0008 Russian Federation 30.05
7. Howald Florian SUI 0004 Switzerland 30.10
8. Lassen Tue DEN 0008 Denmark 30.35
9. Dallavalle Roberto ITA 0001 Italy 30.40
10. Šedivý Jan CZE 0018 Czech Republic 30.59
11. Pawlak Bartosz POL 0002 Poland 31.05
12. Merl Robert AUT 0004 Austria 31.07
13. Friedrichs Bjarne GER 0002 Germany 31.18
14. Paulinš Arturs LAT 0008 Latvia 31.29
15. Rio Nicolas FRA 0006 France 31.30
16. Daehli Magne NOR 0003 Norway 31.56
17. Nikolov Kiril BUL 0000 Bulgaria 32.04
18. Ojanaho Olli FIN 0024 Finland 32.38
19. Gil Eduardo ESP 0002 Spain 32.53
20. Indgaard Jo Forseth NOR 0005 Norway 33.05
Women A
1. Šafka Brožková Dana CZE 0066 Czech Republic 25.07
2. Indráková Adéla CZE 0056 Czech Republic 25.36
3. Friederich Rahel SUI 0056 Switzerland 26.10
4. Kinni Saila FIN 0058 Finland 26.16
5. Jansson Helena SWE 0056 Sweden 26.32
6. Bagstevold Heidi NOR 0052 Norway 26.36
7. Kemp Emily CAN 0050 Canada 27.02
8. Volynska Nadiya UKR 0056 Ukraine 27.20
9. Klysner Cecilie DEN 0053 Denmark 27.24
10. Vike Laura LAT 0058 Latvia 27.52
11. Strand Lina SWE 0062 Sweden 28.03
12. Vinogradova Natalia RUS 0079 Russian Federation 28.24
13. Fincke Anni-Maija FIN 0054 Finland 29.10
14. Haug Marianne EST 0050 Estonia 29.24
15. Ullmann Kerstin SUI 0053 Switzerland 30.04
16. Nieke Patricia GER 0052 Germany 30.08
17. Kaasiku Evely EST 0052 Estonia 30.14
18. Arniece Liga LAT 0050 Latvia 31.03
19. Anghel Andra Cecilia ROU 0050 Romania 31.05
19. Alexsandersen Sigrid NOR 0050 Norway 31.05
Women B
1. Taylor Cat GBR 0057 Great Britain 25.06
2. Mironova Svetlana RUS 0061 Russian Federation 25.16
3. Harju Venla FIN 0057 Finland 25.18
4. Johansson Emma NOR 0056 Norway 25.44
5. Knapová Jana CZE 0059 Czech Republic 26.05
6. Basset Isia FRA 0050 France 26.23
7. Alexandersson Tove SWE 0050 Sweden 26.27
8. Jenzer Sarina SUI 0058 Switzerland 26.30
9. Andersen Marianne NOR 0051 Norway 26.51
9. Bachman Anna SWE 0051 Sweden 26.51
11. Haajanen Sofia FIN 0056 Finland 26.56
12. Alm Maja DEN 0050 Denmark 27.16
13. Sheherd Jo GBR 0055 Great Britain 27.31
14. Novikova Yulia RUS 0064 Russian Federation 27.49
15. Dambe Inga LAT 0051 Latvia 28.08
15. Arbter Anja AUT 0050 Austria 28.08
17. Rybakovaite Kristina LTU 0056 Lithuania 28.13
18. Sluta Olga UKR 0054 Ukraine 28.31
19. Omová Michaela CZE 0064 Czech Republic 28.50
20. Ivanova Kristina BUL 0052 Bulgaria 29.44
Women C
1. Wyder Judith SUI 0051 Switzerland 23.27
2. Gross Julia SUI 0052 Switzerland 23.51
3. Johansson Emma SWE 0058 Sweden 24.01
4. Chataing Amélie FRA 0052 France 24.25
5. Horcicková Vendula CZE 0054 Czech Republic 24.32
6. Teini Marika FIN 0077 Finland 24.34
7. Kosová Denisa CZE 0060 Czech Republic 24.54
8. Tullie Jess GBR 0058 Great Britain 25.11
9. Bjoergul Ida Marie NOR 0053 Norway 25.24
10. Bobach Ida DEN 0051 Denmark 25.25
11. Hagström Sara SWE 0054 Sweden 25.46
12. Scalet Carlotta ITA 0054 Italy 26.01
13. Vercellotti Léa FRA 0053 France 26.30
14. Rantanen Merja FIN 0071 Finland 26.39
15. Grosberga Sandra LAT 0052 Latvia 27.23
16. Wisniewska Hanna POL 0053 Poland 27.27
17. Ramstein Laura AUT 0052 Austria 28.02
18. Myhre Ingjerd NOR 0057 Norway 28.21
19. Strain Kirsten GBR 0056 Great Britain 28.26
20. Goetsch Arntraut GER 0050 Germany 28.36