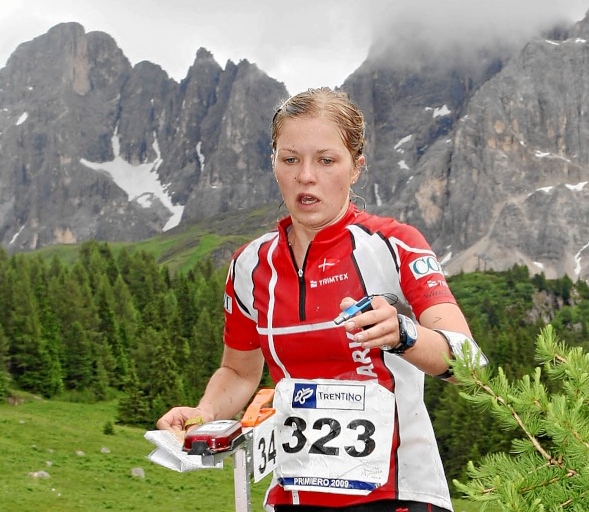 Before last years JWOC she was the only one of them without a JWOC medal – now she has passed both of her older brothers
She is only 18 years old – and with 4 medals of 4 possible in the Junior World Champs in Italy she got the Queen of JWOC. One month earlier, she was part of Ulricehamns winning Venla Team – running the first leg. This young Danish girl has really showed that she wants to start fighting with the seniors sooner rather than later – these achievements are definitely enough to get her nominated for the Orienteering Achivement of 2009.
Ida Bobach is the youngest of three very talented siblings. Before last years JWOC she was the only one of them without a JWOC medal – now she has passed both of her older brothers. Ida has one Gold, two Silver and two Bronze – her brother Søren has one Gold, one Silver and three Bronze. And Ida Bobach is still only 18 …
Picture above: From JWOC 2009 in Valle di Primiero, Italy. Photo by Newspower-Canon..

Nominated for:
Only 18 years old, and Queen of JWOC 2009 with 4 medals in 4 competitions – including the Gold medal on the Long distance! Also: Winner of Venla relay with Ulricehamns OK and winner of the JEC Relay for Denmark.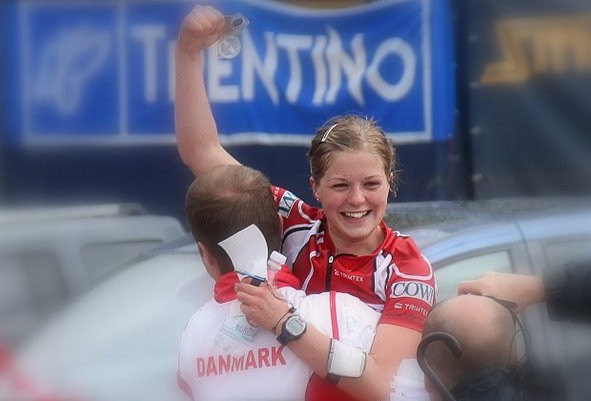 Picture from Tutzon@Picasa
– In most of the course I had a good flow, but I used some time at every control to make a good plan
The JWOC Long Gold medal
– When I started my warm up, it was raining a lot, and there was lightening and thunder. It was really cold to warm up, and my motivation sunk a bit. It didn't really feel like a World Champs competition I was preparing to run. However, 10 minutes ahead of my start, the weather and my motivation turned. The rain stopped, and the sun came out. In the same way, my motivation came out, and I really looked forward to getting the map in my hands.
This is Ida's description of the minutes ahead of her Gold medal competition in JWOC this year. Being able to turn on your motivation ahead of a competition is extremely important – and here she even got some help from the sun. If your Danish is good (or you trust Google Translate), you can read the complete description of her race on the blog of the Danish junior team.
– I am a senior World Champion
Ida Bobach has grown up with orienteering. Both of her parents are orienteers – and they brought her to orienteering events when she was very young. Orienteering will also have a very important part of Ida's life in the future.
– [In 10 years], I am a senior world champ! But that is just a dream. I think that in 10 years I am spending much time on elite orienteering and I am trying to be the world's best orienteer. But I also want to get a good education, so at this time I have found a great balance between these two things.
That is what Ida Bobach said about a year ago. Now she is several steps closer to her goal for 2018. The senior Gold medal might come a lot sooner than that if she continues as she has done…
---
Timetable:
Starting November 25th, nominees for the Orienteering Achievement of 2009 will be presented on a a day-by-day basis at World of O and Ultimate Orienteering. The winner is decided in a vote amongst all the readers of World of O and Ultimate Orienteering after all nominees have been presented between Monday November 30th and Friday December 4th. The winners will be announced December 8th. The last nominees will not be chosen until November 27th – it is
still possible to suggest your favourite here
.
---
Event sponsor: OOcup
OOCup is a popular Slovenian event which is famous for its interesting karst orienteering and great nature. OOCup 2010 is organized from July 24th until July 28th.
Among the Lucky voters, 2 transferable starts for the complete OOCup 2010 will be drawn.