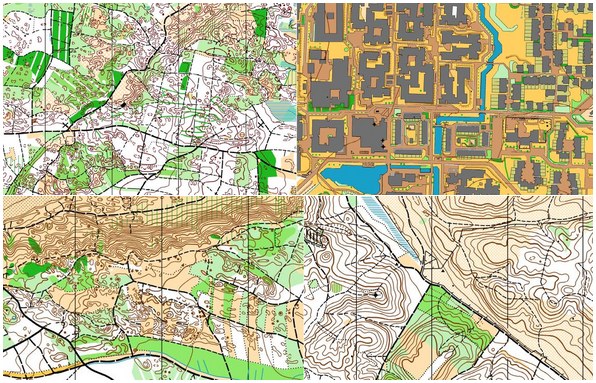 The middle distance is the only JWOC discipline which has a qualification race – with more than 150 men on the start line there will be a fight to get to the finals. The first start is at 10:00 CET – and with 3 heats and 158 runners the last starter heads into the forest in the mens class at 11:44 CET. The women start at 10:01 CET – with the last heading out into the forest at 11:23 CET.
With course lengths of about 3.1-3.2 km for the women and 3.7-3.8 km for the men, expect the runners going to the final to be ready around 11:50 for the women and 12:15 for the men. We have Tove Alexandersson as the last starter among the women and Marius Thrane Ødum as the last starter among the men – so nothing is decided before the last starter is in the finish.
Again we have got quite flat courses – total of 95-105 meters height difference for the women and 125-130 meters for the men. 20 runners from each of the three heats go to the A-final. For the men there is both B- and C-final – runner places 21-40 go to the B-final – the rest to the C-final. All women outside the top 20 go to the B-final.
Live reports
The LiveBlog below will be live during the JWOC Middle Qualification as long as the online results work. Tweets with hashtag #jwoc or #jwoc2010 will be shown directly in the LiveBlog. There is no live speaker sound or GPS tracking at JWOC. Live results will be linked from this JWOC page about one hour ahead of the first start. Update 09:20: There will be no live results today either – but the organizers will try to upload finish line times at regular intervals. We will be keeping the LiveBlog open in hopes that there will be some information coming out of Denmark during the race.
I have been promised map with course after the last start (the map will be scanned and then sent to me – so expect some delay) – this will be posted in the LiveBlog as soon as I receive it. Update: Maps are now posted to the LiveBlog!
If you are on a mobile phone, you can access the LiveBlog here.
Useful links
Program
The following is the program for JWOC 2010 in Denmark:
Facts and Course details
There are a total of 137 women and 166 men registered for JWOC 2010.