Another double for Switzerland with gold for Matthias Müller and Simone Niggli. Get the statements from the runners, the maps and the results here. For Niggli it was yet another gold medal – the 16th in the row – for Müller it was the first WOC gold medal. The biggest surprise of the day: The French Frederic Tranchand taking bronze in the mens class.
Maps
Statements from the runners at the Press conference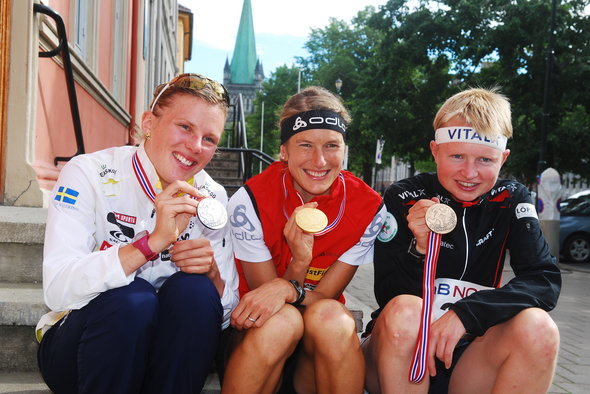 Simone Niggli, gold
– It is just fantastic.
– When I am at the start line, I don't think about results. I just concentrated on my work. I knew that it would be hard both physically and technically, and I did my job and managed to fight all the way to the finish.
– All of us have made some route planning at home – there were some "new" problems but also some that we expected.
– I am 32, and I take one year at a time. We will see after this World Championships if I have motivation for another year.
– I just think the last gold medal is always something very special.
– With Malin my whole life has changed a lot, but it has been positive for me. She gives me so much. She gives me another look at the life. I can take all the competing a little easier. I know that it doesn't matter for Malin if I am first or last, I am just her mother.
Helena Jansson, silver
– I made a small mistake in the end, and of course I really regret it. I missed an opening in a building and I had to turn back. I didn't realize until I had continued 20 meters. I feels like it cost me the gold medal. There were 23 controls and I did 21 very well, so I am happy with the race. I felt like a lost a gold medal just after Simone finished, but now I feel like I won a gold medal. It is what you do on the whole gold which gives you the result.
– It is looking very good for the rest of the championships. It is going to be a fun week.
Marianne Andersen, bronze
– It was very important that we (Norway) got a medal, but the whole team did very well today. I consider that I am almost equal on all distances, but I have an image of being a non-sprinter – maybe difficult to keep up that image now.
– I don't think it will be a disadvantage for the other medalist to get into the forest either, so it is going to be a very hard fight for the medals there as well.
– I did a couple of mistakes – just on top of the hill after the fortress. I oriented on the wrong leg, but orienteering is about coming fastest from start to finish, so I am quite satisfied with my race.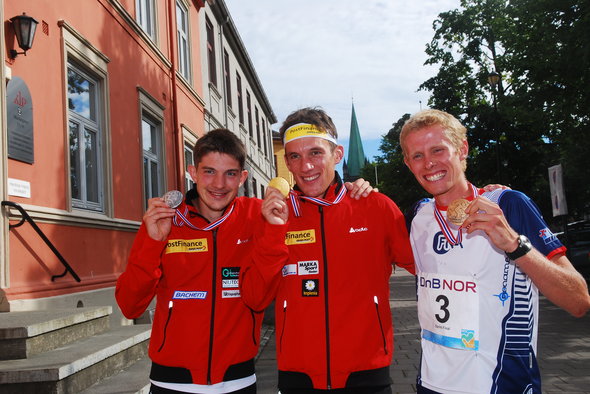 Matthias Müller, gold
– It feels very good. My goal before the start was to run as fast as possible and do as good as possible, and see what happens. I dreamed about a medal, but not about a gold medal.
– I was really nervous in the end, but I was lucky that it was not so long to wait. It was the most nervous minutes in my life. I will go on before, I don't see a reason to change something now that I am World Champion.
– When I look at the map, it was close to 100%. I can't find any seconds just now. I didn't miss any seconds.
– I have never had any better race than this. It is not possible to get better than not missing any seconds.
– I am running the middle, and I might have a chance to run the relay – I will know the evening before.
Fabian Hertner, silver
– I started quite good, but I see now that I maybe took a slower routechoice to the 5th. To number 16, I changed my mind after some 30-40 meters and turned around, so I lost some 10-15 seconds there.
– In the finish I was a bit angry at myself, but I am still very satisfied.
– Is it going to be like this with the Swiss in the top each day? – Yes I think so.
– I won the silver – for sure when you look behind, it is so tight. If you get a medal, you always win it. You can not loose a medal.
– The course was exactly as I had expected it. No surprises.
Frédéric Tranchand, bronze
– For sure it is a surprise, also for me. I knew that I was well prepared for the sprint, but I didn't know that it would be so well.
– I was on the podium on the EOC on the relay and on the WUOC. I started liking being at the podium, and this was my chance this week.
– Thierry is a very good example, and his way to prepare for competitions, and train. He is very good to have in the team.
– I did an almost perfect race. I had some hesitation, but it was good.
– I run very safe. My goal was to be in control, so I took it easy when it was difficult.
Results
Men
1 Mueller,Matthias SUI 16:10,9 + 00:00,0
2 Hertner,Fabian SUI 16:13,2 + 00:02,3
3 Tranchand,Frédéric FRA 16:13,3 + 00:02,4
4 Østerbø,Øystein Kvaal NOR 16:14,1 + 00:03,2
5 Johansson,Martin SWE 16:15,3 + 00:04,4
6 Wingstedt,Emil SWE 16:15,4 + 00:04,5
7 Hubmann,Daniel SUI 16:18,2 + 00:07,3
8 Khramov,Andrey RUS 16:25,5 + 00:14,6
9 Weltzien,Audun NOR 16:27,3 + 00:16,4
10 Föhr,Tero FIN 16:41,1 + 00:30,2
Women
1 Niggli,Simone SUI 16:06,2 + 00:00,0
2 Jansson,Helena SWE 16:06,9 + 00:00,7
3 Andersen,Marianne NOR 16:12,1 + 00:05,9
4 Kauppi,Minna FIN 16:32,9 + 00:26,7
5 Egseth,Elise NOR 16:35,1 + 00:28,9
6 Jurenikova,Eva CZE 16:56,5 + 00:50,3
7 Gustafsson,Linnea SWE 16:57,9 + 00:51,7
8 Fincke,Anni-Maija FIN 17:02,4 + 00:56,2
9 Alm,Maja DEN 17:02,6 + 00:56,4
10 Nilsen,Betty Ann Bjerkreim NOR 17:04,2 + 00:58,0
LiveBlog: Replay
Replay the LiveBlog below to relive the excitement from the Sprint Final.