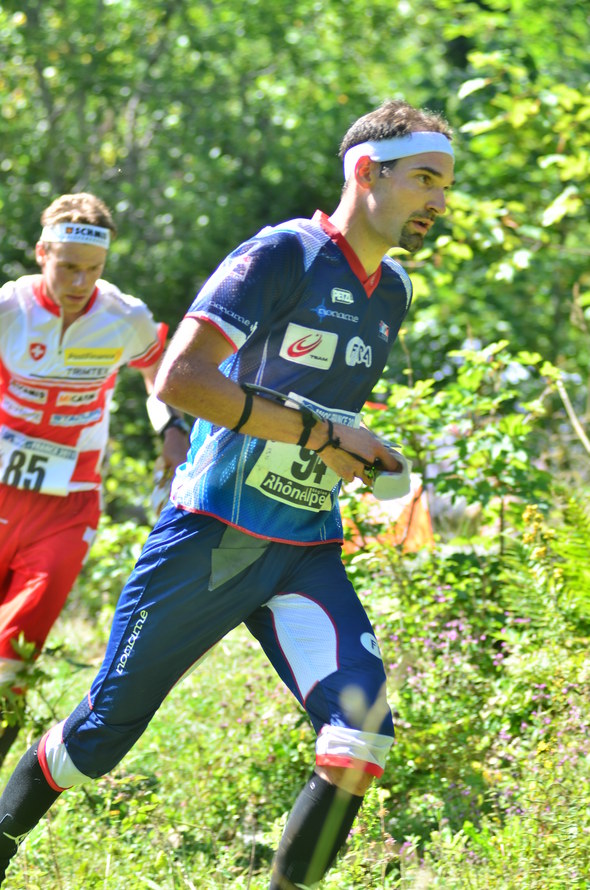 Thierry Gueorgiou and the other French men set the standard with extremely strong races in the long distance qualification today. Three French heat winners among the men of three possible – Gueorgiou, Philippe Adamski and Francois Gonon. In the womens class Dana Brozkova, Minna Kauppi and Signe Søes won their heats.
The runners were met by tricky orienteering – and longer winning times than expected – especially among the men. Gueorgiou was the only one close to the expected time with 63 minutes – winning his heat with 6 minutes.
– One minute lost on one control in a slope…  I was passing a bit too high in the slope. My goal is to run full speed for the final on Wednesday, so I tried today to save some energy, the King of Middle distance said after his great run.
– Being 4 minutes ahead today doesn't mean much because runners are not pushing maximum speed.
– Which are my biggest opponents for the final? The French runners are ready, but there can be at least 10 other runners fighting for the podium so it will be an exicting battle to come. Tomorrow i'll try to go faster in the beginning of the Middle qualification, to get a good speed feeling in the forest, and taking it easy in the end if everything goes well.
Olav Lundanes – the reigning world champion – finished second in his heat.
– It went well, but it was a though race,  Lundanes said after his second place – 55 seconds behind Francois Gonon.
Maps
Below you find the maps:

Results
Below all 45 men and women going to the final are listed – 15 in each heat.
| | | | | |
| --- | --- | --- | --- | --- |
| 1. | BROZKOVA Dana | Czech Republic | 46:33 | +0 |
| 2. | RANTANEN Merja | Finland | 48:42 | +02:09 |
| 3. | JANSSON Helena | Sweden | 49:05 | +02:32 |
| 4. | CHATAING Amélie | France | 50:01 | +03:28 |
| 5. | BAGSTEVOLD Heidi Østlid | Norway | 50:23 | +03:50 |
| 6. | INGHAM Lizzie | New Zealand | 52:27 | +05:54 |
| 7. | SHANDURKOVA Iliana | Bulgaria | 53:48 | +07:15 |
| 8. | NOVIKOVA Yulia | Russia | 54:22 | +07:49 |
| 9. | KAZLAUSKAITE Inga | Lithuania | 54:35 | +08:02 |
| 10. | CROCKER Alison | United States of America | 56:00 | +09:27 |
| 11. | HAO Shuangyan | China | 56:17 | +09:44 |
| 12. | AEBI Bettina | Switzerland | 56:38 | +10:05 |
| 13. | GUIZZARDI Michela | Italy | 57:52 | +11:19 |
| 14. | FERNANDEZ Annabel | Spain | 57:59 | +11:26 |
| 15. | PALMER Helen | Great Britain | 58:24 | +11:51 |
1.
SØES Signe
Denmark
49:51
+0
2.
BILLSTAM Annika
Sweden
52:08
+02:17
3.
LÜSCHER Sara
Switzerland
52:58
+03:07
4.
FINCKE Anni-Maija
Finland
55:20
+05:29
5.
FERSHALOVA Karina
Russia
56:14
+06:23
6.
WARD Claire
Great Britain
56:24
+06:33
7.
FASTING Mari
Norway
58:22
+08:31
8.
ZVERINOVA Martina
Czech Republic
58:50
+08:59
9.
DODIN Céline
France
1:00:43
+10:52
10.
SERRALLONGA Anna
Spain
1:03:49
+13:58
11.
DIMITROVA Nataliya
Bulgaria
1:04:20
+14:29
12.
PAUZAITE Sandra
Lithuania
1:04:30
+14:39
13.
WISNIEWSKA Hanna
Poland
1:04:34
+14:43
14.
ROSS Carol
Canada
1:07:44
+17:53
15.
VIKE Laura
| | | | | |
| --- | --- | --- | --- | --- |
| 1. | KAUPPI Minna | Finland | 50:41 | +0 |
| 2. | WIGEMYR Tone | Norway | 51:58 | +01:17 |
| 3. | JURENIKOVA Eva | Czech Republic | 52:21 | +01:40 |
| 4. | VOLYNSKA Nadiya | Ukraine | 55:59 | +05:18 |
| 5. | CLAESSON Emma | Sweden | 56:18 | +05:37 |
| 6. | ROTHMAN Rachael | Great Britain | 56:19 | +05:38 |
| 7. | FRIEDERICH Rahel | Switzerland | 57:19 | +06:38 |
| 8. | SKRASTINA Aija | Latvia | 57:31 | +06:50 |
| 9. | KADAN Ursula | Austria | 57:43 | +07:02 |
| 10. | VERCELLOTTI Léa | France | 58:43 | +08:02 |
| 11. | KLINGENBERG Emma | Denmark | 59:27 | +08:46 |
| 12. | VINOGRADOVA Galina | Russia | 59:40 | +08:59 |
| 13. | RYBAKOVAITE Kristina | Lithuania | 1:01:24 | +10:43 |
| 14. | GIL Esther | Spain | 1:04:36 | +13:55 |
| 15. | ANGHEL Andra Cecilia | Romania | 1:05:47 | +15:06 |
| | | | | |
| --- | --- | --- | --- | --- |
| 1. | GONON François | France | 1:07:43 | +0 |
| 2. | LUNDANES Olav | Norway | 1:08:38 | +55 |
| 3. | IKONEN Pasi | Finland | 1:10:38 | +02:55 |
| 4. | NOVIKOV Valentin | Russia | 1:10:59 | +03:16 |
| 5. | ANDERSSON David | Sweden | 1:11:24 | +03:41 |
| 6. | HUBMANN Daniel | Switzerland | 1:12:41 | +04:58 |
| 7. | KÄRNER Olle | Estonia | 1:17:50 | +10:07 |
| 8. | KREPSTA Simonas | Lithuania | 1:18:24 | +10:41 |
| | MUKHIDINOV Vyacheslav | Ukraine | 1:18:24 | +10:41 |
| 10. | TULLIE Douglas | Great Britain | 1:18:36 | +10:53 |
| 11. | CHRISTENSEN Christian | Denmark | 1:20:25 | +12:42 |
| 12. | MIHAILOVS Kalvis | Latvia | 1:22:13 | +14:30 |
| 13. | DENT Julian | Australia | 1:22:19 | +14:36 |
| 14. | PIJAK Ondrej | Slovakia | 1:23:17 | +15:34 |
| 15. | HAJEK Daniel | Czech Republic | 1:25:09 | +17:26 |
| | | | | |
| --- | --- | --- | --- | --- |
| 1. | GUEORGIOU Thierry | France | 1:03:14 | +0 |
| 2. | BORTNIK Alexey | Russia | 1:09:22 | +06:08 |
| 3. | LASSEN Tue | Denmark | 1:09:56 | +06:42 |
| 4. | NORDBERG Anders | Norway | 1:10:06 | +06:52 |
| 5. | BOSTRÖM Olle | Sweden | 1:11:12 | +07:58 |
| 6. | ROLLIER Baptiste | Switzerland | 1:11:18 | +08:04 |
| 7. | KERSCHBAUMER Gernot | Austria | 1:12:03 | +08:49 |
| 8. | SEDIVY Jan | Czech Republic | 1:12:57 | +09:43 |
| 9. | WELTZIEN Audun | Norway | 1:13:08 | +09:54 |
| 10. | NIKOLOV Kiril | Bulgaria | 1:14:26 | +11:12 |
| 11. | FRIEDRICHS Bjarne | Germany | 1:15:56 | +12:42 |
| 12. | KRATOV Oleksandr | Ukraine | 1:16:41 | +13:27 |
| 13. | LEHTO Jonne | Finland | 1:17:36 | +14:22 |
| 14. | BERTUKS Edgars | Latvia | 1:18:06 | +14:52 |
| 15. | FORNE Chris | New Zealand | 1:18:39 | +15:25 |
| | | | | |
| --- | --- | --- | --- | --- |
| 1. | ADAMSKI Philippe | France | 1:08:57 | +0 |
| 2. | HOLMBERG Anders | Sweden | 1:12:09 | +03:12 |
| 3. | FÖHR Tero | Finland | 1:12:47 | +03:50 |
| 4. | LAUENSTEIN Marc | Switzerland | 1:13:07 | +04:10 |
| 5. | TCVETKOV Dmitrii | Russia | 1:14:17 | +05:20 |
| 6. | MAMLEEV Mikhail | Italy | 1:14:23 | +05:26 |
| 7. | KAAS Carl Waaler | Norway | 1:14:51 | +05:54 |
| 8. | SILD Lauri | Estonia | 1:15:43 | +06:46 |
| 9. | LANG Markus | Austria | 1:16:37 | +07:40 |
| 10. | JONHSON Oli | Great Britain | 1:16:54 | +07:57 |
| 11. | USHKVAROK Pavlo | Ukraine | 1:17:48 | +08:51 |
| 12. | JUBELIS Andris | Latvia | 1:18:02 | +09:05 |
| 13. | LENKEI Zsolt | Hungary | 1:19:26 | +10:29 |
| 14. | STULGYS Donatas | Lithuania | 1:19:59 | +11:02 |
| 15. | KOWALSKI Wojciech | Poland | 1:21:34 | +12:37 |