Posted by Jan Kocbach, 14 Jul 2012@5:00
With live TV & streaming, LiveBlog & GPS tracking in the afternoon, this is going to be an exciting day for everybody interested in orienteering. Switzerland and Sweden are the big favourites, but as Simone Niggli put it on yesterday's press conference for the Swiss Team: - Sprint is a risk discipline. Suddenly something [unexpected] can happen.
The time schedule for today is as follows:
Sprint Qual: Women from 09:01, Men from 10:01. Live results + LiveBlog
Sprint Final: Women from 16:01 – Men from 17:11. Live results + LiveBlog. GPS. Live TV (+ streaming)

.
Both the sprint qualification and final are city sprints. The WOC sprint this year is special in that none of the gold medalists from 2011 are on start this year. The sprint distance is the most open race with 10-15 possible gold medalists in the mens class and 5-8 possible gold medalists in the womens class. Scroll down below the favourite preview to see the LiveBlog and other Live services.
The following text is partly taken from the "WOC 2012: All you need to know" article
Men's analysis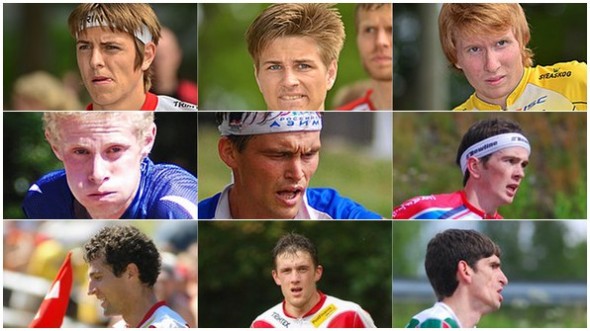 The biggest favourite in the mens class are the Swiss and Swedish men – all 6 Swiss and Swedish men on start are potential gold medalists - Matthias Merz, Matthias Kyburz, Matthias Müller, Jerker Lysell, Anders Holmberg, Jonas Lenadersson. There are actually Swiss runners which would have been clear favourites for gold which are not on the start list! Outsiders in the mens class are EOC sprint silver medalist Kiril Nikolov, WOC bronze medalist from WOC 2010Frederic Tranchand (although he has not been in sprint form so far this season), 5th on EOC sprint Scott Fraser and previous sprint World Champion Andrey Khramov (although not been in shape this season).
My tip:
Matthias Kyburz. The question mark is if this young & fast Swiss can cope with the pressure. Has a lot of self confidence from good racing earlier this year and knows he can win if he does a normal race. Has a lot to prove after last year's WOC where he finished 20th in the sprint.
Jerker Lysell. The fastest in the field – Swedish Jerker Lysell and his team mates are the only one the Swiss really fear. Just as Kyburz, Lysell has a lot to prove after last year's WOC sprint where he came back to a clear leading time, but soon realized that a control was forgotten.
Matthias Merz. Gold medal chances are better in long – but can very well take this bronze medal in the sprint.
Biggest outsiders: Matthias Müller and Scott Fraser.
Women's analysis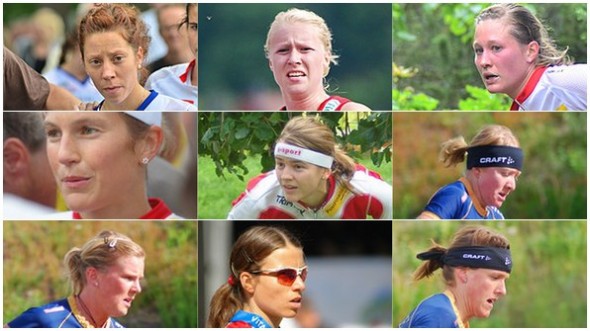 In the womens class, home star Simone Niggli is the big favourite – as in all the races she starts in at this World Championships. However, the sprint is still very open as a small mistake can be enough for the others to pass her on the results list. Along with Niggli, all Swedish women are among the  gold favourites – Sweden took the Triple in the womens class at last years WOC sprint! And although Gustafsson is out, both Helena Jansson and Lena Eliasson are on the start with reigning long distance world champion Annika Billstam finalizing the team. Denmark's Maja Alm is also a gold favourite after her 3nd place at EOC sprint earlier this year, 2nd place at the sprint World Cup in St Gallen in June and 4th place at last year's WOC sprint. A gold favourite who is easily overlooked when looking at previous results is Norwegian Anne Margrethe Hausken. Just as Niggli she is back on the scene after childbirth – and at European Champs she was disqualified away from a bronze medal. Also count in the other Swiss women among the favourites – along with Finnish Venla Niemi who took the fourth spot in the St Gallen World Cup sprint.
My tip:
Simone Niggli. She has won every World Cup race she has run this year – two of them sprints. Nobody is close if Niggli does a perfect race – and even with some mistakes Niggli is difficult to beat.
Maja Alm. Very stable around number 2-4 in sprint lately – and fast enough to beat Niggli on a good day. My favourite for the silver medal.
Anne Margrethe Hausken. She was fast enough for a medal at EOC but was disqualified for crossing a fence. Now the Norwegian is ready for revenge. If she brings her mind, she is up there fighting with the very best – and Hausken often manages to get out the best in the championships.
Biggest outsiders: Helena Jansson and Lena Eliasson
Qualification:
Maps

Sex

Courses

Length (km)

Climb (m)

Controls

Winning time
(min.)

Map Scale

Contour
interval
Dorigny
Men
A,B,C
4.0
10
17
14
1:4′000
2.5 m
Dorigny
Women
A,B,C
3.4
15
14/15
14
1:4′000
2.5 m
Course planners: Philippe Ballif and Domenico Lepori
Final:
Maps

Sex

Courses

Length (km)

Climb (m)

Controls

Winning time
(min.)

Map Scale

Contour
interval
Ouchy
Men
4.2
80
20
15
1:4′000
2.5 m
Ouchy
Women
3.0
60
19
15
1:4′000
2.5 m
Course planners: Domenico Lepori and Philippe Ballif
LiveBlog
The WOC 2012 organizers provide a LiveBlog from the WOC 2012 in cooperation with World of O. On of the organizers – Joel – will moderate the LiveBlog during the races.
Preview: Who will take the gold today?
Top 10 WOC Sprint 2011
Qualification
The qualification is held in a complex university campus. Investigation of the area in Google Earth points towards building of at least three levels (that is probably why Bulletin 4 says that simple "rain canopies" are not mapped) – who knows how the mappers will depict all these complicated buildings on the map? As every second counts in order to be among the 15 to go to the finals, expect several favourites to loose out due to partly tricky sprint orienteering.
Final
The sprint final is held close to Lake Genova – with city and parks. Some more climb than in the qualification – 80 meter for the men and 60 for the women – points towards the slopes towards Lausanne centre being used in the courses.
Possibly related posts