Posted by Jan Kocbach, 16 Jul 2012@20:50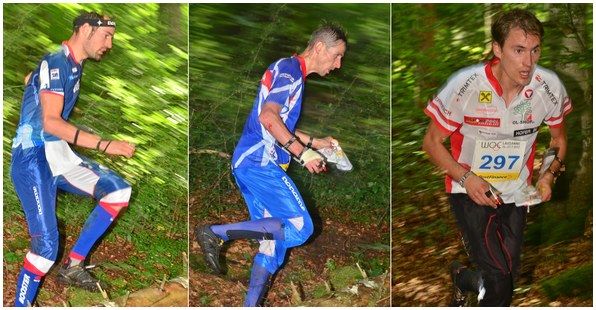 Nearly all women made mistakes today according to the split times – and many of the men as well. A tricky middle distance was offered – a lot like the World Orienteering Championships in France last year. Heat winners were Thierry Gueorgiou, Gernot Kerschbaumer, Carl Waaler Kaas, Tatiana Riabkina, Simone Niggli and Tove Alexandersson.
Useful links:
Maps
Actually the courses were probably more difficult than the qualification last year (which again was easier than expected).
Results
Men A
1   Thierry Gueorgiou FRA 29:16 0:00 Qualified
2   Olav Lundanes NOR 30:10 +0:54 Qualified
3   Lucas Basset FRA 31:35 +2:19 Qualified
4   Vojtech Král CZE 31:48 +2:32 Qualified
5   Søren Bobach DEN 32:05 +2:49 Qualified
6   Baptiste Rollier SUI 32:16 +3:00 Qualified
7   Oleksandr Kratov UKR 32:20 +3:04 Qualified
8   Martins Sirmais LAT 33:09 +3:53 Qualified
9   Štanfel Matjaž CRO 33:15 +3:59 Qualified
10   Jarkko Huovila FIN 34:03 +4:47 Qualified
11   Johan Runesson SWE 34:04 +4:48 Qualified
12   Robert Merl AUT 34:29 +5:13 Qualified
13   Jonas Vytautas Gvildys LTU 34:42 +5:26 Qualified
14   Yury Tambasov BLR 34:49 +5:33 Qualified
15   Ivaylo Kamenarov BUL 35:06 +5:50 Qualified
Men B
1   Gernot Kerschbaumer AUT 30:34 0:00 Qualified
2   Valentin Novikov RUS 30:54 +0:20 Qualified
3   Magne Daehli NOR 30:55 +0:21 Qualified
4   Pavlo Ushkvarok UKR 31:15 +0:41 Qualified
5   Lauri Sild EST 31:30 +0:56 Qualified
6   Aleksei Alekseyonok BLR 32:10 +1:36 Qualified
7   Jan Procházka CZE 32:12 +1:38 Qualified
8   Gustav Bergman SWE 32:28 +1:54 Qualified
9   Hannu Airila FIN 32:29 +1:55 Qualified
10   Marc Lauenstein SUI 32:37 +2:03 Qualified
11   Tue Lassen DEN 32:44 +2:10 Qualified
12   Zsolt Lenkei HUN 32:46 +2:12 Qualified
13   Kalvis Mihailovs LAT 33:06 +2:32 Qualified
14   Philippe Adamski FRA 33:30 +2:56 Qualified
15   Ross Morrison NZL 33:51 +3:17 Qualified
Men C
1   Carl Waaler Kaas NOR 29:21 0:00 Qualified
2   Fabian Hertner SUI 29:30 +0:09 Qualified
3   Edgars Bertuks LAT 29:34 +0:13 Qualified
4   Peter Öberg SWE 29:55 +0:34 Qualified
5   Ionut Zinca ROU 31:24 +2:03 Qualified
6   Pasi Ikonen FIN 31:31 +2:10 Qualified
7   Mikhail Mamleev ITA 31:33 +2:12 Qualified
8   Francois Gonon FRA 31:40 +2:19 Qualified
9   Michal Krajcík SVK 31:51 +2:30 Qualified
10   Olle Kärner EST 31:58 +2:37 Qualified
11   Graham Gristwood GBR 32:00 +2:39 Qualified
12   Leonid Novikov RUS 32:11 +2:50 Qualified
13   Bjarne Friedrichs GER 34:17 +4:56 Qualified
14   Simonas Krepsta LTU 34:23 +5:02 Qualified
15   Fabien Pasquasy BEL 34:52 +5:31 Qualified
Women A
1   Tatyana Riabkina RUS 33:51 0:00 Qualified
2   Lina Strand SWE 33:59 +0:08 Qualified
3   Signe Klinting DEN 34:17 +0:26 Qualified
4   Merja Rantanen FIN 34:49 +0:58 Qualified
5   Judith Wyder SUI 35:05 +1:14 Qualified
6   Dana Šafka Brožková CZE 35:27 +1:36 Qualified
7   Liis Johanson EST 36:50 +2:59 Qualified
8   Kristina Rybakovaite LTU 37:01 +3:10 Qualified
8   Nadiya Volynska UKR 37:01 +3:10 Qualified
10   Rachael Rothman GBR 38:16 +4:25 Qualified
11   Mari Fasting NOR 38:28 +4:37 Qualified
12   Elisa Elstner AUT 39:35 +5:44 Qualified
13   Christiane Tröße GER 40:43 +6:52 Qualified
14   Shuangyan Hao CHN 44:14 +10:23 Qualified
15   Louise Oram CAN 44:17 +10:26 Qualified
Women B
1   Tove Alexandersson SWE 30:38 0:00 Qualified
2   Minna Kauppi FIN 32:18 +1:40 Qualified
3   Sara Lüscher SUI 32:34 +1:56 Qualified
4   Ida Bobach DEN 33:37 +2:59 Qualified
5   Anastasia Trubkina RUS 33:46 +3:08 Qualified
6   Claire Ward GBR 34:42 +4:04 Qualified
6   Hanna Wisniewska POL 34:42 +4:04 Qualified
8   Aija Skrastina LAT 36:34 +5:56 Qualified
9   Christine Kirchlechner ITA 36:38 +6:00 Qualified
10   Inga Kazlauskaite LTU 36:43 +6:05 Qualified
11   Anja Arbter AUT 37:24 +6:46 Qualified
12   Vanessa Round AUS 38:06 +7:28 Qualified
13   Anna Serrallonga Arqués ESP 40:25 +9:47 Qualified
14   Iliana Shandurkova BUL 40:32 +9:54 Qualified
15   Ida Marie Ness Bjorgul NOR 41:36 +10:58 Qualified
Women C
1   Simone Niggli-Luder SUI 31:58 0:00 Qualified
2   Amélie Chataing FRA 32:35 +0:37 Qualified
3   Iveta Duchová CZE 33:49 +1:51 Qualified
4   Heidi Østlid Bagstevold NOR 33:53 +1:55 Qualified
5   Fanni Gyurko HUN 34:19 +2:21 Qualified
6   Helen Palmer GBR 34:39 +2:41 Qualified
7   Annika Billstam SWE 35:14 +3:16 Qualified
8   Inga Dambe LAT 36:09 +4:11 Qualified
9   Saila Kinni FIN 36:41 +4:43 Qualified
10   Maja Alm DEN 38:02 +6:04 Qualified
10   Lizzie Ingham NZL 38:02 +6:04 Qualified
12   Kirti Rebane EST 38:21 +6:23 Qualified
13   Gabija Ražaityte LTU 38:38 +6:40 Qualified
14   Ursula Kadan AUT 39:08 +7:10 Qualified
15   Ona Rafols Perramon ESP 39:25 +7:27 Qualified
Possibly related posts