Brian Porteous talks about TV, spreading of orienteering, WOC and WC in the future and the Olympics. Some hot news: It is likely that WOC qualifications will be canceled already in WOC in Italy in 2014 – and that also the mixed relay will be introduced from then on. Read on for a full interview with the new IOF President.
This interview has been made by Lenka Klimplova for the Czech O-Magazine. The Czech O-Magazine and Klimplova have kindly given permission to publish the interview here at WorldofO.com. The interview is made just a day after Porteous had been elected a new IOF President by the General Assembly in Lausanne. A few questions from the original interview have been omitted in the below reproduction.

The interview will appear in the Czech O-Magazine issue to be published on

August 17th 2012. You can read another interview with Porteous in the latest issue of "Inside Orienteering", the publication of the IOF.
How was the first IOF Council meeting under your presidency today?
It was very good. We have a good team, really good team. We just had some general discussions. We are going to work slightly differently. All the Council members have to work really hard on the Council and take responsibilities, so they are thinking what they want to do. And at our next meeting in Italy in October we will put all the plans together.
(The interview continues below the picture)

IOF President Brian Porteous. Photo: Erik Borg
Actually, what was your motivation to be a candidate for the IOF president?
I am absolutely passionate about spreading the sport around the world
Good question (smile). I think, firstly, this is my sport. I've been involved in this sport since 1968, it's a long time. And I have been involved in every job, as we all are in orienteering, we do every job. For instance, this year I controlled the Scottish sprint championships. And I have also really enjoyed my involvement in IOF, and I am absolutely passionate about spreading the sport around the world. I think we have a chance just now to take a big step forward – television and maybe I will not live long enough to see us at the Olympic Games, but I would still like us to be on that journey.
You have touched many points which I want to ask more about. Firstly, spreading orienteering. What other countries do you think IOF can spread orienteering to?
Well, let's talk just about continents. South America is a big growth area for us and the Spanish Federation is now doing work in many new countries and some existing countries there. So South America is a big opportunity, and the World Games going to Columbia next year, that's important too, I think. Then Asia – all parts of Asia. We have members who had been involved in the past – Singapore, Malaysia, and so on who are not active now. We need to get more activity in these countries.
Luxembourg has some beautiful forests
And then Europe – there are still one or two countries who are not members – Albania, perhaps Luxembourg. Luxembourg has some beautiful forests. Vatican city, Andorra, Monaco (smile). But seriously, there are countries even in Europe that can have orienteering – and the work that the South East Europe Working Group, led by Serbia, is doing is a really important example of regional development work. That kind of development – smaller, sub-regional groups working with new countries – is a really good model for development when there are not big distances involved.
(The interview continues below the illustration)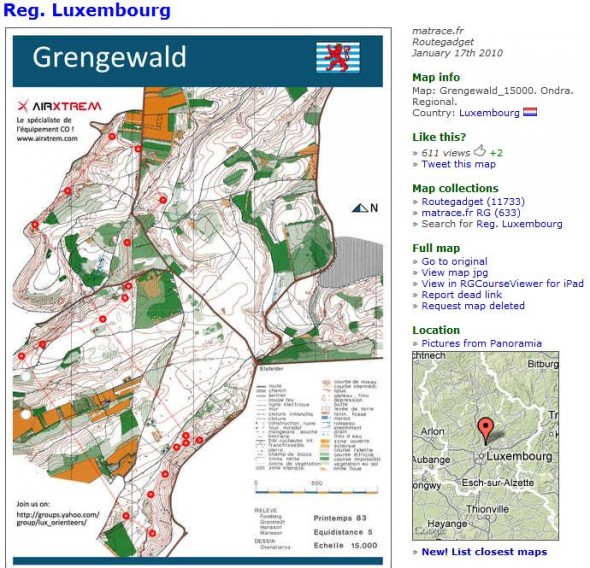 Illustration: Orienteering map from Luxembourg from omaps.worldofo.com
Another topic: the IOF Secretariat. The Secretariat has been seated in Helsinki since 1990s. Are you planning any changes?
No changes. We decided that the Secretariat will be based in Helsinki for next two years. There are some major advantages in being there because the Finnish Sports Confederation provides a lot of assistance, not least with the accommodation so there are some real advantages. The Council has no plans to change at present.
What about the "WOC in the Future"? What proposal were you in favour for at the IOF General Assembly?
It would be better to take changes in partnership with television
Well, what I have to say is that was a good discussion yesterday and it showed how the democracy in IOF can work. It is very simple – the Council's job now is to implement what the General Assembly has told us to do. One big project which I will lead in IOF in next two years will be TV. We need to develop the TV product and have it broadcast more widely. That may well mean us coming back to some of these issues again. I would not have a problem with the Nordic proposal (to organize a "Terrain" WOC and "Urban" WOC in alternating years), my only problem with such a radical change was that it was too much change at the time when we are trying to take a major television step forward. It would be better to take changes in partnership with television rather than to try to sell a changing product now.
So you can see the split of championships into urban one and terrain one in future…
I didn't say that. What I said was that it may happen but there could be other changes considered. I wouldn't say we would go this route or that route, I think we just need to be much more sensitive to the importance of the television objective. That's how we can go from being a secret sport to be something that people know, visible throughout the world.
Qualifications for middle and long have been cancelled for next WOCs…
So in Italy in 2014 […]  it is likely that we will cancel the qualifications and we will introduce, with their agreement, the mixed relay
… I can give you some hot news (smile). At the Council meeting this morning we agreed that we would move forward as fast as we can. Programme for the WOC 2013 in Finland is set, so there is no change, and television in Finland is also set. So in Italy in 2014 – in discussion with the Italian federation – it is likely that we will cancel the qualifications and we will introduce, with their agreement, the mixed relay.
We have asked the Foot‑O Commission to come up with the first suggestions how we change the qualification so we can go ahead as fast as we can. Some principles about qualification were agreed yesterday at the General Assembly. The main principle is one place for every nation – that's a big step forward! And then, we will not use the World Rankings because that's too difficult for out of Europe countries.
The next one is to look at performance in the previous world championships, but we haven't confirmed the details of that, so we need to do that in more detail urgently. We have to have a system that does not make it too difficult for countries and individuals who are improving to get into world championships. There was a lot of work done by the working group for "WOC in the Future" which will inform the Foot-O Commission's work so we hope by the end of this year to be able to consult on a model for Italy and Great Britain.
(The interview continues below the picture)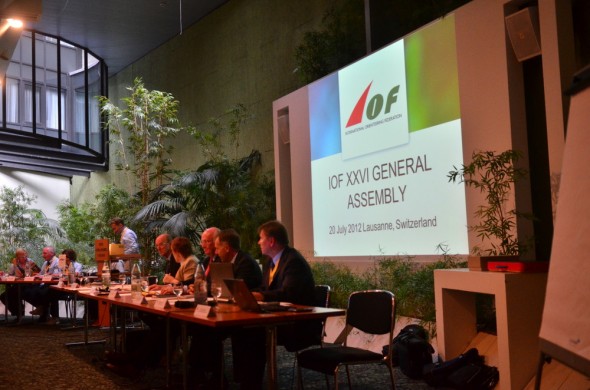 IOF General Assembly
Soon there are the Olympic Games. What are you going to do during the Olympic Games? Are you going to be in London?
Yes, I will be there for a short time. All international federations' presidents are invited. One of my sons got tickets in British Olympic Lottery for 200 m men's final and he is taking his old father with him, so I will be there watching Usain Bolt (smile). I will also be continuing to build up my network within world sports bodies like the IOC.
What real chances does orienteering have to get on the programme of the Olympic Games? But I wouldn't like to hear any political answer…
I hope to live long enough to see orienteering at the Olympic Games
(smile) I gave you an answer earlier. I hope to live long enough to see orienteering at the Olympic Games. (smile) We know the formal position that we will not be at the Sochi Games at the Winter Olympics 2014 and the programme is closed for the Summer Games. This is a long-term ambition, however, we have heard this week some small words about the winter programme and we now have a target to look at Winter Games in 2022. We cannot yet be too optimistic but there is a school of thought that says the Winter Games programme is too small. The way it works that the sports that are in the Games get large amount of money and adding new sports means they get less. So it is not an easy route to get in.
The Olympic Games is another area of work I will be concentrating on. There is a congress of the Olympic family called Sport Accord in Saint Petersburg next May and that gives us a target to start to build a campaign behind Ski-O for a future winter games. Foot-O is more difficult. You know rugby and golf – big, well-funded sports – are coming in in Rio in 2016. We must ultimately aim to be part of the summer games too but to do that we will need to be much more visible in more countries around the world. In London, the 26 sports share a pot of money that is a minimum of 375 million USD. Would I like some money from that in orienteering? Of course!
Now some questions about the World Cup. What sense do you see in the World Cup? And do you plan any changes in the WC structure?
We might see some programme changes but it will be driven by the money being there for us to do that
Not at the moment. The World Cup structure is set, and clearly we are pleased that we are going have, for instance, the World Cup outside Europe, in the New Zealand in January. That's good. It's back to the answer I gave you about television earlier on and changing the WOC programme – we might see some programme changes but it will be driven by the money being there for us to do that.
I want to see us as ultimately having a sort of television technical model that we can plug into a World Cup race anywhere where the costs are reduced for host federations, and yet we get the quality of the programming. So it's linked, it's all joined up with the television bit. It would be great to have winter and summer World Cups in Foot-O and Ski-O, in longer term in MTBO as well, being televised. But that's very much a long term ambition. I think we can get there. The critical thing is to step onto bigger broadcast platform with really good television coverage like there was in the Czech Republic or Norway. We need to take that step but we need consistent quality.
But what about flexibility of choosing World Cup organizers? I heard some rumours that if a federation wants to organize a World Cup race in 2 years, it is not possible because the programme is set up for few years ahead…
I think the problem at the moment is just the programme has to be planned few steps ahead, so short time changes are more difficult.
If you look on cross-country skiing, they plan the WC programme for next season in March. Why is it not possible in orienteering to be more flexible?
It is easy in cross-country skiing – there is a lot of money in the sport, so the federations have the resources behind the teams. We don't have that. Our teams have to plan much more carefully about how they use their money in the World Cup and World Games, and that's why we need to plan a bit more ahead. Again as I said, I can see this changing but changing with a step forward on television and sponsorship.
You said it was about money – but if a sponsor is willing to pay costs for runners to participate in an added World Cup race, why couldn't it be implemented?
Yes, we never close doors on listening to good suggestions but I am still keen that we should have a pretty clear programme set up in as well advance as we can at this point.
What does  "well in advance" mean?
I still think we should know in one World Cup year what the next World Cup year should look like. You know we have a four year cycle for world championships which is necessary because of the work involved. You can imagine a very different structure if we had a consistent platform like Eurosport but we are still a long way away from that.
You have mentioned TV many times in this interview. And my question is there are IOF advisors/controllers, but there is no controller over the quality of TV broadcasting. What are your plans in this field?
So we now have to get that project together and we have to find the means of controlling the quality
Yes, we are looking at that. We have a short-term working group of the key countries like the Czech Republic, Norway, Finland and Sweden. We've been working informally and the Council has now agreed to formalize that and set a working group to work for a year. We have time now because we know that at the World Championships next year we will have quality television from Finland.
We don't know yet if we will get quality television in the way we want it from Italy or from the Great Britain. They are willing to do what they need to do but they need our help. So we now have to get that project together and we have to find the means of controlling the quality. We haven't worked out exactly how to do it yet – that's the role of the working group. We have been listening very carefully to Karel's comments (Karel Jonák is the Czech TV producer and director who is one of the leading persons in televising orienteering) – he came to speak to the IOF Commissions and the Council in January. This is now an urgent and important project.
And the last question about money. Do you think there will be a decrease of sanction fees for organizers of IOF competitions in near future?
There is two ways to answer that question – yes and no, or maybe – so three ways (smile).  My objective is to make it easier for countries to host big events – so the answer is fundamentally yes, but we can't do it now, otherwise nothing will happen as we have no other sources of income for the sport. I think we should try to make it cheaper to organise major events– for example, we should try to get to the point where we can bring the television and technical logistics to host federations. Britain, for example, has put a significant budget for TV into the plans for World Championships in 2015. If we could take that out centrally because we have the sponsorship centrally to do it, then it would be a major step forwards. But these things are tied up.
A lot of cities around the world now have big event corporations with money to put into hosting sports events. I wouldn't want just to make it cheaper and then to lose the opportunity for countries to get money from their own national structures. I would prefer us to be taking out some of the costs like television and dealing with these through centrally organised sponsorship. That is how a number of other sports work – the World Curling Federation which I know very well has that structure – they bring the TV production team. You could see that working in orienteering. It's not easy to get to that point because we need to have some luck in getting a big sponsor that would have European-wide or world-wide view but we're working on it – and I am always optimistic. The model is quite simple – if you look at Viessmann in biathlon for instance. As I said about the Olympics, it is wrong to be over-optimistic at this stage but we know what we have to do.
We need to work hard and we need a bit of luck too. I have worked a lot in sponsorship in my jobs in sports, and I will always remember when I was setting up the Glasgow marathon in 1982. I was struggling to get the money to fund it. I was working at the office and suddenly somebody called us from the cereal manufacturing and said "We are looking for something to sponsor". I said "how much money?" – "25 thousand pounds" – I said "how about the marathon?" – They said "ok, we will do that" (smile). That's it! We need luck in addition to our hard work!
Profile
Brian Porteous
• In the sport of orienteering since 1968
• Founding member of three orienteering clubs
• Professional Officer – British Orienteering Federation (1976-1979)
• Member IOF Promotions Committee (1977-79)
• One of the Founders of the Scottish Six Day Event (1977)
• Grade A National Controller for BOF since 1976
• President Scottish Orienteering (1997-2000)
• Chair IOF Foot-O Commission (2002- 2004)
• IOF Council Member (2004-2008)
• IOF Vice President (2008-2012) responsible for Regional Development
Career outside orienteering:
• Director of  Operations for the Scottish Sports Council, the national sports development agency for Scotland (1979-1994)
• Depute Director for Parks and Recreation and then Sport and Culture for Glasgow City Council (1994-2001)
• Director of Genesis Consulting – a major Management Consultancy working in sport and culture with major national and international federations, national sports confederations and with local authoritiesplanning major sports projects and strategies (2001-2009)
• Director of Porteous Leisure – continuing to work on major national sports projects (2010- )