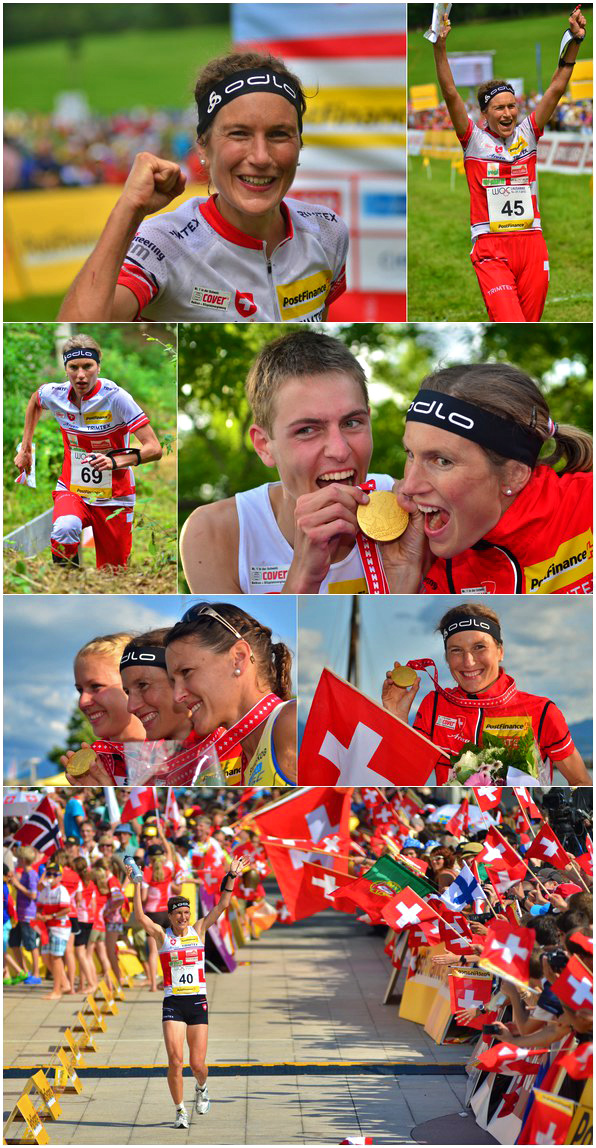 Enough is enough: After 23 WOC gold medals and countless top races in orienteering, Simone Niggli today announced that she retires from elite orienteering. World of O thanks Niggli warmly for all the great moments she has given us throughout the years.
– The motivation for races in the summer is there – the motivation for winter training and everything around on the other hand less, Niggli writes on her webpage.
With this announcement the elite career of one of the greatest orienteers ever comes to an end. Niggli will finish her elite career at the World Cup final in Switzerland the coming weekend, were she will fight for the overall World Cup victory. In this article photos from some of the great moments in Niggli's career are gathered.
23 gold medals 























2013, Sprint, Vuokatti, Finland
2013, Middle, Vuokatti, Finland
2013, Long, Vuokatti, Finland
2012, Sprint, Lausanne, Switzerland
2012, Relay, Lausanne, Switzerland
2012, Long, Lausanne, Switzerland
2010, Sprint, Trondheim, Norway
2010, Long, Trondheim, Norway
2009, Long, Miskolc, Hungary
2007, Sprint, Kiev, Ukraine
2007, Middle, Kiev, Ukraine
2006, Middle, Aarhus, Denmark
2006, Long, Aarhus, Denmark
2005, Sprint, Aichi, Japan
2005, Relay, Aichi, Japan
2005, Middle, Aichi, Japan
2005, Long, Aichi, Japan
2004, Sprint, Västerås, Sweden
2003, Sprint, Rapperswil/Jona, Switzerland
2003, Relay, Rapperswil/Jona, Switzerland
2003, Middle, Rapperswil/Jona, Switzerland
2003, Long, Rapperswil/Jona, Switzerland
2001, Long, Tampere, Finland
2 silver medals 


2010, Middle, Trondheim, Norway
2006, Sprint, Aarhus, Denmark
6 bronze medals 






2013, Relay, Vuokatti, Finland
2009, Sprint, Miskolc, Hungary
2009, Middle, Miskolc, Hungary
2007, Long, Kiev, Ukraine
2006, Relay, Aarhus, Denmark
2001, Sprint, Tampere, Finland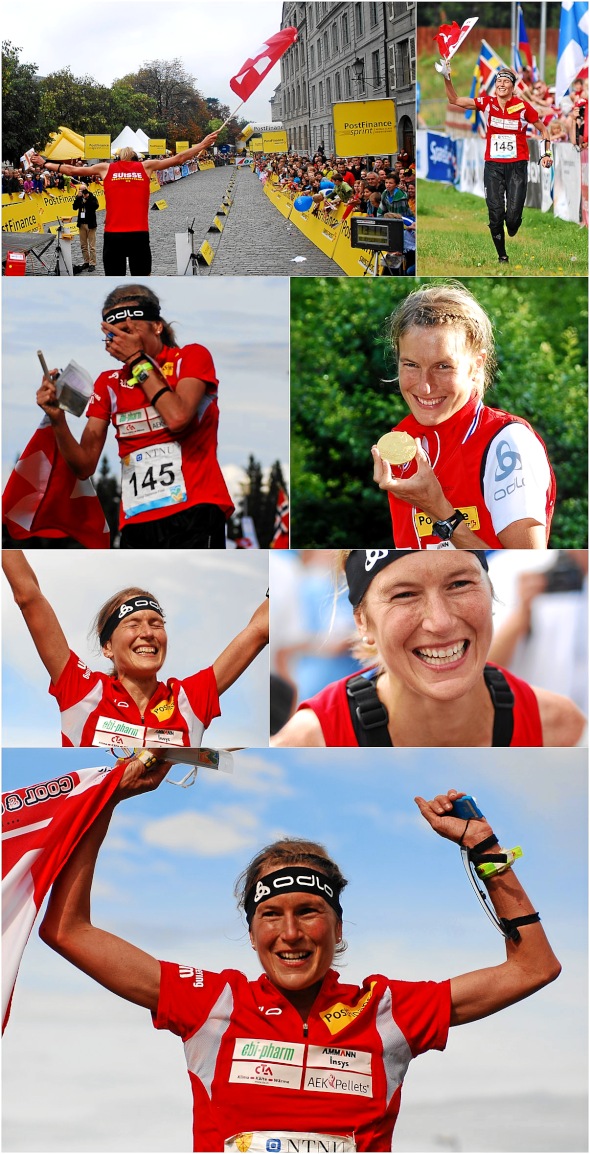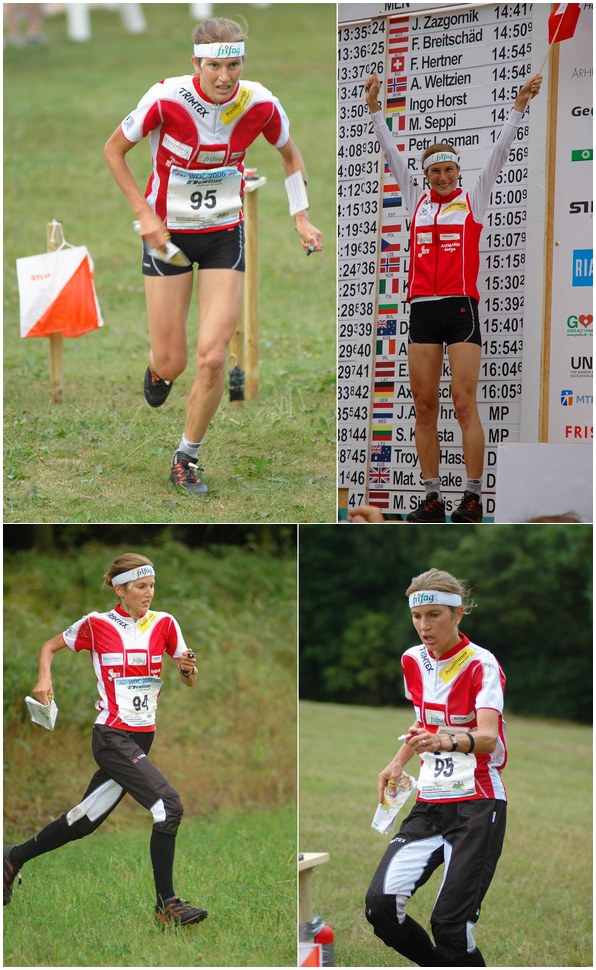 1. place: 63 times 































































2013, WC no. 10, Vuokatti, Finland, Long, WOC
2013, WC no. 9, Vuokatti, Finland, Sprint, WOC
2013, WC no. 7, NORT, FIN, Sprint
2013, WC no. 5, NORT, NOR, Middle
2013, WC no. 4, NORT, NOR, Sprint
2012, WC no. 13, NORT, FIN, Middle
2012, WC no. 12, NORT, FIN, Sprint
2012, WC no. 10, NORT, NOR, Middle
2012, WC no. 9, NORT, NOR, Sprint
2012, WC no. 8, Lausanne, Switzerland, Long, WOC
2012, WC no. 6, Lausanne, Switzerland, Sprint, WOC
2012, WC no. 5, Postfinancesprint, SUI, Sprint
2012, WC no. 4, Postfinancesprint, SUI, Middle
2012, WC no. 3, Falun, SWE, Sprint, EOC
2012, WC no. 2, Falun, SWE, Long, EOC
2012, WC no. 1, Falun, SWE, Middle, EOC
2010, WC no. 12, Postfinancesprint, SUI, Sprint
2010, WC no. 11, Postfinancesprint, SUI, Middle
2010, WC no. 10, WC-final, FRA, Long
2010, WC no. 8, Trondheim, NOR, Long, WOC
2010, WC no. 7, Trondheim, NOR, Sprint, WOC
2010, WC no. 6, NORT, NOR, Middle
2010, WC no. 4, NORT, FIN, Middle
2010, WC no. 3, Primorsko, BUL, Long, EOC
2010, WC no. 2, Primorsko, BUL, Middle, EOC
2009, WC no. 9, Postfinancesprint, SUI, Sprint
2009, WC no. 8, Postfinancesprint, SUI, Middle
2009, WC no. 7, Miskolc, HUN, Long, WOC
2007, WC no. 10, Stein am Rhein – Swisscup, SUI, Sprint
2007, WC no. 9, Stein am Rhein – Swisscup, SUI, Middle
2007, WC no. 8, Kiev, UKR, Sprint, WOC
2007, WC no. 6, Kiev, UKR, Middle, WOC
2007, WC no. 5, Mjölby – O-Ringen, SWE, Sprint
2007, WC no. 3, Mjölby – O-Ringen, SWE, Long
2007, WC no. 2, Bykle – O-festival, NOR, Middle
2007, WC no. 1, Lapua – Jukola, FIN, Sprint
2006, WC no. 9, Auvergne, FRA, Long
2006, WC no. 7, Århus, DEN, Middle, WOC
2006, WC no. 6, Århus, DEN, Long, WOC
2006, WC no. 3, Otepää, EST, Long, EOC
2006, WC no. 1, Otepää, EST, Sprint, EOC
2005, WC no. 11, Subiaco, ITA, Long
2005, WC no. 10, Subiaco, ITA, Sprint
2005, WC no. 7, Aichi, JPN, Long, WOC
2005, WC no. 6, Aichi, JPN, Middle, WOC
2005, WC no. 5, Aichi, JPN, Sprint, WOC
2005, WC no. 2, Surrey Hills, GBR, Long
2004, WC no. 11, Dresden, GER, Long
2004, WC no. 9, Dresden, GER, Sprint
2004, WC no. 5, Västerås, SWE, Sprint, WOC
2004, WC no. 3, Roskilde, DEN, Long, EOC
2004, WC no. 2, Roskilde, DEN, Sprint, EOC
2002, WC no. 15, Brno, CZE, Sprint
2002, WC no. 14, Sümeg, HUN, Long, EOC
2002, WC no. 10, Idre, SWE, Ultralong
2002, WC no. 9, Idre, SWE, Middle
2002, WC no. 7, Tynset, NOR, Long
2002, WC no. 5, Fribourg, SUI, Long
2002, WC no. 3, Lausanne, SUI, Sprint
2002, WC no. 2, Chiny/Arlon, BEL, Long
2000, WC no. 9, Lathi, FIN, Ultra-short
2000, WC no. 8, Lahti, FIN, 3-days
2000, WC no. 4, Canberra, AUS, Classic
2. place: 9 times 









2013, WC no. 6, NORT, SWE, Sprint
2010, WC no. 9, Trondheim, NOR, Middle, WOC
2010, WC no. 1, Primorsko, BUL, Sprint, EOC
2006, WC no. 5, Århus, DEN, Sprint, WOC
2005, WC no. 9, Subiaco, ITA, Middle
2005, WC no. 4, Surrey Hills, GBR, Middle
2005, WC no. 3, Surrey Hills, GBR, Sprint
2002, WC no. 6, Røros, NOR, Sprint
2000, WC no. 7, Truskavets, UKR, Middle, EOC
3. place: 5 times 





2013, WC no. 8, NORT, FIN, Middle
2009, WC no. 6, Miskolc, HUN, Sprint, WOC
2009, WC no. 5, Miskolc, HUN, Middle, WOC
2009, WC no. 4, Oslo – O-festival, NOR, Long
2007, WC no. 7, Kiev, UKR, Long, WOC