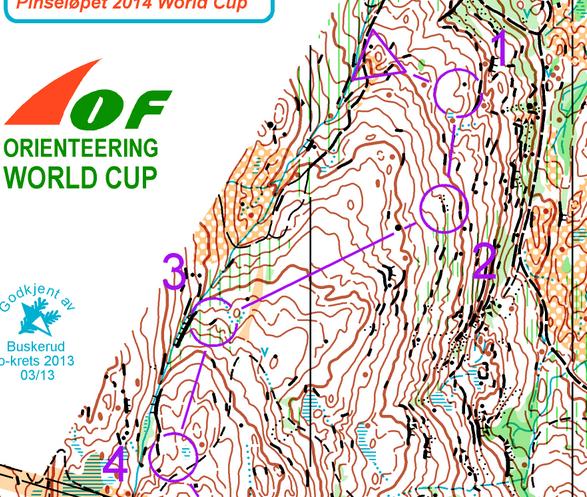 Olav Lundanes (Norway) and Tove Alexandersson (Sweden) took the victories in the World Cup race middle in Kongsberg, Norway today. The typically Nordic terrain suited the Nordic runners well – Top 3 in both the men's and women's class went to Sweden, Norway and Finland.
The courses had a though start – the 4 first control were only uphill. From the fourth control and on it was less physical – but there were a lot of technical challenges.
– Better downhill than uphill
The men's class featured a very strong fight for the medals. Early starter Torgeir Nørbech (Norway) had the lead for a long time, but then the World Champion from 2001, Pasi Ikonen (Finland), set a time which would prove to be very hard to beat. Lundanes fought hard with Ikonen – always a few seconds behind. The decisive point was the downhill towards the last control – here Lundanes pushed hard and took the necessary seconds.
– Today it felt better downhill than uphill. I am quite heavy, and therefore I am strong downhill, Lundanes said after the race.
Carl Waaler Kaas (Norway) – World Champion middle distance from 2010 – and consistently in the very top on World Cup races in Norwegian terrain – was in the fight for victory until the second last control. When choosing the left route choice it became clear that he would not manage to beat Ikonen – instead he had to fight with late starter Matthias Kyburz (Switzerland) for the third place. After a very tight run-in – Kyburz being 3 seconds behind on the last control – Kuburz and Kaas shared the third place.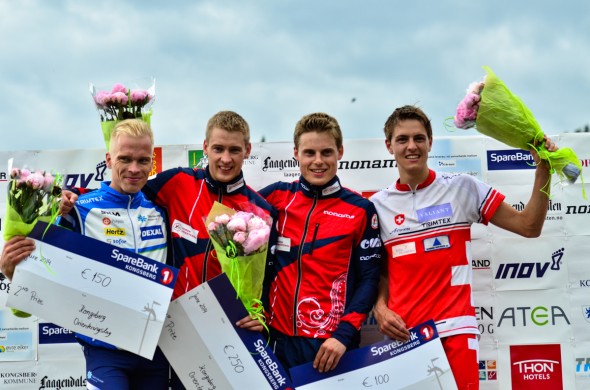 Alexandersson stronger
In the women's race Heidi Østlid Bagstevold (Norway) started early – and set a very good time. Helena Jansson (Sweden) fought closely with Bagstevold, and managed to beat Bagstevold with 39 seconds after a strong finish. But then last starter Tove Alexandersson entered the scene, and nobody was even close. Alexandersson has the highest speed of all the women in the startfield. When Alexandersson runs a top technical race, nobody has a chance to beat here.
In the end Alexandersson won with more than two minutes ahead of Helena Jansson. Minna Kauppi finished third – being caught by Alexandersson and not managing to keep the back all the way to the finish.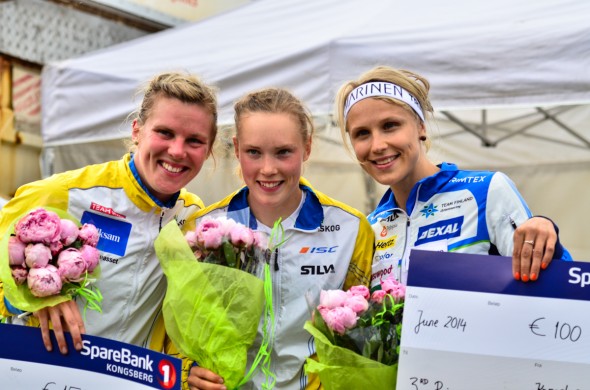 Map and GPS-tracking
Results
Results men
| | | | | | | |
| --- | --- | --- | --- | --- | --- | --- |
| 1 | (46) | Lundanes, Olav | NOR | 38:08 | | 15:29:08 |
| 2 | (36) | Ikonen, Pasi | FIN | 38:13 | +00:05 | 15:09:13 |
| 3 | (45) | Kaas, Carl Godager | NOR | 38:24 | +00:16 | 15:27:24 |
| 3 | (51) | Kyburz, Matthias | SUI | 38:24 | +00:16 | 15:39:24 |
| 5 | (50) | Bergman, Gustav | SWE | 38:48 | +00:40 | 15:37:48 |
| 6 | (52) | Hertner, Fabian | SUI | 38:53 | +00:45 | 15:41:53 |
| 7 | (18) | Nørbech, Torgeir | NOR | 38:59 | +00:51 | 14:33:59 |
| 8 | (44) | Runesson, Johan | SWE | 39:39 | +01:31 | 15:26:39 |
| 9 | (49) | Bertuks, Edgars | LAT | 39:57 | +01:49 | 15:36:57 |
| 10 | (47) | Kratov, Oleksandr | UKR | 39:58 | +01:50 | 15:32:58 |
| 11 | (23) | Årstad, Thomas | NOR | 40:04 | +01:56 | 14:45:04 |
| 12 | (32) | Ridefelt, Albin | SWE | 40:15 | +02:07 | 15:03:15 |
| 13 | (35) | Ekeberg, Bjørn | NOR | 40:19 | +02:11 | 15:09:19 |
| 14 | (38) | Sjöberg, Oskar | SWE | 40:26 | +02:18 | 15:15:26 |
| 15 | (37) | Howald, Florian | SUI | 40:37 | +02:29 | 15:13:37 |
Results women
| | | | | | | |
| --- | --- | --- | --- | --- | --- | --- |
| 1 | (153) | Alexandersson, Tove | SWE | 32:01 | | 15:18:01 |
| 2 | (151) | Jansson, Helena | SWE | 33:59 | +01:58 | 15:15:59 |
| 3 | (152) | Kauppi, Minna | FIN | 34:07 | +02:06 | 15:18:07 |
| 4 | (125) | Bagstevold, Heidi | NOR | 34:46 | +02:45 | 14:24:46 |
| 5 | (133) | Johansson, Emma | SWE | 35:07 | +03:06 | 14:41:07 |
| 6 | (132) | Haajanen, Sofia | FIN | 35:09 | +03:08 | 14:39:09 |
| 7 | (144) | Wigemyr, Tone | NOR | 35:19 | +03:18 | 15:03:19 |
| 8 | (134) | Kinni, Saila | FIN | 35:25 | +03:24 | 14:43:25 |
| 9 | (149) | Bobach, Ida | DEN | 35:40 | +03:39 | 15:13:40 |
| 10 | (147) | Fasting, Mari | NOR | 35:53 | +03:52 | 15:09:53 |
| 11 | (139) | Magnusson, Maria | SWE | 36:01 | +04:00 | 14:54:01 |
| 12 | (150) | Volynska, Nadiya | UKR | 36:07 | +04:06 | 15:16:07 |
| 13 | (128) | Anttonen, Sari | FIN | 36:09 | +04:08 | 14:32:09 |
| 14 | (146) | Lüscher, Sara | SUI | 36:15 | +04:14 | 15:08:15 |
| 15 | (141) | Niemi, Venla | FIN | 36:20 | +04:19 | 14:58:20 |