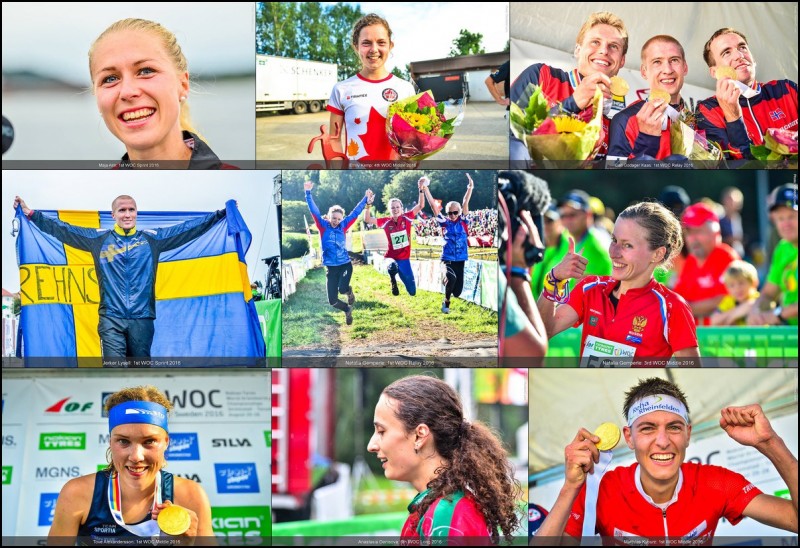 See an overview of the suggestions for nominated athletes below. Monday December 5th at midnight CET is the last chance to suggest a nomination for the Orienteering Achievement of 2016. 
Suggested athletes and achievements as of Sunday evening (through Facebook page, intro-article and e-mail) are given in the table below in arbitrary order – some of them are included in the collage above. Based on the nominations so far and additional nominations received by midnight CET December 5th, a selection of athletes/teams will be nominated for "Achievement of the Year 2016″:
Men
Women

Baptiste Rollier (Switzerland)
Jerker Lysell (Sweden)
Joey Hadorn (Switzerland)
Matthias Kyburz (Switzerland)
Tim Robertson (New Zealand)
Olav Lundanes (Norway)
Thomas Curiger (Switzerland)
Norwegian WOC Team (Norway)
Jarkko Ryyppö, Joakim Svensk
and Mats Troeng (Finland & Sweden) for MapAnt
Stefan Aschwanden (Switzerland)
Thierry Gueorgiou (France)
Roman Ciobanu (Moldova)

Maja Alm (Denmark)
Anastasia Denisova (Belarus)
Tove Alexandersson (Sweden)
Simona Aebersold (Switzerland)
Emily Kemp (Canada)
Natalia Gemperle (Russia)
Heidi Østlid Bagstevold (Norway)
Russian women WOC/EOC team (Russia)
Finnish EOC team (Finland)
Anne Margrethe Hausken Nordberg (Norway)
Danish Sprint Relay Team (Denmark)
(Sorry, no category for this team)
Write your nomination text at the World of O Facebook page – Remember that we are not necessarily looking for the best orienteer/team of 2016 – but rather the best achievements.
As an alternative for non-Facebook users only, write your nomination text as a comment to the intro-article
Great Sponsorprizes for "Lucky voters"!
Prizes valued to more than 5000 Euro are drawn among lucky voters & the ones suggesting nominations. We have 9 great sponsors from 8 different countries. The rules are as follows:
A person can only vote once in each of the categories (if several people share one internet connection, only one can vote, as the IP address is used to identify the voter along with the email-address of the voter).
Prizes from our sponsors will be drawn among all people voting.
In addition some sponsor prizes will be drawn among the ones suggesting GOOD nomination texts. Among all really good nomination texts, we will draw one or two of the great sponsor prizes.
The winners will be made public after the poll closes at World of O.
---
Event sponsor: Five + Five days of Sicily, October 1st – 13th 2017
Prize offered: Package for 2 people consisting in accommodation half board and entry fee for the second week of Five + Five days of Sicily – October 2017. Value 1510 euro. Transferable to other persons.
10 stages to discover all Sicily! First week from 1st to 6th October on the east coast, second week from 8th to 13th October on the west coast of this beautiful sunny Italian island! Read more at www.orienteering.it and facebook.com/pwtorienteering.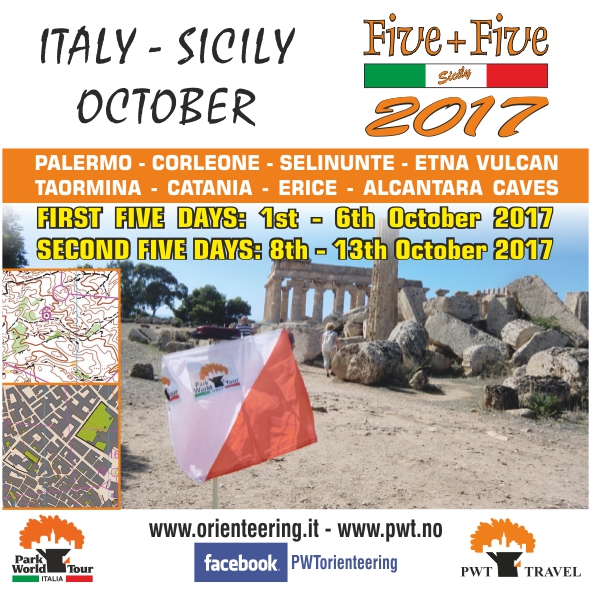 Event sponsor: Scottish 6 Days. July 30th – August 5th 2017
Prize offered: Package for 2 people consisting of Package for 2 people consisting of free entry for the complete Scottish 6 Days 2017, including accommodation in a multi person room (4 or 8 beds) at the hostel in Ballatar (which Scottish 6 Days has booked completely; the accommodation is 300 m from event centre and main shops in Ballater, 400m to bus pick-up to events which is free if booked online at time of entry).  Value about 670 Euro. Transferable to other persons.
More information:  The 21st 

Scottish

6-day event is being held in Royal Deeside between the 30th July and 5thAugust 2017. This will be the 4th time the 6-Days has come to Deeside (1983, 1993, 2005) and the event will use some of our best areas with a variety of terrain, superb arenas and car parking and stunning views to the hills and mountains around Deeside. Read more at www.scottish6days.com
 
Event sponsor: Durmitor Orienteering Challenge. August 24th – 27th 2017
Prize offered: 2 packages, each for 2 people. Each package consists of: Entry for 4 competitions (3 of them WRE competitions), accommodation for 4 nights in bungalows, one training map, plus special Event T-shirt. Value about 620 Euro, transferable to other persons.
More information. Orienteering in Montenegro will be an unforgettable experience. The Durmitor Orienteering Challenge is co-organized with the South East European Orienteering Championships, and three of the four races are World Ranking events. Read more at www.dochallenge.me.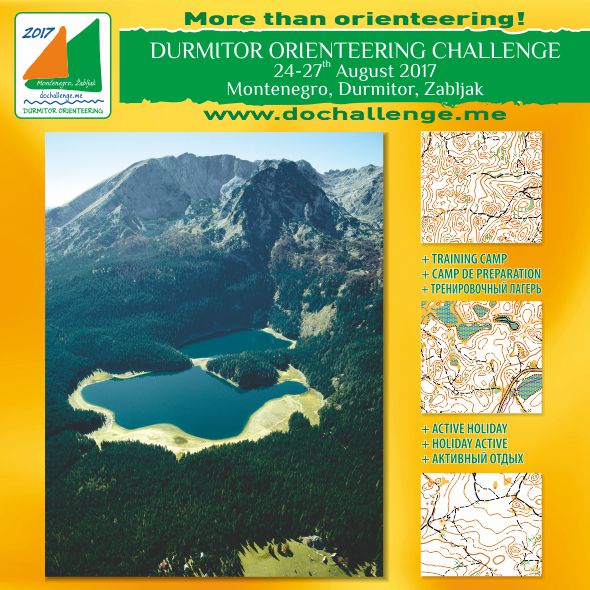 Event sponsor: Aguiar da Beira "O" Meeting 2017. March 3rd – 5th 2017
Prize offered: Aguiar da Beira "O" Meeting 2017 Competition Package for 2 persons – including entry to 3 events (Middle WRE, Sprint WRE, Long Distance and Model Event), 5 nights accommodation and a 4-map package for each person to train around the event area. Value about 535 Euro. Transferable to other persons.
ABOM 2017 will be held from

3 to 5 March

on one of the best Portuguese terrains. High quality mapmaking and amazing terrains are waiting for you! More info at: abom2017.ori-estarreja.pt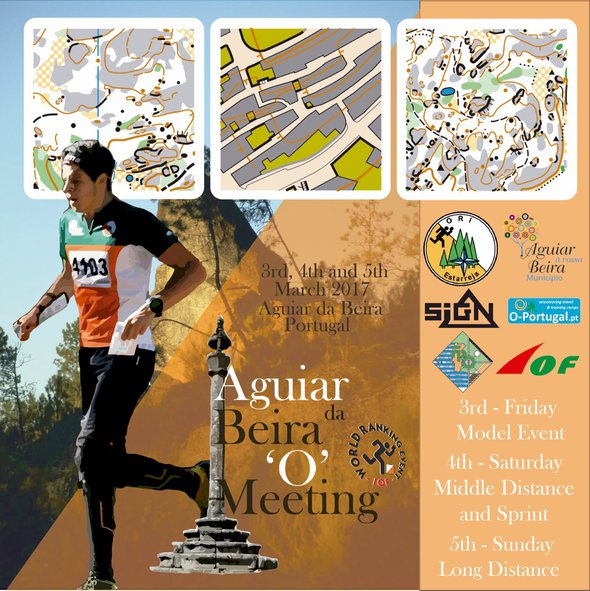 Event sponsor: Antalya Orienteering Festival 2017. October 29th October – November 5th 2017
Prize offered: One big Antalya Orienteering Festival package for one person: Accommodation + Entry for all 5 races + All Transfers. Value about 500 Euro. Transferable to other person.
Antalya Orienteering Festival will be held for the 3rd time in Antalya, Turkey. We provide 5 different terrains and challenging courses, good maps and good weather for orienteering holiday.  See more at www.antalyaofest.com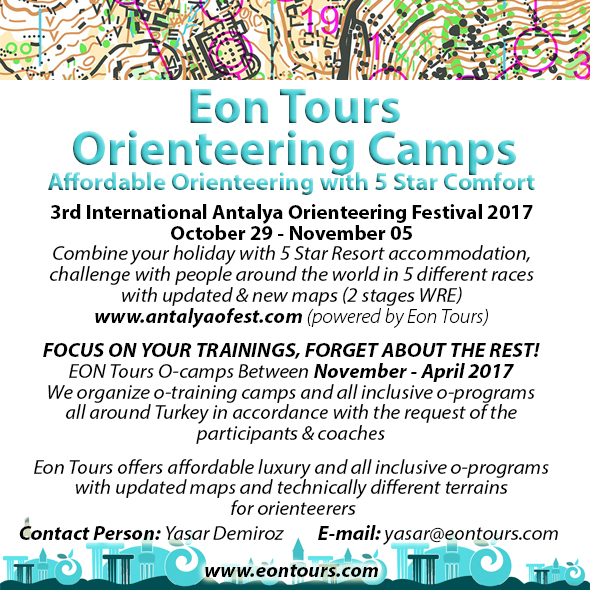 Event sponsor: OOCup 2017. July 24th – July 28th 2017
Prize offered: 2 packages – each for 2 people – consisting of: Entry for the complete 5 days OOCup competition plus OOCup 2017 T-shirt for each competitor. Value 325 euro. Transferable to other persons.
OOCup is a 5 Day orienteering event organized annually in Slovenia. OOCup 2017 will offer new maps in great, technical forests close to Ljubljana – city, seaside, caves and mountains all within driving distance. The event is famous for its Karst orienteering and excellent combination of orienteering and holidays. More at oocup.com.
Event sponsor: Wawel Cup 2017. July 5th – 9th 2017
Prize offered: Package for 2 people consisting of free entry to complete 5 Day Wawel Cup competition, the popular Wawel Cup T-shirt, and accommodation. Value about 325 Euro. Transferable to other persons.
More information: Two stages will be held in Olkusz were running through medieval post-mine pits might be quite an exam for orienteering skills. Other stages are in the exceptional Bledowska Desert and in rocky Jaroszowiec. Read more at wawelcup.pl.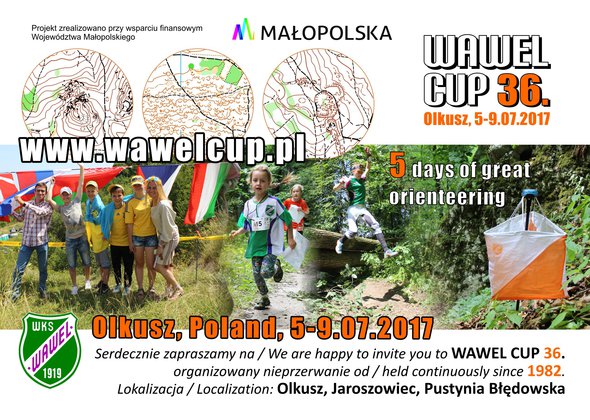 Event sponsor: Lipica Open 2017. March 11th – 15th 2017
Prize offered: 2 packages – each for 2 people – consisting of: Entry to complete 5 Day Lipica Open competition + hard floor accommodation in Postojna. Value about 320 euro. Transferable to other persons.
In 2017 Lipica open will again be organized as a 5 day event – and again some great terrains! Training conditions in this part of Europe are now better than ever – both on forest maps and on sprint maps of nice little towns on the Adriatic coast! More at www.lipicaopen.com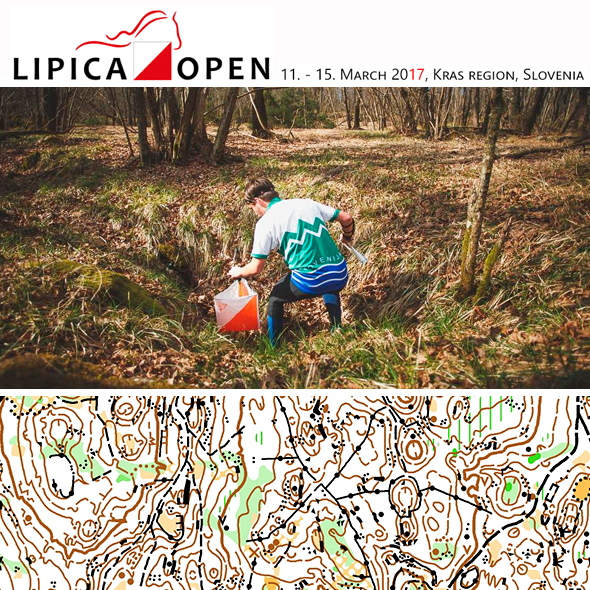 Event sponsor: Danish Spring. March 24th – 26th 2017
Prize offered: Package for 2 people consisting in free start in all three competitions and 2 nights in Hostel. Value about 280 Euro. Transferable to other persons.
More information. Feel the flow in the early spring forest of North Sealand in Denmark and get part of the cool competition in a great atmosphere! Three World Ranking Events, with classes for all ages and levels. Highly relevant terrain for WMOC 2018 in the same area and also for WOC 2017 in Estonia. Easy access to and nice accommodations in "Denmark's Royal Retreat". Ideal for your club camp. Get it all at www.danishspring.dk