Today's leg in Route to Christmas is leg X in the M21E course from Latvian Long distance championship 2016. Thanks a lot to Matiss Ratnieks for the suggestion and athlete interviews.
The leg is as usually first provided without routes – you may take a look at it and think about how you would attack this leg (if the image is too small, you may click on it to get it larger). This particular terrain has been famous for many generations because of its complexity and height differences. How far can you go around in this type of terrain?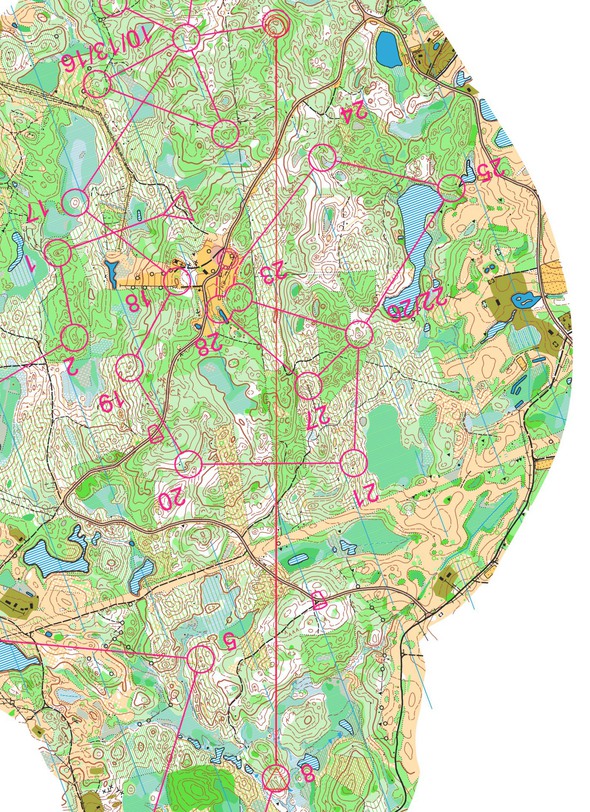 Location
You find other maps from the area in omaps.worldofo.com here. See also latest additions in 3DRerun from this area in order to learn more about this terrain type.
Webroute
Next you can draw your own route using the 'Webroute' below. Think through how you would attack this leg, and draw the route you would have made. Some comments about why you would choose a certain route are always nice for the other readers.
Then you can take a look at how the runners have solved this leg below. You find GPS-tracking, results from the race and graphical split times here. See below for some comments from the runners.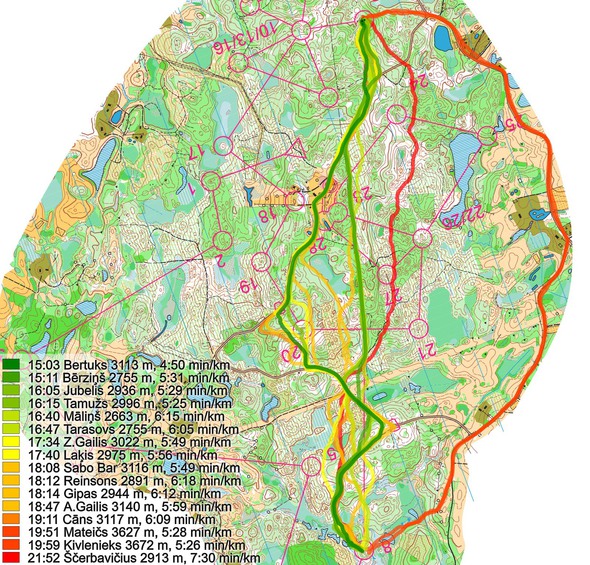 Some comments from the athletes and course setters:
1st place – Edgars Bertuks: I knew that I have to use rthe oads as much as possible to save my legs for second part of the course. In terrains like these, green areas with fallen trees can become very slow if one gets too tired. I also saw that there is a good place to "jump" from one big road to next one (after 1/3rd of the leg) avoiding going around too much. I used white gaps going uphill and downhill wasn't as bad as it looks from a map. Attacking control was a bit tricky since it was hard to keep level when visibility is bad therefore I tried to go a b it higher to make sure I don't pass below control". The route choice chosen by me was very good if even not the best possible.
2nd place – Andris Jubelis: Latvian championship in long distance was my choice for Latvian Orienteering course of the year. The terrain was physically demanding and the hot day made this course even harder to run. In long leg I tried to find road options because it was clear after first course part that using the roads is the winning option. I chose the straightest option using fire break. However it didn't have so good runability as I had expected. The leg overall didn't succeed because I made 1 minute mistake in the control area.
Course planner Aleksandrs Rogožins & Matiss Ratnieks comment: Egļukalns terrain has been famous for many generations because of its complexity and height difference. As course planner I had to find good long leg with different route choice possibilities. One of the most obvious route choices was using big gravel road on the right. However this option requires runner to collect big climb because of many slopes. The straight route choice using fire break requires runner to collect big climb and crossing many fallen trees because of old clearings in the terrain. The left option using only road is much longer than previous described possible route choices. However it doesn't require climbing so much again mountain. In my opinion Edgars Bertuks chose the best route option by cutting route bend running through terrain and then continuing using gravel road.
However, the below illustration indicates that the fire break is indeed faster – if only by some seconds. Going around on the road is definitively slower.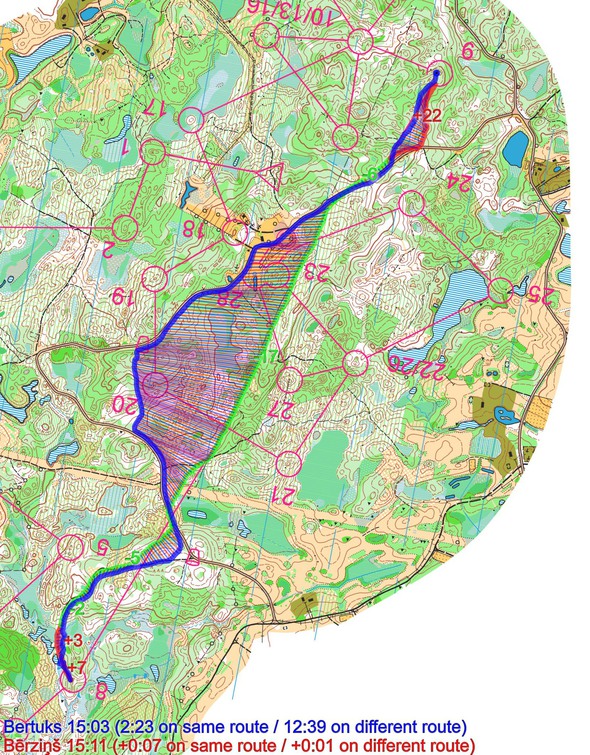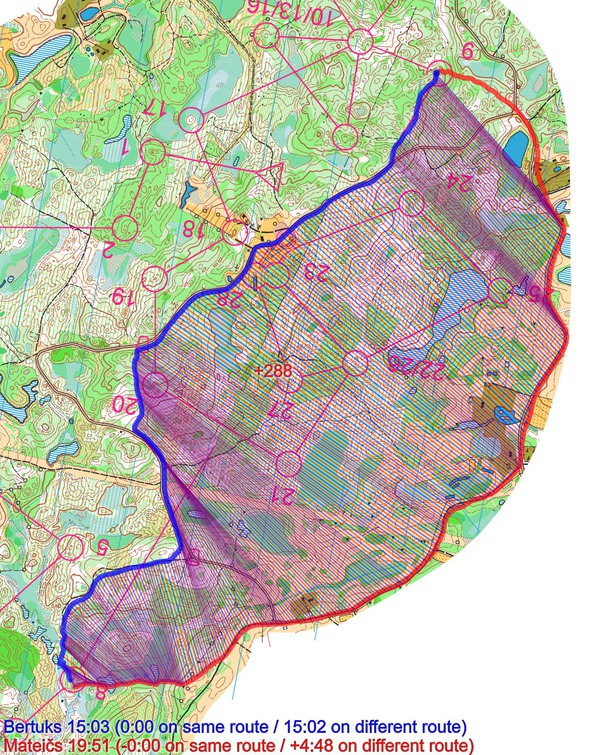 Density map
See below for a density map of some of the ones who have drawn their routes so far.
Note! Some unsuitable text was written on the density map for Day 19 of Route to Christmas 2016. If this happens again, I will unfortunately have to remove the popular density map from the Route to Christmas editions. Please keep in line and do not ruin the fun for the others…
Additional information
You find the complete map in omaps.worldofo.com at this location.
Route to Christmas series
The Route to Christmas series at World of O has been very popular the last years – giving the readers the opportunity to do one Route Choice Challenge each day from December 1st until December 24th. If you have got any good legs in RouteGadget, GPSSeuranta or 3DRerun from 2016-competitions – or old forgotten ones which are still interesting – please email me the link at Jan@Kocbach.net, and I'll include it in Route to Christmas if it looks good. Route to Christmas will not be interesting if YOU don't contribute.
Not all legs are taken for the interesting routechoice alternatives – some are also taken because the map is interesting – or because it is not straightforward to see what to do on a certain leg. Any comments are welcome – especially if you ran the event chosen for todays leg!