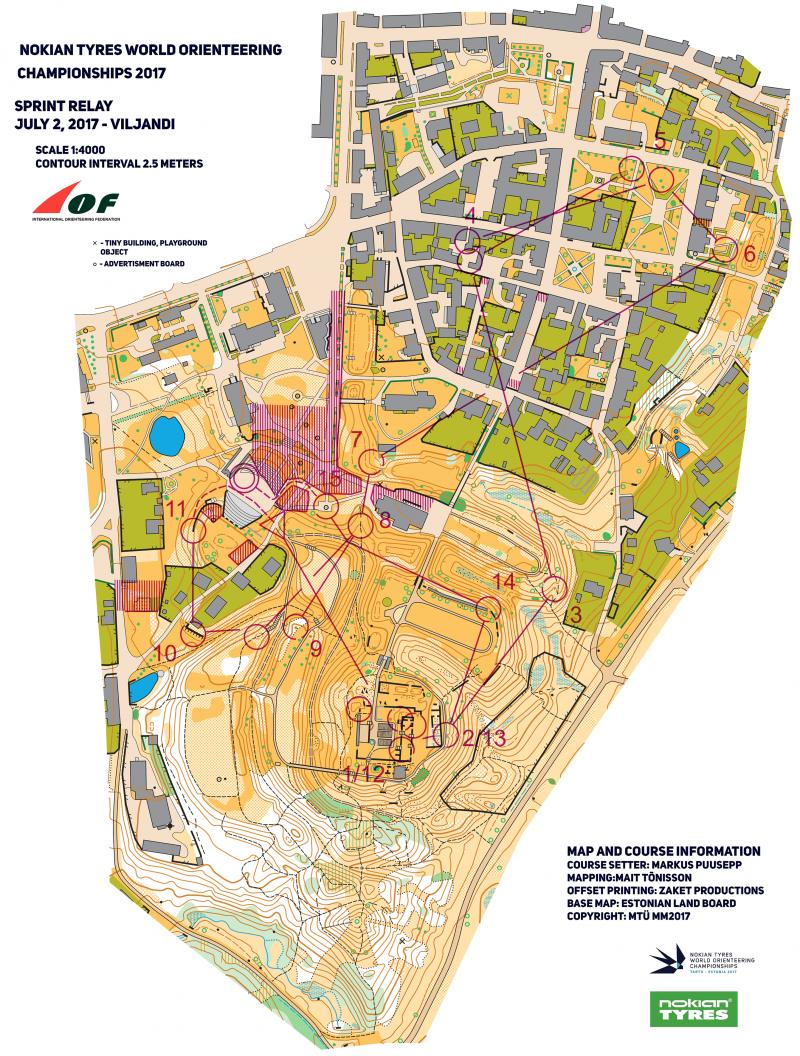 Sweden won the Sprint Relay ahead of Denmark and Switzerland after a strong team performance. Jonas Leandersson opened up a big gap at the third leg after big mistakes by Great Britain and Switzerland, and Helena Jansson could easily run  Sweden to the Gold medal.
The big drama happend on the third leg. Four teams were close together when going into the tricky forest area around control 14 and 15 towards the end of the  – Great Britain, Sweden, Switzerland and Czech Republic – with Denmark nearly 1:40 minutes behind.  Mistakes of more than 1:30 for Switzerland's Martin Hubmann and Great Britain's Kris Jones made it possible for Jonas Leandersson to open a big gap  to the biggest contenders.
Czech Republic finished the 3rd leg 40 seconds back in 2nd place – but down to Russia, Denmark, Great Britain and Switzerland the gap was between 1:40 and 2 minutes. Seemingly a safe lead for Sweden's anchor Helena Jansson. Denmark's anchor Maja Alm managed to close the gap down to 40 seconds, but the gap was too big –  Jansson could celebrate Sweden's first gold medal in Sprint Relay with her team mates Lina Strand, Jerker Lysell and Jonas Leandersson.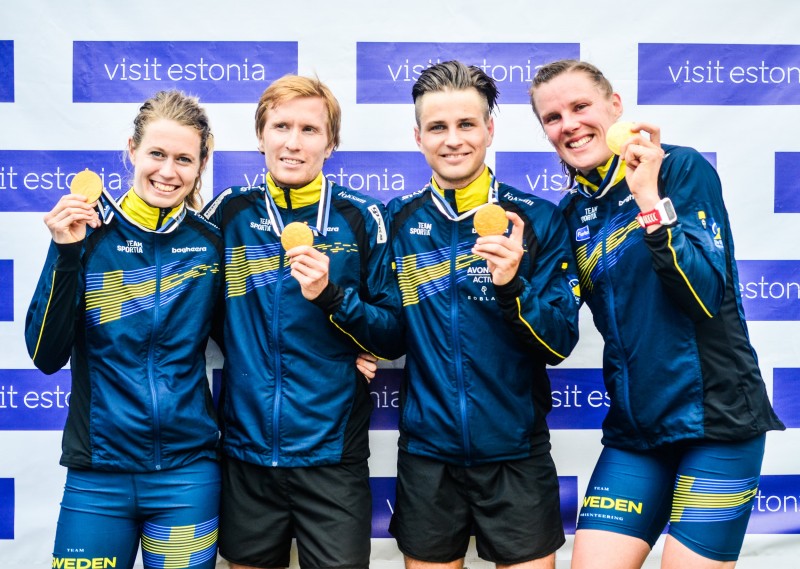 Maps
WOC Sprint Relay, Leg 1

» See map in omaps.worldofo.com
WOC Sprint Relay, Leg 2

» See map in omaps.worldofo.com
Results
1
Sweden 1
 
 
 
1:03:35
1. Lina Strand
15:53
4
+0:07
15:53
4
2. Jerker Lysell
16:26
4
+0:29
32:19
5
+1
3. Jonas Leandersson
15:32
1
47:51
1
-4
4. Helena Jansson
15:44
3
+1:16
1:03:35
1
0
2
Denmark 1
 
 
 
1:04:05
 
 
1. Cecilie Friberg Klysner
15:49
2
+0:03
15:49
2
2. Andreas Hougaard Boesen
18:01
18
+2:04
33:50
9
+7
3. Tue Lassen
15:47
2
+0:15
49:37
4
-5
4. Maja Alm
14:28
1
1:04:05
2
-2
3
Switzerland 1
 
 
 
1:04:29
1. Elena Roos
15:46
1
15:46
1
2. Florian Howald
16:24
3
+0:27
32:10
1
0
3. Martin Hubmann
17:33
10
+2:01
49:43
5
+4
4. Sabine Hauswirth
14:46
2
+0:18
1:04:29
3
-2
4
Czech Republic 1
 
 
 
1:04:51
1. Jana Knapova
16:18
8
+0:32
16:18
8
2. Milos Nykodym
15:57
1
32:15
3
-5
3. Vojtech Kral
16:16
5
+0:44
48:31
2
-1
4. Denisa Kosova
16:20
7
+1:52
1:04:51
4
+2
5
Russian Federation 1
 
 
 
1:05:21
1. Svetlana Mironova
16:32
9
+0:46
16:32
9
2. Dmitry Tsvetkov
16:50
8
+0:53
33:22
8
-1
3. Andrey Khramov
16:14
3
+0:42
49:36
3
-5
4. Galina Vinogradova
15:45
4
+1:17
1:05:21
5
+2
6
Great Britain 1
 
 
 
1:06:01
1. Catherine Taylor
15:58
6
+0:12
15:58
6
2. Ralph Street
16:15
2
+0:18
32:13
2
-4
3. Kristian Jones
17:34
11
+2:02
49:47
6
+4
4. Tessa Strain
16:14
6
+1:46
1:06:01
6
0