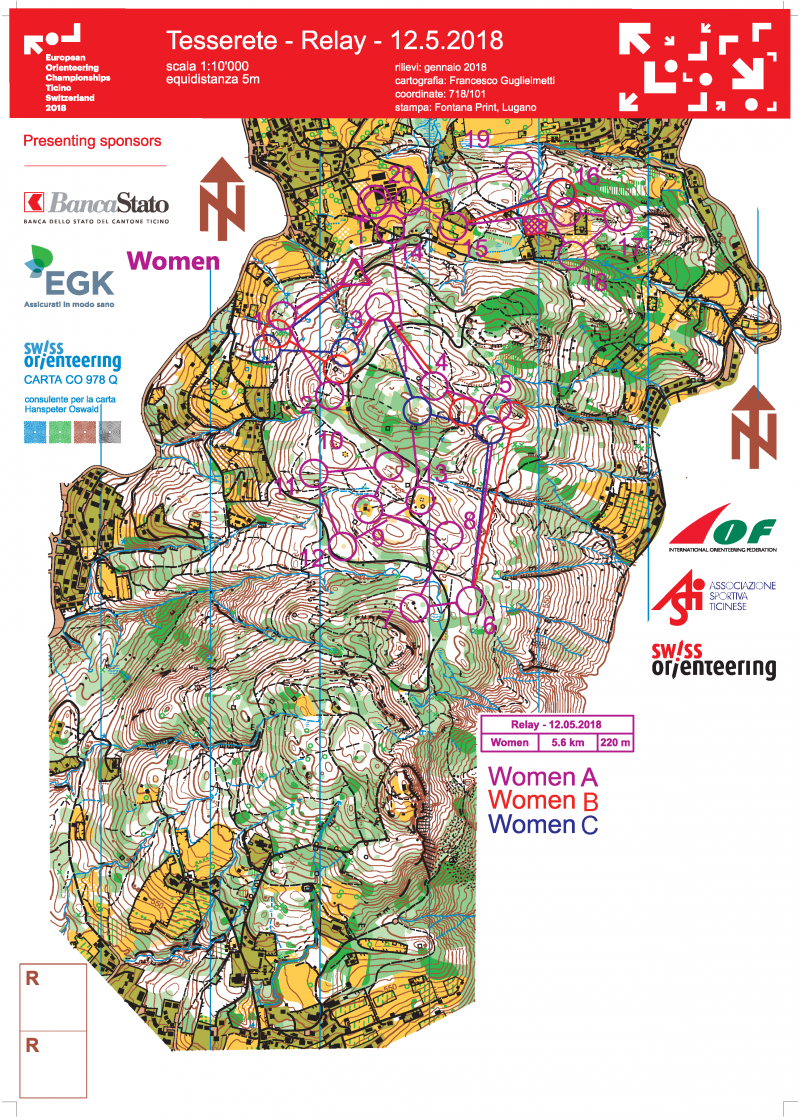 Switzerland took the women's relay and Norway the men's relay at the European Championships relay in Tessin, Switzerland.
In the women's relay Switzerland dominated from start to finish, with one of their two teams being in the lead throughout the relay. As only on team from each country counts in the final standings, the silver medal went to Sweden and the bronze medal to Denmark even if Switzerland 2 was the second team into the finish.
In the men's relay it was a tight battle for gold between Norway and Switzerland – Norway's Olav Lundanes being some 15-30 seconds ahead of Switzerland's Daniel Hubmann throughout all of the last leg. Hubmann never managed to close the gap, and in the end Norway won 30 seconds ahead of Switzerland. France took the bronze medal.
Maps and GPS-tracking
See the women's map above and the men's map below. Links to GPS-tracking: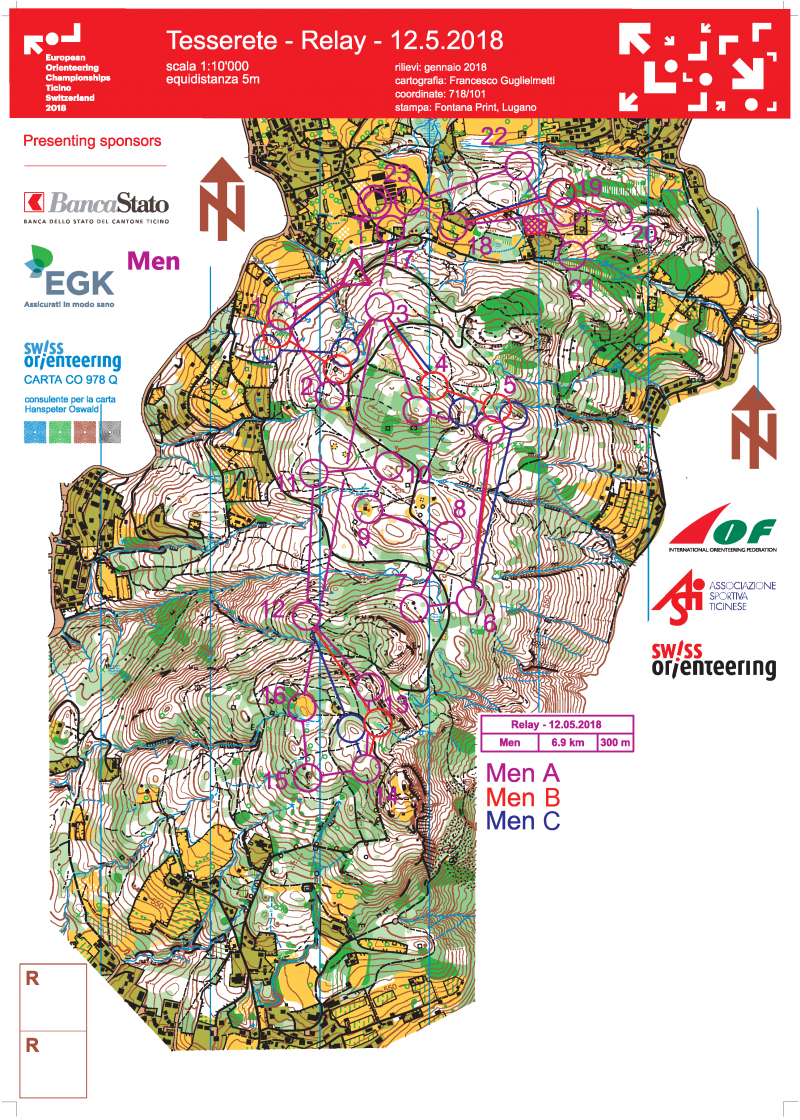 Results
Men (including second teams)
1
Norway 1
1:55:40
1. Eskil Kinneberg
38:57
10
38:57
10
2. Magne Daehli
37:52
2
1:16:49
1
-9
3. Olav Lundanes
38:51
1
1:55:40
1
0
2
Switzerland 1
1:56:10
+0:30
1. Florian Howald
38:41
4
38:41
4
2. Matthias Kyburz
38:33
3
1:17:14
3
-1
3. Daniel Hubmann
38:56
2
1:56:10
2
-1
+0:30
3
Switzerland 2
1:57:31
+1:51
1. Jonas Egger
39:09
12
39:09
12
2. Fabian Hertner
37:43
1
1:16:52
2
-10
3. Martin Hubmann
40:39
6
1:57:31
3
+1
+1:51
4
France 1
1:58:47
+3:07
1. Nicolas Rio
39:29
15
39:29
15
2. Lucas Basset
39:24
6
1:18:53
7
-8
3. Frederic Tranchand
39:54
3
1:58:47
4
-3
+3:07
5
Czech Republic 1
1:59:34
+3:54
1. Pavel Kubat
39:53
18
39:53
18
2. Milos Nykodym
38:59
4
1:18:52
6
-12
3. Vojtech Kral
40:42
7
1:59:34
5
-1
+3:54
6
Great Britain 1
2:00:07
+4:27
1. Kristian Jones
38:36
1
38:36
1
2. Peter Hodkinson
39:43
7
1:18:19
4
+3
3. Ralph Street
41:48
11
2:00:07
6
+2
+4:27
7
Russian Federation 1
2:00:59
+5:19
1. Andrey Khramov
38:52
6
38:52
6
2. Dmitry Tsvetkov
39:58
8
1:18:50
5
-1
3. Valentin Novikov
42:09
14
2:00:59
7
+2
+5:19
8
Spain
2:01:12
+5:32
1. Antonio Martinez Perez
38:38
3
38:38
3
2. Luis Nogueira
41:19
11
1:19:57
10
+7
3. Andreu Blanes
41:15
9
2:01:12
8
-2
+5:32
9
Norway 2
2:01:23
+5:43
1. Thomas Natvig Arstad
38:42
5
38:42
5
2. Gaute Hallan Steiwer
40:45
9
1:19:27
9
+4
3. Paul Sirum
41:56
12
2:01:23
9
0
+5:43
10
Poland
2:01:30
+5:50
1. Michal Olejnik
39:59
19
39:59
19
2. Bartosz Pawlak
39:15
5
1:19:14
8
-11
3. Piotr Parfianowicz
42:16
15
2:01:30
10
+2
+5:50
11
Austria
2:02:07
+6:27
1. Matthias Reiner
39:25
14
39:25
14
2. Matthias Peter
42:26
15
1:21:51
13
-1
3. Robert Merl
40:16
5
2:02:07
11
-2
+6:27
12
Finland 2
2:03:57
+8:17
1. Joni Hirvikallio
38:57
10
38:57
10
2. Elias Kuukka
42:58
18
1:21:55
14
+4
3. Aleksi Niemi
42:02
13
2:03:57
12
-2
+8:17
13
Sweden 2
2:04:02
+8:22
1. Eric Borjeskog
38:37
2
38:37
2
2. Rassmus Andersson
44:19
24
1:22:56
18
+16
3. Jonas Leandersson
41:06
8
2:04:02
13
-5
+8:22
14
Estonia
2:04:06
+8:26
1. Kenny Kivikas
42:04
23
42:04
23
2. Timo Sild
40:45
9
1:22:49
17
-6
3. Lauri Sild
41:17
10
2:04:06
14
-3
+8:26
15
Denmark 1
2:04:28
+8:48
1. Tue Lassen
42:15
24
42:15
24
2. Magnus Dewett
42:03
12
1:24:18
20
-4
3. Soren Bobach
40:10
4
2:04:28
15
-5
+8:48
Women (including second teams)
1
Switzerland 1
1:45:56
1. Judith Wyder
35:18
1
35:18
1
2. Elena Roos
34:53
2
1:10:11
2
+1
3. Julia Gross
35:45
6
1:45:56
1
-1
2
Switzerland 2
1:47:15
+1:19
1. Paula Gross
35:49
6
35:49
6
2. Simona Aebersold
33:21
1
1:09:10
1
-5
3. Sarina Jenzer
38:05
8
1:47:15
2
+1
+1:19
3
Sweden 1
1:48:07
+2:11
1. Lina Strand
35:47
5
35:47
5
2. Sara Hagstrom
37:19
7
1:13:06
6
+1
3. Karolin Ohlsson
35:01
2
1:48:07
3
-3
+2:11
4
Denmark 1
1:48:09
+2:13
1. Cecilie Friberg Klysner
37:01
12
37:01
12
2. Ida Bobach
37:00
5
1:14:01
9
-3
3. Maja Alm
34:08
1
1:48:09
4
-5
+2:13
5
Norway 1
1:48:18
+2:22
1. Sigrid Alexandersen
35:27
3
35:27
3
2. Silje Ekroll Jahren
37:27
8
1:12:54
5
+2
3. Andrine Benjaminsen
35:24
3
1:48:18
5
0
+2:22
6
Russian Federation 1
1:48:26
+2:30
1. Anastasia Rudnaya
35:21
2
35:21
2
2. Svetlana Mironova
37:31
9
1:12:52
4
+2
3. Tatyana Riabkina
35:34
5
1:48:26
6
+2
+2:30
7
Finland 1
1:48:31
+2:35
1. Sofia Haajanen
35:46
4
35:46
4
2. Maija Sianoja
36:29
3
1:12:15
3
-1
3. Anna Haataja
36:16
7
1:48:31
7
+4
+2:35
8
Finland 2
1:48:33
+2:37
1. Kirsi Nurmi
35:54
7
35:54
7
2. Anna Narhi
37:13
6
1:13:07
7
0
3. Tuulia Viberg
35:26
4
1:48:33
8
+1
+2:37
9
Russian Federation 2
1:53:01
+7:05
1. Anna Dvorianskaia
36:58
11
36:58
11
2. Anastasiia Borovkova
37:40
10
1:14:38
10
-1
3. Yulia Novikova
38:23
11
1:53:01
9
-1
+7:05
10
Sweden 2
1:54:38
+8:42
1. Emma Bjessmo
35:57
8
35:57
8
2. Lilian Forsgren
40:00
17
1:15:57
11
+3
3. Alva Olsson
38:41
13
1:54:38
10
-1
+8:42
11
Great Britain 1
1:54:39
+8:43
1. Jessica Tullie
37:27
14
37:27
14
2. Catherine Taylor
36:33
4
1:14:00
8
-6
3. Hollie Orr
40:39
18
1:54:39
11
+3
+8:43
12
Czech Republic 1
1:55:21
+9:25
1. Denisa Kosova
39:29
22
39:29
22
2. Vendula Horcickova
37:47
11
1:17:16
13
-9
3. Jana Knapova
38:05
8
1:55:21
12
-1
+9:25
13
Austria
1:56:07
+10:11
1. Laura Ramstein
38:28
16
38:28
16
2. Anja Arbter
39:05
13
1:17:33
14
-2
3. Ursula Kadan
38:34
12
1:56:07
13
-1
+10:11
14
France 1
1:57:40
+11:44
1. Maelle Beauvir
38:30
19
38:30
19
2. Lea Vercellotti
39:59
16
1:18:29
16
-3
3. Isia Basset
39:11
15
1:57:40
14
-2
+11:44
15
Denmark 2
1:57:52
+11:56
1. Amanda Falck Weber
39:23
21
39:23
21
2. Caroline Gjotterup
38:34
12
1:17:57
15
-6
3. Miri Thrane Oedum
39:55
16
1:57:52
15
0
+11:56