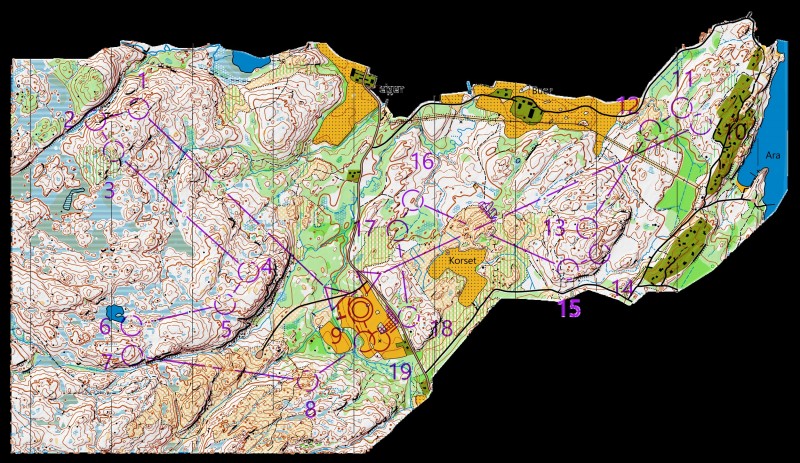 Tove Alexandersson and William Lind continued the Swedish dominance with another double for Sweden in today's chasing start.
A new chasing start concept was tested in the orienteering World Cup today. The concept consists of a prologue in the morning (short middle distance), followed by a chasing start in the afternoon (long middle distance) were the time differences from the prologue are doubled. The idea is that this leads to exciting races which are "easy to understand for the viewers" – with battles man vs man and woman vs woman. There was no forking in this race.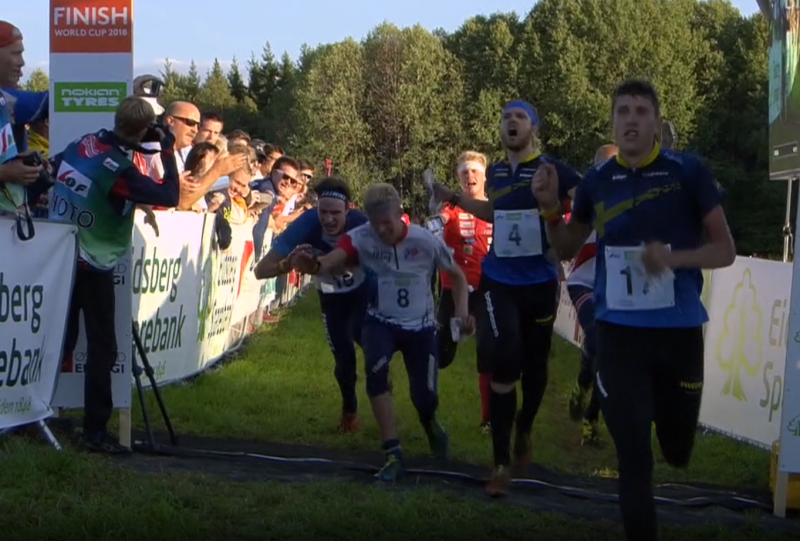 Women: Clear victory for Alexandersson
In the women's race Tove Alexandersson had a big 2:46 minute lead after the prologue, and as excepted it was difficult for the other runners to catch the strongest woman in the field with this large gap. While Alexandersson ran alone in the lead, Ohlsson and Rudnaya kept together throughout the race and battled for second and third place – a battle which Swedish Ohlsson could decide in the sprint from the last control.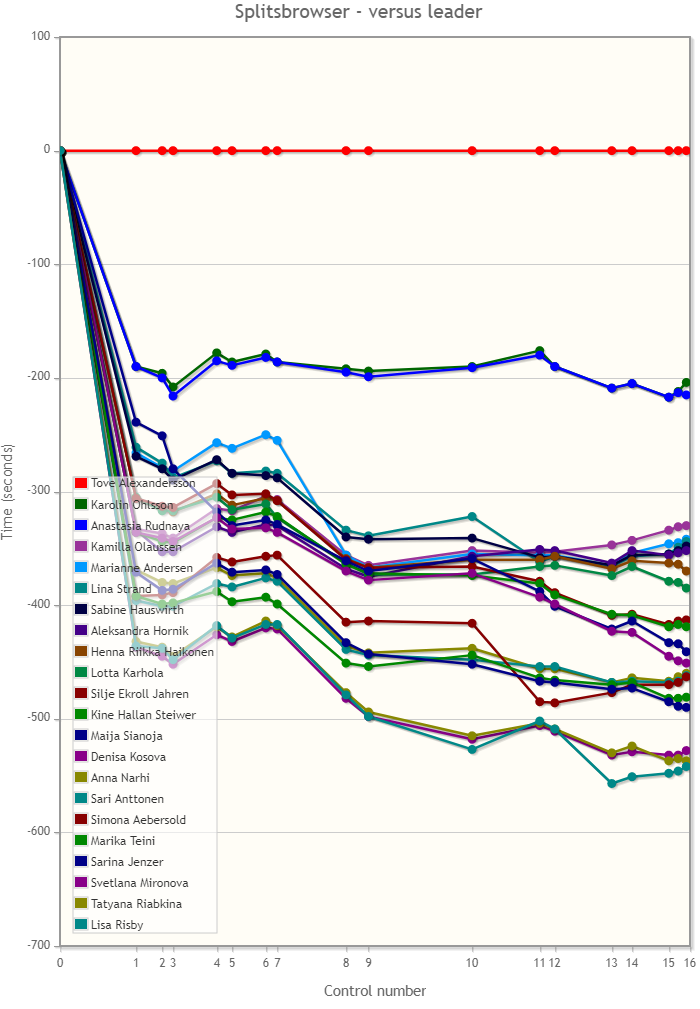 Taking out Alexandersson the plot gives some more information: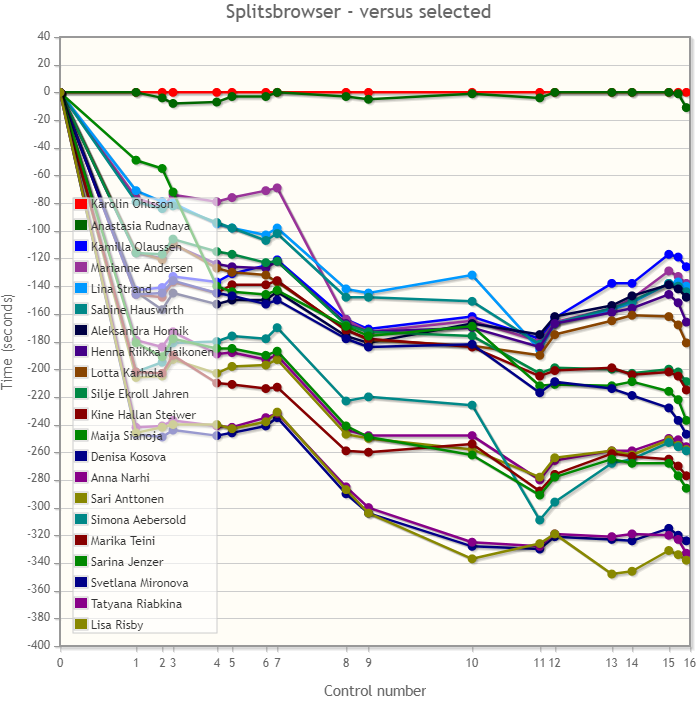 GPSanimation replay of #orienteering World Cup chasing start Women. Tove Alexandersson has no trouble defending her 2:46 lead. Battle for silver is between Ohlsson and Rudnaya pic.twitter.com/ApbvZnInt9

— WorldofO.com (@worldofo) September 1, 2018
Men: Lind wins bunch sprint
In the men's class Johan Runesson had a clear lead of more than a minute ahead of the prologue, but as expected he was caught by several runners, the lead group growing bigger and bigger: First two different groups, and in the end one big group. Towards the end of the race the lead group consisted of 12 runners, with Gustav Bergman and Frederic Tranchand being at the front most of the time. In the end William Lind could decide the sprint from the last control ahead of Gustav Bergman and Frederic Tranchand. The only one falling out of the group was the leader after the prologue, Johan Runesson.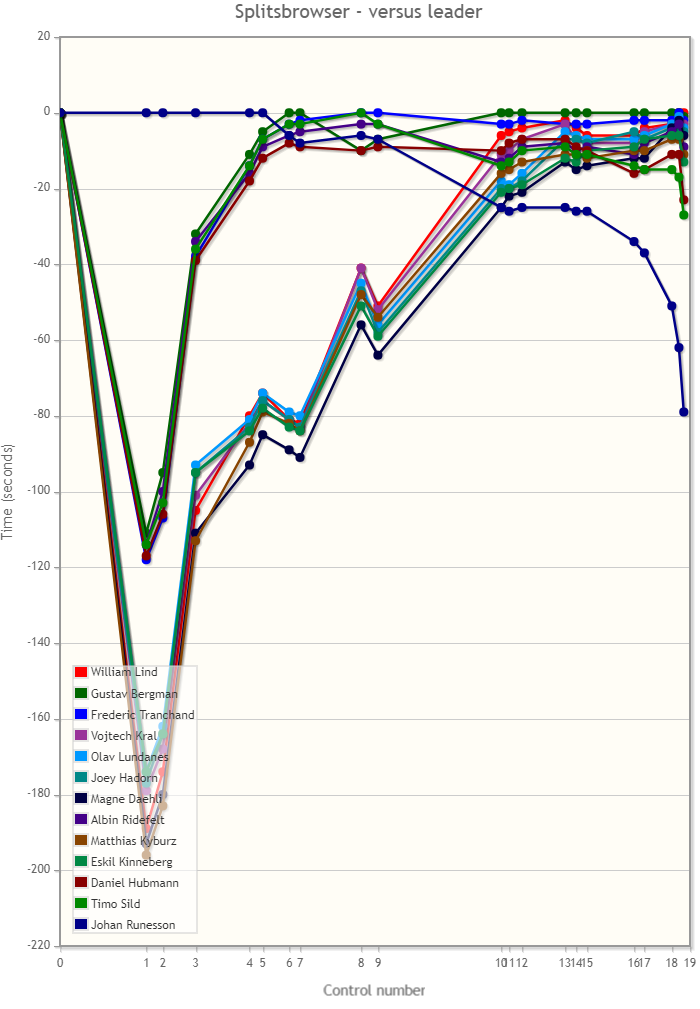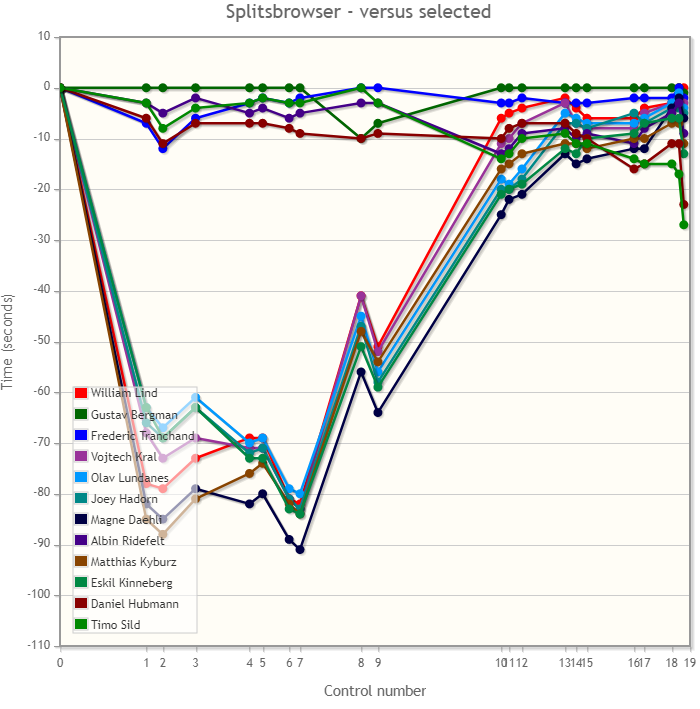 GPSanimation replay of #orienteering World Cup chasing start Men. William Lind 🇸🇪 wins the group sprint for victory after being part of a big group for most of the race pic.twitter.com/aDW9AwFYaU

— WorldofO.com (@worldofo) September 1, 2018
Chasing start with prologue: A success?
So is chasing start in the World Orienteering Champs what orienteering needs to develop further, and was today's race a good showcase for it? An open question for the future – but there are obviously different opinions here.
I think you were watching a different broadcast than me. Watching 10-12 men following each other, without forking, deciding in the finish sprint, is not nice #orienteering as I see it. Give me a nice and intense Middle instead! But I guess I'm old-school, living in the past… pic.twitter.com/JGs6hkzX9k

— jankoc (@jankoc) September 1, 2018
Maps and GPS-tracking
See GPS-tracking here and maps below.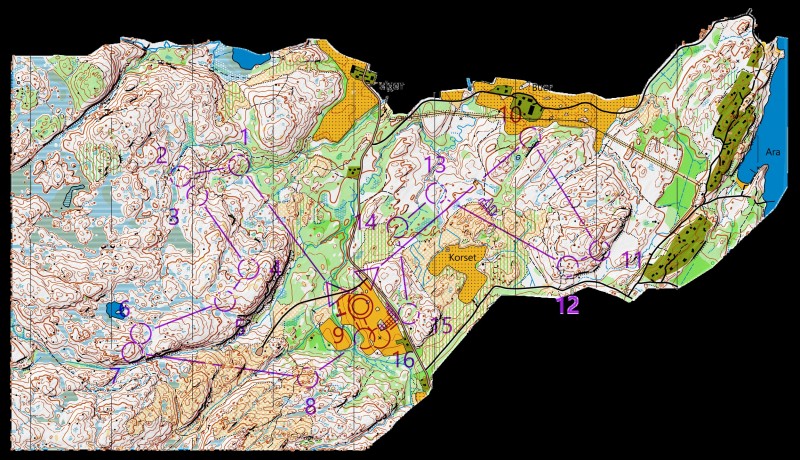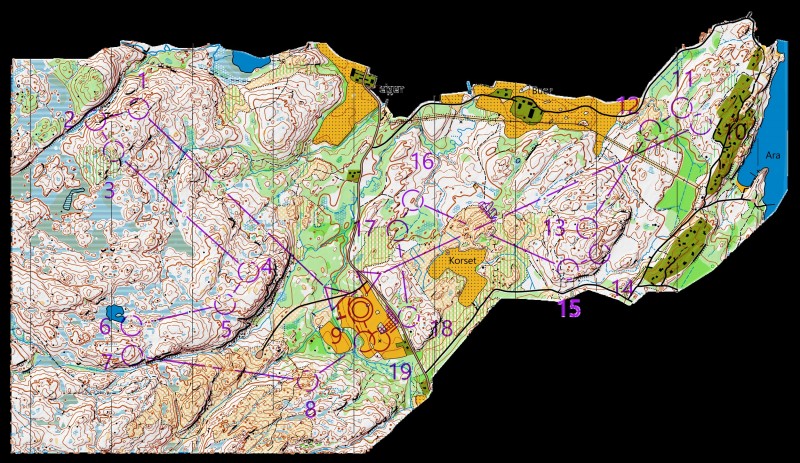 Results
Men
Women