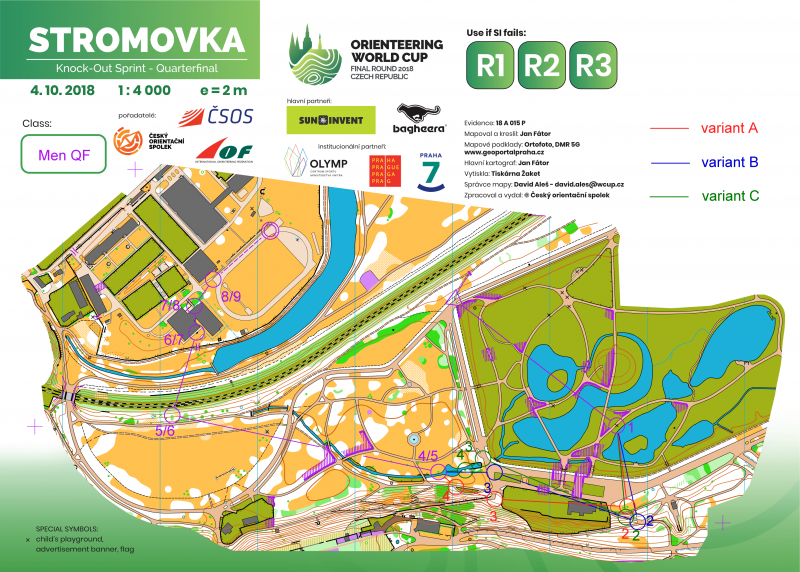 Kyburz, Leandersson, Kvaal Østerbø, Michiels, Glibov, D Hubmann won the men's Quarter-finals and Strand, Hauswirth, Wyder, Ohlsson, Ruch and Närhi  won the women's Quarter-finals in today's World Cup in Knock-Out Sprint in Prague, Czech Republic.
Most of the favourites made it to the semi-finals. Notably both Natalia Gemperle (RUS) and Olav Lundanes (NOR) where disqualified in the qualification this morning. See maps/GPS-tracking and results from the Quarter-finals below.
The semi-finals and final can be followed LIVE on webTV and with LIVE GPS-tracking from this page from 15:10 CET:
Knock-Out Sprint format
Qualification: 3 parallel heats with interval start 1 minute, first 12 runners are qualified to quarter-finals.
Quarter-finals: 6 quarter-finals with 6 runners each. The 3 leading runners in each quarter-final qualify for the semi-finals.
Semi-finals: 3 semi-finals with 6 runners each. The 2 leading runners in each semi-final qualify for the final.
Final: 6 runners in the final race.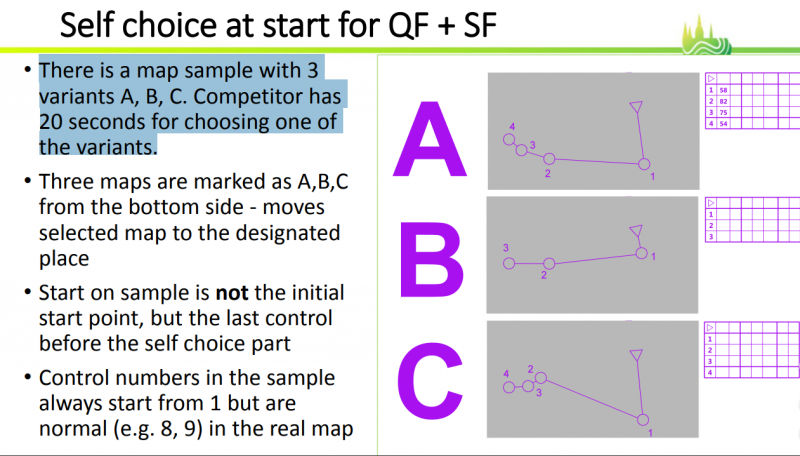 GPS-tracking Quarter-finals
GPS-tracking from the Quarter-finals is available here:
Results Quarter-finals
Men A
1. Kyburz Matthias SUI0003 Switzerland
2. Tranchand Frederic FRA0008 France
3. Ymsen Kerschbaumer Gernot AUT0003 Austria
4. Glonek Jakub CZE0017 Czech Republic
5. Perrin Arnaud FRA0004 France
6. Ahlbeck Emil NOR0011 Norway
Men B
1. Leandersson Jonas SWE0009 Sweden
2. Aukrust Osmoen Jon NOR0005 Norway
3. Minar Marek CZE0010 Czech Republic
4. Kaario Otto FIN0012 Finland
5. Scalet Riccardo ITA0003 Italy
6. Hodkinson Peter GBR0004 Great Britain
Men C
1. Kvaal Osterbo Oystein NOR0007 Norway
2. Bergman Gustav SWE0010 Sweden
3. Reiner Matthias AUT0006 Austria
4. Hirvikallio Joni FIN0007 Finland
5. Robertson Tim NZL0002 New Zealand
6. Fosser Kasper NOR0010 Norway
Men D
1. Michiels Yannick BEL0002 Belgium
2. Egger Jonas SUI0009 Switzerland
3. Kral Vojtech CZE0014 Czech Republic
4. Popov Artem RUS0001 Russian Federation
5. Meier Christoph SUI0002 Switzerland
6. Howald Florian SUI0007 Switzerland
Men E
1. Glibov Ruslan UKR0001 Ukraine
2. Merl Robert AUT0001 Austria
3. Hubmann Martin SUI0005 Switzerland
4. Lind William SWE0007 Sweden
5. Regborn Martin SWE0006 Sweden
6. Hadorn Joey SUI0008 Switzerland
Men F
1. Hubmann Daniel SUI0006 Switzerland
2. Peter Bejmer Max SWE0011 Sweden
3. Kyburz Andreas SUI0004 Switzerland
4. Zernis Rudolfs LAT0005 Latvia
5. Krivda Tomas CZE0013 Czech Republic
6. Bloemen Tristan BEL0006 Belgium
Women A
1. Strand Lina SWE0061 Sweden
2. Benjaminsen Andrine NOR0053 Norway
3. Kosova Denisa CZE0054 Czech Republic
4. Mironova Svetlana RUS0056 Russian Federation
5. Taylor Catherine GBR0054 Great Britain
6. Haajanen Sofia FIN0051 Finland
Women B
1. Wyder Judith SUI0051 Switzerland
2. Vinogradova Galina RUS0053 Russian Federation
3. Fjellanger Kristine NOR0056 Norway
4. Stadler Deborah SUI0052 Switzerland
5. Vercellotti Lea FRA0055 France
6. Ramstein Laura AUT0053 Austria
Women C
1. Hauswirth Sabine SUI0057 Switzerland
2. Sianoja Maija FIN0054 Finland
3. Nyberg Irina RUS0057 Russian Federation
4. Haataja Anna FIN0052 Finland
5. Fedorova Olena UKR0051 Ukraine
Horcickova Vendula CZE0059 Czech Republic
Women D
1. Ohlsson Karolin SWE0062 Sweden
2. Olsson Alva SWE0058 Sweden
3. Bjessmo Emma SWE0055 Sweden
4. Leake Alice GBR0051 Great Britain
5. Dvorianskaia Anna RUS0059 Russian Federation
6. Teini Marika FIN0056 Finland
Women E
1. Ruch Martina SUI0053 Switzerland
2. Enlund Alexandra FIN0058 Finland
3. Alexandersson Tove SWE0063 Sweden
4. Janosikova Tereza CZE0056 Czech Republic
5. Risby Lisa SWE0060 Sweden
6. Bachmann Sofie SUI0056 Switzerland
Women F
1. Narhi Anna FIN0053 Finland
2. Knapova Jana CZE0055 Czech Republic
3. Falck Weber Amanda DEN0053 Denmark
4. Jakob Julia SUI0055 Switzerland
5. Ingham Lizzie NZL0052 New Zealand
6. Jenzer Sarina SUI0054 Switzerland
Links & Live services
See below for the live TV broadcast overview.