More than 30 different athletes have been suggested for "Orienteering Achievement of 2018″ – along with great background stories highlighting the achievements. See an overview of the suggestions for nominated athletes below – 21 in the men's and 13 in the women's category.
Monday December 10th at midnight CET is the last chance to suggest a nomination for the Orienteering Achievement of 2018. Suggested athletes and achievements as of Sunday evening (through Facebook page, intro-article and e-mail) are given in the table below in arbitrary order – some of them are included in the collage above (all photo by IOF/Matias Salonen).
Among all really good nomination texts, we will draw several of the great sponsor prizes (prizes valued to more than 5500 Euro ). The number of prizes drawn will depend on the number of nomination suggestions being posted. Many suggestions = more prizes drawn. Good nomination text & story = high chance to win. If you have a better nomination text or background story for an athlete already on the list below, please submit it, you will still be in the draw for prizes. Check the sponsor section below for the details. Sponsors for the Orienteering Achievement of 2018 are Sardinia 3×5 days (Italy),  WOC 2019 Spectator races (Norway) , Antalya Orienteering Festival 2019 (Turkey), Scottish 6-Days Orienteering Strathearn 2019 (Scotland), Aguiar da Beira "O" Meeting 2019 (Portugal),  Lipica Open (Slovenia), International 24-hour relay (Germany), Danish Spring 2019 (Denmark), Velidken Cup 2019 (Bulgaria), Bubo Cup 2019 (Slovenia), Portugal "O" Meeting 2019 (Portugal), Edinburgh University's big weekend 2019 (Scotland), Wawel Cup 2019 (Poland), NAOM 2019 (Portugal).
Based on the nominations so far and additional nominations received by midnight CET December 10th, a selection of athletes/teams will be nominated for "Achievement of the Year 2018″ (Note: The table is updated 11/12 based on additional suggestions; nomination texts are not updated, but are to be found at the WorldofO Facebook page):
Men
Women

Olav Lundanes (Norway)
Ahmet Kacmac (Turkey)
Milos Nykodym (Czech Republic)
Yannick Michiels (Belgium)
Colin Kolbe (Germany)
Eskil Kinneberg (Norway)
Daniel Hubmann (Switzerland)
Ruslan Glebov (Ukraine)
Jesper Svensk (Sweden)
Fabian Hertner (Switzerland)
Tim Robertson (New Zealand)
Florian Howald (Switzerland)
Vojtech Kral (Czech Republic)
Andreas Kyburz (Switzerland)
Magne Dæhli (Norway)
Jonas Egger (Switzerland)
Matic Blaz (Slovenia)
Rassmus Andersson (Sweden)
Kris Jones (Great Britain)
Gaute Hallan Steiwer (Norway)
Gernot Ymsén-Kerschbaumer (Austria)
Kasper Fosser (Norway)
Matija Razum (Croatia)
Shamsuri Abd Latif (Malaysia)
Matthias Kyburz  (Switzerland)
Matthew Fellbaum (Great Britain)
Valentin Novikov (Russia)

Tove Alexandersson (Sweden)
Natalia Gemperle* (Russia)
Isia Basset (France)
Marika Teini (Finland)
Lizzie Ingham (New Zealand)
Karolin Ohlsson (Sweden)
Judith Wyder (Switzerland)
Emma Waddington (Canada)
Elena Roos (Switzerland)
Maja Møller Alm (Denmark)
Tereza Janosikova (Czech Republic)
Csilla Gardonyi (Hungary)
Kamilla Olaussen (Norway)
Aleksandra Hornik (Poland)
Galina Ribediuc (Moldova)
Simona Aebersold (Switzerland)
*Natalia Gemperle is also suggested as a duo with her sister Olga Shipilova Vinogradova
Write your nomination text at the World of O Facebook page – Remember that we are not necessarily looking for the best orienteer/team of 2017 – but rather the best achievements.
As an alternative for non-Facebook users only, write your nomination text as a comment to the intro-article
Nominations
Below the original suggestions for nominations collected from the Facebook-page and the intro-article are included (sorry for any spelling mistakes).
Men
Milos Nykodym (Czech Republic)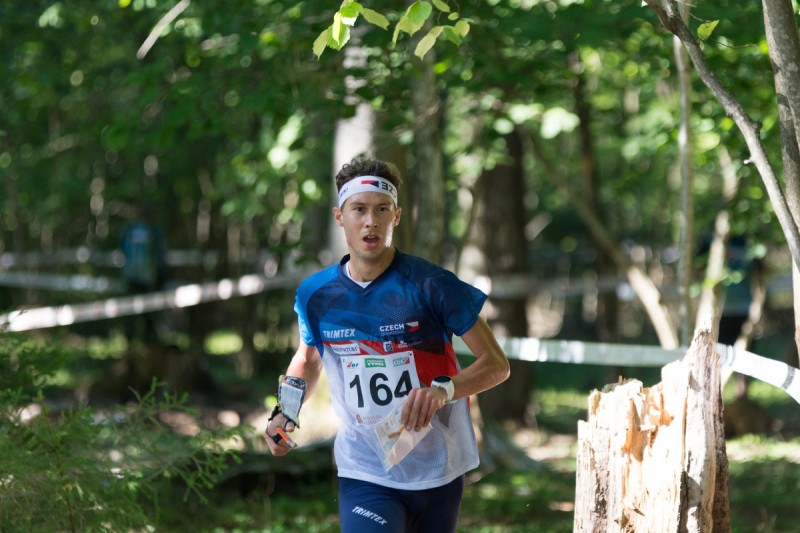 Miloš Nykodým is totally the Achievement of the year for his World Cup gold medal.
We all saw the extraordinary route choices of Milos Nykodym – he made his orienteering "all in" orienteering, And it's definitely
was the right decision!
He was a name of top results but It's great to see that even Milos who comes from "little" country (which is not Scandinavia/ Swiss) is able to risk the big names medals!!!
For me as a junior orienteer milos is a big model for me and I am a big fan of him…
He showed everyone what he can do and how good he is. It's definitely not the last time that we will see him on the podium !
Milos is the best surprise of the year and I am waiting to see him running in the next competition
For men, I think best achivement is for Milos Nykodym winning world cup race in your home. Very strange race for best runners, but he was so active for win
Ahmet Kacmac (Turkey)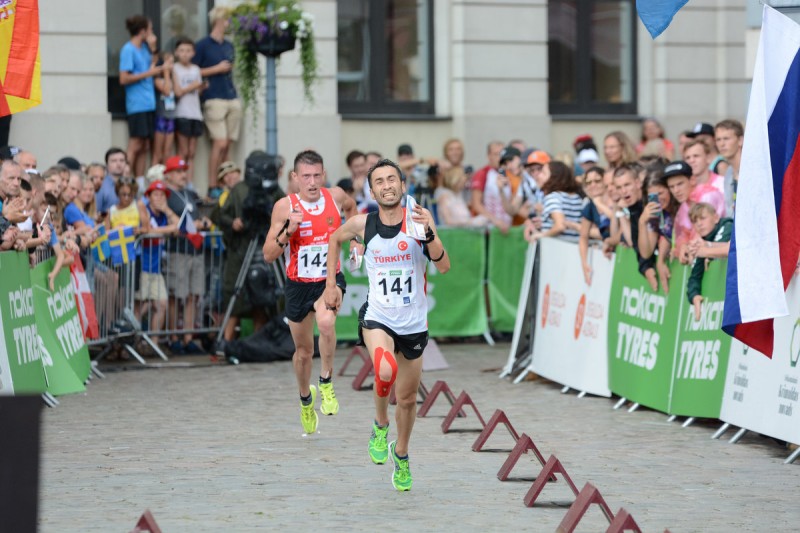 Ahmet Kaçmaz did the archievement of the year. He made first ever final for TURKEY at WOC, finished on 2nd place at qualification. In Final he finished on respectable 37th place. With this achievement he truly show, that orienteering is becoming more and more international. Ahmet started doing orienteering just at age 22, so partly missing some basic skills. For him it took 12 years to reach some good results at WOC. He came to Latvia 2 monts before to prepare mainly for sprint. He have been always very strong physically, just neaded to add good tehnic and map trainings. All over those two months he growed his selfconfidence and getting final was just a logical end after all he did.
Ahmet Kaçmaz for being the first ever Turkish athlete to qualify for the WOC Sprint final. Orienteering is a new sport in Turkey, starting during the 1970's in the military with black and white 1:50000 maps. Orienteering among civilians did not start until the late 1990's. Ahmet started orienteering in the late 2000's. He is his own coach in addition to coaching others on voluntary basis. He takes opportunities to attend training camps and competitions abroad with his own means. His extraordinary achievement of ranking 2nd in his heat in the qualification race alone, is very well worth his nomination for the 'achievement of the year' in the field of orienteering.
He is literally a living example of perseverance. Running for the first time WOC final in Turkish orienteering history, he showed not only to himself but all the Turkish people that every disciplined study has a good consequence. To achieve this, so to speak, he devoted himself. At the background of this success lies his continuously increasing results in WOC, EOC and World Cup for years. It is a sign showing how determined and strong an athlete he is. Ahmet Kaçmaz is an indispensable athlete for his country because of the fact that he does his best in every training and race. There is so much to say about him that I don't know where to begin. His effort to show what a person could do if he/she truly believes himself/herself could only be seen with such a success, I believe. Besides being an elite orienteer, he is also a perfect trainer. Even though we have studied for a short period of time, he can understand his athletes' not only physical but psychological conditions and try to train with them individually. I must also state that unlike other athletes living in abroad, Ahmet Kaçmaz did this superb ranking while he had a strict job and a family. Moreover, he had no sponsor or a financial support but nothing could deter him from his goals and this is surely an admirable success story. With his achievement of ranking 2nd in the sprint qualification race, he has been a source of national pride. Moreover, because he always supports the athletes in every aspect, he has been an inspiration for me and also for other athletes. Of course, he is more than an athlete and having such a talented athlete in our country makes all of us happy. Finally, the most important thing I learned from Ahmet Kaçmaz is that if you want to be successful in any discipline you shouldn't wait for something from others, all you need is in yourself. He is the most promising athlete for the next years. And if there is an athlete to vote under this subject, no doubt it must be Ahmet Kaçmaz
 I think Ahmet Kaçmaz . Why? Here his story; he was always alone. He had never had a sponsor because orienteering was new to Turkey. He started doing orienteering in his twenties and in 2008 he run his first WOC race with his own means, he trained himself, furthermore besides his sport life he managed to handle with his work life. There is an unforgettable photo of him on Instagram. On this photo, in a place where is covered with snow he made his own way with a shovel for 300 metres to run. And trained there. This year in qualification race, he left behind a lot of well known athletes who have numerous sponsors. He got a perfect and historical result for Turkey. He had a disability, there was edema in his foot thumb and he run final race with pain but still he could complete the course as 37th athlete. While doing all these things, he didn't refuse people who want help from him and now he trains them. That's why Ahmet Kaçmaz
Colin Colbe (Germany)
Colin Kolbe, Germany for becoming Junior World Champion 2018. Not coming out of nowhere, but far away from being a pre race favorite, he had both the speed and the concentration to keep it all together the whole race on a tricky and varied sprintcourse. With passion and determination he made his way up to the top while the circumstances and the support in germany are not good at all for an orienteer. His PWT results later this year where he also could win a race and beat some well established top sprinters, showed, that his JWOC Sprint was not a one hit wonder and that there is more to come next years!
Kris Jones (Great Britain)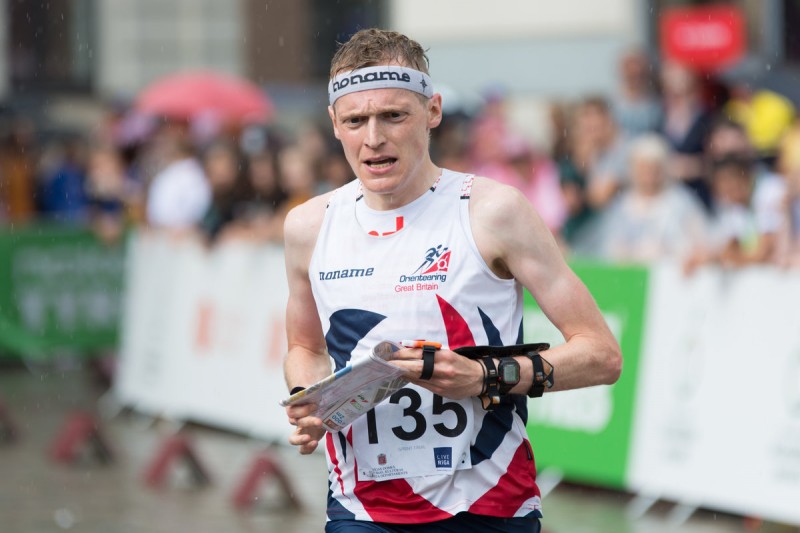 Kris Jones for his bronze medal at the European Championships Sprint. Kris has been so close to a medal so many times, but finally took the step up on the podium to receive a medal.
Matic Blaz (Slovenia)
It's maybe not exactly the correct place for this nomination, but still … Matic Blaž for taking 12th place in technical JWOC Middle Q. This has been the first ever WOC or JWOC finals for Slovenia and a result greatly above anything anybody has imagined. Matic has shown multiple times that with hard work and good preparation great results are possible for small orienteering nation without much basis to build its national self-confidence on.
Also Slovenian national men/women senior team are worth mentioning for unexpectedly taking both gold medals at SEEOC 2018 relay. This success partially exposes the gap between big orienteering nations (who can afford training camps at WOC sites for longer periods of time, multiple times) and small orienteering nations, who have potential, but are not able to reach it due to financial differences
Ruslan Glebov (Ukraine)
In man's class, very difficult to have a success in all disciplines. But this tall man shown for all during long competition season – it`s possible. Great results at EOC , silver WOC, silver Swedish Champs Long , showed he strong any terrain. And he keeps moving all orienteering of small orienteering nation like Ukraine
Ruslan Glebov it incredible achivement for him also for Ukraine.
Ruslan Glebov. It is much more difficult for runners from the countries of Eastern Europe to reach the World Championships medal due to very poor funding from the National Federations (or a complete lack of such funding).Prise – WOC spactators races
Vojtech Kral (Czech Republic)
My suggestion is Vojtěch Král, he took 5th place in overall WC standings again as previos year, but he made a outstanding performance at K-O sprint in final round of WC at Prague – after more than 20 km running whole day he was able to went through the tricky course without mistake (and very fast) and became a winner in home country :)
Magne Dæhli (Norway)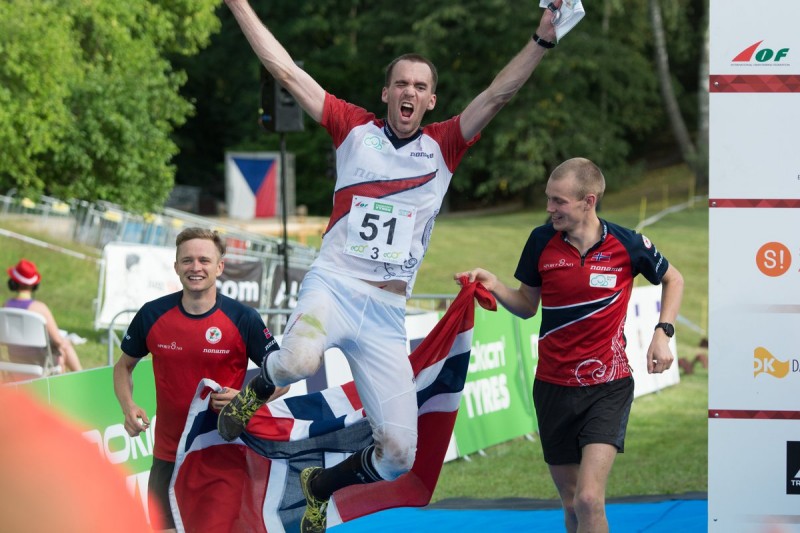 Magne Dæhli for his fantastic last legs.
Jonas Egger (Switzerland)
 I would say Jonas Egger is the man to achieve this award, by winning WUOC Long against the scandinavian guys, 9th at eoc middle and a solide 23th place in tje overal WC showed a stability in this season – at FISU he had won 2x gold and 1x bronze!
Gernot Ymsen Kerschbaumer (Austria)
 There also so many canditates for men, many Achievements worth to Mention but I want to nominate a man from small orienteering Country, from Austria . Gernot Ymsen Kerschbaumer was a guarantee for many years to reach top results, constantly he is on top Level and brings it to an Point when there are big Events..Military worldchampion , medalist last years, University worldchamps in Estonia bronce, bronce with Austrian sprint mix Team at World Games in Colombia and this year bronce in a thrliling and tough longdistance at EOC in the not flat hills of Ticino, then at WOC Anchorman for Austrian Team at relay, best time at second leg and Austria was in the fight for medal again, finally fourth and not far behind Gold.
My suggestion ist Gernot Ymsén-Kerschbaumer. For many years he is running in the "second line" of the world class – several times in top positions (some top10 at WOC, podium at World Cup), but no real exploit. In 2018 he finally (at the age of 35) won his first individual medal in a big championship – bronze at the long EOC in Switzerland. It was also the first Austrian medal on the men's side ever. He has really deserved it.
Olav Lundanes (Norway)
Olav Lundanes for his 3rd long-distance medal … and his eighth overall. He only misses the sprint to get closer to a certain Tero ;)
Olav Lundanes. World champion long distance third in a row.With his 5 gold medals🥇 on a WC, he is the king of the long distance, or not ?. Exceptionnaly runner, as fast in the woods as on the road, with amazing technical longdistance route choices.💪
Gaute Hallan Steiwer (Norway)
Gaute Hallan Steiwer was not supposed to run the relay, but then Olav Lundanes got sick and Gaute got the message in the morning that he had to replace a sick Olav Lundanes. Gaute did a fantastic job on the first leg, being an important part of the Norwegian gold medal.
Rassmus Andersson (Sweden)
Rassmus Andersson, for his EPIC long night at 10MILA. This long night will be remembered for a long time!
Yannick Michiels (Belgium)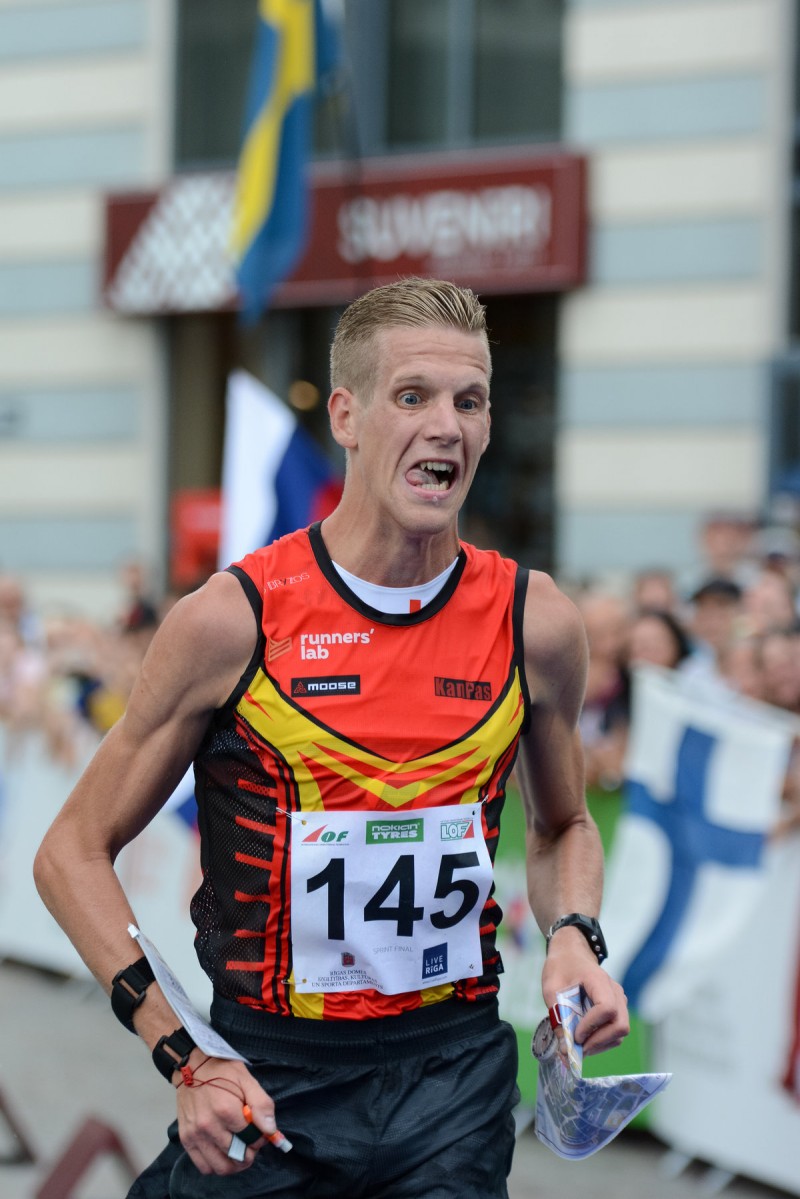 I propose to yannick michels for his relentless commitment to get to the top. Only his own dedication and talent and dedication can count in spite of coming from a country where one is not blessed with top cards.
Tim Robertson (New Zealand)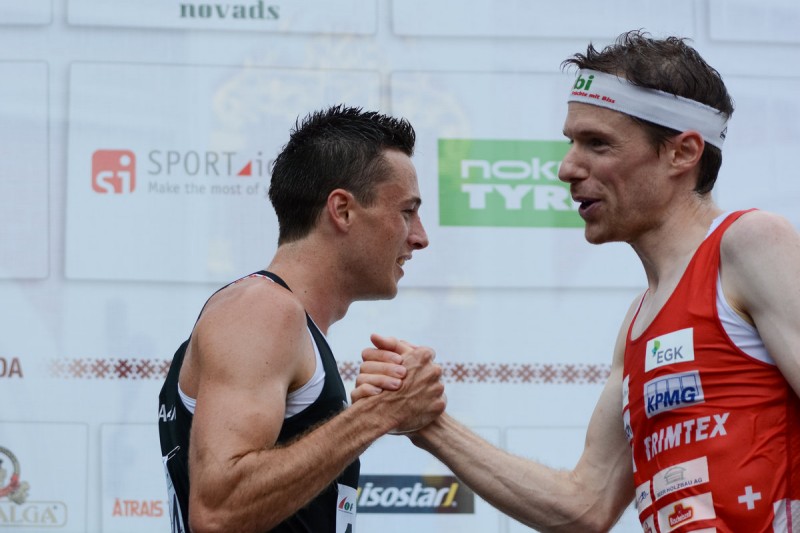 Consistently one of the top sprinters in the world and stepping up on the day to take his and New Zealand's first ever WOC medal this year. Was painfully (and controversially ;) ) close to taking the gold too. Also won world uni champs gold.
Eskil Kinneberg (Norway)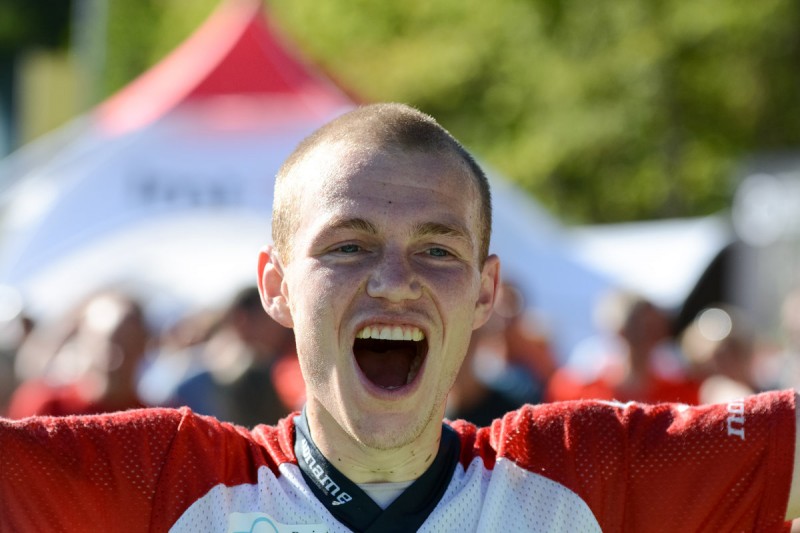 Eskil Kinneberg has been running World class last legs in club relays for years and has been a big part of the Norwegian men's relay success but I think he even surprised himself with his woc middle distance gold this year! Even if you know you are good enough, actually having *that* performance on *that* day is what every athlete dreams of and Eskil did it, one year "ahead of schedule". Rumor has it that his teammates (arguably bigger favourites) sat disappointed over their races not knowing who had even won and were asked "do you want to know who won?" Pause. "Yeah". "Eskil Kinneberg!" "Whaaaaat"! I think that's a cool story which shows something about the agony and ecstasy of sport and the fascinating dynamics of being part of a team in an individual sport. The Norwegian men won all the forest golds at WOC, but it was Eskil who "saved the day" at the middle distance not King Olav.
Andreas Kyburz (Switzerland)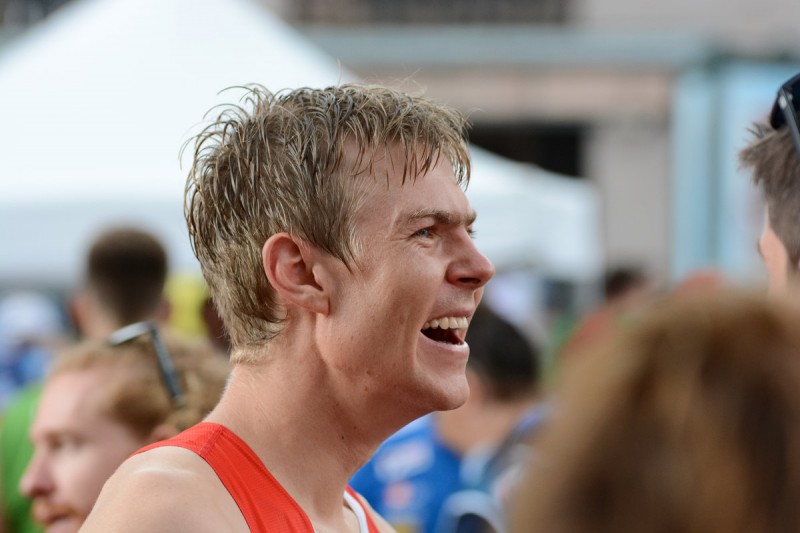 I suggest Andreas Kyburz for his medal at the WOC sprint. Not only because of the medal, mostly because he was able to beat his brother (Matthias Kyburz). A real satisfaction (to beat your brother), believe me! And yeah, his comeback after a long period of injuries wasn't too bad eighter.
Jesper Svensk (Sweden)
 Of the six Swedish runners in the JWOC team, Jesper Svensk was the last guy to reach the team and the choice to pick him to the team was criticised. He started JWOC in the worst possible way with being outside the map to the second control on the long distance.
In his last individual JWOC-race on the middle distance, Jesper surprised everyone with a top race which led to the gold medal. He shared the podium with his team mates Simon Imark and Henrik Johannesson. In an interview after the race Jesper said he couldn't remember when he last won a race.
A very impressive story about performing when it matters most and taking revenge!
Florian Howald (Switzerland)
 Florian Howald, for his middle distance stability this year. Silver on home ground at EOC, and Bronze at WOC.
Also have to say he got a medal from each race he had started at WOC. (M-relay, relay, middle)
2xSilver & 1xGold + diploma from sprint at EOC. Impressive!
Fabian Hertner (Switzerland)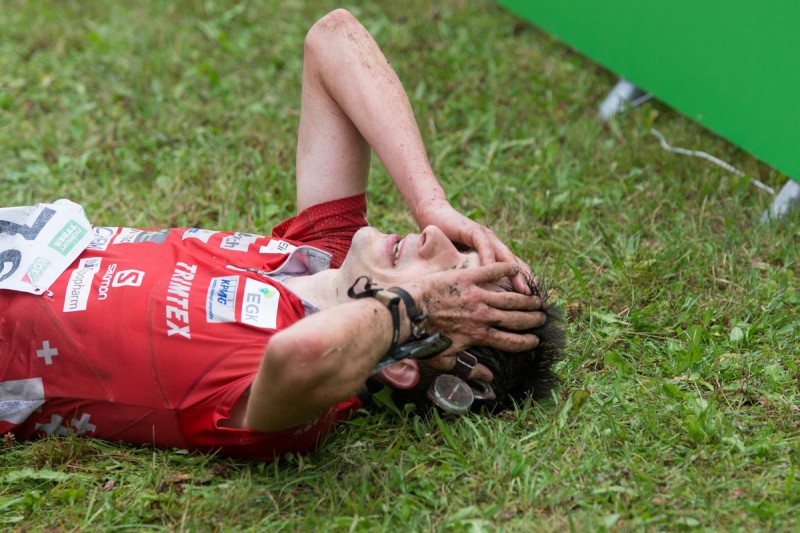 I suggest Fabian Hertner for fulfilling his dream of a long distance medal at the World Championships at his last international race. With this victory he has crowned an enormously successful and long career and showed impressively how he can adjust his performance to the decisive day. He is a great athlete and he would definitly deserve this award.
Daniel Hubmann (Switzerland)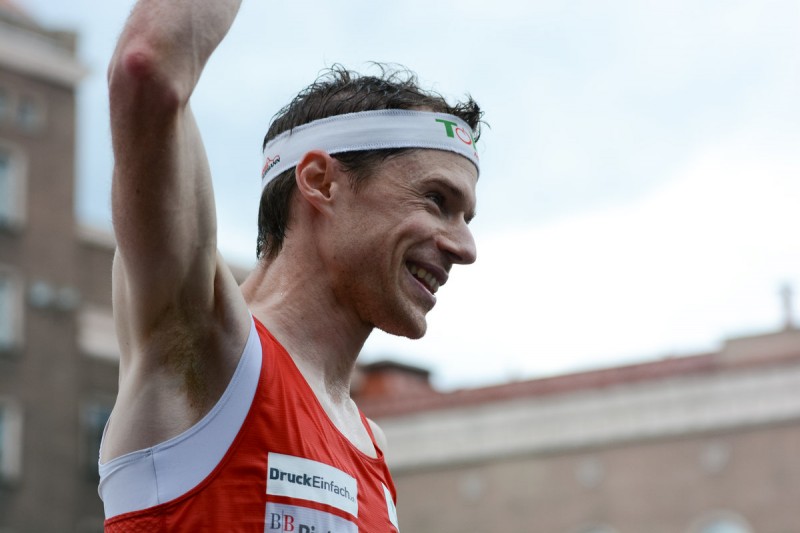 Daniel Hubmann: The multi World Champion used the power of orienteering experience to beat the strength of youth. In the same year, European and World Champion of Sprint, Daniel showed once again why he is one of the best in the world.
Women
Emma Waddington (Canada)
Emma Waddington from Canada 🇨🇦 for her 6th Place finish at JWOC this summer in Hungary!
Judith Wyder (Switzerland)
Judith Wyder demonstrated how it is possible to come back to the podium so shortly after having a child. Every time she raised to the podium, especially in the EOC, she shined so brightly and was moved to tears. It was clear that it took a lot of dedication and good tactics to keep her shape and bring the victories home. It was very moving and inspirational every time I saw her winning. She really knows how to give it all no matter what. In WOC relay in tight competition, she kept her head cool and showed how strong a fighter she is. Undoubtedly, she is a great role model for all the aspiring future champions exemplifying how to train your mind and body for stable and victorious performances.
Maja Møller Alm (Denmark)
Maja Møller Alm Should clearly win. She won the WOC sprint title for the fourth time in a row – and second year in a row winning an amazing silver medal at WOC long distance. And the sprint relay bronze. Repeating success is never easy – Alm did it wonderfully!
In addition Alm might be aiming for the Olympics in athletics. Amazing.
Karolin Ohlsson (Sweden)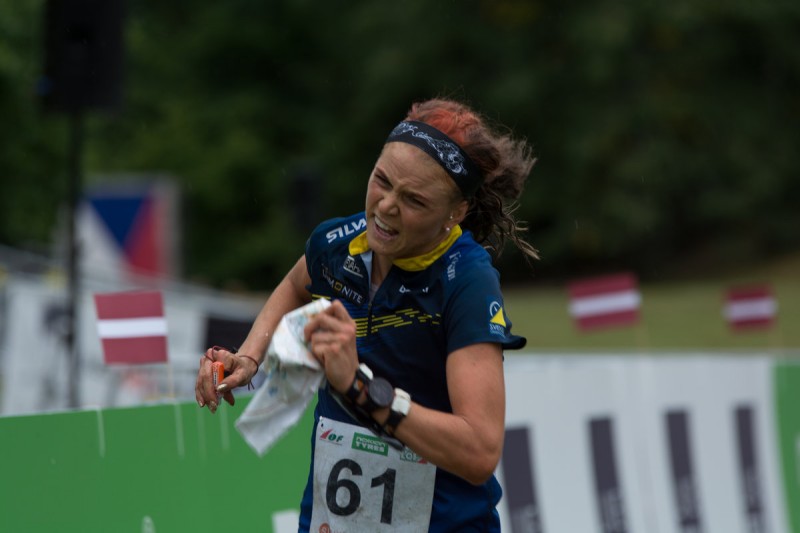 KarolinOhlsson, she had a great improvement this year, showed all alongthe season. 2silver medals at EOC, 1silver and 1 gold at WOC, finishing the World Cup in a brilliant second place
Csilla Gardonyi (Hungary)
She is a very talented 17 year-old orienteer. She won the EYOC sprint and finished 4th at the long distnace. At the Junior World Orienteering Championship she did an amazing performance on homeground. She won the middle distance, came third at sprint, and finished 9th at the long distance. 3 top10 finishes from a 17 year-old girl at JWOC. She might be the next Simona Aebersold.
Elena Roos (Switzerland)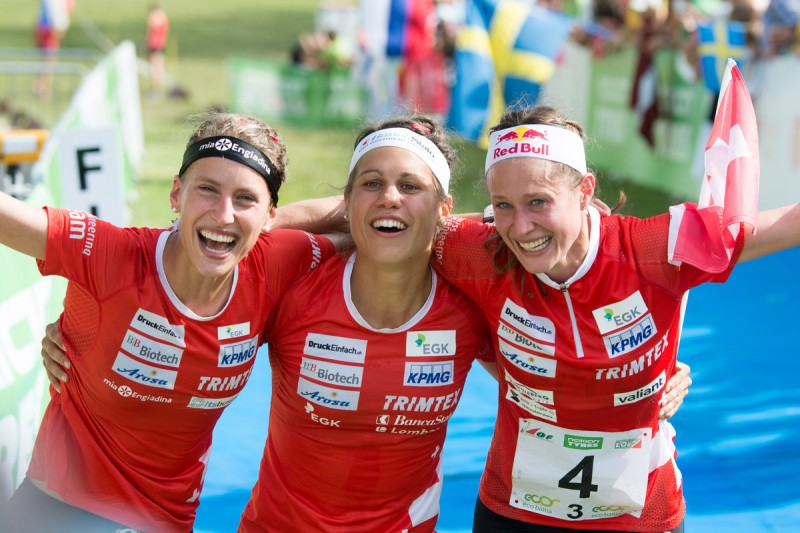 Our nomination goes to Elena Roos: On the occasion of the European Orienteering Championships 2018 held in Ticino Switzerland, the lands where Elena has grown and developed her talent,  with charisma, simplicity and emotional exploits, Elena has been able to bring to the fore the orienteering sport to the Ticino population, who came in large numbers to cheer all the athletes of the EOC2018.  Elena has become a model for many young people who have now embarked on this sport that existed for many years but has reborn as a new activity for youngs.
Tove Alexandersson (Sweden)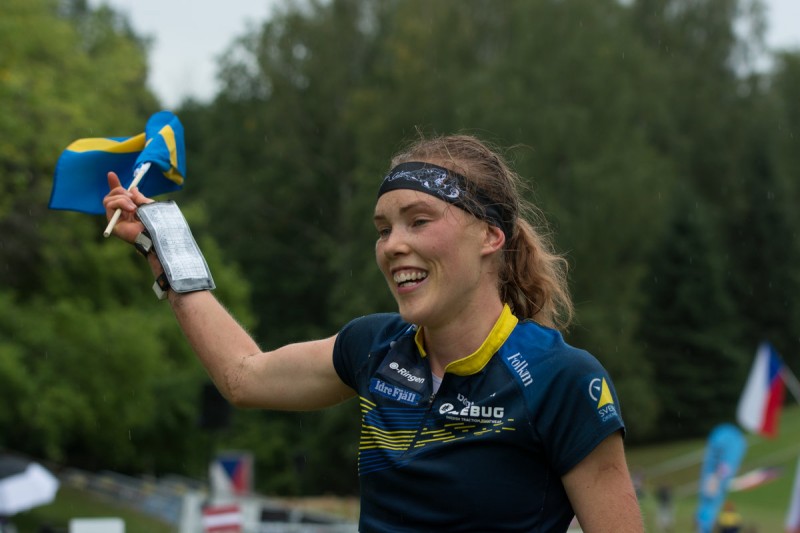 Surely Tove Alexanderssonnot only for the three World championship won in 3 different disciplines, but specially for the middle, when she still run to the spectator point even after her big mistake.
I think Tove Alexandersson is the best forest orienteering women at the moment. Champion at sprint relay, second at forest relay, 2nd at sprint and champion in long (3 in a row) at last woc, but there is more, overall champion of WC (5 in a row) with 6 win races! and now is winning trail races too!
I think that Tove Alexandersson, for me, is the best female orientering these year. Who wons at WOC long and relay. But for me is important, that when she did the big mistake she shows us that everyone had a bad day. But don't forget she won skyrace too.
Natalia Gemperle (Russia)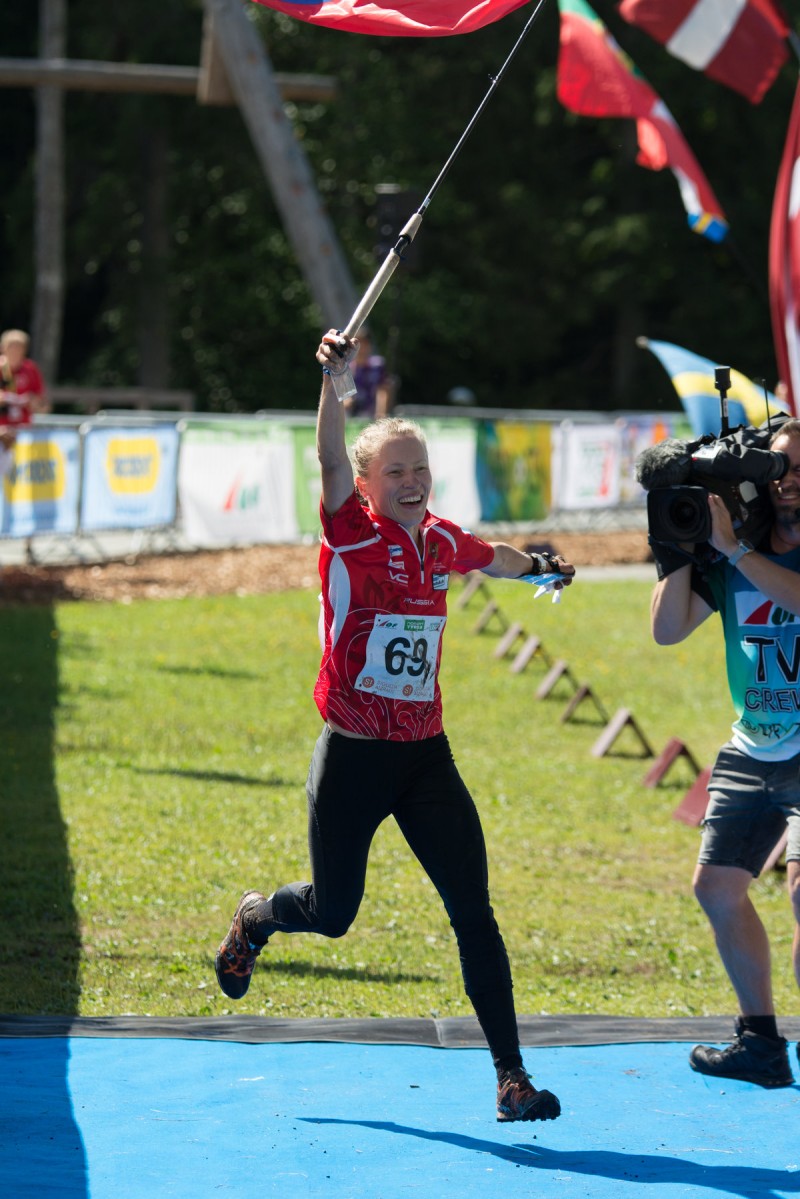 I would like to nominate Natalia Gemperle. Because she shows how hard – long-term job and cold mind can deserve a gold medal on WOC. And not forget a good result during the season: silver and bronze from EOC. She is a leader in strong woman relay team with bronze from Latvia.
Natalia Gemperle – for incredible breakthrough and winning of her first individual WOC-gold medal.
O- Sister: Natalia Gemperle Vinogradova and Olga Shipilova Vinogradova. How unique is it when a twin wins the World Championship at the same distance in two different orientation disciplines with precisely one day difference?
Among top athletes it is Always difficult to make a ranking what is the best Achievement of 2018 in orienteering. At ladies so many athletes who escaped from Background to Flash light.. Issia Basset for example, then we have many runners who achieve clearly top results for many years as Maja Alm or for example Winning world Cup in Ski O and Foot O Tove Alexandersson, also Gold medails at WOC and Ski European Champs – she is clearly number one. But sometimes when Voting you also have to look around and the Story of two Twins Winning Gold nearly at same time in MTBO and FOOT O is so nice …..I vote for Olga and Natalia…for Olga already many Gold medails for years, for Natalia first Gold after excellent races and medals last years
Kamilla Olaussen (Norway)
A fantastic rise towards the top, after struggling a lot with for injuries for years. But when she finally came back to orienteering she did it at a new and higher international level, and that nearly without doing any orienteering technical sessions. A 5th place at WOC Long in Estonia and a second place at the World Cup long distance in Norway are great results.
Lizzie Ingham (New Zealand)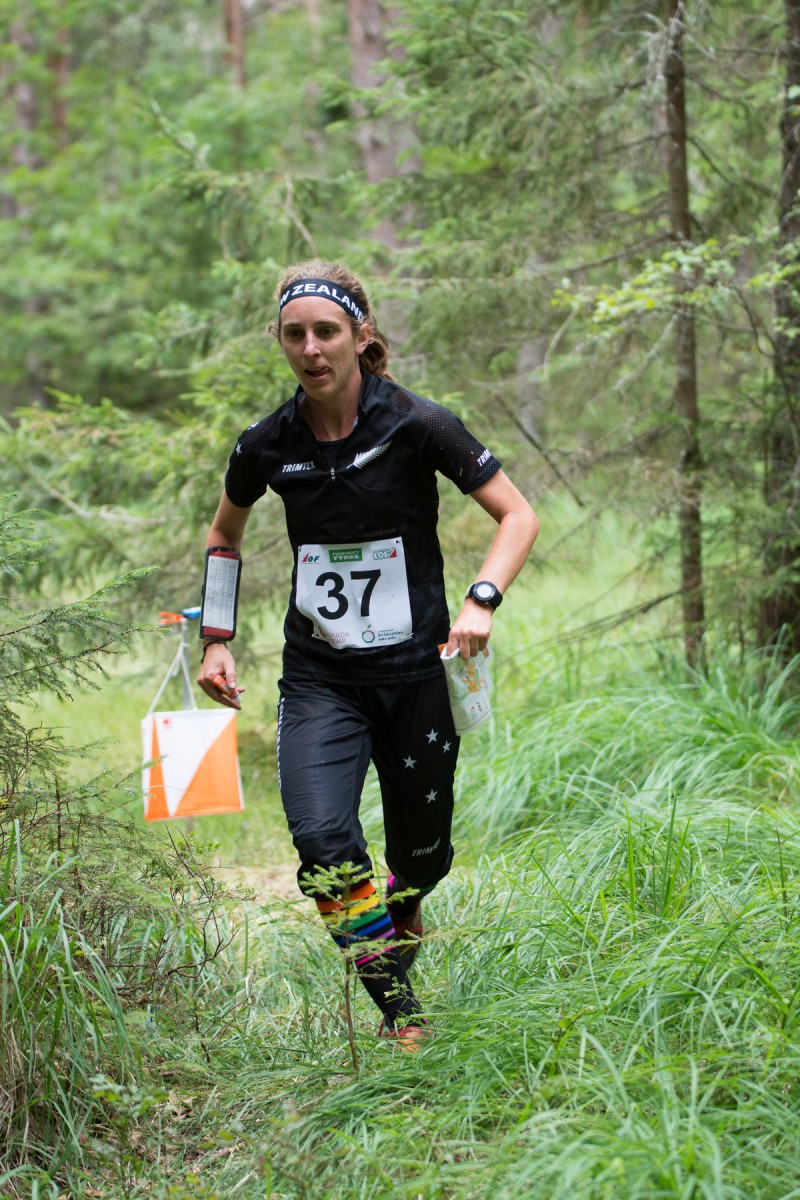 Although NZL's top female orienteer, for several years Lizzie, notwithstanding her results, has been hindered by an undiagnosed medical condition. At O-Ringen 2017 this culminated in her collapsing at the finish line on Day 1 and having to be given CPR and have a defibrillator used. Two months later and she undewent open heart surgery for a congential heart defect which was cutting off blood supply under extreme exercise – the root of 6 years of problems. After months of reuperation Lizzie only started anything remotely like training in April 2018. Despite knowing she was underdone she nevertheless line dup in the sprint relay, middle, long and relay at WOC2018 in Latvia. They may not sound wonderful but, after such a traumatic experience, in anchoring NZL to 12th in the sprint relay, achieving 24th in the middle, 46th in the long, and a strong last leg in the relay, Lizzie has shown the determination, courage and strength of a true champion.
Isia Basset (France)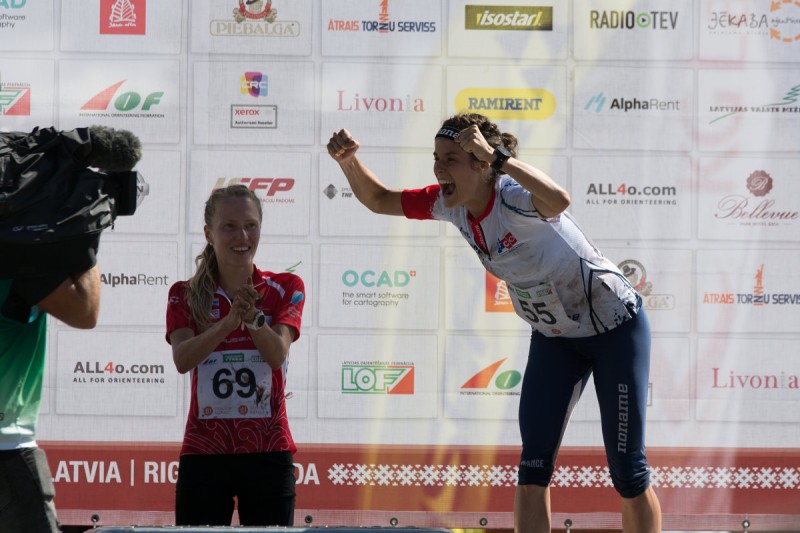 Isia Basset for the first medal in history at an international championship for a french girl. To give hope to all the other athletes that everything is possible when you decide it and do all you can for it.
She with her fantastic performance at WOC middle distance took a bronze medal. She was not amoung the main favorites before the race, but she showed, that with the best shape, right focus for right distance and excelent race plan everything is possible.
Marika Teini (Finland)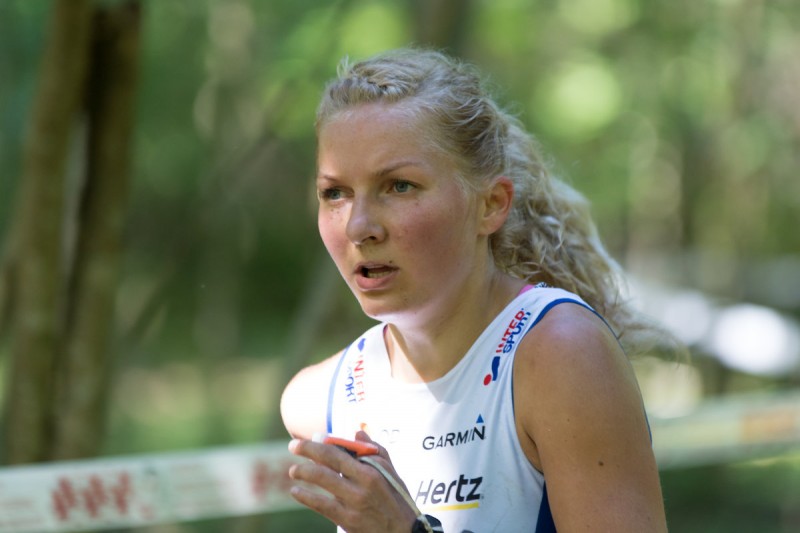 Marika Teini is my nominee for the orienteering achievement of the year. In the European champs in Switzerland, she amazed everyone with her victory at the middle distance. She managed to keep cool and get her tight victory in the very tough, Swiss-friendly terrain, beating the almighty Tove Alexanderson and all of the strong, great Swiss girls on their home soil. Next, she had proved that she can perform well in various terrains, as she won the silver medal at the very tricky middle distance in the world champs in Latvia.
I think she deserves to win the orienteering achievement of the year due to her ability to keep calm and consistent in the major events, and to succeed in versatile types of terrains.
My suggestion is Marika Teini, she became a European Champion in middle distance even she broke the foot during the race. I doubt anyone has done a similar achievement!
Tereza Janosikova (Czech Republic)
I would like to nominate Tereza Janosikova. I believe she is the future Czech o-star. This year she won 3 medals (2xsilver, 1xbronze) at JWOC in Hungary. Especially her performance on the last leg of the relay competition was something unbelieveable! She is already a stable Czech senior o-team member, running individual sprint competitions at both EOC and WOC (2x 19th place) and also a member of very successful sprint relay team (5th at WOC, 3rd at WC Final).
Great Sponsorprizes for "Lucky voters"!
Prizes valued to more than 5500 Euro are drawn among lucky voters & the ones suggesting nominations. We have 14 great sponsor prizes this year! The rules are as follows:
A person can only vote once in each of the categories (if several people share one internet connection, only one can vote, as the IP address is used to identify the voter along with the email-address of the voter).
Prizes from our sponsors will be drawn among all people voting.
In addition some sponsor prizes will be drawn among the ones suggesting GOOD nomination texts. Among all really good nomination texts, we will draw one or two of the great sponsor prizes.
The winners will be made public after the poll closes at World of O.
---
 Event sponsor: Sardinia October 2019 – 3x 5days – week 40, 41 and 44 (Italy)
Prize offered: Package for two persons consisting of entry fee and accommodation with formula bed and breakfast for week 41 in Sardinia (Italy).  Value about 1.240 EUR. Transferable to other persons.
Follow the Sun in Italy and make your summer longer! Park World Tour Italy is organizing the 8th edition of Five days Orienteering in October with 3 possibilities: week 40, 41 and 44. For 2019 we chose the beautiful Sardinia. We found a fantastic place, one hour driving from Cagliari airport. A wonderful beach is next to the event center. Read more on www.orienteering.it and www.facebook.com/pwtorienteering.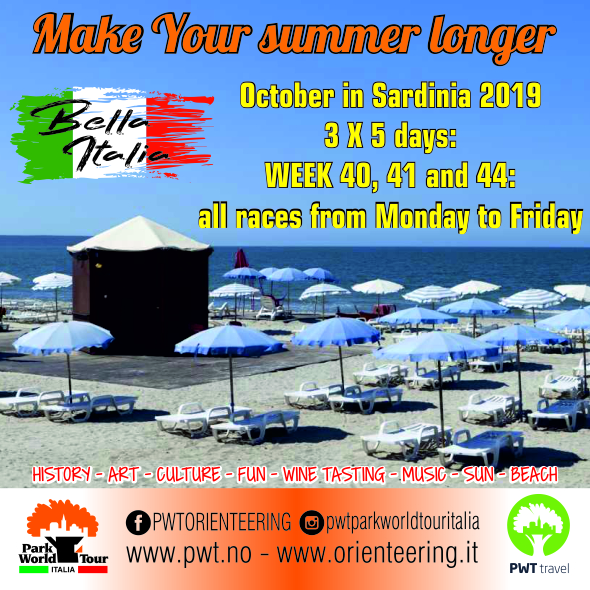 Event sponsor: WOC 2019. August 12 th – 17th 2019 (Norway)
Prize offered: Package for two persons consisting of entry fee for all 6 WOC 2019 spectator races and hotel accommodation in one of the partner hotels of WOC 2019.  Value: TBD.  Transferable to other person.
Description. Use this unique opportunity to watch the World's best orienteers in the first ever forest World Orienteering Championships while enjoying orienteering in fantastic terrains. More information at https://woc2019.no/en/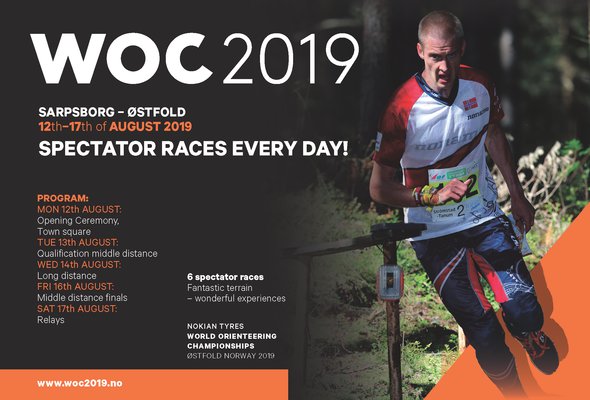 Event sponsor: 5th Antalya Orienteering Festival 2019 – October 27th– November 3rd (Turkey)
Prize offered: One Big Antalya O-Meeting package consisting of 1 complete Antalya Orienteering Festival package: Accommodation + Entry for all 6 races for one person. Value about 540 Euro. Transferable to other person.
Antalya Orienteering Festival will be held for the 3rd time in Side by the Mediterranean coast of Antalya, Turkey. We provide 6 different terrains and challenging courses, good maps and good weather for orienteering holiday. See more at www.antalyaofest.com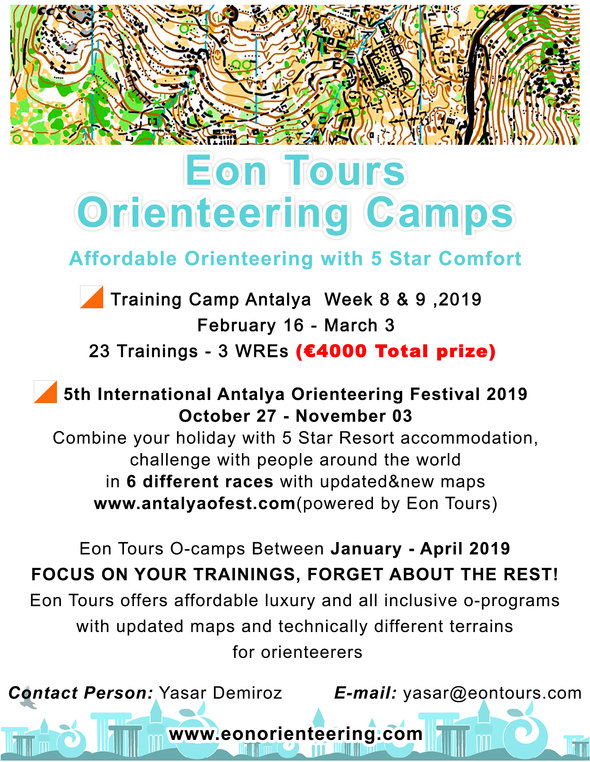 Event sponsor: Scottish 6-Days Orienteering, Strathearn 2019, 28 July-3 August (Scotland)
Prize Offered: Entry fees for two adults for all six races plus free entry to Sprint Race.  Additional free entry for two Juniors if required.  Transferable to other persons from same country. Value 500 Euro.
Description: Strathearn 2019 is the 22nd staging of this very popular multi-day event in Scotland.  The organisers have applied for two World Ranking Events, Middle and Long Distance, and this would be great training just two weeks before WOC.  Strathearn and Highland Perthshire offers a much wider range of terrain types than some previous Scottish 6 Days so will test all your orienteering skills. Website www.scottish6days.com/2019
Event sponsor: Aguiar da Beira "O" Meeting 2019. January 25th– 27th 2019 (Portugal)
Prize offered: Aguiar da Beira "O" Meeting 2019 Competition Package for 2 persons – including full entries to the event (Model Event, Sprint WRE, Long distance and Middle distance WRE), 5 night accommodation with breakfast and a 4-map package for each person to train around the event area. Value about 500 EUR. Transferable to other persons.
Description:  After the huge success of ABOM 2019, Aguiar da Beira will again be host the best world athletes to run on one of the best Portuguese terrains. Besides, we are the host County of Junior World Orienteering Championships 2021. If you were born in 2001 or later, ABOM 2019 is a great opportunity to start your preparations! High quality mapmaking and amazing terrains are waiting for you! More info about ABOM 2019 at: http://abom2019.ori-estarreja.pt. If you want to have a training camp in Aguiar da Beira, check out http://orientedforlife.o-portugal.pt. We would also like to present you the "Oriented For Life Podcast", a English speaking Podcast about Orienteering.
 
Event sponsor: Lipica Open 2019. March 9th – 13th 2019 (Slovenia)
Prize offered: 2 packages – each for 2 people – consisting of: Entry to complete 5 Day Lipica Open competition + hard floor accommodation. Value about 320 EUR. Transferable to other persons.
Lipica open: Popular season starter, with brand new area mapped for stage 5. Enjoy Slovenian karst terrain already in March. Kras region offers also excellent conditions for quality training camps. More at www.lipicaopen.com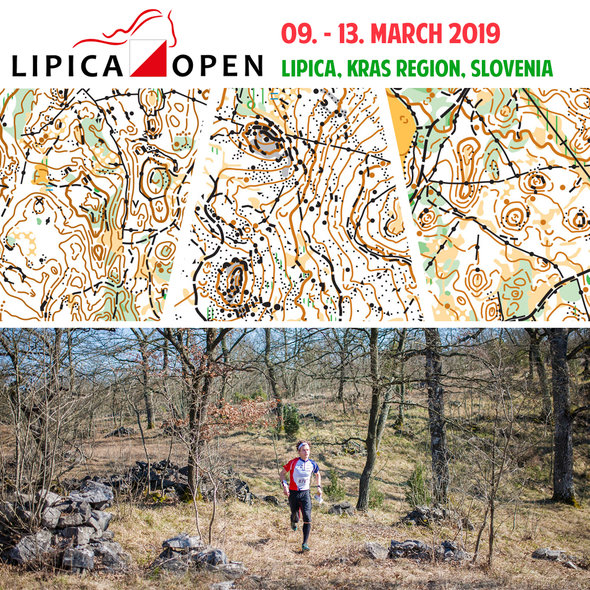 Event sponsor: 22. International Thuringian 24-Hour relay. May 31st – June 2nd 2019 (Germany)
Prize offered: Two packages, each package consists of one 6-person team for the 24-Hour-Orienteering Relay (min age 15) and one 4-person team for the youth relay. Included in the 24-Hour Relay is also opening party, parking, camping and open-air swimming pool.  Total value about 300 EUR. Transferable to other persons.
Description. Be part of the world's longest orienteering relay starting on Saturday June 1st 2019 at 9:00 AM and finishing on Sunday 2nd of June 2019 at 9:00 AM. The competition takes place in a typical German low mountain range in the middle of beautiful nature. More information here: https://www.24h-ol.de/en/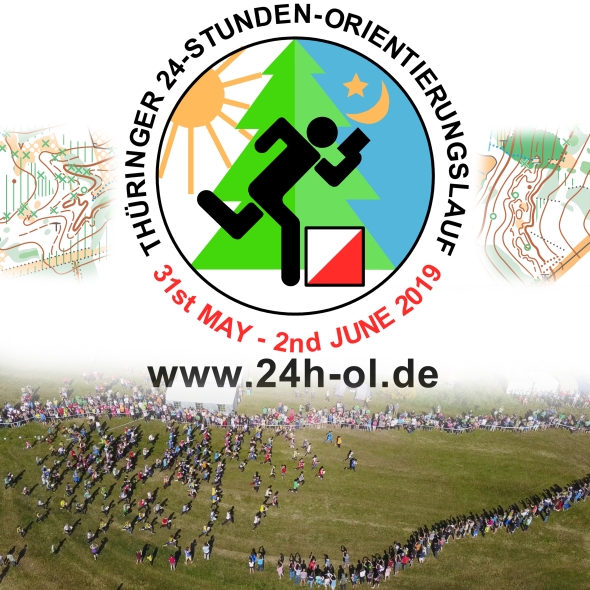 Event sponsor: Danish Spring, 29-31 March 2019 (Denmark)
Prize offered: Package for 2 people consisting of free starts in all three competitions and 2 nights in Hostel Sankt Helene. Value about 280 Euro. Transferable to other persons.
More information: The international spring opening in Denmark |  Junior and Youth competitions | Three World Ranking Events |Perfect preparation for JWOC 2019 in Denmark, WMOC 2019 in Latvia and WOC Sprint 2020 in Denmark | Cosy hostels, holiday homes, huts and hotels in the whole area. Ideal for your group's or club's spring training camp. Get it all at www.danishspring.dk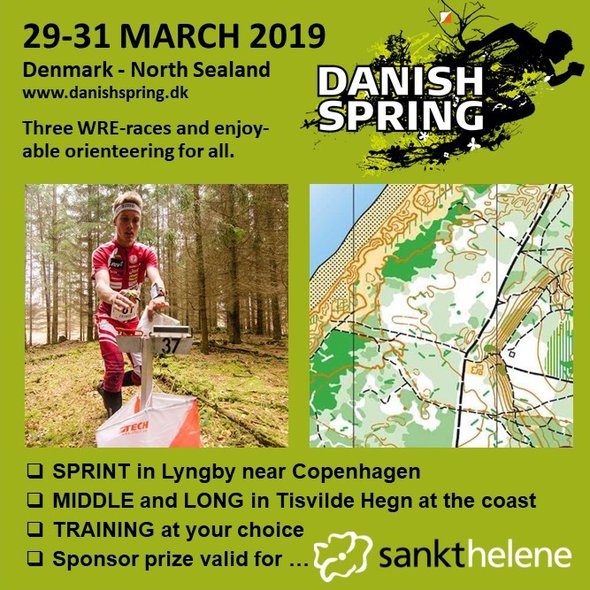 Event sponsor: VELIKDEN CUP – 26.- 29. of April 2019 (Bulgaria)
Prize offered: Package for two persons consisting of entry fee and accommodation with breakfast for Velikden Cup 2019 – 4 days of orienteering during Orthodox Easter in Targovishte, Bulgaria. Value about 270 EUR. Transferable to other person.
Enjoy an orienteering holiday and explore the Bulgarian culture off the beaten tracks. Four races in continental terrain including a WRE event. Velikden is the biggest club orienteering event in Bulgaria with more than 20 years of history. It's a tradition now that most of the Bulgarian orienteers spend Easter holidays in Targovishte. Besides the orienteering there are many places to visit and explore so you will not regret a trip to Bulgaria. Find out more at http://cup.variant5.org or email us at teamcontact@variant5.org. Visit also our facebook page at: com/velikdencup.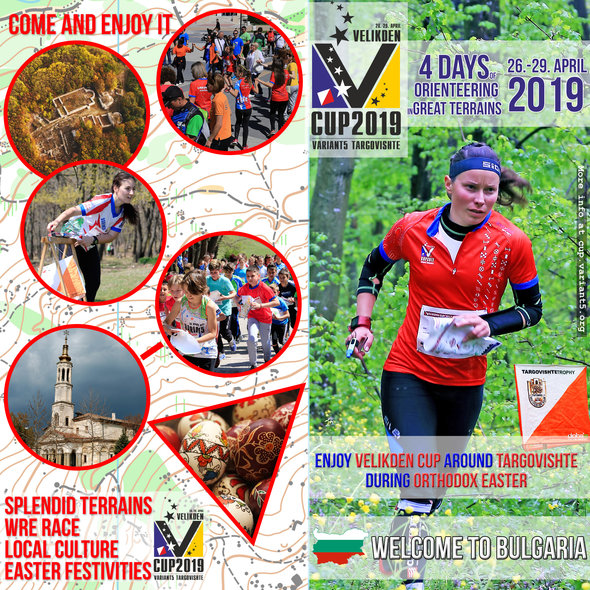 Event sponsor: Bubo Cup 2019. July 17 th – 20th (Slovenia)
Prize offered: 2 packages, each for 2 people consisting of entries for all 4 days of Bubo Cup 2019, Bubo Cup event T-shirt and training map for each. Value about 250 EUR. Transferable to other persons.
More information: 4 days of intricate and highly challenging karst terrain up on the Trnovo forest plateau. Possibility to camp right at the Finish area. There are only 3 days between ending date of Bubo cup and starting day of Oocup, which makes it feasible to combine both events. Read more at bubocup.com.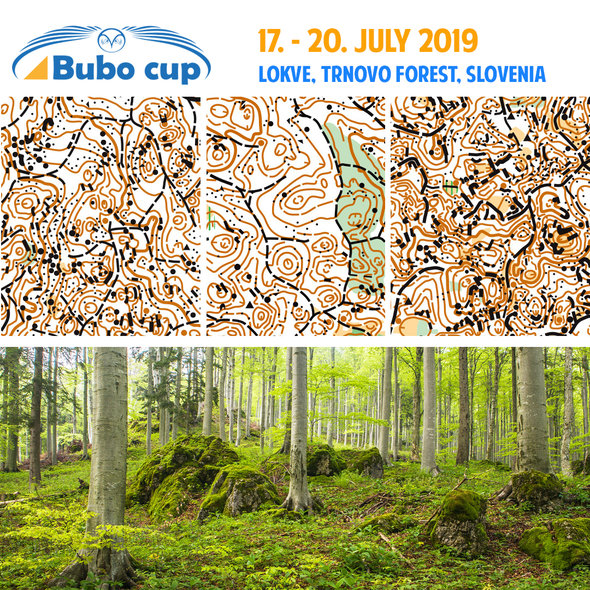 Event sponsor: POM 2019. March 1st – 5th 2019 (Portugal)
Prize offered: 2 packages – each one for 2 persons – consisting of full entry fees (model events, 4 forest stages, sprint relay, night sprint and Trail-O). Value about 250 EUR. Transferable to other persons.

Portugal O' Meeting is already a well-known established international event, perfect for a season start. It's 

common to see POM Super Elite winners on the podium of the following EOC and WOC

. The 2019 Edition will be held in 

Figueira da Foz, the central coastline of Portugal

. Terrains are typical 

Mediterranean forests on all stages

. More info at 

www.pom.pt

.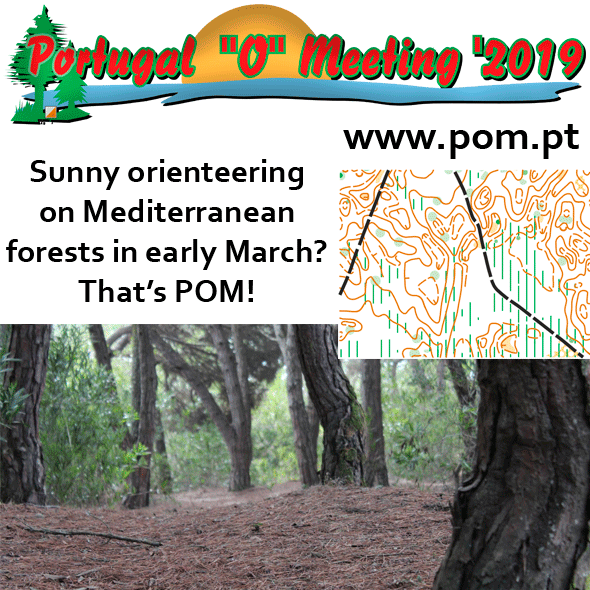 Event sponsor: Edinburgh University's Big Weekend. January 25th – 27th 2019 (Scotland)
Prize offered: Competition packages for 4 people – including entry to 3 races, the ceilidh and race t-shirts. Value about 250 EUR. Transferable to other persons.
Description: EUOC invite you to our Big Weekend 2019. This is your chance to orienteer in Scotland's capital; one of the world's most beautiful cities and host of the World Orienteering Championships 2022. The three races will test all your orienteering skills, featuring a Night race, a technical Urban and a Classic on an extinct volcano – and the Ceilidh provides a traditional Scottish social evening for all to enjoy! Race website: https://euoc.wordpress.com/big-weekend/
Event sponsor: Wawel Cup 2019. July 10th – 14th 2019 (Poland)
Prize offered: 2 packages – each for 2 people – consisting of entry to full Wawel Cup 38th edition (competition + additional indoor race + training maps) + accommodation on camping/hard-floor +! Wawel Cup T-shirt. Value about 250 euro. Transferable to other persons.
Wawel Cup for WKS Wawel centennial! Wawel Cup 38. comprises the exciting indoor race, the possibility of seeing the capital city of Polish kings and beautiful surrounding nature! And foremost challenging terrains and orienteering… on the highest level. Together we will make it a real worldwide orienteering running feast! More info: http://wawelcup.pl/en/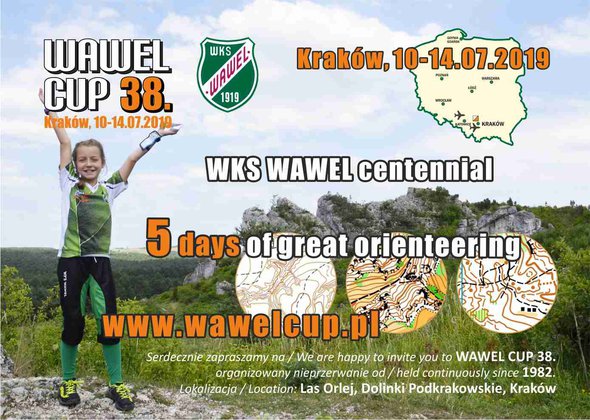 Event 
sponsor

: NAOM 2019. March 9th-10th 2019 / Orievents (Portugal)
Prize offered: Competition + training package for 2 persons, consisting of: Entry for NAOM 2019 (09 March  2019 –  Middle distance + Night Sprint ; 10 March – Middle Distance WRE) +  training camp (2 trainings) + 2 days of accommodation in half board. Value about 250 EUR. Transferable to other persons.
Orievents / GD4C's Training Camps "Alto Alentejo" are an excellent training opportunity for Orienteering of good quality during the winter. Start the new season in training camps in Alto Alentejo, Portugal! More at www.naom.pt and about the training camp at Orievents.