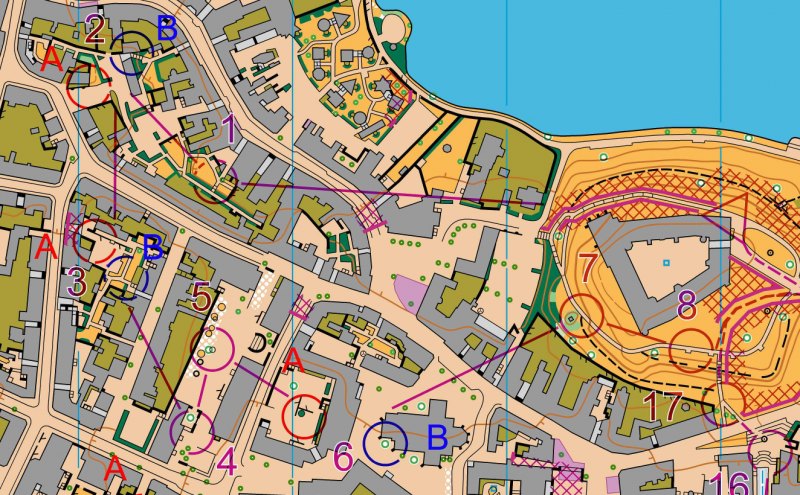 Sweden took the gold medal in the Sprint Relay in the 2022 World Orienteering Championships (WOC) ahead of Great Britain and Norway. The world's best female orienteer the last years, Tove Alexandersson, decided the relay on the last leg with a fantastic run. Lina Strand, Max Peter Bejmer and Gustav Bergman ran the first three legs for Sweden.
Sweden's success was due to stable performances by a team consisting of only world class athletes, topped off by Alexandersson's last leg which was 40 seconds faster than all her competitors. Great Britain's team did also have excellent team performances, following Sweden until nearly halfway into the last leg, and taking Great Britain's first ever WOC medal in the Sprint Relay.
The three other pre-race favourites Switzerland, Norway and Czech Republic made a huge mistake at the second leg where they ran into an out-of-bounds area, losing more than a minute and the chance to win the gold medal. A protest was delivered due to this incident after the race, but the jury decided that the teams should not be disqualified as they did not gain time on the incident (and returned the same way as they entered the out-of-bounds area).
Split time analysis
The split times of the common controls throughout the course for the Top 6 (see illustration below) show clearly that the Swedish women had exceptional speed, especially towards the end of their legs – practically deciding the relay there. Similarly, the British men run very strong legs, beating the Swedish leading team on most legs and taking back the 35 seconds Great Britain lost on the first leg.  One can also observe Great Britain's 20 + 40 second mistake towards the end of the last leg, but the gap down to the followers was so large that this did not have impact on Great Britain's silver medal.
The most notable incident in the split time illustration is the big mistake of Norway and Switzerland on leg 2, losing nearly 80 seconds to the leading team due to running quite far along the railway until noticing the mistake (see below GPS illustration). Great Britain's Ralph Street was just behind Norway and Switzerland at this time, but managed to avoid the mistake.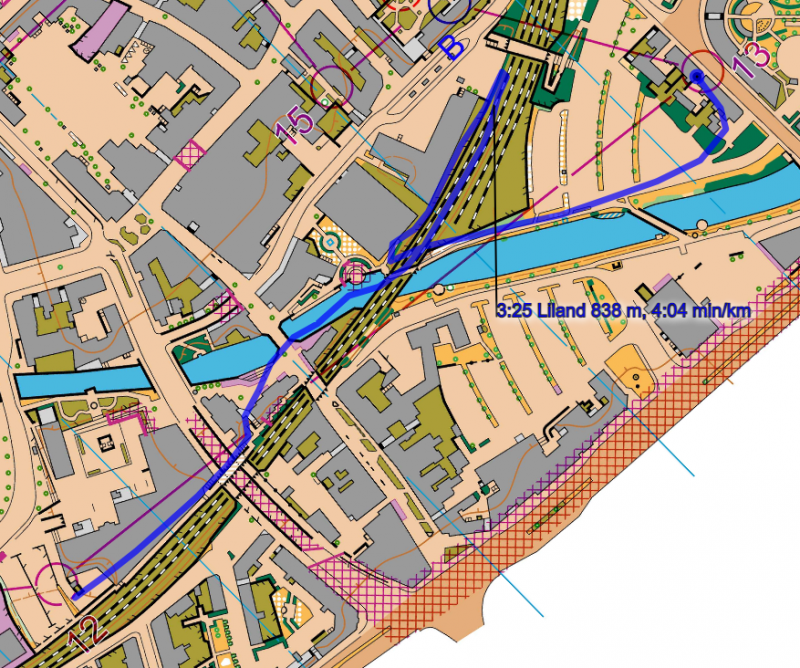 Maps and GPS-tracking
See below for the map for the women's legs (leg 1 and 4) and the men's legs (leg 2 and 3). Full GPS-tracking provided by TracTrac is available here. Details GPS-based analysis is difficult due to the GPS inaccuracies.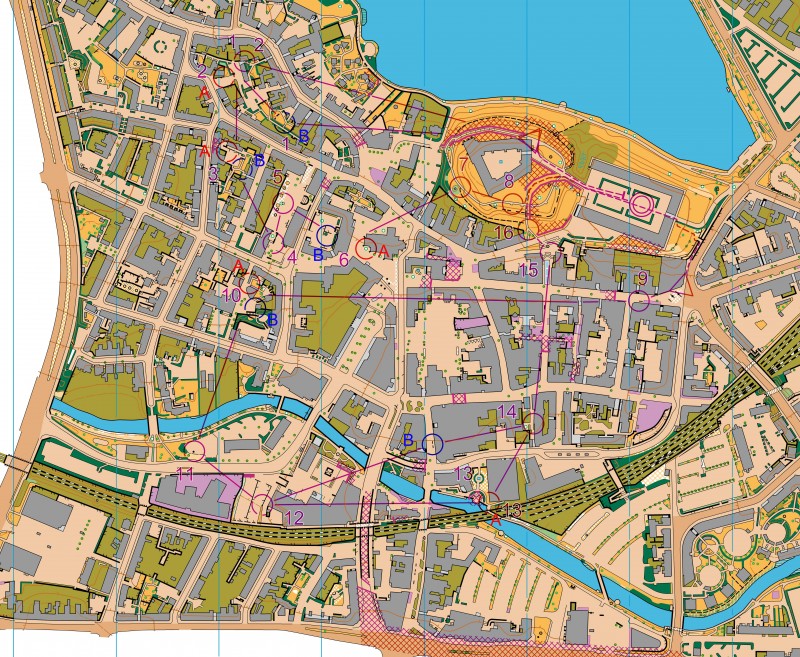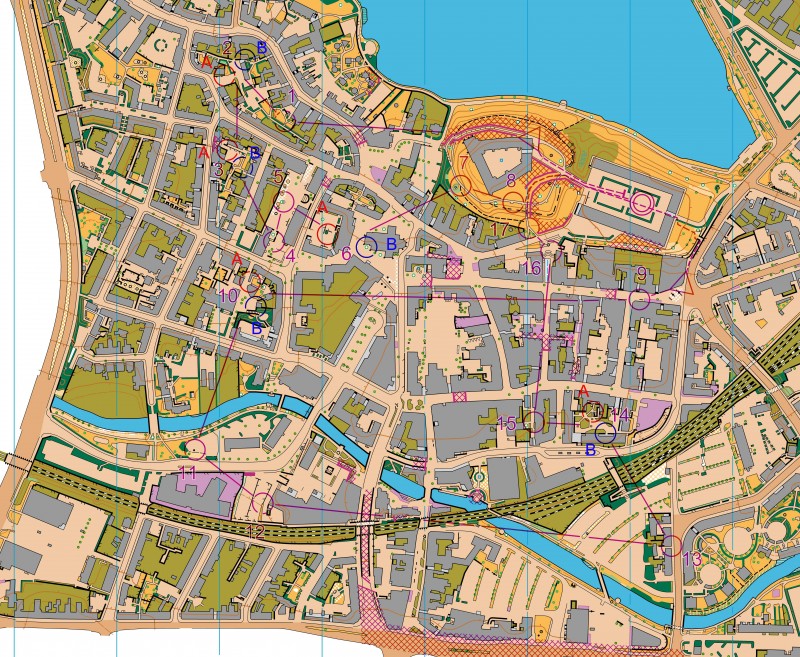 Results
1
Sweden
58:39
1. Lina Strand
14:34
1
14:34
1
2. Max Peter Bejmer
15:13
6
+0:20
29:47
1
0
3. Gustav Bergman
14:54
8
+0:53
44:41
2
+1
4. Tove Alexandersson
13:58
1
58:39
1
-1
2
Great Britain
59:41
1. Charlotte Ward
15:09
3
+0:35
15:09
3
2. Ralph Street
14:53
1
30:02
2
-1
3. Kristian Jones
14:38
4
+0:37
44:40
1
-1
4. Megan Carter Davies
15:01
5
+1:03
59:41
2
+1
3
Norway
1:00:20
1. Ane Dyrkorn
15:16
6
+0:42
15:16
6
2. Lukas Liland
15:56
17
+1:03
31:12
8
+2
3. Kasper Harlem Fosser
14:30
2
+0:29
45:42
6
-2
4. Andrine Benjaminsen
14:38
2
+0:40
1:00:20
3
-3
4
Switzerland
1:00:26
1. Simona Aebersold
14:51
2
+0:17
14:51
2
2. Joey Hadorn
16:25
23
+1:32
31:16
12
+10
3. Matthias Kyburz
14:30
2
+0:29
45:46
8
-4
4. Elena Roos
14:40
3
+0:42
1:00:26
4
-4
5
Denmark
1:00:28
1. Nicoline Friberg Klysner
15:17
7
+0:43
15:17
7
2. Soren Thrane Odum
15:22
7
+0:29
30:39
5
-2
3. Jakob Edsen
14:40
5
+0:39
45:19
3
-2
4. Miri Thrane Oedum
15:09
7
+1:11
1:00:28
5
+2
6
France
1:00:31
1. Isia Basset
15:27
10
+0:53
15:27
10
2. Adrien Delenne
15:04
5
+0:11
30:31
4
-6
3. Lucas Basset
15:00
10
+0:59
45:31
4
0
4. Cecile Calandry
15:00
4
+1:02
1:00:31
6
+2
7
Finland
1:01:14
1. Marika Teini
15:21
8
+0:47
15:21
8
2. Miika Kirmula
15:51
16
+0:58
31:12
8
0
3. Akseli Ruohola
14:54
8
+0:53
46:06
9
+1
4. Venla Harju
15:08
6
+1:10
1:01:14
7
-2
8
Poland
1:01:27
1. Hanna Wisniewska
15:21
8
+0:47
15:21
8
2. Michal Olejnik
15:26
9
+0:33
30:47
6
-2
3. Bartosz Pawlak
15:22
13
+1:21
46:09
10
+4
4. Aleksandra Hornik
15:18
8
+1:20
1:01:27
8
-2
9
Lithuania
1:01:44
1. Tekle Emilija Gvildyte
15:27
10
+0:53
15:27
10
2. Algirdas Bartkevicius
15:02
4
+0:09
30:29
3
-7
3. Vilius Aleliunas
15:03
11
+1:02
45:32
5
+2
4. Ausrine Kutkaite
16:12
13
+2:14
1:01:44
9
+4
10
Czech Republic
1:01:53
1. Tereza Janosikova
15:15
5
+0:41
15:15
5
2. Tomas Krivda
15:44
12
+0:51
30:59
7
+2
3. Vojtech Kral
14:46
6
+0:45
45:45
7
0
4. Jana Stehlikova
16:08
12
+2:10
1:01:53
10
+3