Norway won the Junior World Orienteering Championships (JWOC) Sprint Relay ahead of Hungary and Czech Republic. The Individual Sprint was won by Elisa Mattila (Finland) and Axel Elmblad (Sweden).
Due to the current situation in Portugal, the forest races are cancelled and were replaced by the first ever official JWOC Sprint Relay. It is still not clear what will happen with the forest races, but currently there is a plan to organize the forest races either November 4th to 6th or November 11th to 13th, with three races in three days (only finals).
Sprint Relay – tight until the end
The Sprint Relay was exciting from start to end – with some quite big gaps to some of the biggest favourites openinging up already early on the first leg. While bronze medalist Check Republic opened the first leg with a clear 23 second lead, silver medalist Hungary was down in 10th one minute behind, and gold medalist Norway in 13th place at 1:10. Czech Republic kept the lead after the second leg, but Norway and Hungary were still far behind at +1:13 and +1:10.
The third leg was decisive, however, as we often see in Sprint Relays. Here Norway made it up to second place behind Finand – only 12 seconds behind – with Hungary and Czech Republic in shared 5th place only 12 seconds behind Norway. The last leg was very exciting, with Hungary running the highest speed while Norway and Czech Republic took the fastest route choices. In the end Norway took the gold medals two seconds ahead of Hungary with Czech Republic five seconds behind – the race being decided on the last few controls. The athletes on Norway's winning team were Oda Scheele, Mikkel Holt, Tobias Alstad and Pia Young Vik.
The thrilling Sprint Relay will definitely make the discussions about the JWOC program surface again. Still, removing one of the existing forest races to introduce the Sprint Relay at JWOC is not an easy decision – neither is extending the program with an additional race or removing the Middle qualification.
Individual Sprint
Full analysis of the Individual Sprint has been published earlier (Men and Women) – with many interesting routechoices and big mistakes by some of the top competitors deciding the races.
Maps, GPS-tracking and analysis
Maps from the sprint relay are shown below, with GPS-tracking available here: Leg 1 (women), Leg 2  (men), Leg 3 (men) and Leg 4 (women). GPS-tracking and full analysis of the Individual Sprint is available here: Men and Women – maps are shown below.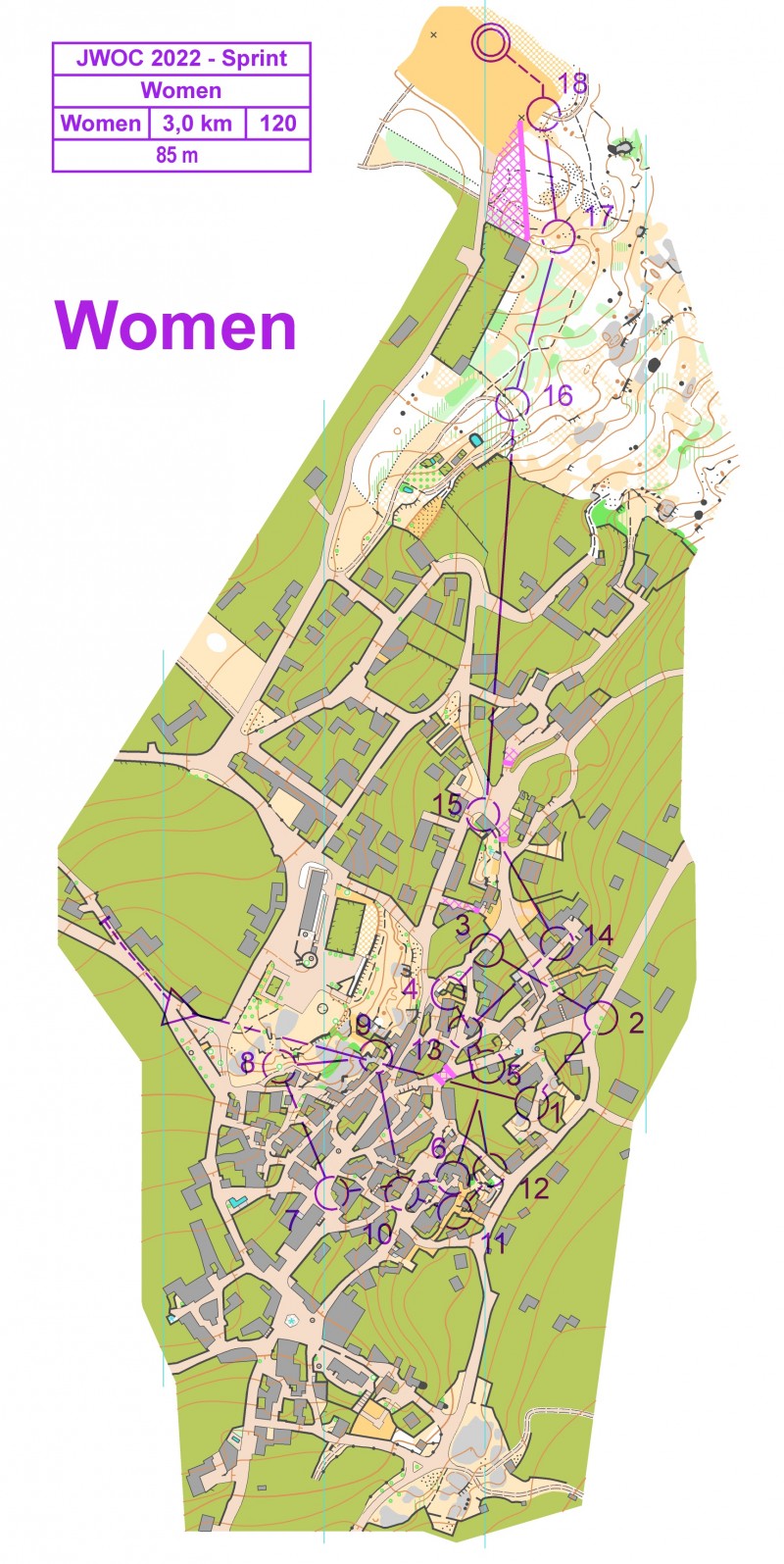 Web-TV broadcast
The organizers offered an excellent Web-TV broadcast which is still available online for viewing.
Individual Sprint
Sprint Relay
Results
Sprint Relay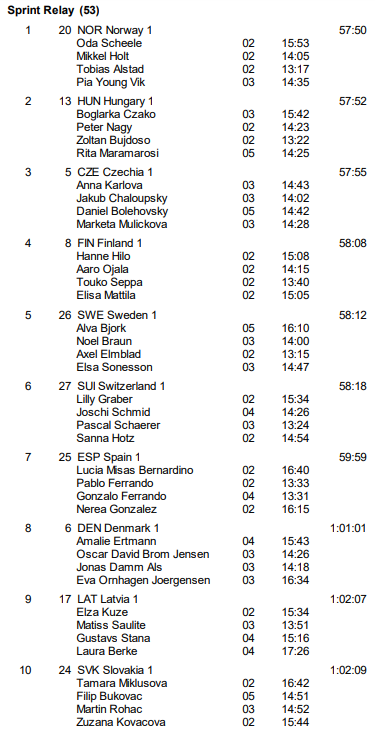 Sprint Men
| | | | | |
| --- | --- | --- | --- | --- |
| 1. | Axel Elmblad | SWE Sweden | 13:45 | (+0:00) |
| 2. | Tobias Alstad | NOR Norway | 14:11 | (+0:26) |
| 3. | Mikkel Holt | NOR Norway | 14:13 | (+0:28) |
| 3. | Basile Basset | FRA France | 14:13 | (+0:28) |
| 3. | Ilian Angeli | ITA Italy | 14:13 | (+0:28) |
| 6. | Pablo Ferrando | ESP Spain | 14:23 | (+0:38) |
| 7. | Benjamin Wey | SUI Switzerland | 14:25 | (+0:40) |
| 8. | Touko Seppa | FIN Finland | 14:29 | (+0:44) |
| 9. | Brage Takle | NOR Norway | 14:32 | (+0:47) |
| 10. | Jurgen Joonas | EST Estonia | 14:33 | (+0:48) |
| 11. | Pascal Schaerer | SUI Switzerland | 14:34 | (+0:49) |
| 12. | Gonzalo Ferrando | ESP Spain | 14:39 | (+0:54) |
| 12. | Peter Molloy | GBR Great Britain | 14:39 | (+0:54) |
| 14. | Flurry Grierson | GBR Great Britain | 14:42 | (+0:57) |
| 15. | Guilhem Verove | FRA France | 14:46 | (+1:01) |
| 15. | Anselm Reichenbach | GER Germany | 14:46 | (+1:01) |
| 15. | Kornelius Kriszat Lovfald | NOR Norway | 14:46 | (+1:01) |
| 15. | Noel Braun | SWE Sweden | 14:46 | (+1:01) |
Sprint Women
| | | | | |
| --- | --- | --- | --- | --- |
| 1. | Elisa Mattila | FIN Finland | 14:57 | (+0:00) |
| 2. | Lilly Graber | SUI Switzerland | 15:10 | (+0:13) |
| 3. | Anna Karlova | CZE Czechia | 15:16 | (+0:19) |
| 4. | Hanne Hilo | FIN Finland | 15:20 | (+0:23) |
| 4. | Pia Young Vik | NOR Norway | 15:20 | (+0:23) |
| 6. | Tifenn Moulet | FRA France | 15:22 | (+0:25) |
| 7. | Viktoria Mag | HUN Hungary | 15:26 | (+0:29) |
| 8. | Boglarka Czako | HUN Hungary | 15:46 | (+0:49) |
| 9. | Sanna Hotz | SUI Switzerland | 15:54 | (+0:57) |
| 10. | Eeva Liina Ojanaho | FIN Finland | 15:57 | (+1:00) |
| 11. | Vera Moser | SUI Switzerland | 16:01 | (+1:04) |
| 12. | Elsa Sonesson | SWE Sweden | 16:19 | (+1:22) |
| 13. | Michaela Dittrichova | CZE Czechia | 16:25 | (+1:28) |
| 13. | Annarita Scalzotto | ITA Italy | 16:25 | (+1:28) |
| 13. | Alva Marika Niklasson | NOR Norway | 16:25 | (+1:28) |
| 16. | Aasne Haavengen | NOR Norway | 16:36 | (+1:39) |
| 16. | Marketa Mulickova | CZE Czechia | 16:36 | (+1:39) |
| 16. | Rita Maramarosi | HUN Hungary | 16:36 | (+1:39) |