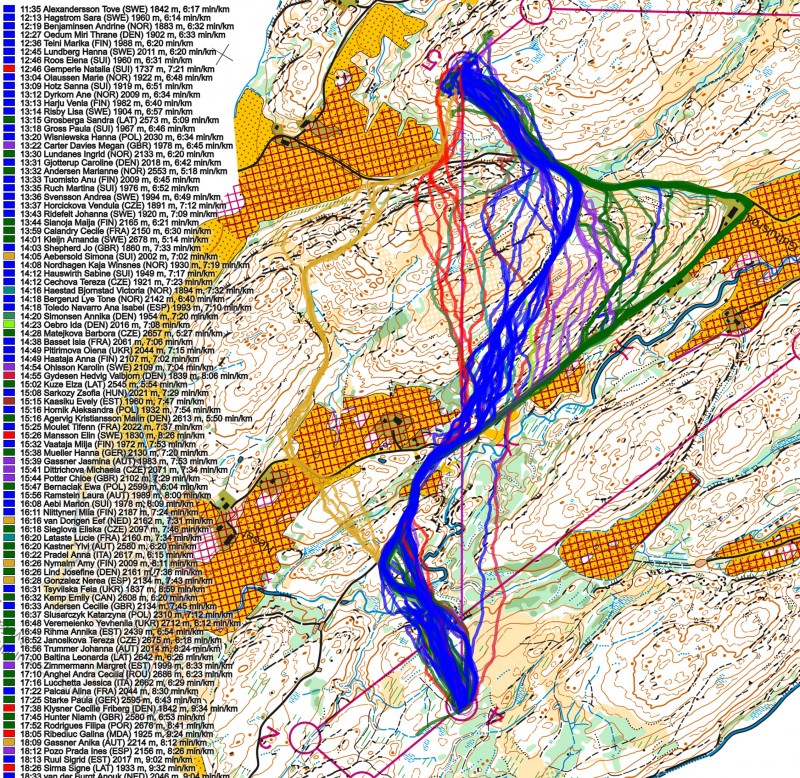 After nearly 90 minutes of orienteering in tough terrain only seconds separated the top runners in both the men's and women's class in the long distance opening this year's World Cup. Last years' winners of the overall World Cup, Tove Alexandersson (SWE) and Kasper Fosser (NOR), had the margins on their side, and started the World Cup season with victories.
For Fosser the margin was as small as 3 seconds down to Emil Svensk (SWE) and another 6 seconds down to Martin Regborn (SWE). These three were in another league, with Matthias Kyburz (SUI) finishing more than 2 minutes behind and Joey Hadorn (SUI) and Ruslan Glibov (UKR) following at around 3 minutes – the two latter after getting some help by the speed from runners from the top trio.
In the women's class Alexandersson finally got a real battle for the victory in a long distance where she did a good technical race – Sara Hagström (SWE) was only 55 seconds behind after 82 minutes of running – after being even closer for most of the race. This will be really interesting to follow as the season proceeds. From the two top runners there was a big gap to Norwegian runners Marie Olaussen and Andrine Benjaminsen at 4:43 and 6:20 – with Marika Teini (FIN) and Natalia Gemperle (SUI) finishing off the Top 6 within 8 minutes. Of these Gemperle seemed to be the fastest runners of those not getting help by the speed of the top duo, but Gemperle made one big mistake (control 2) and a route choice error (control 5) that costing her more than 6 minutes in total.
Maps and GPS-tracking
World Cup 2023 Round 1, Long Women

» See map in omaps.worldofo.com
World Cup 2023 Round 1, Long Men

» See map in omaps.worldofo.com
Analysis Men
See below for a graphical split time analysis of the men's race – first the Top 10 and then the Top 3. Note how the Top 3 follow each other throughout the race, always within 70 seconds of each other. Anton Johansson keeps up with them until control 12, but then he gradually loses time – notne of the others seem to currently have this speed in this terrain. There are not too many mistakes among the top 10, but note some mistakes by Bergman and Ojanaho.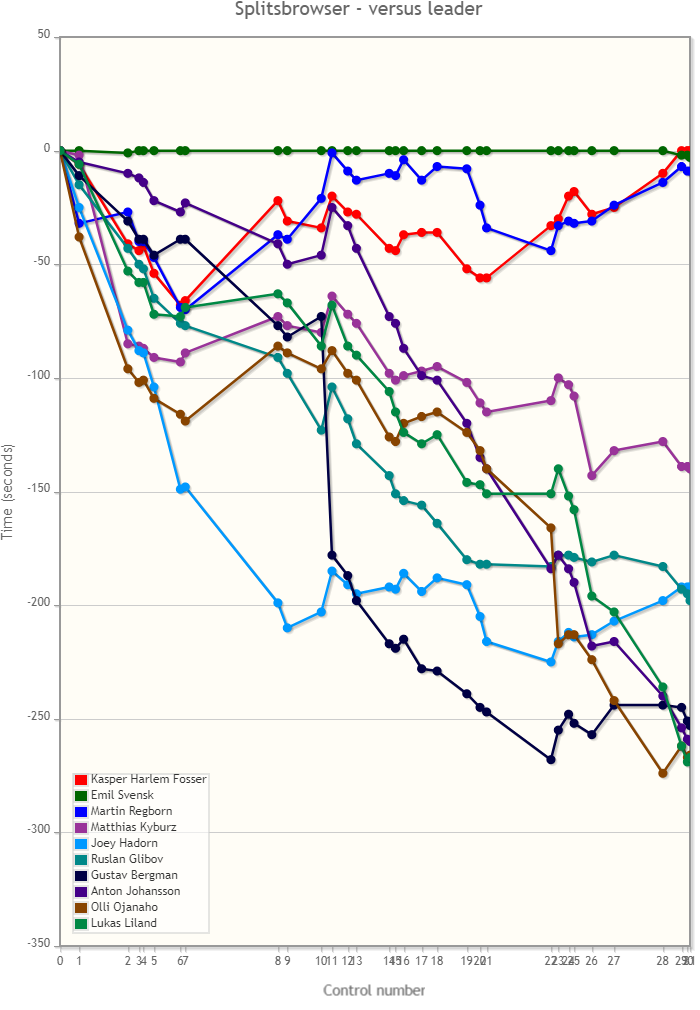 Looking at the top 3 only, we see that Svensk had a really fast start – taking 70 seconds on the others until control 7. His slower routechoice to control 8 (going further around, see GPS-comparison below) did however cost him 40-50 of those seconds. And it also looks like the fast start cost Svensk a bit towards the end, as the others are 40-60 seconds faster than him the last 8-10 controls. Fosser's finish is especially strong.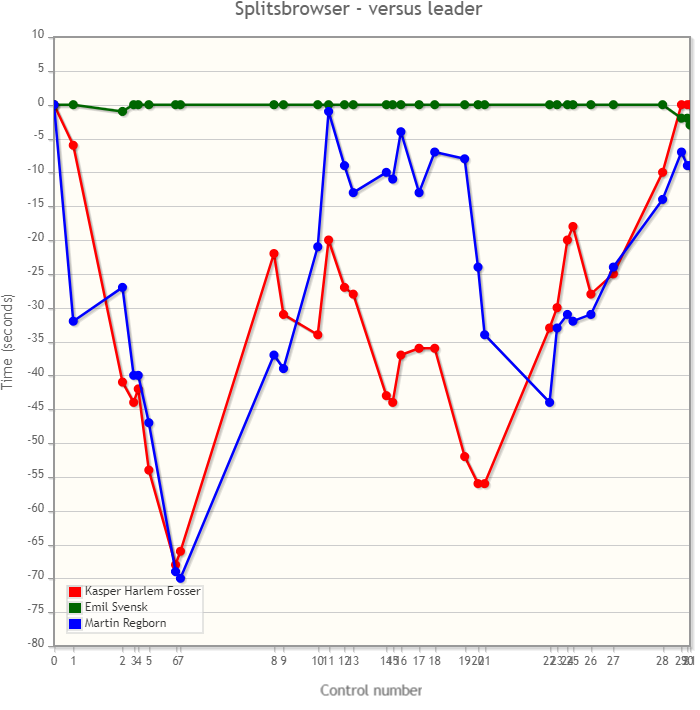 Below the complete men's course is shown: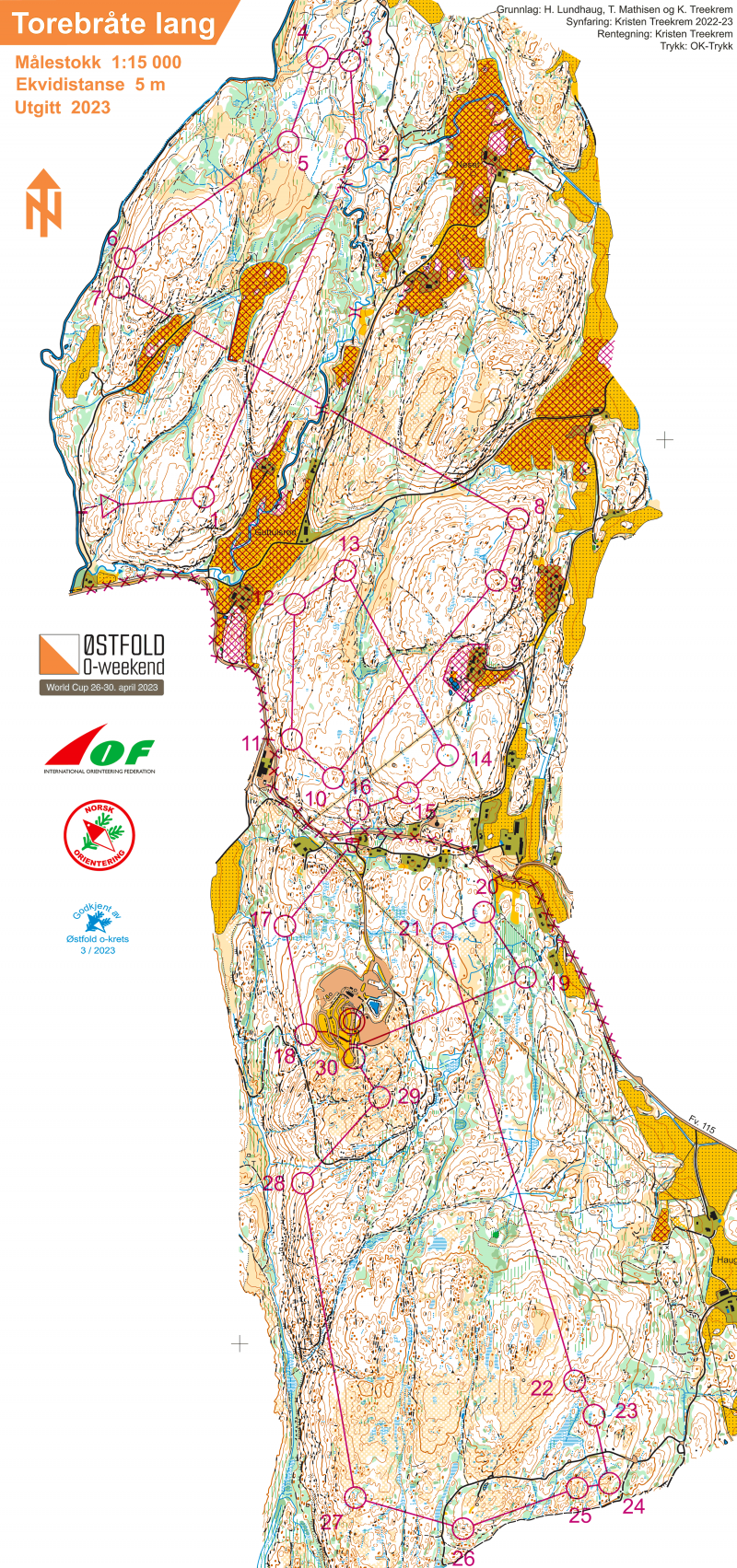 And here GPS-data of some of the most interesting legs: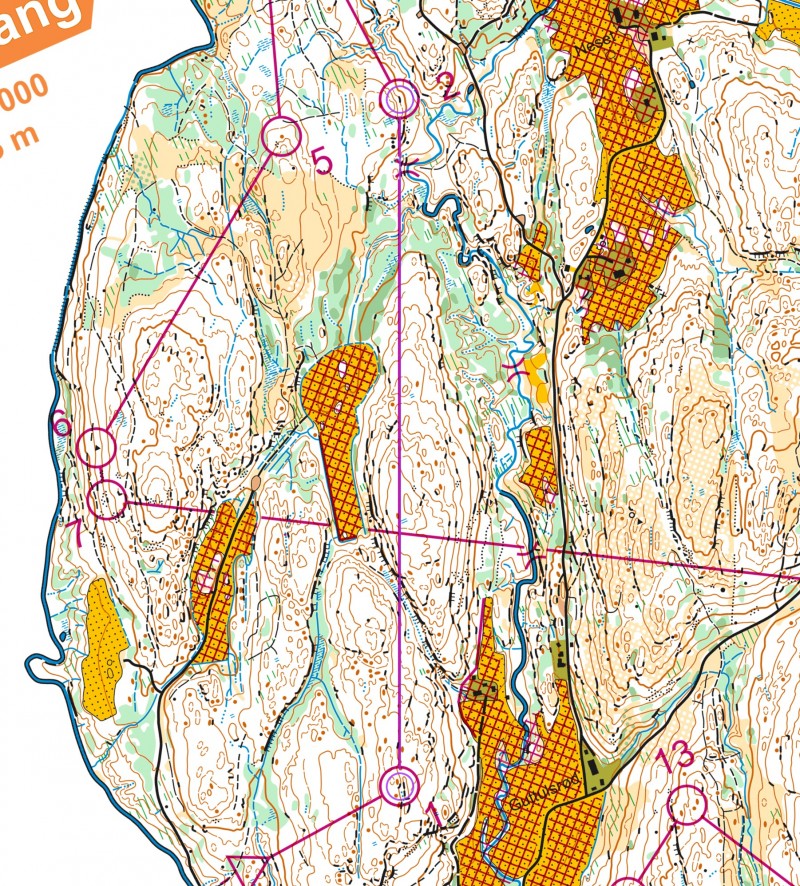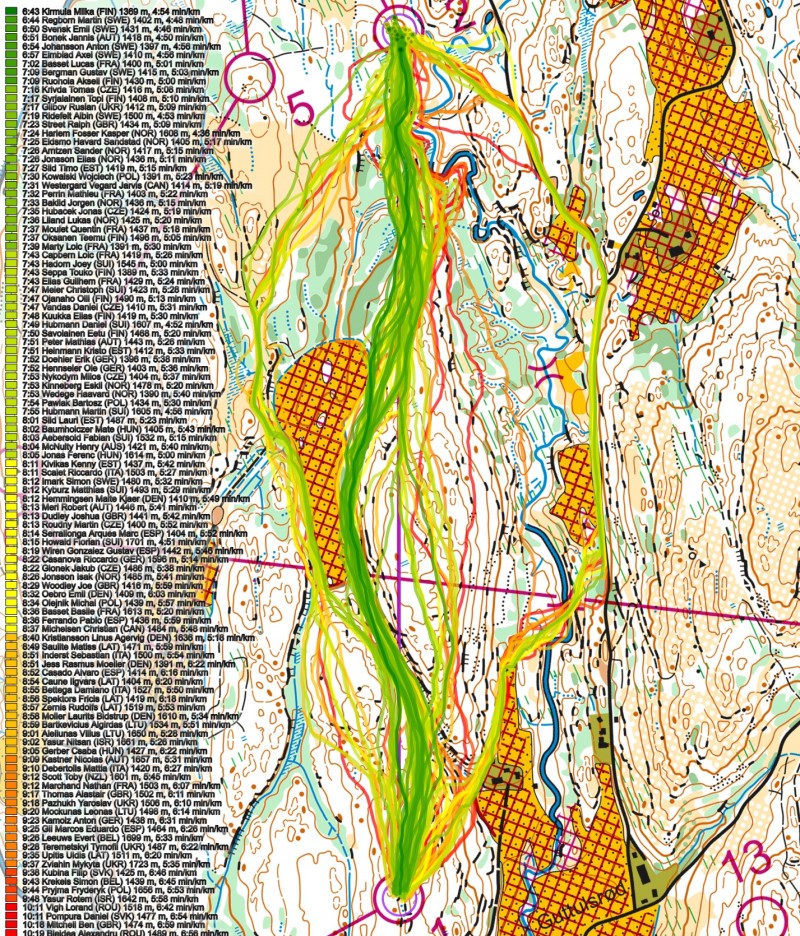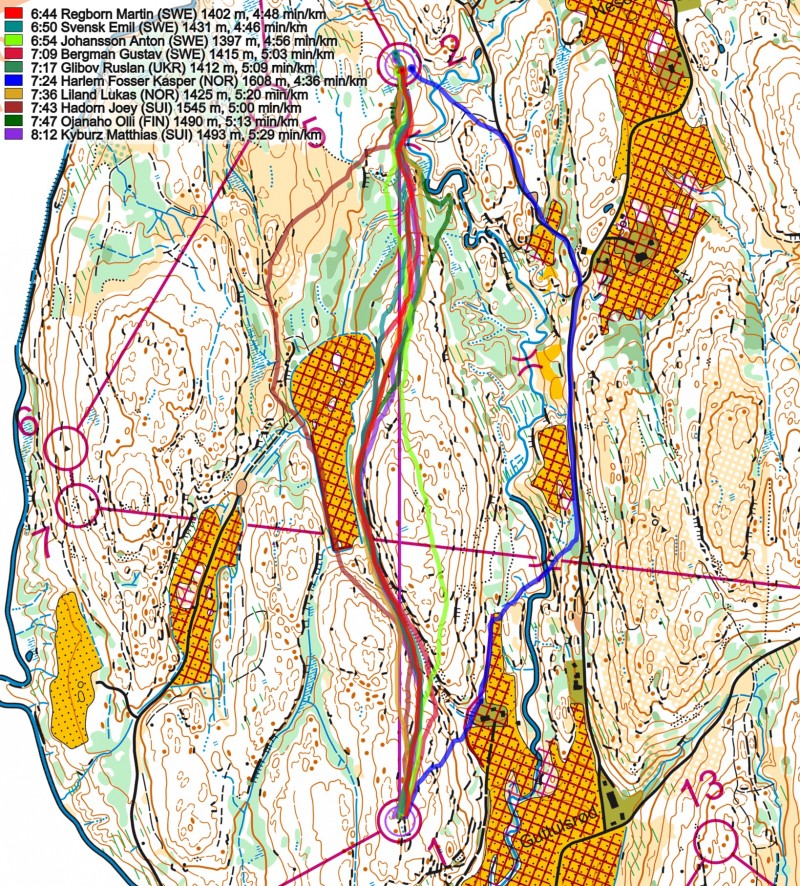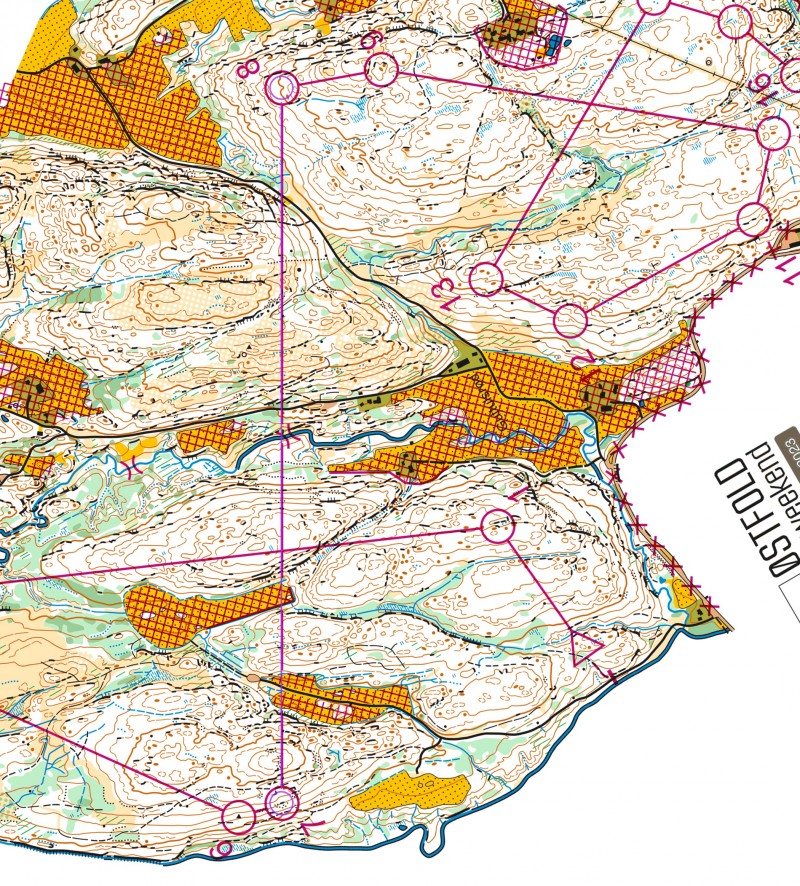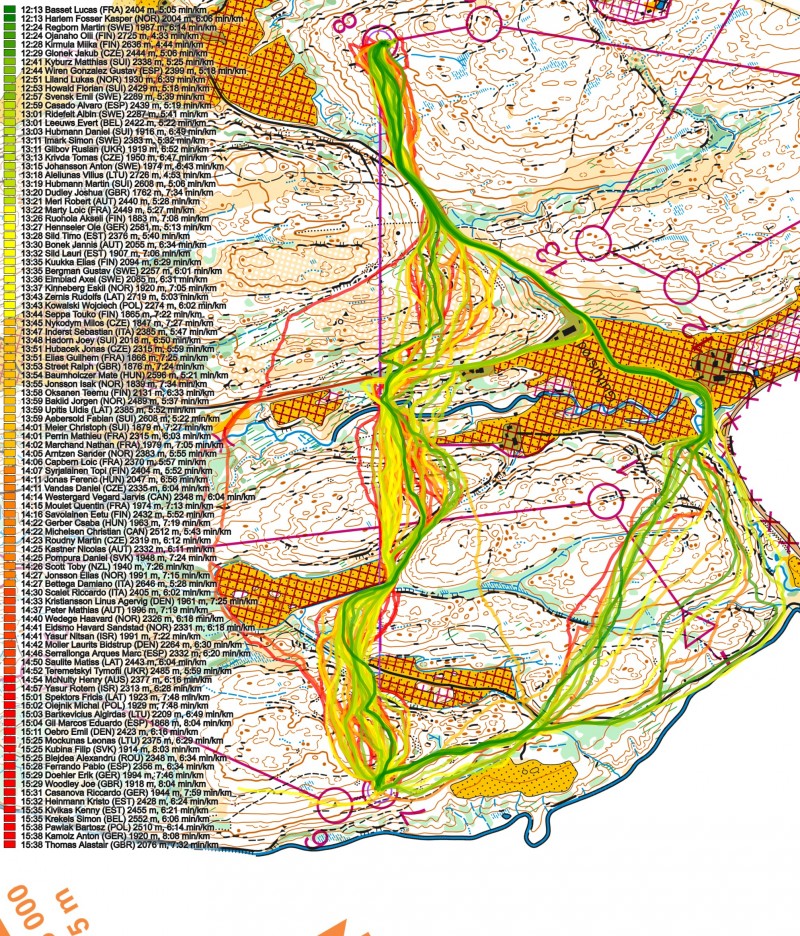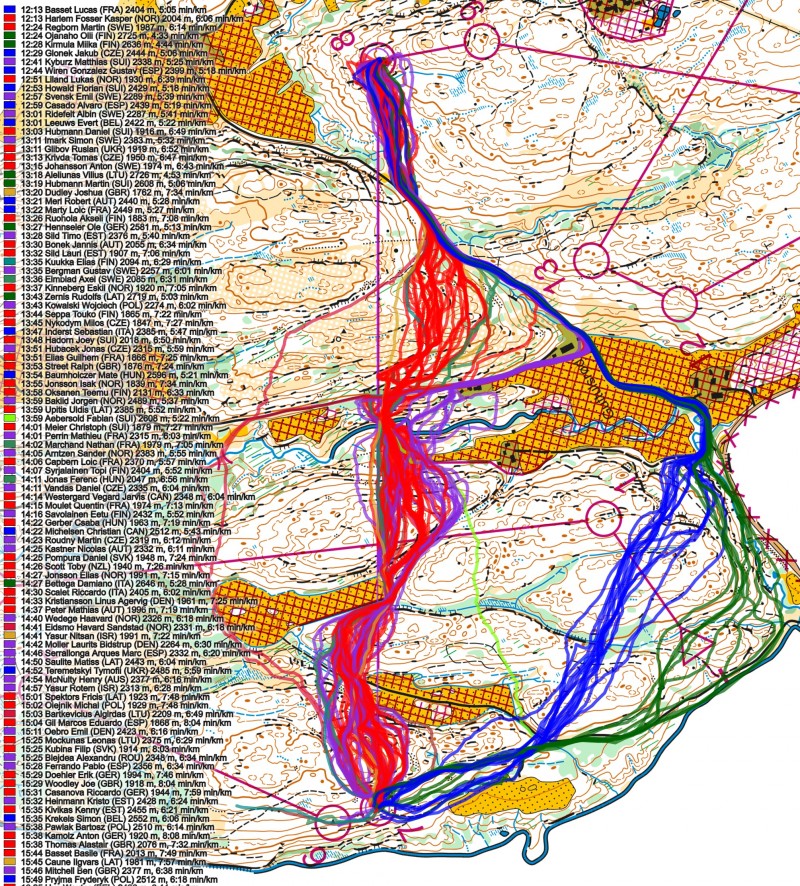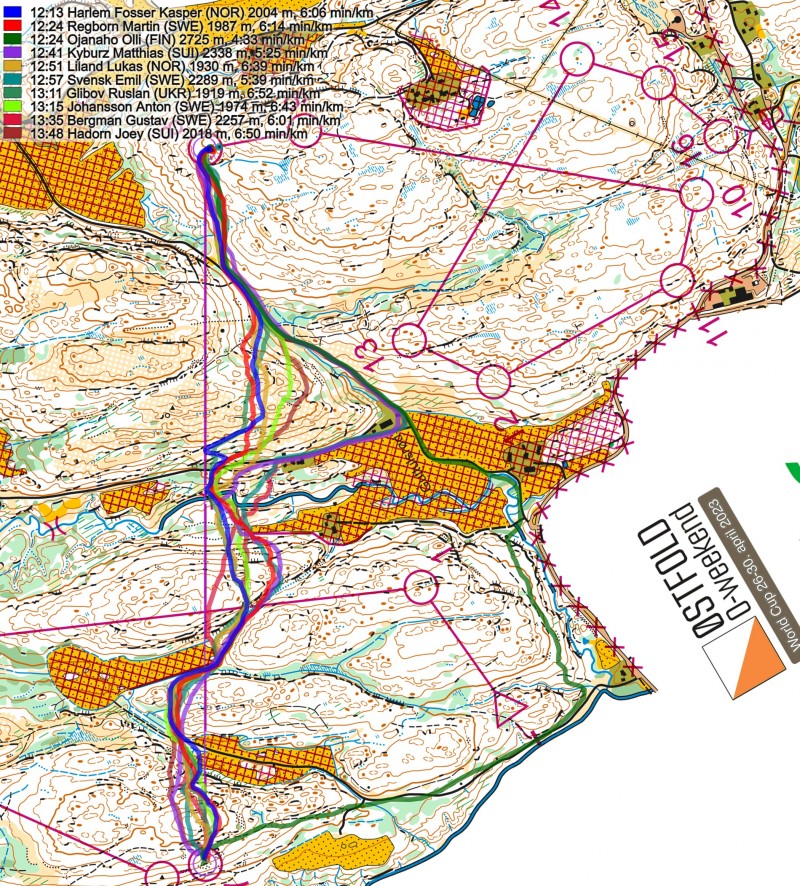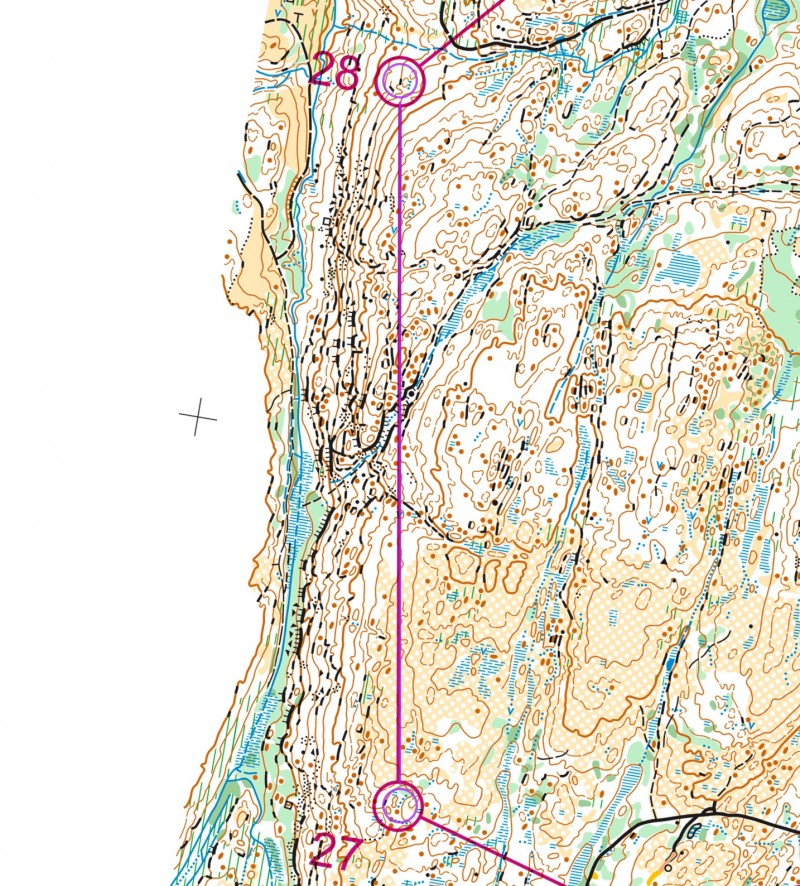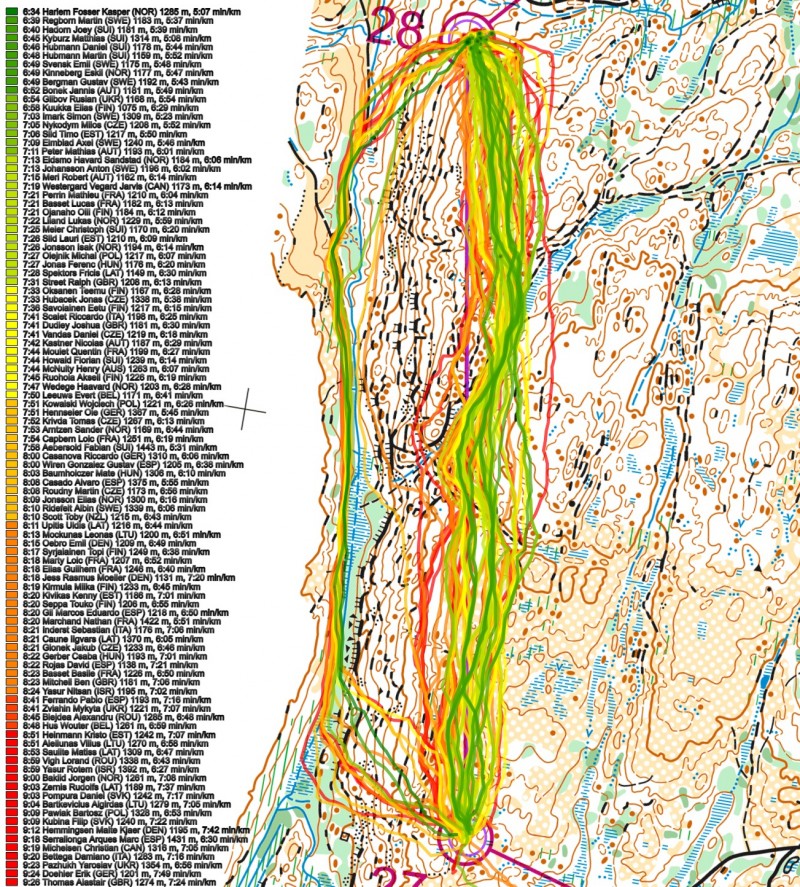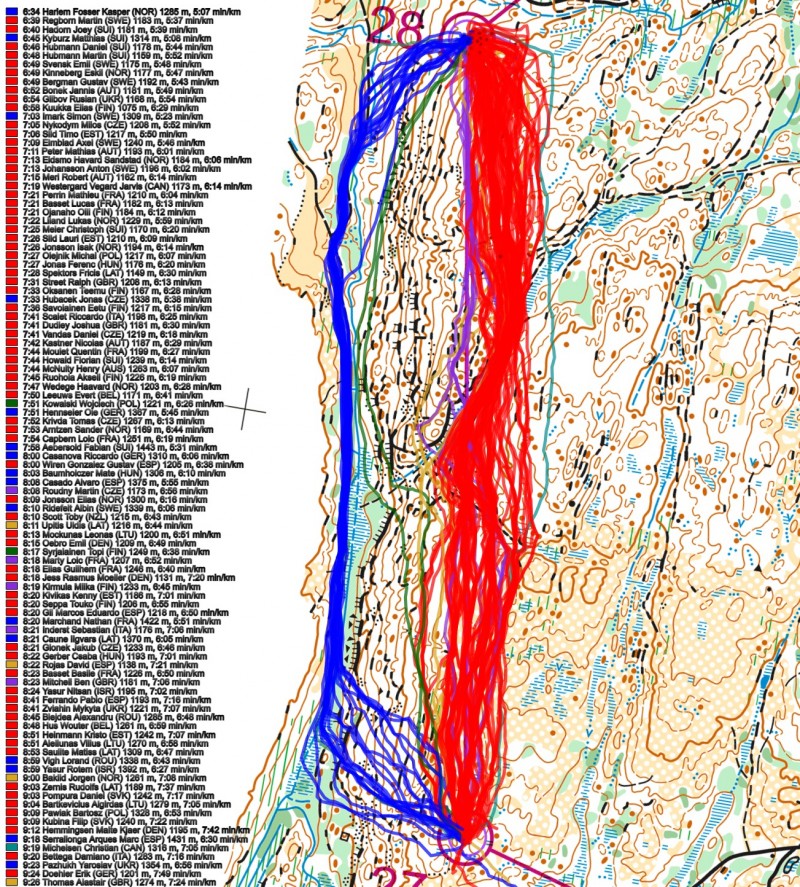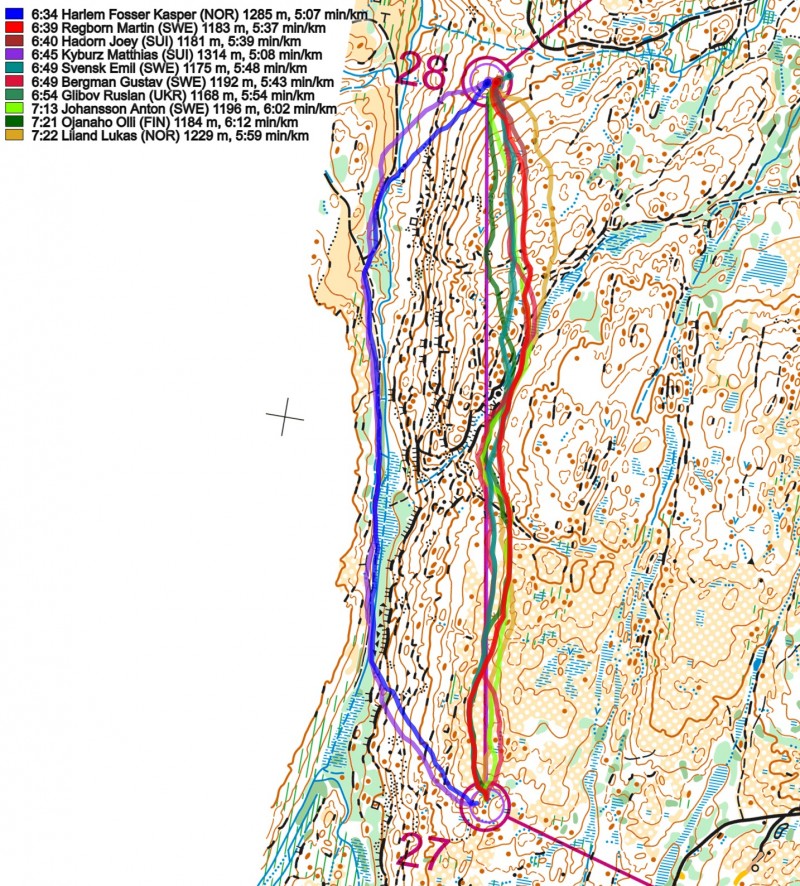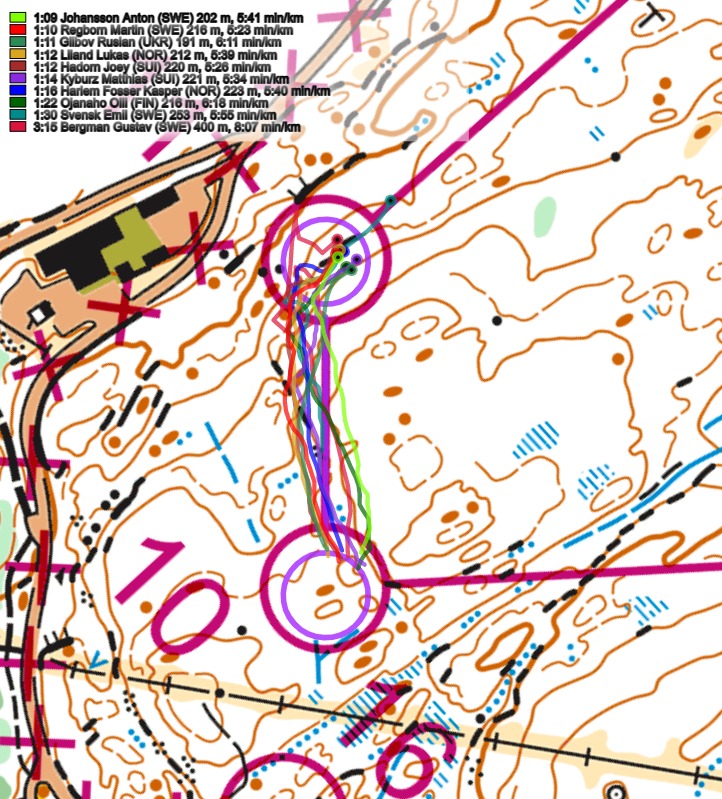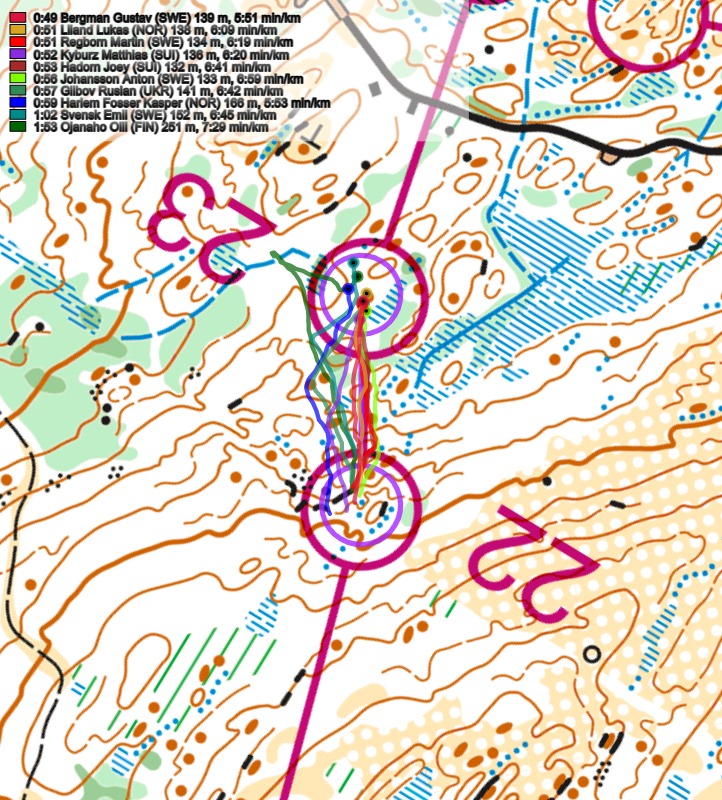 Analysis Women
For the women we see larger time differences for the longer legs – especially leg 2 and leg 5 – it looks like a combination of route choice and execution did have higher impact in the women's class. The two top women are clearly in a class for themselves, with nobody else close to their speed (Olaussen's curve looks very good for the middle part of the race, but here she closely follows Hagström).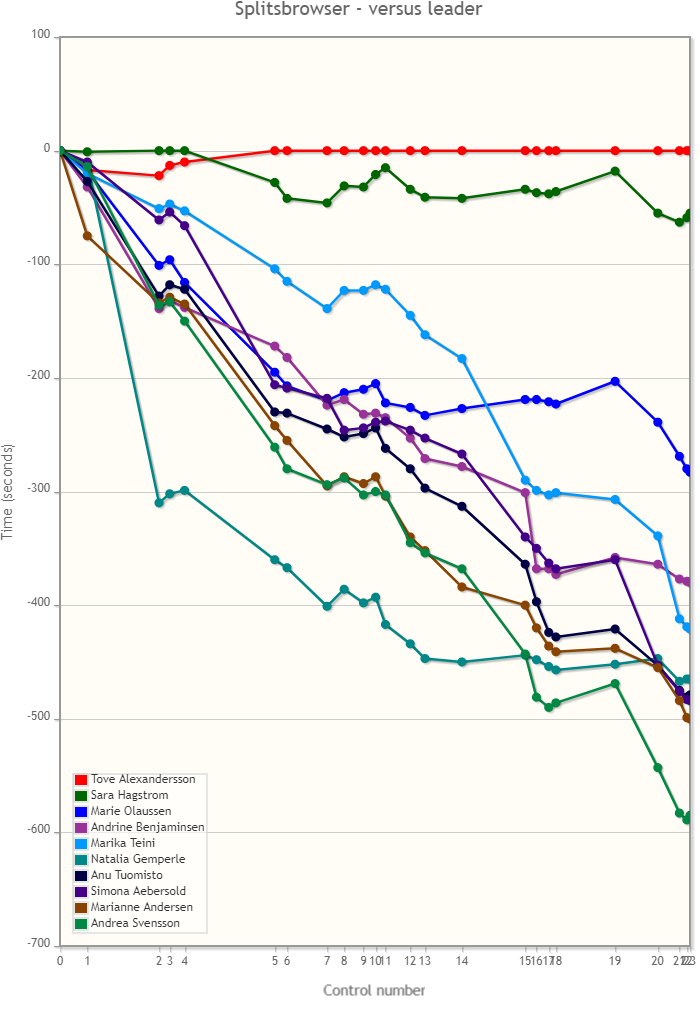 Here is the comparison between Alexandersson and Hagström. At control 19 the gap was only 20 seconds, but a miss to control 20 by Hagström was enough for the victory to become relatively clear in the end.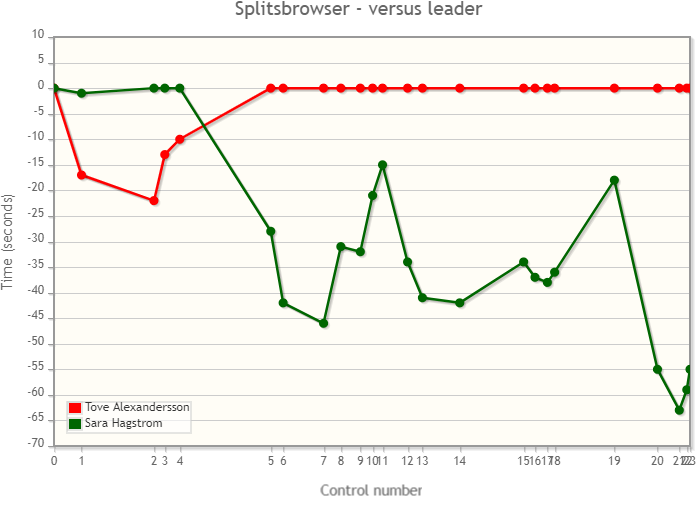 Below is the course from the women's race: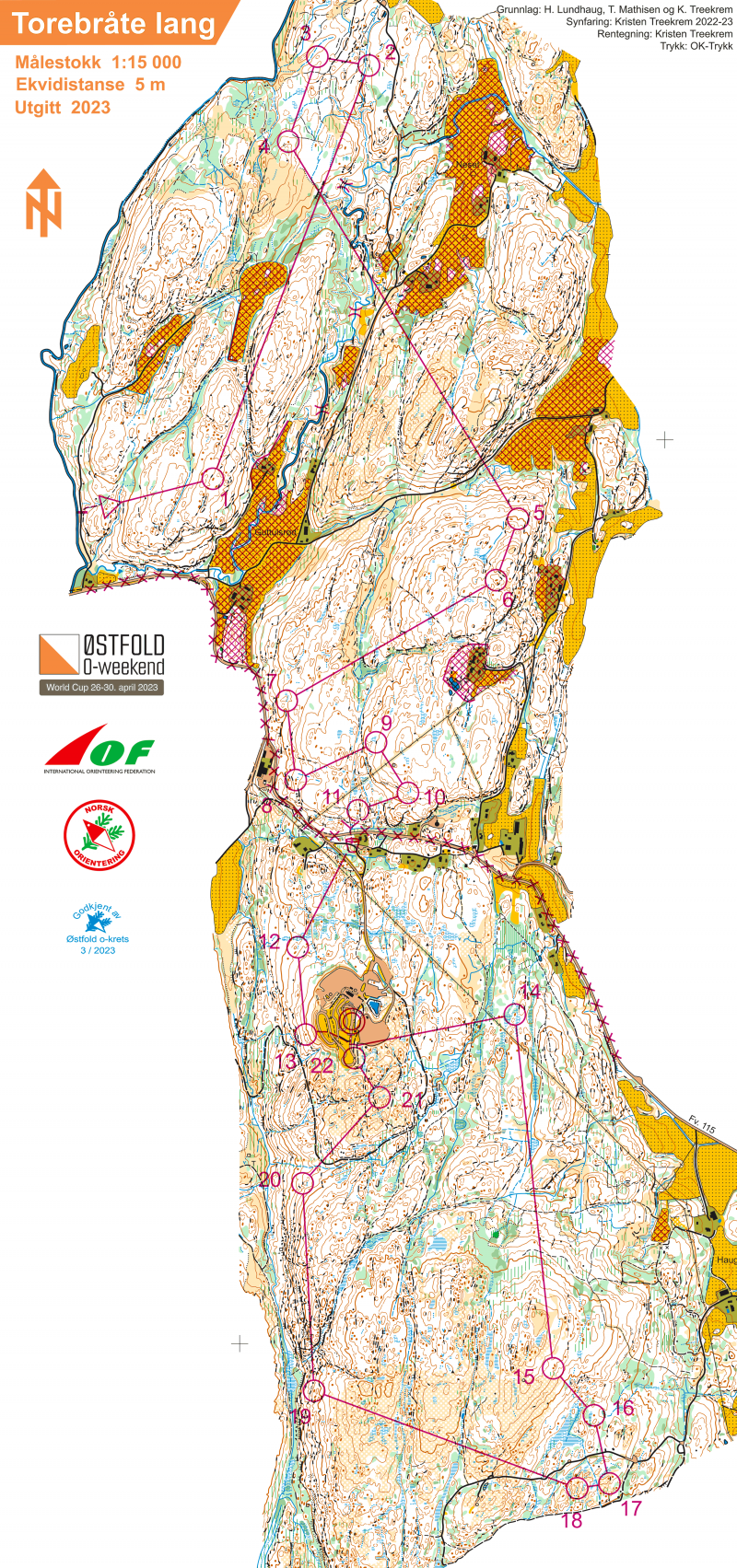 And here GPS-data from the most important legs: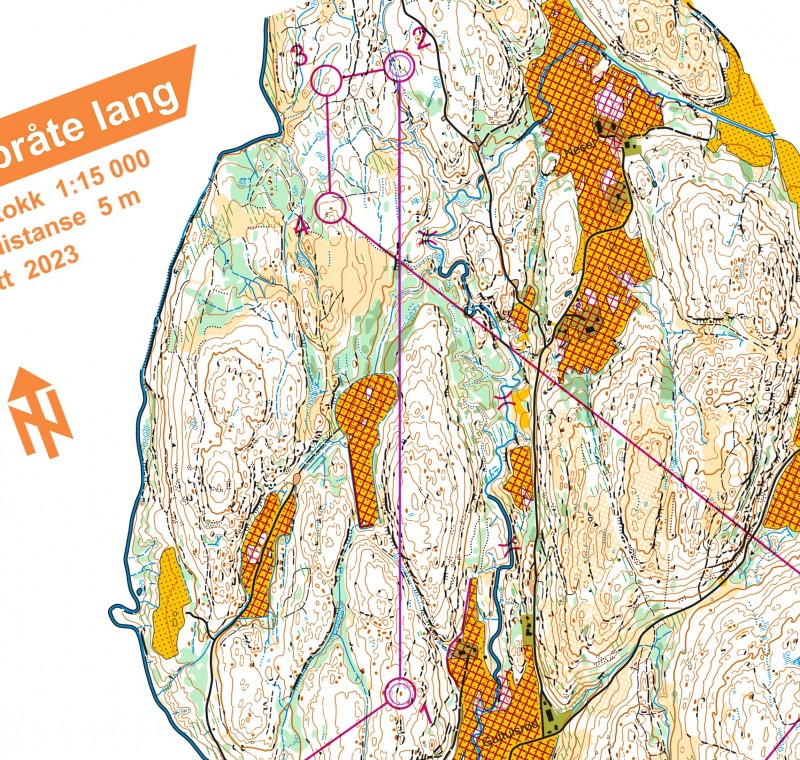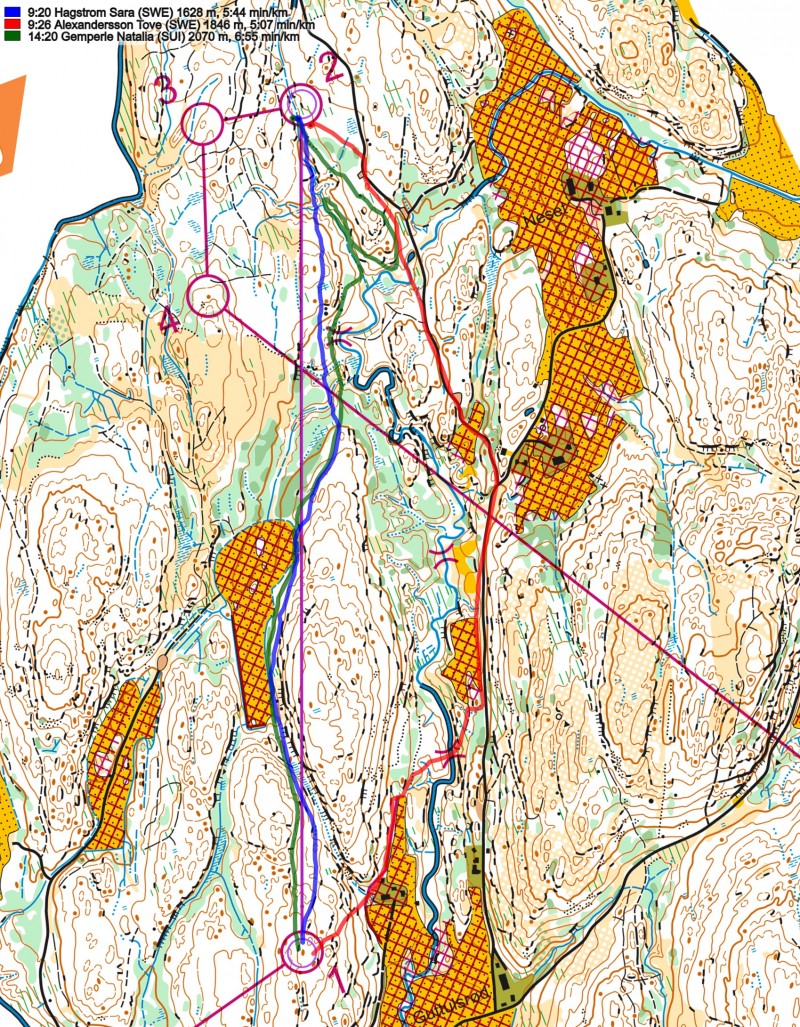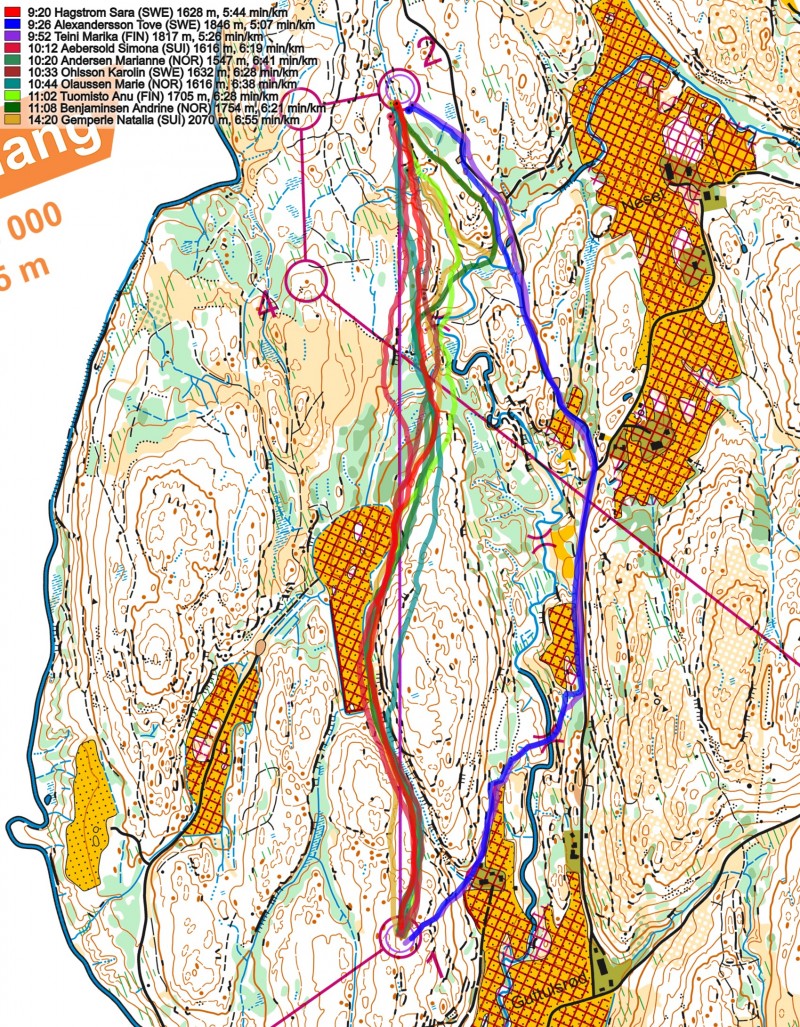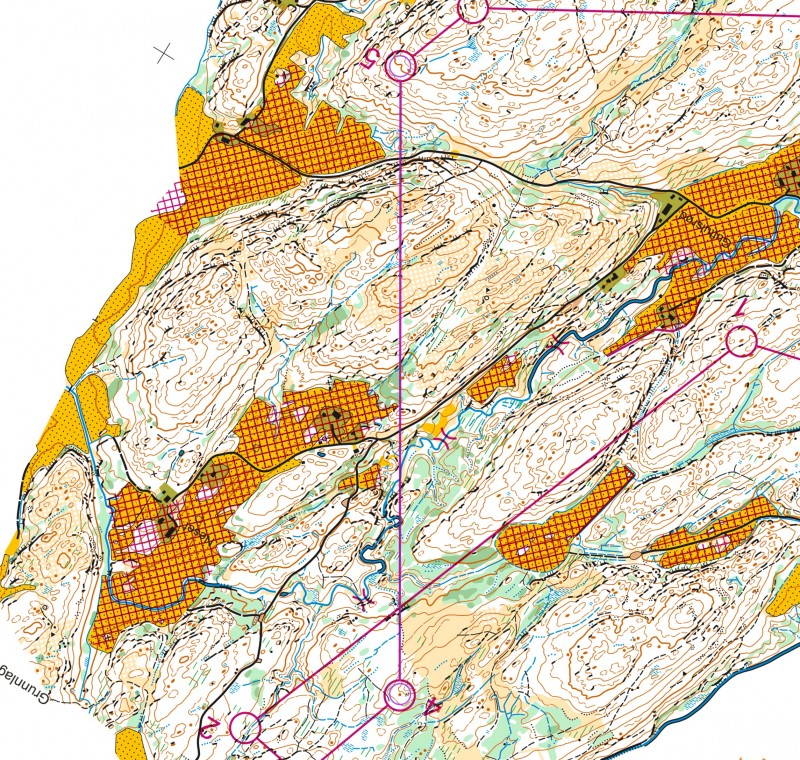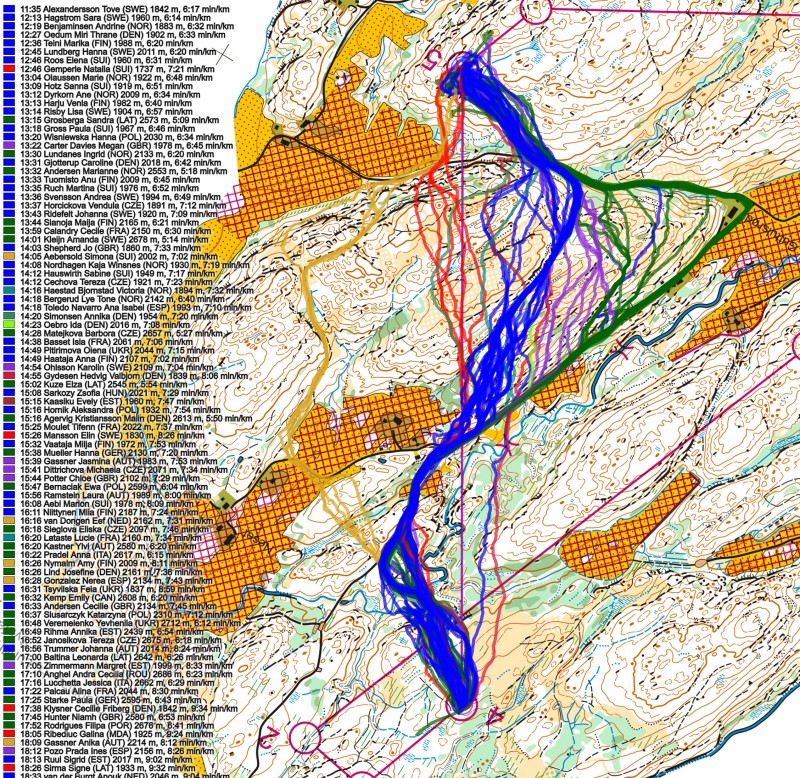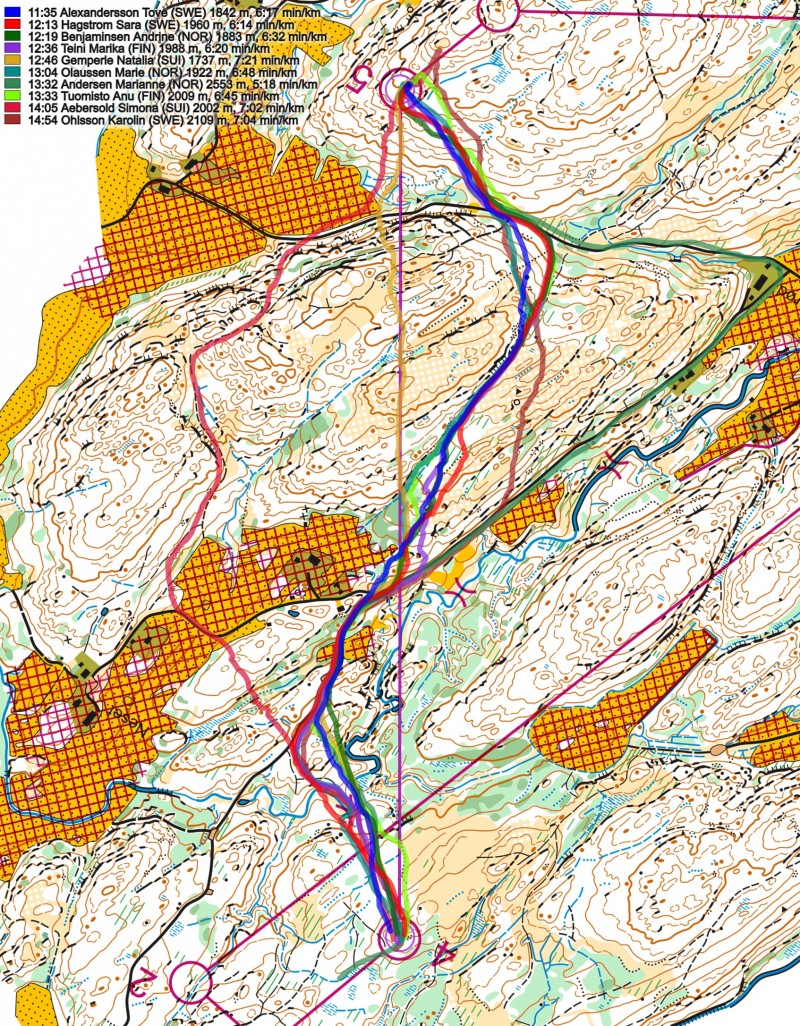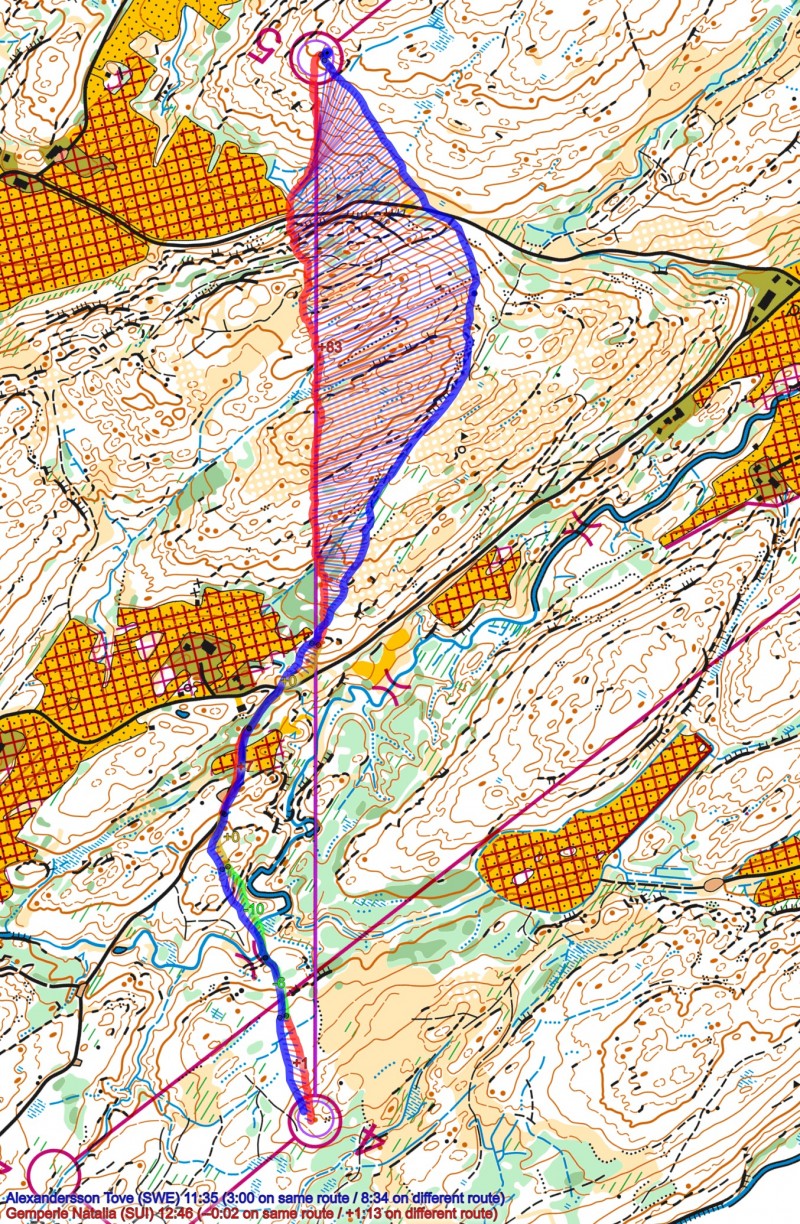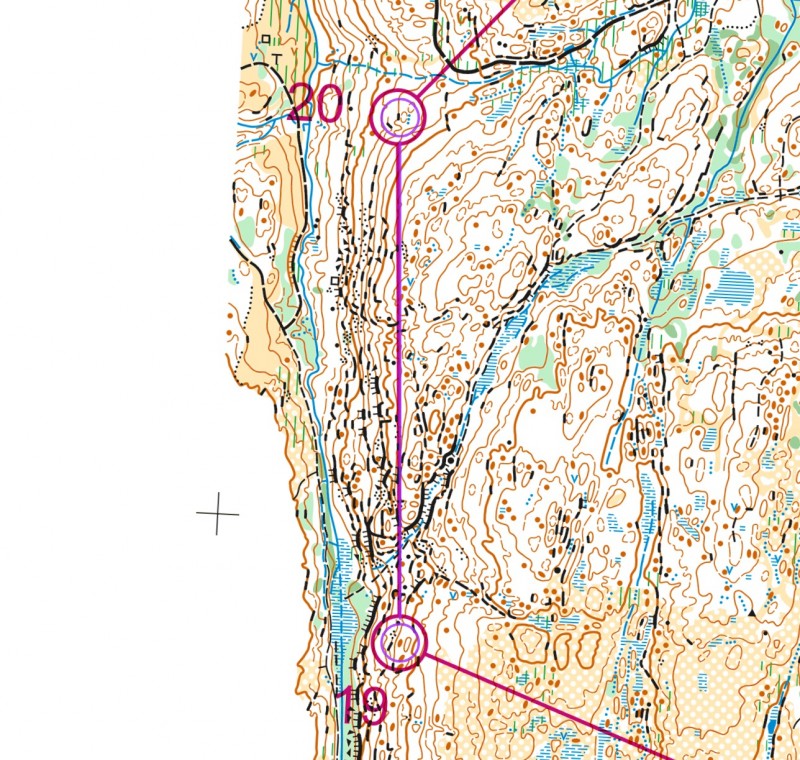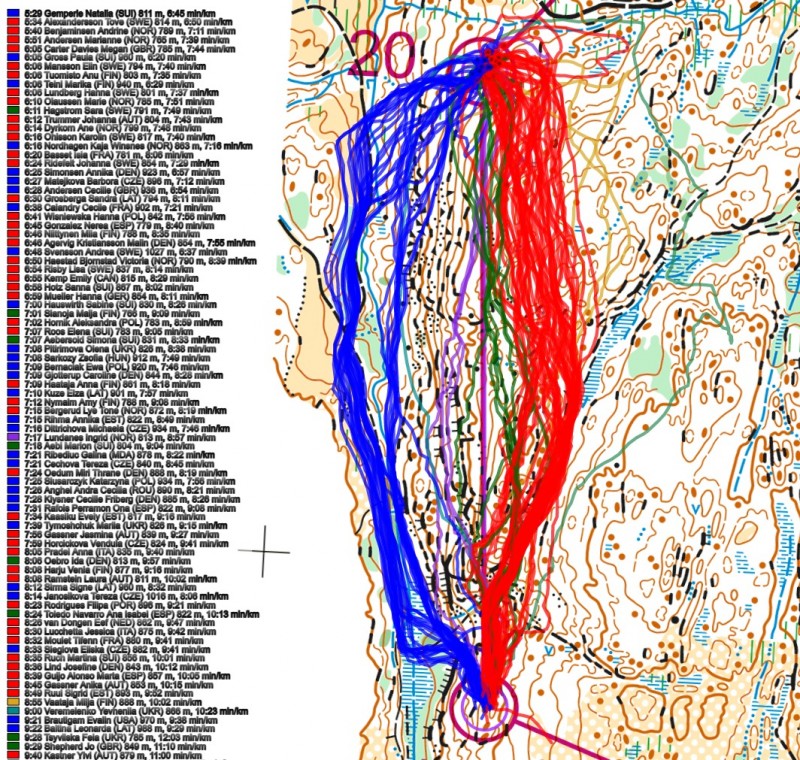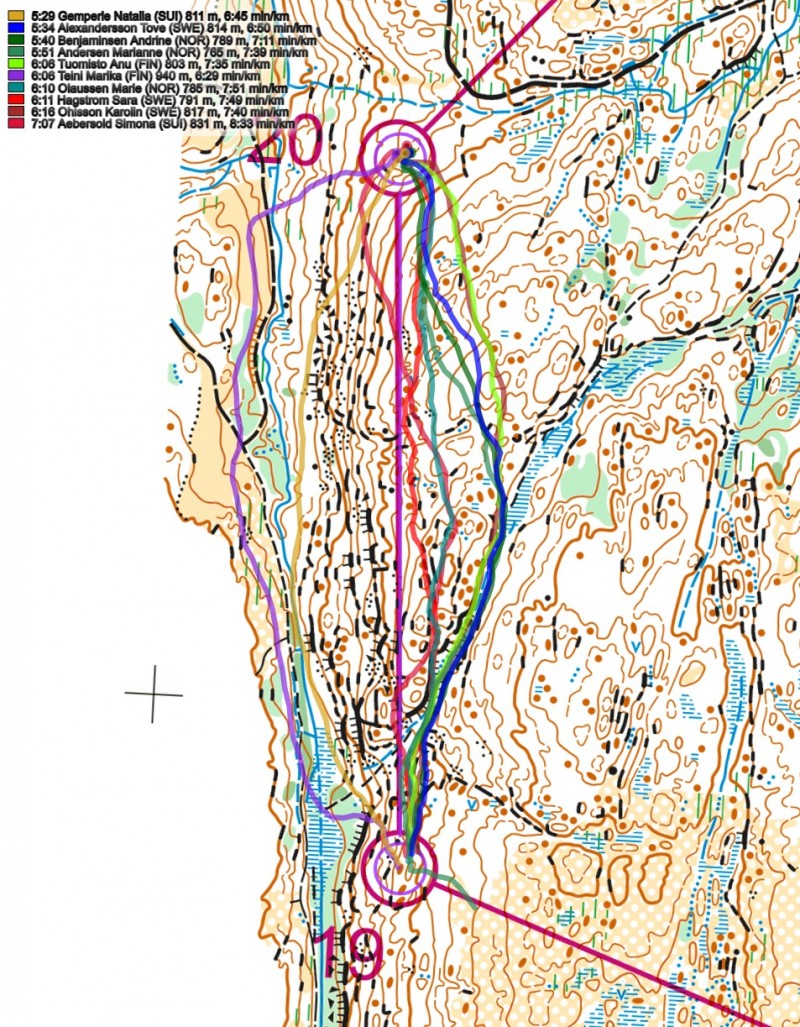 Results
Men
| | | | | |
| --- | --- | --- | --- | --- |
| 1. | Kasper Harlem Fosser | Norge | 88:06 | (+0:00) |
| 2. | Emil Svensk | Sweden | 88:09 | (+0:03) |
| 3. | Martin Regborn | Sweden | 88:15 | (+0:09) |
| 4. | Matthias Kyburz | Switzerland | 90:26 | (+2:20) |
| 5. | Joey Hadorn | Switzerland | 91:18 | (+3:12) |
| 6. | Ruslan Glibov | Ukraine | 91:24 | (+3:18) |
| 7. | Gustav Bergman | Sweden | 92:19 | (+4:13) |
| 8. | Anton Johansson | Sweden | 92:26 | (+4:20) |
| 9. | Olli Ojanaho | Finland | 92:32 | (+4:26) |
| 10. | Lukas Liland | Norge | 92:33 | (+4:27) |
| 11. | Timo Sild | Estonia | 93:37 | (+5:31) |
| 12. | Eskil Kinneberg | Norge | 93:41 | (+5:35) |
| 13. | Miika Kirmula | Finland | 93:46 | (+5:40) |
| 14. | Simon Imark | Sweden | 94:03 | (+5:57) |
| 15. | Martin Hubmann | Switzerland | 94:05 | (+5:59) |
| 16. | Axel Elmblad | Sweden | 94:23 | (+6:17) |
| 16. | Albin Ridefelt | Sweden | 94:23 | (+6:17) |
| 18. | Akseli Ruohola | Finland | 94:40 | (+6:34) |
| 19. | Mathieu Perrin | France | 94:45 | (+6:39) |
| 20. | Daniel Hubmann | Switzerland | 95:26 | (+7:20) |
Women
| | | | | |
| --- | --- | --- | --- | --- |
| 1. | Tove Alexandersson | Sweden | 82:07 | (+0:00) |
| 2. | Sara Hagstrom | Sweden | 83:02 | (+0:55) |
| 3. | Marie Olaussen | Norge | 86:50 | (+4:43) |
| 4. | Andrine Benjaminsen | Norge | 88:27 | (+6:20) |
| 5. | Marika Teini | Finland | 89:08 | (+7:01) |
| 6. | Natalia Gemperle | Switzerland | 89:52 | (+7:45) |
| 7. | Anu Tuomisto | Finland | 90:06 | (+7:59) |
| 8. | Simona Aebersold | Switzerland | 90:11 | (+8:04) |
| 9. | Marianne Andersen | Norge | 90:27 | (+8:20) |
| 10. | Andrea Svensson | Sweden | 91:52 | (+9:45) |
| 11. | Karolin Ohlsson | Sweden | 91:59 | (+9:52) |
| 12. | Sandra Grosberga | Latvia | 92:04 | (+9:57) |
| 13. | Paula Gross | Switzerland | 92:09 | (+10:02) |
| 14. | Elin Mansson | Sweden | 92:16 | (+10:09) |
| 15. | Maija Sianoja | Finland | 92:58 | (+10:51) |
| 16. | Lisa Risby | Sweden | 93:10 | (+11:03) |
| 17. | Megan Carter Davies | Great Britain | 93:48 | (+11:41) |
| 18. | Johanna Ridefelt | Sweden | 94:08 | (+12:01) |
| 19. | Hanna Wisniewska | Poland | 94:21 | (+12:14) |
| 20. | Miia Niittynen | Finland | 94:40 | (+12:33) |