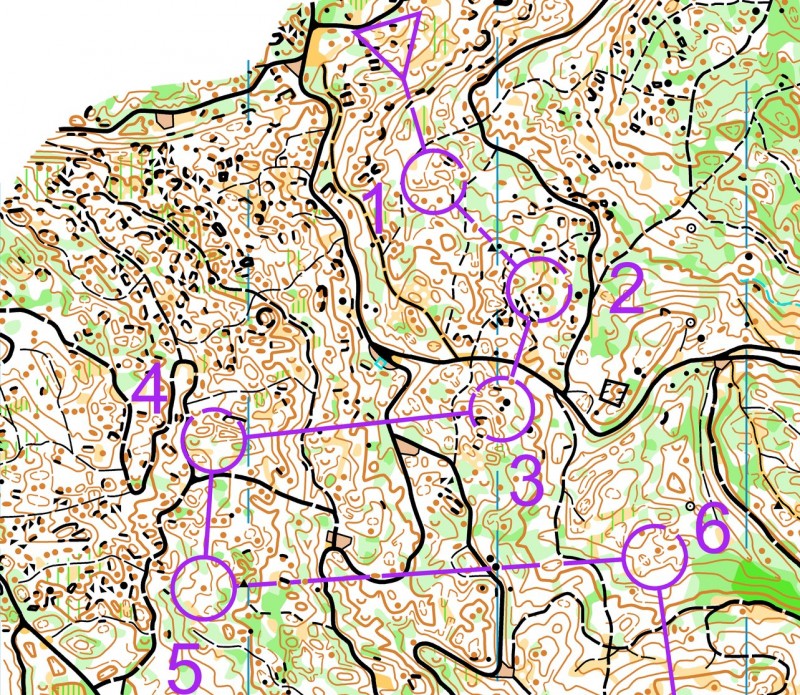 Sweden and Switzerland dominated a technical and interesting Middle qualifier at the opening of the World Orienteering Championships (WOC)  in Trin, Switzerland. Hanna Lundberg (Sweden), Tove Alexandersson (Sweden), Simona Aebersold (Switzerland), Joey Hadorn (Switzerland), Albin Ridefelt (Sweden) and Matthias Kyburz (Switzerland) took the victories.
All favourites and biggest outsiders made the cut to Saturday's Middle final, with Sabine Hauswirth (Switzerland), Marion Aebi (Switzerland) and Andrine Benjaminsen (Norway) among the top contenders losing most time with 5-6 minutes up the respective heat winners.
In the women's class we saw very impressive races by Alexandersson, Lundberg and Aebersold, all winning their heats with 2 minutes or more. Most impressive was Alexandersson who had 2:42 down to Natalia Gemperle in second place. But with a hard long distance race for many runners already tomorrow, not all have shown all their cards on today's qualifier, saving some energy for both tommorrow's long distance and the races in the weekend.
In the men's class the race was closer, with the heat winners having around a minutes margin to the following runners – from the qualification results it looks like there are 10-15 runners or more who will battle for the medals on Saturday. With technical orienteering as here in the Laax Flims area, it will be very difficult to predict the medals. But Kyburz, Ridefelt and Hadorn have definitely shown that they master the terrain – and so has Lucas Basset (France), Gustav Bergman (Sweden), Kasper Fosser (Norway), Anton Johansson (Sweden), Gaute Steiwer (Norway) and Emil Svensk (Sweden).
An analysis of GPS-data and split times will be published later.
Maps and GPS-tracking
Results
Qualification for the final
The  Top 15 from each heat qualify to Saturday's final – in addition to some other athletes according to the following rules (from the IOF competition rules):
In the Middle distance final, the competitors placed number 15 and better in each qualification race heat may participate. Further places up to a maximum of 60 (subject to clause b) are selected as follows:

(a) The best placed runner from Federations which do not have a runner in the first 15 of any heat, considered in the order of their placing in the qualification race heats (If two athletes from the same country have the same place in different heats, the one who is the least time behind the winner of their heat is chosen).
(b) If two or more runners from different countries are tied for the last qualifying place under (a), all may participate in the final.
(c) In order to be selected for the final under (a) or (b), an athlete must have been within 100% of the heat winner's time in their qualification race.
Women – 1
| | | | | |
| --- | --- | --- | --- | --- |
| 1. | Hanna Lundberg | Sweden | 26:27 | (+0:00) |
| 2. | Evely Kaasiku | Estonia | 28:24 | (+1:57) |
| 3. | Cecilie Friberg Klysner | Denmark | 28:41 | (+2:14) |
| 4. | Aleksandra Hornik | Poland | 29:03 | (+2:36) |
| 5. | Isia Basset | France | 30:34 | (+4:07) |
| 6. | Denisa Kosova | Czechia | 30:35 | (+4:08) |
| 7. | Kirsi Nurmi | Finland | 31:21 | (+4:54) |
| 8. | Tereza Smelikova | Slovakia | 31:27 | (+5:00) |
| 9. | Sabine Hauswirth | Switzerland | 31:43 | (+5:16) |
| 10. | Jasmina Gassner | Austria | 32:01 | (+5:34) |
| 11. | Andrine Benjaminsen | Norway | 32:13 | (+5:46) |
| 12. | Dominika Mero | Hungary | 32:56 | (+6:29) |
| 13. | Eef van Dongen | Netherlands | 33:18 | (+6:51) |
| 14. | Elza Kuze | Latvia | 33:31 | (+7:04) |
| 15. | Patricia Nieke | Germany | 34:04 | (+7:37) |
| 16. | Hinako Inage | Japan | 34:52 | (+8:25) |
| 17. | Emily Kemp | Canada | 35:27 | (+9:00) |
| 18. | Amelia Horne | New Zealand | 35:35 | (+9:08) |
| 19. | Olena Pitirimova | Ukraine | 36:33 | (+10:06) |
| 20. | Cecilie Andersen | Great Britain | 36:57 | (+10:30) |
Women – 2
| | | | | |
| --- | --- | --- | --- | --- |
| 1. | Tove Alexandersson | Sweden | 24:51 | (+0:00) |
| 2. | Natalia Gemperle | Switzerland | 27:33 | (+2:42) |
| 3. | Marika Teini | Finland | 28:05 | (+3:14) |
| 4. | Ingrid Lundanes | Norway | 28:08 | (+3:17) |
| 5. | Tereza Janosikova | Czechia | 28:13 | (+3:22) |
| 6. | Hanna Wisniewska | Poland | 28:25 | (+3:34) |
| 7. | Sanna Fast | Sweden | 28:49 | (+3:58) |
| 8. | Grace Molloy | Great Britain | 28:58 | (+4:07) |
| 9. | Sandra Grosberga | Latvia | 29:53 | (+5:02) |
| 10. | Zsofia Sarkozy | Hungary | 30:22 | (+5:31) |
| 11. | Vanessa Round | Australia | 30:24 | (+5:33) |
| 12. | Nicoline Friberg Klysner | Denmark | 30:54 | (+6:03) |
| 13. | Anika Gassner | Austria | 32:21 | (+7:30) |
| 14. | Iliana Ilieva | Bulgaria | 32:35 | (+7:44) |
| 15. | Florence Hanauer | France | 34:02 | (+9:11) |
| 16. | Elif Gokce Avci | Turkiye | 34:28 | (+9:37) |
| 17. | Birte Friedrichs | Germany | 35:18 | (+10:27) |
| 18. | Feia Tsyvilska | Ukraine | 35:20 | (+10:29) |
| 19. | Gabija Razaityte Saunoriene | Lithuania | 35:54 | (+11:03) |
| 20. | Filipa Rodrigues | Portugal | 36:01 | (+11:10) |
Women – 3
| | | | | |
| --- | --- | --- | --- | --- |
| 1. | Simona Aebersold | Switzerland | 25:27 | (+0:00) |
| 2. | Sara Hagstrom | Sweden | 27:47 | (+2:20) |
| 3. | Megan Carter Davies | Great Britain | 27:54 | (+2:27) |
| 4. | Venla Harju | Finland | 28:08 | (+2:41) |
| 5. | Ane Dyrkorn | Norway | 29:22 | (+3:55) |
| 6. | Lizzie Ingham | New Zealand | 30:13 | (+4:46) |
| 7. | Cecile Calandry | France | 30:40 | (+5:13) |
| 8. | Miri Thrane Oedum | Denmark | 30:45 | (+5:18) |
| 9. | Vendula Horcickova | Czechia | 31:25 | (+5:58) |
| 10. | Marion Aebi | Switzerland | 31:55 | (+6:28) |
| 11. | Carina Polzer | Austria | 32:07 | (+6:40) |
| 12. | Hanna Mueller | Germany | 32:17 | (+6:50) |
| 13. | Ewa Bernaciak | Poland | 32:52 | (+7:25) |
| 14. | Olena Babych | Ukraine | 33:40 | (+8:13) |
| 15. | Leonarda Baltina | Latvia | 33:47 | (+8:20) |
| 16. | Annika Rihma | Estonia | 33:51 | (+8:24) |
| 17. | Galina Ribediuc | Moldova Republic of | 33:55 | (+8:28) |
| 18. | Andreya Dyaksova | Bulgaria | 34:42 | (+9:15) |
| 19. | Andra Cecilia Anghel | Romania | 35:37 | (+10:10) |
| 20. | Ana Isabel Toledo Navarro | Spain | 35:52 | (+10:25) |
Men – 1
| | | | | |
| --- | --- | --- | --- | --- |
| 1. | Joey Hadorn | Switzerland | 27:46 | (+0:00) |
| 2. | Lucas Basset | France | 28:50 | (+1:04) |
| 3. | Gustav Bergman | Sweden | 29:42 | (+1:56) |
| 4. | Marius Thrane Oedum | Denmark | 30:18 | (+2:32) |
| 5. | Florian Howald | Switzerland | 30:26 | (+2:40) |
| 6. | Topi Syrjalainen | Finland | 30:39 | (+2:53) |
| 7. | Jonas Hubacek | Czechia | 30:51 | (+3:05) |
| 8. | Eskil Kinneberg | Norway | 30:53 | (+3:07) |
| 9. | Ralph Street | Great Britain | 31:15 | (+3:29) |
| 10. | Timo Sild | Estonia | 31:21 | (+3:35) |
| 11. | Algirdas Bartkevicius | Lithuania | 31:43 | (+3:57) |
| 12. | Henry Mcnulty | Australia | 31:44 | (+3:58) |
| 13. | Michal Olejnik | Poland | 31:47 | (+4:01) |
| 14. | Alexandru Blejdea | Romania | 32:27 | (+4:41) |
| 15. | Mathias Peter | Austria | 32:54 | (+5:08) |
| 16. | Erik Doehler | Germany | 33:09 | (+5:23) |
| 17. | Joseph Lynch | New Zealand | 33:25 | (+5:39) |
| 18. | Nitsan Yasur | Israel | 34:06 | (+6:20) |
| 19. | Mate Baumholczer | Hungary | 34:09 | (+6:23) |
| 20. | Boyan Ivandjikov | Bulgaria | 34:20 | (+6:34) |
Men – 2
| | | | | |
| --- | --- | --- | --- | --- |
| 1. | Albin Ridefelt | Sweden | 27:42 | (+0:00) |
| 2. | Kasper Harlem Fosser | Norway | 28:53 | (+1:11) |
| 3. | Anton Johansson | Sweden | 29:12 | (+1:30) |
| 4. | Jannis Bonek | Austria | 29:27 | (+1:45) |
| 5. | Rudolfs Zernis | Latvia | 29:48 | (+2:06) |
| 6. | Olli Ojanaho | Finland | 29:49 | (+2:07) |
| 7. | Tomas Krivda | Czechia | 30:18 | (+2:36) |
| 8. | Bartosz Pawlak | Poland | 30:56 | (+3:14) |
| 9. | Loic Capbern | France | 31:13 | (+3:31) |
| 10. | Martin Hubmann | Switzerland | 31:17 | (+3:35) |
| 11. | Bjoern Cederberg | Denmark | 31:44 | (+4:02) |
| 12. | Bojan Blumenstein | Germany | 32:01 | (+4:19) |
| 13. | Matt Ogden | New Zealand | 32:26 | (+4:44) |
| 14. | Vegard Jarvis Westergard | Canada | 33:41 | (+5:59) |
| 15. | Vilius Aleliunas | Lithuania | 33:56 | (+6:14) |
| 16. | Patrick Jaffe | Australia | 33:58 | (+6:16) |
| 17. | Ivan Sirakov | Bulgaria | 35:03 | (+7:21) |
| 18. | Ilian Angeli | Italy | 35:06 | (+7:24) |
| 19. | Kristo Heinmann | Estonia | 35:20 | (+7:38) |
| 20. | Joshua Dudley | Great Britain | 35:51 | (+8:09) |
Men – 3
| | | | | |
| --- | --- | --- | --- | --- |
| 1. | Matthias Kyburz | Switzerland | 28:20 | (+0:00) |
| 2. | Gaute Steiwer | Norway | 29:47 | (+1:27) |
| 3. | Emil Svensk | Sweden | 29:55 | (+1:35) |
| 4. | Ruslan Glibov | Ukraine | 30:00 | (+1:40) |
| 5. | Soren Thrane Odum | Denmark | 30:12 | (+1:52) |
| 6. | Mathieu Perrin | France | 30:31 | (+2:11) |
| 7. | Uldis Upitis | Latvia | 31:42 | (+3:22) |
| 8. | Gernot Ymsen | Austria | 31:43 | (+3:23) |
| 9. | Riccardo Scalet | Italy | 32:39 | (+4:19) |
| 10. | Tim Robertson | New Zealand | 32:55 | (+4:35) |
| 11. | Evert Leeuws | Belgium | 33:07 | (+4:47) |
| 12. | Miika Kirmula | Finland | 33:12 | (+4:52) |
| 13. | Lauri Sild | Estonia | 33:16 | (+4:56) |
| 14. | Alastair Thomas | Great Britain | 33:20 | (+5:00) |
| 15. | Mihaly Ormay | Hungary | 33:22 | (+5:02) |
| 16. | Anton Salmenkyla | United States | 33:40 | (+5:20) |
| 17. | Daniel Vandas | Czechia | 33:57 | (+5:37) |
| 18. | Christian Michelsen | Canada | 34:35 | (+6:15) |
| 19. | Wojciech Kowalski | Poland | 35:21 | (+7:01) |
| 20. | Itsuki Ito | Japan | 35:29 | (+7:09) |