Posted by Jan Kocbach, 13 Dec 2006@8:00
For those of you who think there is not enough orienteering related news to read at the frontpage of World of O, a new section has now been introduced: "Page 2: More O-news than you ever wanted". Pages which do not fit in at the frontpage of World of O will be put in this category, and will not be available at the frontpage.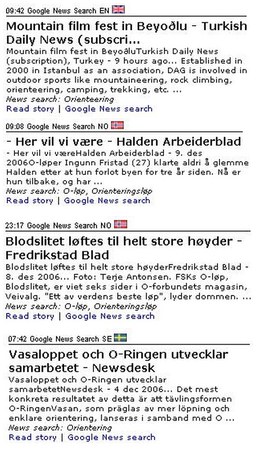 Newspaper articles
Currently "Page 2″ is not very crowded, but there are already some interesting sites there (in my opinion). The most interesting one is maybe the 'Google News searches' for orienteering related newspaper articles. There are quite a few interesting connections to orienteering there which you will miss if you don't visit "Page 2″ once in a while. Note however that a few of the News search results miss completely, and are not related to orienteering at all – this is however the price to pay…
Narrow audience
There is also the popular Swedish Blog "Asplövet goes H40″, which contains many orienteering related stories – often of the satirical type. However, "Asplövet goes H40″ has also quite a few stories that are not that interesting to the typical orienteer, and this is why this Blog is not on the World of O frontpage (and because the site owner did not want to mingle with Elite Orienteers:). And this is typical for sites included in "Page 2″. These are sites which have some interesting stories – other stories less interesting. And also sites which typically are interesting for a narrower audience – or the extremely orienteering news hungry of you…
Moving to Page 2
A few of the pages which are at the frontpage today will probably also be put into the "Page 2″ category in the future. I have, however, not yet looked into how to decide which pages to put on the frontpage. One possibility is to look at statistics regarding how often news stories from different sites have been read in the past. But on the other hand, I think that the sites from the small orienteering countries should not be hidden away, as it is this mixture of news stories from many different countries which makes World of O so interesting. It is also possible to use the rating system I experimented with previously. Any suggestions in this regard are welcome – please post a comment above (anonymous comments are also possible) or send me an email if you have any comments or suggestions.
Welcome to Serbia
In addition to the "Page 2″ additions, a new country has been added to World of O yesterday – Serbia. Welcome to Dejan Avramovic – a Serbian runner currently ranked as number 370 at the IOF World Ranking – and who also participated at the WOC in Denmark this summer.
Link