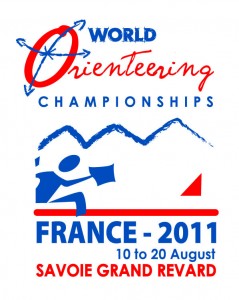 Saturday August 13th the World Champs in Orienteering starts off with Long Qualification – now all the top orienteers are in the last stages of their final preparations for the big highlight of the season. Read on for an early preview the action in Savoie, France from August 13th until August 20th.
This article will be updated with some additional information the next days – and follow-up "All-you-need-to-know"-article will be posted closer to WOC along with other preview-articles. As always, expect excellent coverage at World of O during the World Championships – including the popular LiveBlog.
Updates: [5/8 09:15] Updated info about live GPS-tracking, webTVand live results based on info from organizers. [5/8 09:30] Added link to preliminary WOC 2011 Team overviews.
WOC 2011 Program
Saturday 13th – Long Qual: 1130-1400 Women, 1310-1620 Men
Sunday 14th – Middle Qual: 1400-1530 Women, 1510-1700 Men
Monday 15th – Rest day
Tuesday 16th Morning – Sprint Qual: 0900-0950 Women, 0935-1035 Men
Tuesday 16th Afternoon – Sprint Final: 1501-1600 Women, 1605-1705 Men
Wednesday 17th – Long Final: 1231-1610 Women, 1300-1700 Men
Thursday 18th – Rest day
Friday 19th – Middle Final: 1331-1535 Women, 1510-1715 Men
Saturday 20th – Relay: 1315-1500 Women, 1515-1700 Men
All times are CET.
Live services (to be updated)
This section about live services will be updated when I receive final information. Some initial information:
There will be a LiveBlog at World of O (in cooperation with the WOC organizers) for all races. As in 2010 and 2009 I am dependent on help from the o-community to keep the LiveBlog alive and moderate comments during the races as I'll be in the forest taking photos. It looks like I will again be able to provide some WOC T-shirts or other effects to the ones helping in on moderating the LiveBlog – please contact me by e-mail jan@kocbach.net if you have the possibility to help out. It will be fun – I can assure you!
There will be GPS-tracking for all runners in the middle final, sprint final and long final – and for selected runners for the relay. There will be no GPS-tracking for the qualification races. Note that the GSM/GPRS coverage is not perfect in all of the WOC areas – especially the long distance, and thus the quality of the GPS signals will probably vary. Also, I am waiting for final confirmation that the GPS tracking will be live on the Internet or only to be seen on TV/big screen broadcasts.
There will be a full TV-production from sprint final and relay, and as far as I know a somewhat smaller scale production from the other finals. The big screen arena production from the finals and the relay will be sent free on the internet.
There will be live results. Note that there is no internet connection and poor mobile phone coverage for the middle and long qualification. The organizers state that they  will "try to send  live results even  for qualifications  with a [small] satellite connection".
Useful links
The terrain: Tricky, tricky, tricky & slow (?)
Based on reports from training camps and top runners' results in test competitions, the terrain for WOC 2011 in France is expected to be extremely difficult. Even the best runners have been making mistakes of more than 5-10 minutes at competitions and trainings, and the kilometer times have been very high.
Here are some kilometer times/maps/results from selection races in terrains close to the arenas of this years WOC races – and also from the World Cup race in the same area last autumn:
Thus kilometer times for the winners are ranging from 6:50 to 8:30 min/km for the men and 7:50 to 8:15 min/km for the women.
However, looking at the stipulated winning times for the WOC races from Bulletin 3 released in June 2011, we see a lot stronger kilometer times: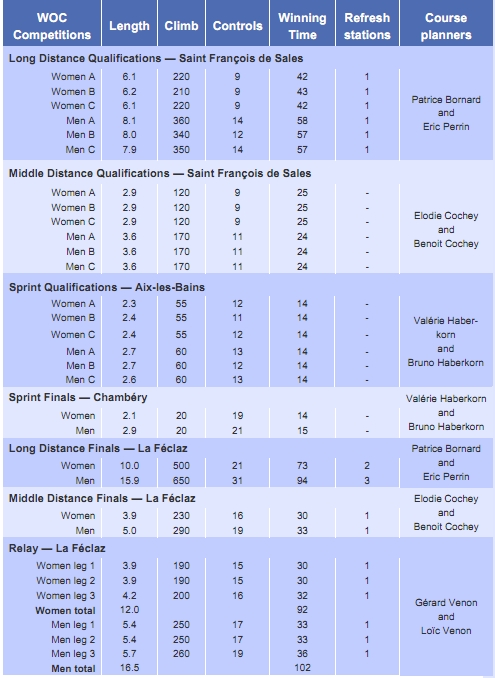 This gives the following kilometer times:
Long final: Men 15.9 km, 94 min – 5:55 min/km ; Women 10 km, 73 min – 7:18 min/km
Middle final: Men 5.0 km, 33 min – 6:35 min/km ; Women 3.9 km, 30 min – 7:40 min/km
Long qual: Men 8.0 km, 57 min – 7:05 min/km ; Women 6.2 km, 43 min – 6:55 min/km
Middle qual: Men 3.6 km, 24 min – 6:40 min/km ; Women 2.9 km, 25 min – 8:35 min/km
Relay: Men 5.4 km, 33 min – 6:05 min/km ; Women 3.9 km, 30 min – 7:40 min/km
Considering the men, kilometer times for the winners are between 5:55 min/km (long final) and 7:05 min/km (long qual) – all except for long qualification are faster than the winning times from the races cited above. For the women it is similar – kilometer times are between 6:55 min/km (long qual) and 8:35 min/km (middle qual). Note however that the kilometer time for long qualification for women looks very fast compared to all other – 6:55 min/km is faster than for the men! Either the course has a completely different profile than the men's course, or the women will have problems managing the suggested winning time…
Based on these stipulated winning times, one can deduce that there will be a lot of areas with good runnability in addition to the tricky areas – as already discussed by many – e.g. by Eva Jurenikova on her webpage. This should probably be both ski slopes (like in WOC in Trondheim), meadows and forest with better runnability than the ones met in the selection races in the neighbor terrains. However, most people think that even if the runnability will be better in parts of the competition areas, the tricky areas will still be very important in deciding the winners…. Note that Bulletin 4 should be published soon – probably with more detailed terrain description for the different disciplines. I will update with details when Bulletin 4 is published if more information is available there.
Here you can take a look at the old maps of the competition areas (only limited number of maps available with bad quality) and the training maps in 3DRerun:
Here are the embargoed areas and training maps shown: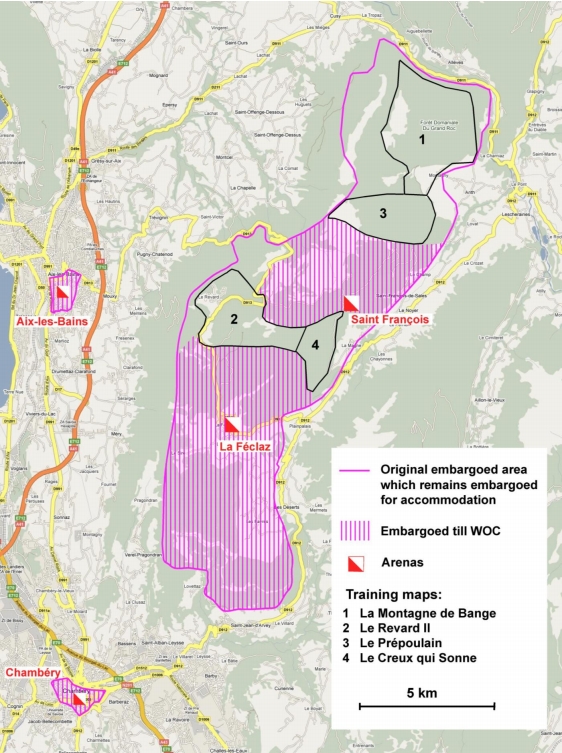 The runners & their preparations
Coming later.
The favourites & outsiders
Coming later.
Fantasy World Cup
There are three World Cup races during WOC – all part of the Fantasy World Cup. Remember to set up your team ahead of each discipline.
WOC 2011 Runner database
The WOC 2011 Team overview is set up at runners.worldofo.com  in cooperation with the WOC 2011 organizers. A preliminary version is available here:
I am just now waiting for the final changes to the list of registered runners. Note that runner profile information and layout will be updated ahead of the WOC start.
World of O Ranking
Check out the favourites for each discipline in World of O Ranking.