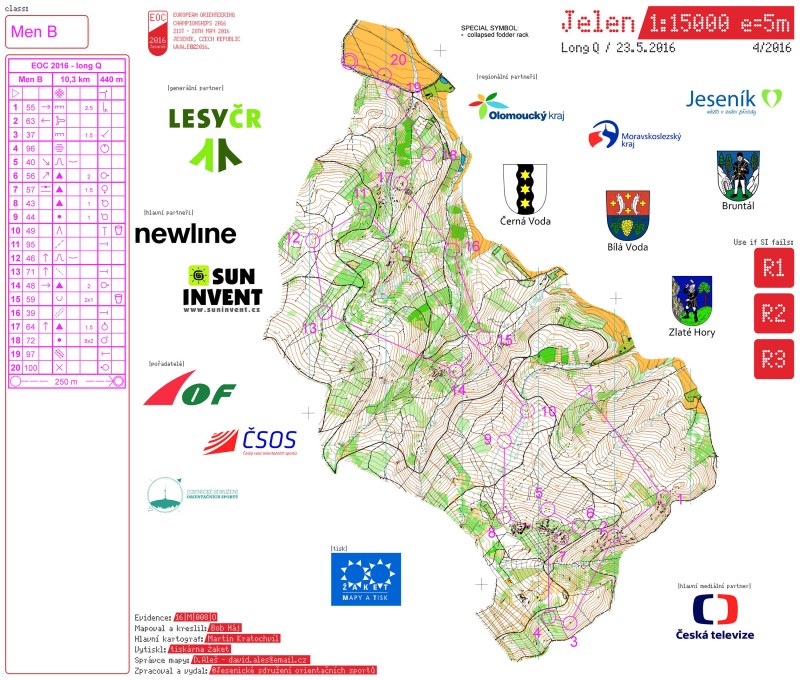 [Updated with some GPS comparisons] Andreas Matthias Kyburz Daniel Hubmann (Switzerland), Magne Dæhlie (Norway), Milos Nykodym (Czech Republic), Svetlana Mironiva (Russia), Heidi Bagstevold (Norway) and Natalia Vinogradova (Russia) were the heat winners in today's European Championships Long distance qualification.
The athletes were met by (too) long courses in tough terrain with many route choice options. There were no big suprises – all favourites went on to the A-final. See below for maps, GPS-tracking and results.
Note! Article updated with new winner of men heat A according to updated official results.
Complete teams of SWE, NOR, FIN and SUI will start in men Long F, 5 runners from CZE, GBR #eoc2016 pic.twitter.com/kuOJHvPxxh

— EOC 2016 (@eoc2016) May 23, 2016
Maps and GPS-tracking
GPS comparisons = mini GPS-analysis
.@worldofo Here an animation from the first leg of #EOC2016 Long Qual https://t.co/c0EMTHqAS6

— WorldofO.com (@worldofo) May 23, 2016
Results
The top 17 European runners from each of the three heats plus the non-European competitors ranked 17 or better qualify for the final. Below are unofficial results.
Men A
1. Hubmann Daniel SUI 0003 Switzerland 69.43
2. Kyburz Andreas SUI 0000 Switzerland 70.57
3. Runesson Johan SWE 0016 Sweden 71.30
4. Šedivý Jan CZE 0018 Czech Republic 72.52
5. Haines Hector GBR 0007 Great Britain 73.13
6. Petržela Jan CZE 0014 Czech Republic 73.38
7. Kinneberg Eskil NOR 0008 Norway 74.44
8. Andersson Rassmus SWE 0001 Sweden 74.45
9. Risse Térence SUI 0011 Switzerland 75.09
10. Kowalski Wojciech POL 0001 Poland 75.27
11. Taivainen Olli-Markus FIN 0038 Finland 75.39
12. Shcherbakov Denys UKR 0010 Ukraine 75.51
13. Friedrichs Bjarne GER 0002 Germany 76.39
14. Street Ralph GBR 0015 Great Britain 76.42
15. Gremmel Helmut AUT 0001 Austria 77.19
16. Sirén Mikko FIN 0031 Finland 77.35
17. Osmoen Jon Aukrust NOR 0011 Norway 78.28
18. Sild Timo EST 0006 Estonia 80.01
19. Liszka Krisztián HUN 0006 Hungary 80.26
20. Robertson Tim NZL 0001 New Zealand 80.48
Men B
1. Daehli Magne NOR 0003 Norway 70.25
2. Rollier Baptiste SUI 0002 Switzerland 70.45
3. Regborn Martin SWE 0013 Sweden 72.36
4. Lind William SWE 0009 Sweden 72.59
5. Glibov Ruslan UKR 0000 Ukraine 73.45
6. Novikov Valentin RUS 0023 Russian Federation 74.19
7. Gristwood Graham GBR 0006 Great Britain 74.47
8. Rio Nicolas FRA 0006 France 74.53
9. Merl Robert AUT 0004 Austria 76.21
10. Kirmula Miika FIN 0009 Finland 78.15
11. Dallavalle Roberto ITA 0001 Italy 78.45
12. Zinca Ionut ROU 0002 Romania 79.29
13. Indgaard Jo Forseth NOR 0005 Norway 79.39
14. Meier Christoph SUI 0005 Switzerland 80.53
15. Asikainen Aaro FIN 0000 Finland 82.25
16. Speake Matt GBR 0014 Great Britain 82.27
17. Kubát Pavel CZE 0007 Czech Republic 83.14
18. Zernis Rudolfs LAT 0013 Latvia 83.47
19. Stulgys Donatas LTU 0009 Lithuania 84.01
20. Gil Eduardo ESP 0002 Spain 85.16
Men C
1. Nykodým Miloš CZE 0013 Czech Republic 71.07
2. Bakkman Fredrik SWE 0002 Sweden 71.34
3. Kaas Carl Godager NOR 0007 Norway 71.45
4. Tranchand Frédéric FRA 0007 France 72.06
4. Kyburz Matthias SUI 0008 Switzerland 72.06
6. Tcvetkov Dmitrii RUS 0033 Russian Federation 73.41
7. Jubelis Andris LAT 0004 Latvia 74.14
8. Portin Fredric FIN 0027 Finland 74.21
9. Huovila Jarkko FIN 0004 Finland 74.24
10. Kerschbaumer Gernot AUT 0000 Austria 74.34
11. Pawlak Bartosz POL 0002 Poland 75.37
12. Norbech Torgeir NOR 0010 Norway 75.39
13. Millegard Markus SWE 0011 Sweden 76.33
14. Cherry Alan GBR 0010 Great Britain 78.15
15. Huber Raffael SUI 0009 Switzerland 78.26
16. Hájek Daniel CZE 0004 Czech Republic 78.27
17. Nikolov Kiril BUL 0000 Bulgaria 78.35
18. Kivikas Kenny EST 0001 Estonia 79.08
19. Poliakov Dmitrii RUS 0025 Russian Federation 80.53
20. Müller Philipp GER 0006 Germany 86.24
Women A
1. Mironova Svetlana RUS 0061 Russian Federation 55.41
2. Rantanen Merja FIN 0071 Finland 59.06
3. Fincke Anni-Maija FIN 0054 Finland 59.27
4. Knapová Jana CZE 0059 Czech Republic 60.29
4. Efimova Natalia RUS 0053 Russian Federation 60.29
6. Tommer Sina SUI 0010 Switzerland 61.06
7. Jahren Silje Ekroll NOR 0055 Norway 61.25
8. Roos Elena SUI 0050 Switzerland 61.49
9. Kadan Ursula AUT 0053 Austria 62.29
10. Poklopová Lenka CZE 0065 Czech Republic 62.55
11. Taylor Cat GBR 0057 Great Britain 63.20
12. Myhre Ingjerd NOR 0057 Norway 63.27
13. Tullie Jess GBR 0058 Great Britain 63.29
14. Tjernlund Josefin SWE 0063 Sweden 63.49
15. Olsson Alva SWE 0061 Sweden 66.51
16. Uiboupin Kerstin EST 0055 Estonia 67.30
17. Scalet Nicole ITA 0053 Italy 68.28
18. Anghel Andra Cecilia ROU 0050 Romania 69.46
19. Arniece Liga LAT 0050 Latvia 70.45
20. Kazlauskaite Inga LTU 0053 Lithuania 70.47
Women B
1. Bagstevold Heidi NOR 0052 Norway 52.43
2. Nordberg Anne-Margret NOR 0058 Norway 53.10
3. Orr Hollie GBR 0053 Great Britain 53.55
4. Gross Julia SUI 0052 Switzerland 54.23
5. Anttonen Sari FIN 0050 Finland 54.24
6. Rudnaia Anastasiia RUS 0072 Russian Federation 55.29
7. Šafka Brožková Dana CZE 0066 Czech Republic 56.13
8. Klinting Signe DEN 0052 Denmark 57.19
9. Johansson Emma SWE 0058 Sweden 58.41
10. Omová Michaela CZE 0064 Czech Republic 60.01
11. Vike Laura LAT 0058 Latvia 60.31
12. Bachman Anna SWE 0051 Sweden 63.56
13. Vinogradova Galina RUS 0078 Russian Federation 64.05
14. Anja Arbter AUT 0050 Austria 64.48
15. Niittynen Miia FIN 0062 Finland 64.50
16. Strain Kirsten GBR 0056 Great Britain 64.59
17. Ruch Martina SUI 0055 Switzerland 66.45
18. Beauvisage Lauriane FRA 0051 France 67.52
19. Haug Marianne EST 0050 Estonia 71.21
20. Pitirimova Olena UKR 0053 Ukraine 72.19
Women C
1. Vinogradova Natalia RUS 0079 Russian Federation 52.25
2. Alexandersson Tove SWE 0050 Sweden 52.44
3. Hauswirth Sabine SUI 0057 Switzerland 53.15
4. Kinni Saila FIN 0058 Finland 53.19
5. Kemp Emily CAN 0050 Canada 54.02
6. Bjoergul Ida Marie NOR 0053 Norway 54.46
7. Novikova Yulia RUS 0064 Russian Federation 56.22
8. Haajanen Sofia FIN 0056 Finland 56.40
9. Indráková Adéla CZE 0056 Czech Republic 58.27
10. Holer Lisa SUI 0054 Switzerland 58.41
11. Sheherd Jo GBR 0055 Great Britain 60.11
12. Sluta Olga UKR 0054 Ukraine 60.15
13. Ramstein Laura AUT 0052 Austria 60.48
14. Johansson Emma NOR 0056 Norway 61.30
15. Rihma Annika EST 0053 Estonia 62.01
15. Ivanova Kristina BUL 0052 Bulgaria 62.01
17. Wisniewska Hanna POL 0053 Poland 62.16
18. Ohlsson Karolin SWE 0060 Sweden 63.15
19. Dambe Inga LAT 0051 Latvia 63.21
20. Kaasiku Evely EST 0052 Estonia 63.31