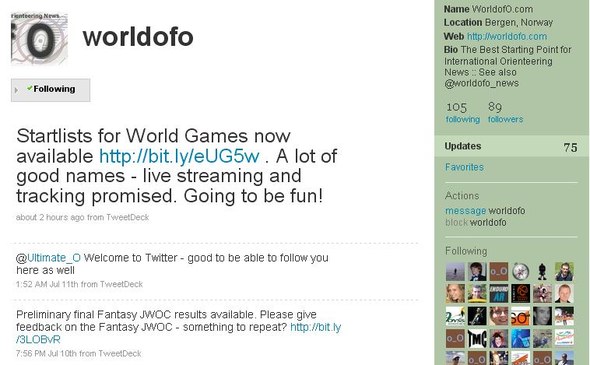 The last three months since WorldofO.com opened a Twitter account, we've seen a significant increase in orienteering related content and users surfacing at Twitter. In April we included the last tweets from @Worldofo in the right margin of the WorldofO.com frontpage, and since then we have seen several fresh Twitter accounts starting off with following @Worldofo. Read on to see what Twitter is – and how it can be useful for the orienteering community.
What is Twitter?
Twitter is a micro blogging platform that enables its users to send and read each others' updates, known as tweets. Tweets are text-based posts of up to 140 characters, displayed on the author's profile page and delivered to other users – known as followers – who have subscribed to them. Read more about Twitter at Wikipedia.
You can send a message to any Twitter account by including @username where "username" is a Twitter account in your Tweet. For example, including @worldofo in your Tweet, you will send a message to @worldofo, and I will read it – and in most cases also answer it. Everybody can read both question and answer (if you don't use a direct message), and thus I can have an open conversation with my readers.
Retweeting is another good way of using Twitter – which I am also using at @worldofo with Tweets which are interesting for the orienteering community. To retweet is to repeat some information previously tweeted by another user – kind of like forwarding an email. Start the tweet with "RT @username" or "via @username", and include the original Tweet. During the JWOC, the @worldofo account e.g. retweeted information from the @jwoc2009 account when startlists and maps with routechoices were available. Retweeting a Twitter message helps spreading this particular information faster and more widely, as for example used during the Iran election riots. The Twitter user who retweets a post works like a multiplier.
How can Twitter be useful for the orienteering community?
In cycling, a lot of the top cyclists have a Twitter account where you can follow what they are doing and thinking, @lancearmstrong being the most prominent of them. In orienteering, none of the top runners have got a Twitter account yet, but many top runners have personal blogs.
The problem with the blogs of the orienteering elite is that many are updated only weekly – or even monthly – because of all the work involved with writing a blog post (and training is always the main priority for an orienteer). When the orienteering elite start setting up Twitter accounts, they will be able to post short messages more frequently, and also communicate more easily with their fans. Posting from your phone is easy – even taking a close-up photo of an interesting leg on a training map and posting it to your Twitter account using your phone is done in a minute. Who will be the first Top-50 orienteer to actively use a Twitter account?
World of O at Twitter
@Worldofo: Short messages about important news, things happening in the orienteering community, news regarding the WorldofO.com site, and communication with WorldofO.com users.
@Worldofo_news: Most articles published at Worldofo.com are pushed to this Twitter account – use it as an alternative to a RSS-reader to get updated with the latest news from the orienteering world .
@EliteOrienteer: This account will follow all Elite Orienteers at Twitter. No posting planned to this account for now, but it will be used to give you the latest Tweets from Elite Orienteers. Currently this account is empty – who will be the first to be added?
More services around Twitter are planned at WorldofO.com as more and more orienteers start to use Twitter.
By sending a Tweet including @worldofo, you can give feedback to me. I will read all Tweets addressed to @worldofo, and answer most of them. Everybody will be able to read the answers – and both question and answer must have maximum length of 140 characters.
Some interesting orienteering-related Twitter accounts
I am sure that in 2-3 months, this list will be a lot longer. Add a comment below if you know about Twitter accounts which should have been in this list.