– I have not often had this long a routechoice leg in a city sprint, an enthusiastic Simone Niggli – winner of the womens class in the World Cup final – said after the race. Niggli and Daniel Hubmann took popular victories on home ground in the old city of Geneva – both giving the big and load home crowd exactly what they had come for.

In the overall World Cup, Matthias Müller (SUI) had to finish either first or second to win – while Hubmann would have to do a poor race. Müller managed his task – sharing the second spot with Graham Gristwood (GBR). However, Hubmann was even faster – and thus Daniel Hubmann could celebrate his third overall World Cup victory.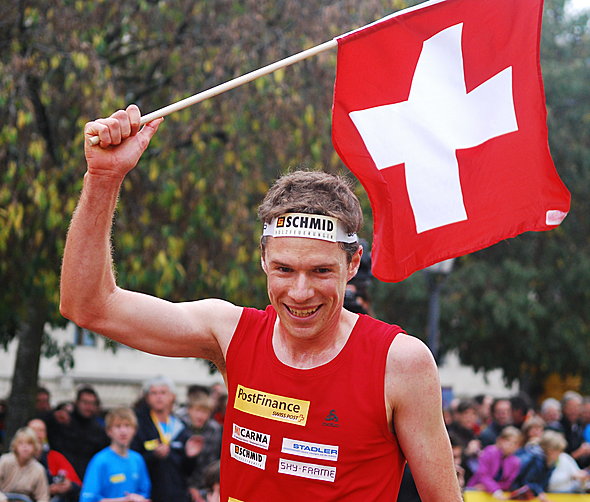 In the womens class, Simone Niggli had already won the overall World Cup. Niggli, however, showed again that she is the queen of orienteering – winning yet another victory in this years World Cup.
Many routechoices
The leg Niggli was talking about is the long leg from number 5 to number 6 – which was the same both for the men and the women. You can test your skills in this webroute before looking at the course setters "solution" below.
According to the course setter, the right route is the fastest one (orange in the map below), whereas between 6 and 15 seconds is lost by choosing the other variants (one other variant illustrated in blue below).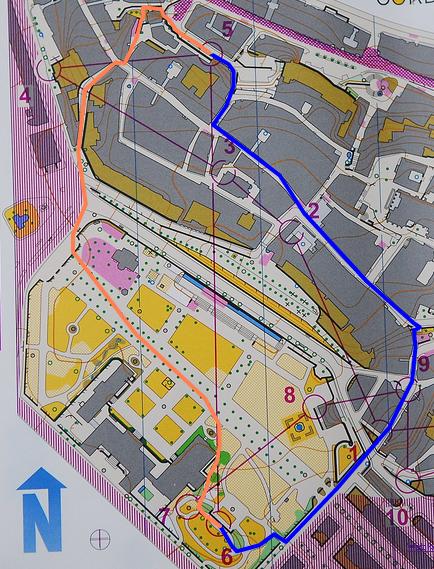 There were also several other interesting route choices in this tricky city sprint. – You can loose 5-10 seconds at nearly every leg, said the course setter Sami Vaehaenen when discussing the details in the course after the event. Vaehaenen will now have some interesting hours comparing his test running results with the actual results from the sprint race – we hope to be able to present the results here at World of O.
Some webroutes for you to do some thinking:
Maps
Below you see the complete courses for both men and women in the Geneva city sprint which marked the end of the 2010 World Cup.
Results
Women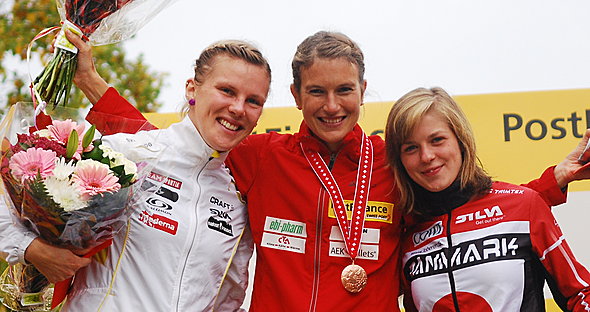 1. NIGGLI-LUDER Simone SUI 16:36
2. JANSSON Helena SWE 16:50 +00:14
3. BOBACH Ida DEN 17:21 +00:45
4. CEJKA Caroline SUI 17:24 +00:48
4. ALM Maja DEN 17:24 +00:48
6. WILD Angela SUI 17:31 +00:55
7. FRIEDERICH Rahel SUI 17:32 +00:56
8. EGSETH Elise NOR 17:35 +00:59
8. ELIASSON Lena SWE 17:35 +00:59
10. BRODMANN Ines SUI 17:37 +01:01
Men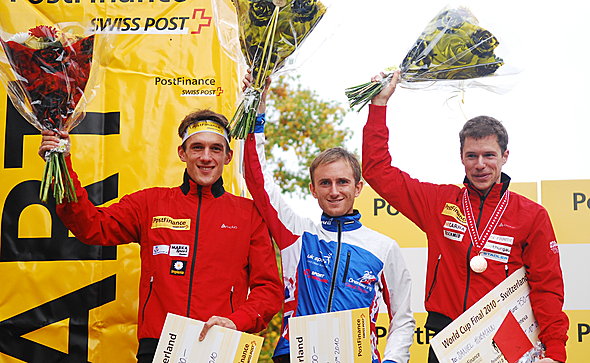 1. HUBMANN Daniel SUI 15:39
2. MÜLLER Matthias SUI 15:48 +00:09
2. GRISTWOOD Graham GBR 15:48 +00:09
4. GUEORGIOU Thierry FRA 15:52 +00:13
5. ØSTERBØ Øystein Kvaal NOR 15:53 +00:14
6. SKJESET Lars NOR 16:14 +00:35
7. KYBURZ Andreas SUI 16:15 +00:36
7. LYSELL Jerker SWE 16:15 +00:36
9. MERZ Matthias SUI 16:18 +00:39
10. WELTZIEN Audun NOR 16:25 +00:46