As a course setter, Asplövet is probably most famous for the "Orienteering in the Olympics sprint course" he set back in 2006 (see course above). WorldofO.com has interviewed Asplövet for "The Course of the Year 2010″, to see if the Swedish blogger has seen any courses in this quality range in 2010. Not surprisingly, he did not choose a sprint course as his candidate for "The Course of the Year 2010″, but rather a though, long course in technical terrain.
Asplövet was author of the popular Swedish Blog "Asplövet goes H40″, which contained many orienteering related stories (Swedish language) – often of the satirical type (see some of the most popular stories on World of O here). He is now blogging on the follow-up-blog Asplövet (Swedish language) – still with some stories with those great, satirical twists.
"The Course of the Year 2010″
You can read more about "The Course of the Year 2010″ here, including all the suggestions by WorldofO.com readers – and also suggest your own courses and win great prizes by Trimtex and sun-o.com (more info about prizes and sponsors below the interview).
Interview with Asplövet
Thanks a lot to Asplövet who took the time to answer a few questions for "The Course of the Year 2010″.
Q: As a course setter, I think you are most famous for your suggested "Orienteering in the Olympics sprint course" (map here and story from 2006 here – and also the course at the top of this page). Is this the course for which you have gotten most positive feedback over the years?
As tragic as it seems, I think it was. That one, or the adventure-relay for a youth-camp that I organized. (see one of the maps here and story here). Apparently my preaching for long classic orienteering is for deaf ears. I weep inside. [Editors comment: To say that the sprint discipline is not Asplövets favorite, is an understatement (these guys are probably the ones coming closest in opposing against the sprint discipline).]
Q: Overall – do you think the quality of courses has gotten better or worse over the years? What impact have the different disciplines had on the courses?
I actually think it has gotten better. There are still courses, even in big events, that I think are boring, but looking back through my own mapfiles there was more downright bad course setting 20 years ago. I have nothing to say about sprint orienteering, but when middle distance and long distance are set correctly, I think they are two different disciplines that complement each other and make the sport better.
Q:What was the best course you saw or run in 2010 – and why?
Since I haven´t run a competions since 2004, I am not the right person to ask this question. But looking at this years biggest events I would have loved to run Jukola (see map here). I also think this is a difficult question, since it is easy to focus on nice terrain and fantastic maps – and not the course itself.

Q: What is the worst course you saw or run in 2010?
Well… To avoid the question since I have a bad memory, and most days don´t even remember what I ate for breakfast (Note to myself: Nothing. Today again) I am really, really allergic to arena passage. I have yet to see this kind of mischief that makes a course better. This years relay and middle distance in WOC are two scary examples of this. Just a huge amount of "nobrainsrunningfornogoodreasonatall". I think with todays technique – GPS, radio/tv-controls etc., we don't need to downgrade the courses for the sake of showing the audience a glimpse of the runners before the finish line. Arena-thinking is good, but in no other sport they make the actual event poorer in favor of the audience.
Q: What is the best course you have run ever – if you must pick one from the top of your head?
The top of my head is empty so… I wish I could say all the Älgdrev-competitions but the courses where not always the best there but if I was older, I could have run Älgdrevet 1977 (see map here). Of course nowadays I also wish I was younger…

Q: What is the most important ingredients in a course in order for it to be a good course – in your opinion?
Good variation of the 3T (technique – terrain – tempo). Always and forever.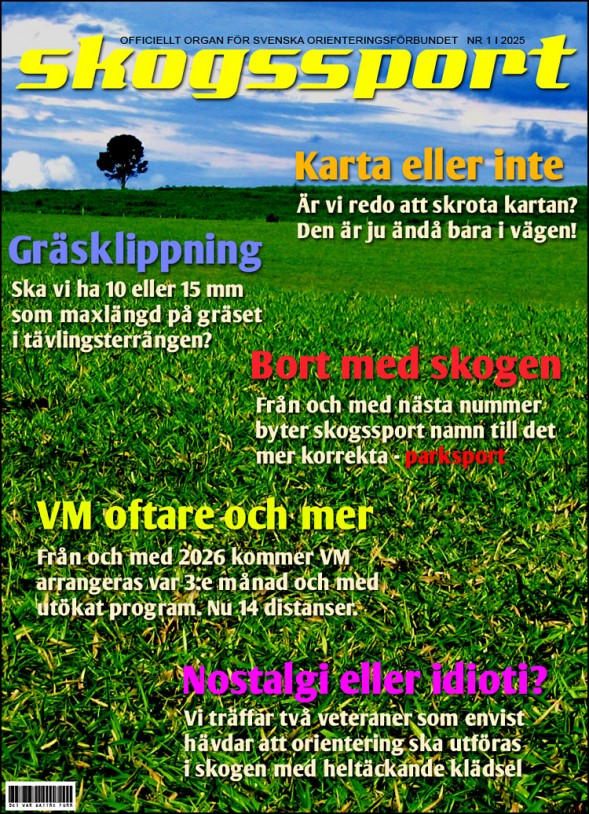 Image from Asplövet blog February 2008. Frontpage for Skogsport 2025. Some English translations: "Map or no map? Are we ready to skip the map? It is only in the way anyway." "Grass cutting. Shall we have 10 mm or 15 mm as maximum grass length in the competition terrain?" "Away with the forest (=skog). From the next edition Skogsport changes name to the more correct Parksport". "World Champs more often and more. From 2026 the World Champs will be organized every 3 months – and now with 14 disciplines".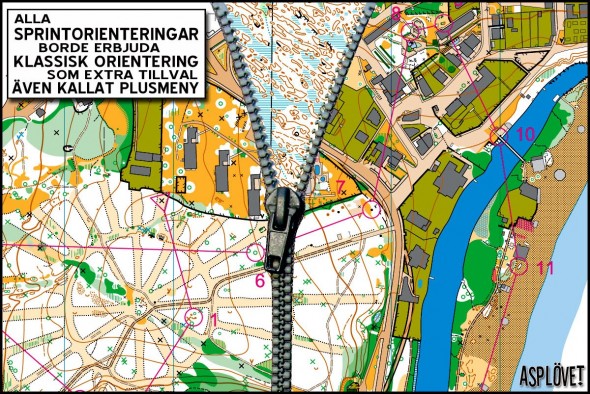 Image/map from Asplövet blog July 2010. English translation: All sprint courses should offer classic orienteering as an extra – called "pluss-menu"..
Prizes from our Sponsors
Prizes from our Sponsors always makes it more fun! There will be a prize for the course setter in "The course of the Year 2010″, a price for the first one suggesting the course which ends up becoming "The course of the Year 2010″, and finally prizes drawn among all suggesting and voting.
Sponsors for "The course of the Year 2010″:
Trimtex sponsors "The course of the year 2010″ with 10 prizes. More information about the prizes to come. Trimtex Sport make technical team wear for athletes in clubs and companies. Trimtex's products are world-leading within function, design and quality, whether it's for cycling, running, skiing or orienteering.
sun-o.com sponsors "The course of the year 2010″ with a voucher for a 2011 Sun-O Camp, value of 150 Euro. Sun-o offers orienteering travel-packages in Spain and Portugal, combining high quality terrains and varied O-maps, in regions with rich culture and sunny climate – organizing your O-holidays from from start to finish.

For the record: All sponsor gifts/income related to "The Best Course of 2010″ goes directly to the WorldofO.com readers.