Todays leg in Route to Christmas is from Czech Republic – a long leg in hilly terrain. To pick a route on a long leg in this kind of terrain usually depends on how strong you are up the hills compared to running flat around. In addition there may be a lot of "micro" route-choice options on parts of the leg – this is were the leg is usually lost or won ; you have to keep up your concentration and do the correct choices all the way.
Today's leg is from Mistrovství Moravy 2010 – the 6th leg in the competition organized at the 11th of April 2010 by KSU. The leg is as usually first provided without routes – you may take a look at it and think about how you would attack this leg (if the image is too small, you may click on it to get it larger):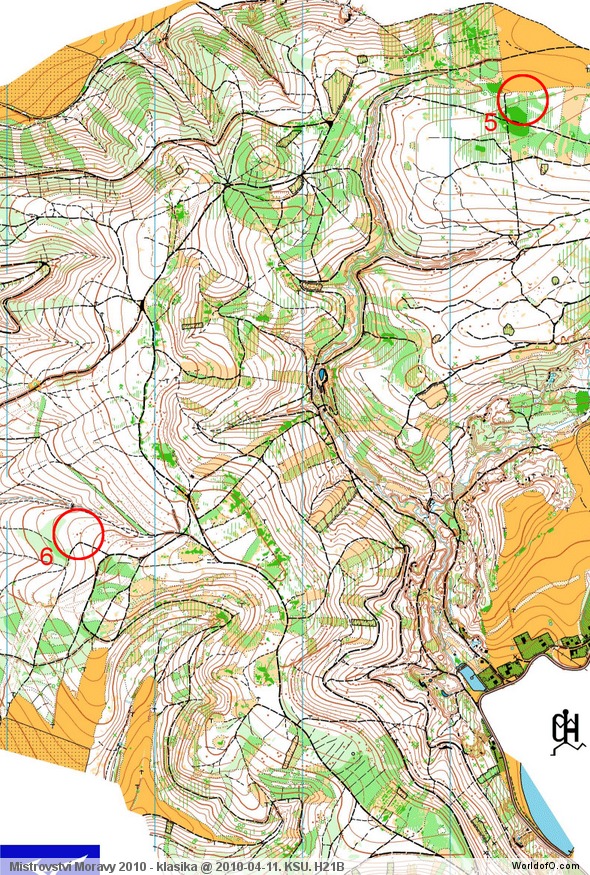 Webroute
Next you can draw your own route using the 'Webroute' below. Think through how you would attack this leg, and draw the route you would have made. Some comments about why you would choose a certain route are always nice for the other readers.
Then you can take a look at how the runners who have drawn their route choice solved this leg (sorry for the problems with the Czech characters). Note that some of the best runners did not draw their route – the routes and times given here are based on the ones drawing their route in Routegadget. You can also look at the route from the complete course by Michal Besta from the competition here.
Looking at the splits, it looks like there is not much difference in time by chosing a direct variant compared to a right variant. Tomas Dlabaja has the best time of the runners drawing their route going straight – but Stipan Dlabaja is only 5 seconds slower going right. However, the direct route involves a lot more hill climbing, and thus for many it is probably wiser to save energy by going around to the right as the times are so similar. But I was not there – so I guess somebody who did actually run can fill out with further analysis in the comments below…