Several nations had WOC selection races in the Annecy area today on a technically challenging middle distance course today. Swedish runners took the top 3 places both in the mens and the womens class – with Olle Boström and Helena Jansson on top, respectively. In the mens class, the young Johan Runesson and Gustav Bergman followed right behind Boström in second and third spot – very impressive by the young Swedish runners. Helena Janssons victory was with more than 2 minutes ahead of Emma Claesson.
The start field was strong with national team runners from Sweden, Denmark, Czech Republic, Ukraine, Poland, Finland and France (but not Thierry Gueorgiou).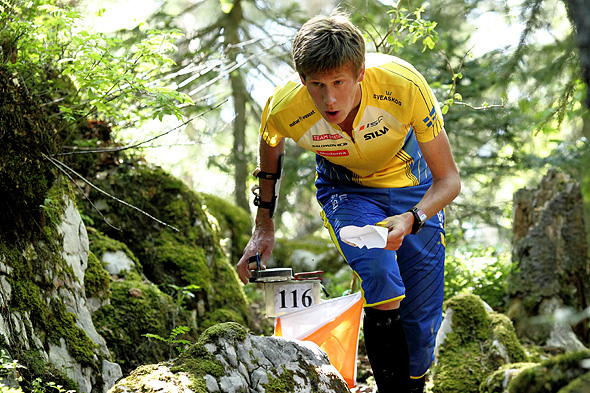 Photo: Runpix.se / Peter Holgersson. Olle Boström on the way towards victory on the Swedish WOC test races.
Tomorrow the scene is set for a real challenge – a long distance race on the Le Revard map. The men run 13 kilometers with 620 meters of ascent – whereas the women have 8.6 kilometers with 390 meters ascent. Thierry Guerorgiou is reported to be on the startline for Sunday's long distance. According to Google translate, Gueorgiou says the following about Sunday's race: – I myself prepare as if Sunday was the final of the long distance World Championships. My commitment is total, while keeping in mind that whatever happens, the road is still long after this race.
Map and courses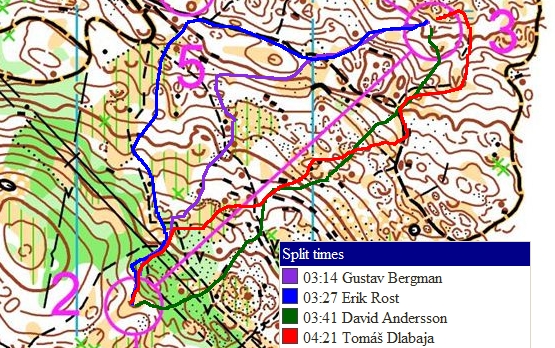 Leg 2-3 in the mens course. Split times are approximate.
The runners were met by tricky middle distance courses. Most of the courses was about accurate fine orienteering, but there were also a few longer courses with route choice options. The WOC 2011 terrain – and also the terrain of these test races – has quite bad runnability, and therefore you can often run quite long detours if you can keep higher speed and have easier orienteering that way. Above you see leg 2-3 in the mens course were it looks like it is advantageous to run around rather than run direct (although you'd need more data to be sure).
Results
Men – Top 10
1 368 BOSTROM Olle 90 SWEDEN TEAM H21 28:09
2 383 RUNESSON Johan 90 SWEDEN TEAM H21 29:16
3 367 BERGMAN Gustav 90 SWEDEN TEAM H21 29:39
4 80 DLABAJA Tomas 83 CZECH TEAM H21 30:10
5 371 JOHANSSON Fredrik 86 SWEDEN TEAM H21 30:17
6 17 USHKVAROK Pavlo 83 UKRAINIAN TEAM H21 30:34
6 609 ADAMSKI Philippe 85 5907NO T.A.D. H21 30:34
8 373 KARLSSON Mattias 91 SWEDEN TEAM H21 30:44
9 380 MILLINGER Mattias 84 SWEDEN TEAM H21 30:54
10 100 MYHREN Jonn Are 79 IFK Lidingo SOK H21 31:00
Women – Top 10
1 397 JANSSON Helena 85 SWEDEN TEAM D21 26:53
2 390 CLAESSON Emma 77 SWEDEN TEAM D21 29:00
3 389 BILLSTAM Annika 76 SWEDEN TEAM D21 30:27
4 45 VERCELLOTTI Lea 89 2517FC OTB D21 31:14
5 590 ALM Maja 88 DANISH TEAM D21 31:25
6 395 GUSTAFSSON Linnea 86 SWEDEN TEAM D21 31:35
7 86 BROZKOVA Dana 81 CZECH TEAM D21 31:41
8 435 NOVIKOVA Julia 80 RUSSIA TEAM D21 31:48
9 404 STRAND Lina 88 SWEDEN TEAM D21 31:59
10 386 ALEXANDERSSON Tove 92 SWEDEN TEAM D21 32:11
New map for model event
For the runners training for WOC 2011, it may be interesting to note that a new map adjacent to the WOC area has been made official for the model event (see above). This looks like another very technical terrain – somewhere between the Montagne de Bange and Le Revard in difficulty.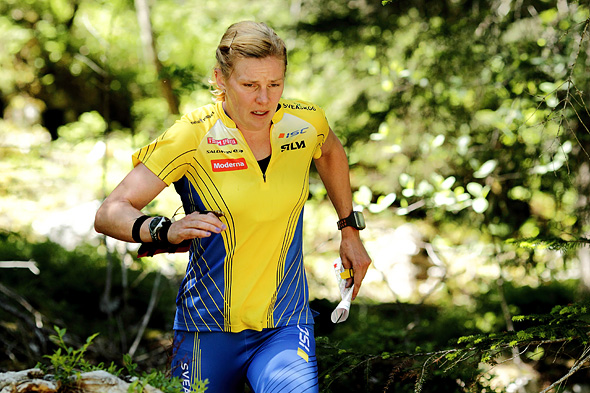 Photo: Runpix.se / Peter Holgersson. Helena Jansson was the best with big margin in the Swedish WOC test races.