Most of  the favourites managed to continue to the final in today's middle distance qualification in the World Champs in Savoie, France. The courses were less tricky than expected by some – with a lot of running on tracks. Still there were more competitors from "smaller nations" than usually in the finals, and notably top runners like Pasi Ikonen (FIN) and Heidi Bagstevold (NOR) did not make the cut – Audun Weltzien (NOR) was very close with his 14th place.
Heat winners were Valentin Novikov, Anders Nordberg, Peter Öberg, Minna Kauppi, Lena Eliasson and Merja Rantanen – all runners who are favourites for the Top 6 in the final on Wednesday. The "King of Middle" Gueorgiou did not win his heat – maybe a small surprise for some.
Had to change the tactics
– I planned to run full speed in the beginning and take it more easy in the end, but the course was made in such a way that I had to change my tactic along the course, because it was quite much running on path, Gueorgiou said after his race.
– So i decided not to run full speed on tracks to save some energy. I have to recover for the long distance final, so  I am not surprise that Peter (Öberg) is faster than me in the beginning of his race because he is only running the middle so he does not need to recover and can run full speed.
– I will now fully focus on Wednesday's race (Long distance). I have been thinking about this race for a while now, and I am very looking forward to run it.
Heat winner Peter Öberg was one of the few who was really pushing hard towards the finish in today's middle distance qualification.
– I am happy with my race – I am happy to be one minute ahead of Thierry, Peter Öberg commented after his race.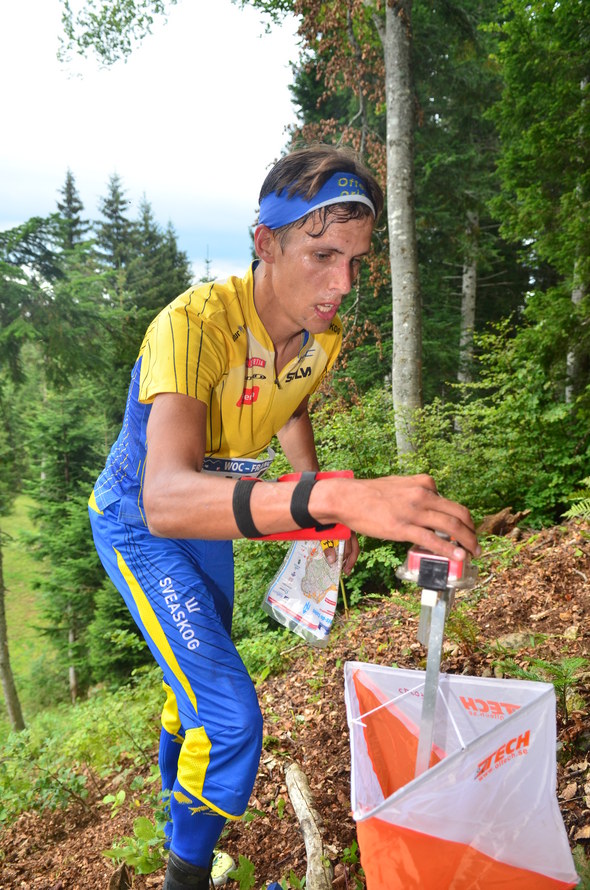 Maps
Today's terrain was in many ways similar to the extreme terrain people have been training on ahead of the championships – but the courses were made in such a way that it was possible to run more than 60-70% of the course on paths and tracks.
– This is a guideline given for the qualification races in the World Championships, one of the organizers told when asked about the course layout. – The qualification courses must be made in a way that ensures that all the runners on a lower level also get through.
Below you find the maps from the Middle Qualification:
Results
Below all 45 men and women going to the final are listed – 15 in each heat.
Men A
1   NOVIKOV Valentin RUS 25:02 0:00 Qualified
2   MUELLER Matthias SUI 26:59 +1:57 Qualified
3   LASSEN Tue DEN 27:01 +1:59 Qualified
4   KREPSTA Simonas LTU 28:07 +3:05 Qualified
5   LUNDANES Olav NOR 28:11 +3:09 Qualified
6   KÄRNER Olle EST 28:17 +3:15 Qualified
7   RUNESSON Johan SWE 28:28 +3:26 Qualified
8   GONON François FRA 29:38 +4:36 Qualified
9   BARTAK Lukas SVK 29:41 +4:39 Qualified
10   KERSCHBAUMER Gernot AUT 29:46 +4:44 Qualified
11   FÖHR Tero FIN 30:44 +5:42 Qualified
12   STAROV Oleksandr UKR 31:03 +6:01 Qualified
13   BERTUKS Edgars LAT 31:04 +6:02 Qualified
14   SEPPI Marco ITA 31:08 +6:06 Qualified
15   FORNE Chris NZL 31:11 +6:09 Qualified
Men B
1   NORDBERG Anders NOR 26:31 0:00 Qualified
2   KRATOV Oleksandr UKR 26:57 +0:26 Qualified
3   ADAMSKI Philippe FRA 27:13 +0:42 Qualified
4   MERZ Matthias SUI 27:16 +0:45 Qualified
5   SIRMAIS Martins LAT 27:38 +1:07 Qualified
6   BOSTRÖM Olle SWE 27:41 +1:10 Qualified
7   KAAS Carl Waaler NOR 28:51 +2:20 Qualified
8   ALELIUNAS Vilius LTU 29:20 +2:49 Qualified
9   MAMLEEV Mikhail ITA 29:42 +3:11 Qualified
10   CRANE Matthew GBR 30:38 +4:07 Qualified
11   WENSLAW Mateusz POL 31:18 +4:47 Qualified
12   ZINCA Ionut ROU 31:20 +4:49 Qualified
13   PROCHAZKA Jan CZE 31:40 +5:09 Qualified
14   PIHL Peeter EST 32:13 +5:42 Qualified
15   SØRENSEN Søren Schwartz DEN 32:19 +5:48 Qualified
Men C
1   ÖBERG Peter SWE 24:30 0:00 Qualified
2   GUEORGIOU Thierry FRA 25:26 +0:56 Qualified
3   ROLLIER Baptiste SUI 26:04 +1:34 Qualified
4   USHKVAROK Pavlo UKR 27:25 +2:55 Qualified
5   KHRAMOV Andrey RUS 27:49 +3:19 Qualified
6   MERL Robert AUT 27:57 +3:27 Qualified
7   VYTAUTAS GVILDYS Jonas LTU 28:20 +3:50 Qualified
8   CHROMY Adam CZE 28:23 +3:53 Qualified
9   SILD Lauri EST 29:11 +4:41 Qualified
10   HUOVILA Jarkko FIN 29:21 +4:51 Qualified
11   DAVIDIK Marian SVK 29:34 +5:04 Qualified
12   GRISTWOOD Graham GBR 30:18 +5:48 Qualified
13   RAFOLS Biel ESP 30:20 +5:50 Qualified
14   WELTZIEN Audun NOR 30:34 +6:04 Qualified
15   SCHGAGULER Klaus ITA 30:50 +6:20 Qualified
Women A
1   KAUPPI Minna FIN 26:40 0:00 Qualified
2   BILLSTAM Annika SWE 26:44 +0:04 Qualified
3   CHATAING Amélie FRA 28:29 +1:49 Qualified
4   ZVERINOVA Martina CZE 29:14 +2:34 Qualified
5   ANGHEL Andra Cecilia ROU 29:41 +3:01 Qualified
6   RAZAITYTE Gabija LTU 29:59 +3:19 Qualified
7   CROCKER Alison USA 30:00 +3:20 Qualified
8   ROUND Vanessa AUS 30:14 +3:34 Qualified
9   BRODMANN Ines SUI 30:16 +3:36 Qualified
10   BOBACH Ida DEN 30:58 +4:18 Qualified
11   DANYLOVA Anastasiia UKR 31:04 +4:24 Qualified
12   KANE Penny NZL 31:41 +5:01 Qualified
13   SHANDURKOVA Iliana BUL 32:59 +6:19 Qualified
14   NOVIKOVA Yulia RUS 33:22 +6:42 Qualified
15   SCALET Carlotta ITA 33:44 +7:04 Qualified
Women B
1   ELIASSON Lena SWE 27:59 0:00 Qualified
2   VINOGRADOVA Natalia RUS 30:48 +2:49 Qualified
3   RIHMA Annika EST 30:49 +2:50 Qualified
4   ALM Maja DEN 31:24 +3:25 Qualified
5   MORRISON Amber NZL 31:39 +3:40 Qualified
6   FASTING Mari NOR 31:53 +3:54 Qualified
7   KINNI Saila FIN 32:20 +4:21 Qualified
8   BROZKOVA Dana CZE 32:23 +4:24 Qualified
9   ORR Hollie GBR 32:47 +4:48 Qualified
10   DODIN Céline FRA 33:33 +5:34 Qualified
11   WISNIEWSKA Hanna POL 33:54 +5:55 Qualified
12   MÜHLEMANN Brigitte SUI 34:04 +6:05 Qualified
13   CRANE Grace AUS 35:08 +7:09 Qualified
14   RIEZNYCHENKO Olga UKR 35:38 +7:39 Qualified
15   AUSTIN Aislinn IRL 35:43 +7:44 Qualified
Women C
1   RANTANEN Merja FIN 26:03 0:00 Qualified
2   JANSSON Helena SWE 27:24 +1:21 Qualified
3   PAUzAITE Sandra LTU 28:40 +2:37 Qualified
4   ANDERSEN Marianne NOR 29:09 +3:06 Qualified
5   WYDER Judith SUI 29:13 +3:10 Qualified
6   DUCHOVA Iveta CZE 29:14 +3:11 Qualified
7   ROTHMAN Rachael GBR 30:10 +4:07 Qualified
8   INGHAM Lizzie NZL 30:17 +4:14 Qualified
9   SØES Signe DEN 30:25 +4:22 Qualified
10   BAJTOSOVA Hana SVK 30:28 +4:25 Qualified
11   HOLMSTRÖM Bodil FIN 30:32 +4:29 Qualified
12   VOLYNSKA Nadiya UKR 30:38 +4:35 Qualified
13   BOUCHET Charlotte FRA 31:09 +5:06 Qualified
14   ORAM Louise CAN 31:14 +5:11 Qualified
15   JOHANSON Liis EST 31:27 +5:24 Qualified