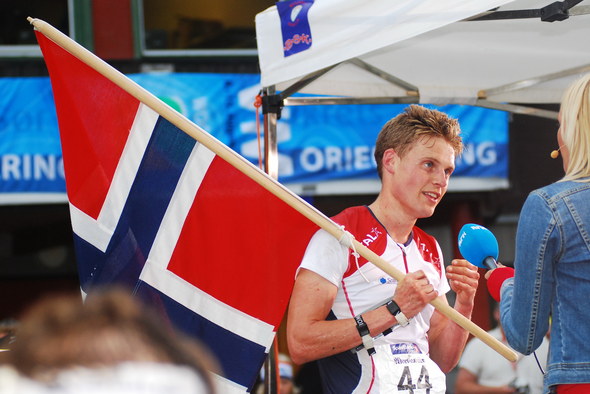 WOC in the Future: A suggestion to split the World Orienteering Championships into a separate sprint WOC and traditional WOC – organized alternating years – is finally on the table. Splitting into two different WOCs has been dismissed by the IOF in earlier discussions, but with the Swedish Orienteering Federation officially announcing a splitting into two different WOCs today, this will definitely be a topic going forwards.
– We have been contacted by WOC runners from other countries who have asked what we as a big orienteering country can do to push an alternative suggestion to a WOC program, Tom Hollowell, head of the Swedish Orienteering Federation says to Skogssport.
Here is the new program suggested by the Swedish Orienteering Federation:
Sprint WOC: (1) Sprint Qual + Final, (2) KnockOut sprint, (3) Mixed sprint relay
Forest WOC: (1) Long distance final, individual start, (2) Middle distance final, individual start, (3) Prologue + chasing start, (4) Relay – men and women separately
These two WOCs are to be organized every second year; i.e. one year the Sprint WOC – the next year the Forest WOC.
Here is the suggested program by the IOF:
Alternative A: (1) Sprint Qual + Final, (2) Mixed sprint relay, (3) Prologue + chasing start (middle), (4) Long distance final, individual start.
Alternative B: The above alternative with the addition of a traditional relay (men / women separately)
What is your opinion on the suggested WOC program? Either vote now – or read my list with Pros and Cons below before deciding.
Pros and Cons: Splitting WOC into two parts
I was recently asked by some "decision makers" to give some facts and opinions on splitting the WOC into two separate parts based on this article I wrote earlier – a sprint WOC and a traditional WOC – to be organized alternating years. Below are my Pros and Cons as it was written:
Advantages related to splitting
Advantages related to the forest WOC
The WOC program makes it possible for all the best to run all disciplines
Possibility to keep and further develop the individual discipline which works best for TV today (according to several TV people I have talked to) – the individual middle distance – while at the same time getting a "first-to-finish" discipline into the program
Easier to organize and easier to get organizers because there are only forest disciplines and fewer finals
No inflation in the number of medals (the total amount of medals summed over two years goes down)
Advantages related to the sprint WOC
Possibility to include a KnockOut sprint on the WOC program without removing today's sprint (today's sprint works well for the spectators – not so well for TV). Typical WOC program: Sprint like today, KnockOut sprint, Mixed relay
Easier to organize. Easier to find suitable terrain, and thus more areas are suitable for a sprint WOC. Increased chances to get the WOC outside Europe (necessary according to the Olympics goal of the IOF). This is the natural way towards orienteering in the Olympics in my opinion (if that is where you want to head).
Potential possibility to integrate sprint-WOC in the World Games every second time (but problem regarding the restrictions on number of participants). Alternatively a sprint WOC should be organized in opposite phase to the World Games, giving a sprint type championship 3 of 4 years.
A sprint WOC can easier be organized in the autumn – which is a lot better time for TV than in the middle of the summer. One of the main reasons for organizing the WOC in summer time today is for the spectator races which gives income and spectators and for the volunteers. A city-championships in autumn could give many spectators as only a weekend + a day is needed.
Disadvantages related to splitting
Potentially lower license fee to the IOF – I have heard this a lot of times when discussing the matter. IOF is dependent on income from WOC organizers, and a splitting might reduce this.
The WOC program is not recognizable by the public as it changes from year to year.
You could get fewer participating nations on the WOC – especially on the forest WOC
You could get lower status on one of the WOCs – either forest of sprint depending on how this develops.
I may have missed some here as I might have been focusing more on the advantages – please let me know in the comments and I'll add them here.
Conclusion
My conclusion in my e-mail was that there are more arguments for splitting into two WOCs than against it – and that is still my opinion. But as always I challenge the readers to come up with arguments that I have not thought of.
Finally I want to pinpoint that all disciplines which are to be included in a WOC should be tested properly before the program is decided – including forking method which works for the chosen start form.
PS! The Swedish Orienteering Federation call this "a completely new and radical suggestion", but it has actually been up in discussions many times already – for example in this article from August last year. It is not my original suggestion, though, but I have been advocating it as one of the most obvious solutions to the WOC in the future "problem".
Don't forget to scroll up again and vote!