Today we are finally travelling out of Europe again – to some quite intricate terrain in the forests of Whitehorse in Canada! Todays leg is from the Western Canadian Championships Long distance 2011 organized on July 17th 2011. Thanks to Will Critchley for help with terrain description and analysis.
The leg is as usually first provided without routes – you may take a look at it and think about how you would attack this leg (if the image is too small, you may click on it to get it larger). When thinking about your route choice, take into account that the forests of Whitehorse are not as fast as the white forest you might find in Europe.
Much of the forest is Spruce and Pine trees, both of which can have low branches which obscure running speed and visibility. The area had a fair amount of deadfall as well. Along with the many smaller hills and depressions, it can also be difficult to stay in contact with the map and avoid going off course if one is trying to avoid too much climb. Note also that this was near the end of the course, so fatigue was setting in.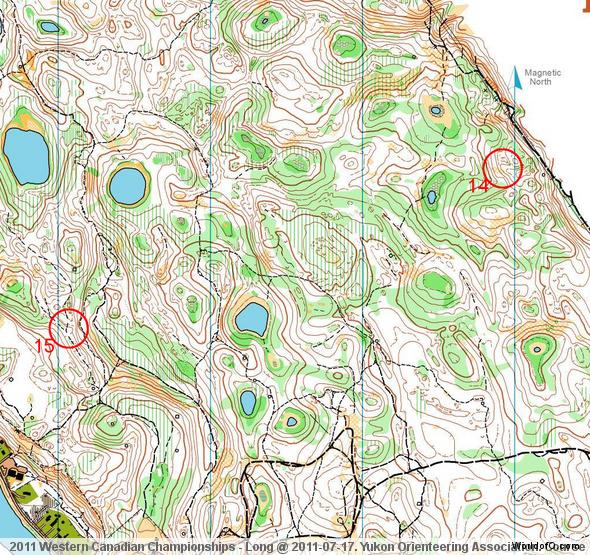 Webroute
Next you can draw your own route using the 'Webroute' below. Think through how you would attack this leg, and draw the route you would have made. Some comments about why you would choose a certain route are always nice for the other readers.
Then you can take a look at how the runners who have drawn their route choice solved this leg. Taking a look at the alternatives used, there are three main alternatives:
Direct with few paths and taking quite a lot of green (Robbie Anderson below)
South using as much paths as possible, but longer than the other alternatives (Will Critchley)
North using some paths and getting a good attackpoint from the paths (Eric Kemp – fastest on this route)
From the splits it may look as if the northern variant is the fastest, but the difference is not big. The northern variant gives a better entrance to the control than the other variants – and you may probably run faster in the last half of the leg. Here are the thoughts of the winner of the race – Will Critchley – about how he solved the leg:
– The set-up to this leg was 3 shorter legs that were good preparation for this long leg, since they were shorter and showed how easy it was to get off course quickly in a short distance. Many people made mistakes on those legs. So, on this leg I spent a few extra moments time planning a route that, although longer, allowed for faster running and got me safely to the obvious paths just before the control. To me, the other routes also had too much green or undergrowth; other runners may have found those sections to be easier. Between the indistinct trails and the rough open, I was able to run at a good speed most of the leg, and only did a bit of fighting through the forest near the last 1/3rd. However, the results show it wasn't the fastest!
There is also a video available from the event here where you can get an impression about the terrain (you'll have to endure some advertisements first). Results are available here.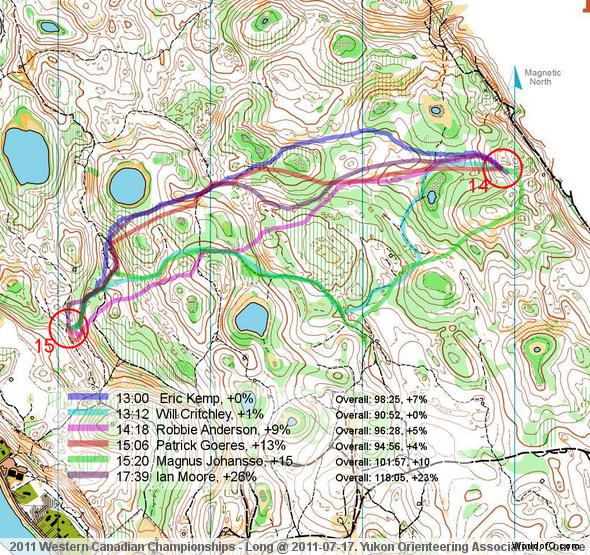 Complete map in Omaps.worldofo.com
You find the complete map and Routegadget info in omaps.worldofo.com at this location.
Omaps.worldofo.com
The 'Route to Christmas' series at World of O has been very popular the last years – and I've therefore decided to continue the series this Christmas as well. If you have got any good legs in RouteGadget from 2011-competitions – or old forgotten ones which are still interesting – please email me the link at Jan@Kocbach.net, and I'll include it in Route to Christmas if it looks good. Route to Christmas will not be interesting if YOU don't contribute.
There will be no analysis about the best routechoice for each leg – you can provide that yourself in the comments or in the Webroute. Not all legs are taken for the interesting routechoice alternatives – some are also taken because the map is interesting – or because it is not straightforward to see what to do on a certain leg. Any comments are welcome – especially if you ran the event chosen for todays leg!
Note that there may be some errors in the Routegadget data (sometimes somebody draws a route for another runner just for fun). Please add a comment below if you spot en error.