Check here if you won a full orienteering package including hotel/apartment for 6 days at Prague Easter/Sandstones.cz or Croeso 2012. Or maybe a package of 2 starts from one of the other event sponsors JK 2012, EOC Tour 2012, POM 2012, OOCup, Croatia Open or Fjord-O West. In addition Jukola 2012 gives T-shirts to 5 lucky voters.
In addition four of the websites who helped spread the news about the poll have been awarded with free ads. Check below if you took home one of the prizes!
Thanks to sponsors and voters
Before announcing the prize winners, I would like to thank all of you for voting – in total nearly 3000 unique votes were given this year – making the results representative for the orienteering community. We would also like to thank Croeso 2012, Prague Easter/Sandstones.cz, JK 2012, EOC Tour 2012, POM 2012, OOCup, Croatia Open, Fjord-O West and Jukola for sponsoring "The Orienteering Achievement of 2010″. Thanks to the sponsors World of O was able to draw lucky prize winners among those who voted in this years election.
Prize winners will be contacted by e-mail (but please contact Jan at jan@kocbach.net if you are listed as a winner but did not receive an email). The winners of "The Orienteering Achievement of the Year 2011″ will be published tomorrow. For winners who only gave the first name when voting the first part of the e-mail address is given as well.
Main sponsor prize 1: Prague Easter & Sandstones.cz
Winner: "Edi (dasilva23@….)"
Prize offered: 2 transferable starts at Prague Easter 2012 + double room with half board for 6 nights at Lesni hotel, Doksy + sandstones.cz trainings of free choice.
The Prague Easter event (see website), organised by Kotlarka club in the nature protection area of Kokorinsko, has already become almost as traditional as the other unique-but-strange czech easter habits. 3-day event, ended by a chasing start, in the demanding rocky areas. Great opportunities for sightseeing as
well.
Sandstones.cz (see website) is a project focused on group orienteering trips to the famous czech sandstone areas around Doksy. Sandstones.cz organizes performance elite camps, as well as club trips, where the enjoyment is the only goal.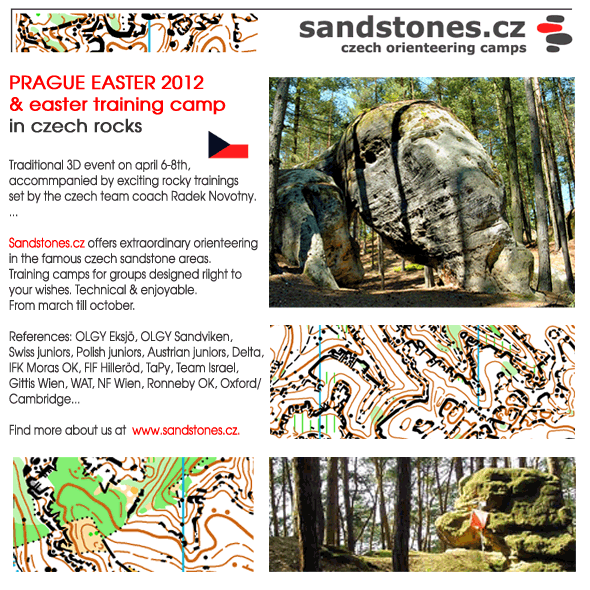 ---
Main sponsor prize 2: Croeso 2012
Winner: Corinne Imhof
Prize offered: Free entry for two for 6 days of orienteering, 22-28 July 2012. Free campus accommodation for two, in a flat with single en-suite rooms (or same-sum subsidy for other accommodation), Free coach transport from the campus to each day's event, Free rest day activity, either: a dolphin watching boat trip or a trip into the mountains on a narrow-gauge steam railway.
Croeso 2012 is a 6-Day event based in Wales, 'croeso' being Welsh for 'welcome'. The event is organized from 22-28th July 2012.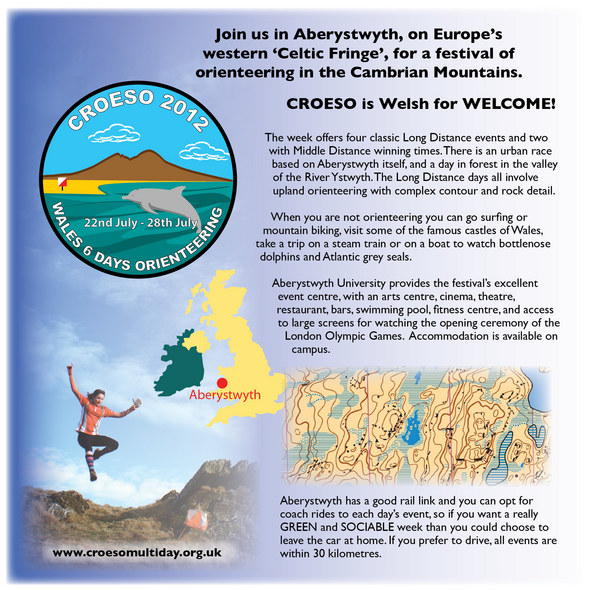 ---
Event prize 1: POM 2012
Winner: Christiana (goodathlete@…..)
Portugal "O" Meeting offers two transferable packages of two starts each for the Portugal "O" Meeting 2012.
The Portugal "O" Meeting has become the international season opener for the world elite and hundreds of other orienteers spending a week or two in the Portugal in February and March.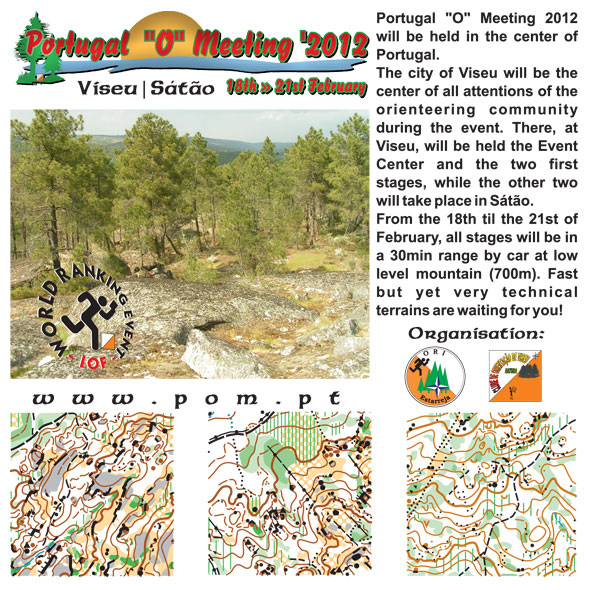 ---
Event prize 2: OOCup 2012
Winner: Jakub Kamenický
OOCup 2012 offers a package consisting of two transferable start places for the OOCup 2012 competition.
OOCup is a 5 Day orienteering event organized annually in Slovenia. The event is famous for its Karst orienteering and excellent combination of orienteering and holidays.
---
Event prize 3: Croatia Open 2012
Winner: Jürgen Schmidt
Croatia Open offers a package of 2 transferable start places for the Complete Croatia Open week with accommodation in Sport Hall included
Croatia Open is a 4 day orienteering race – offering you 4 different types of terrain from extreme karst to mediteraean and continental terrain. "Croatia open" attracts more than 600 competitors from 30 countries offering you great orienteering holiday – combining orienteering with holidays on the Adriatic coast.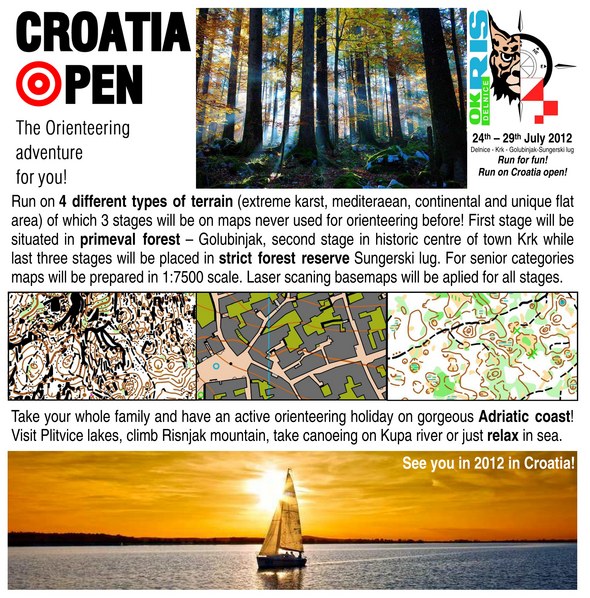 Event prize 4: Fjord-O West 2012
Winner: Amelie (melie42@……)
Fjord-O West offers a package of 2 transferable start places for the complete Fjord-O West week 2012.
Fjord-O West is a four day race in the beautiful valley of Voss, organized from June 26th until June 29th 2012. Voss is a small village in the heart of the famous westcoast Fjords of Norway close to Bergen. The event can be combined with O-festivalen organized in Beitostølen the weekend ahead of Fjord-O West 2012.
---
Event prize 5: JK 2012
Winner: Jonathan Crickmore
The JK International Festival of Orienteering 2012 offers a transferable package of two starts for the 3 main days of the competition.
JK is a 3 Day event organized in Scotland, 6th – 9th April 2012. A full social programme will be available, including Wine or Whisky tasting and a Ceilidh.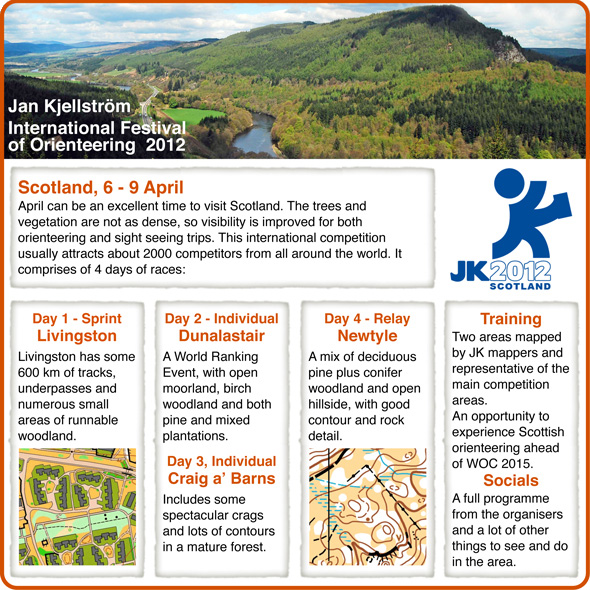 ---
Event prize 6: EOC Tour 2012
Winner: Yngve Skogstad
EOC Tour 2012 offers a package of 2 transferable start places for the complete EOC Tour 2012.
EOC 2012 is an orienteering festival with four day public races which will be held in conjunction with EOC2012. 17th-18th May, Arena Skattungbyn, Orsa, 19th-20th May, Arena Lugnet, Falun.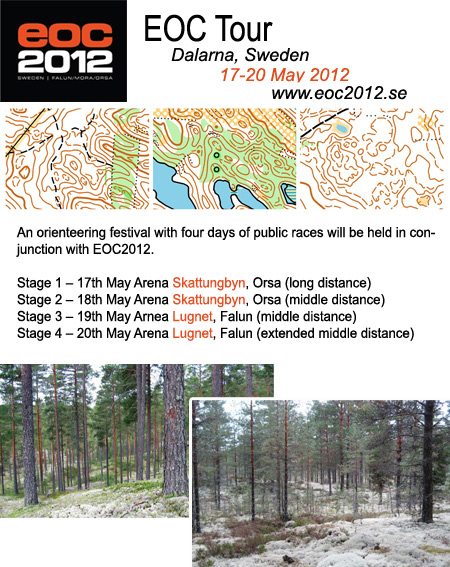 ---
---
T-shirt prizes: Jukola 2012
Winner 1: Pol Ràfols
Winner 2: Kenneth Buch
Winner 3: Naghibina Iulia
Winner 4: Mads Mikkelsen
Winner 5: Ross Smith
Jukola 2012 offers 5 T-shirts to be drawn among the voters.
Valio-Jukola is an unforgettable event for both orienteerers and spectators located in the middle of Helsinki metropolitan area. The orienteering competition is organized in Vantaa, Finland, at Hakunila sports park on 16th – 17th of June, 2012.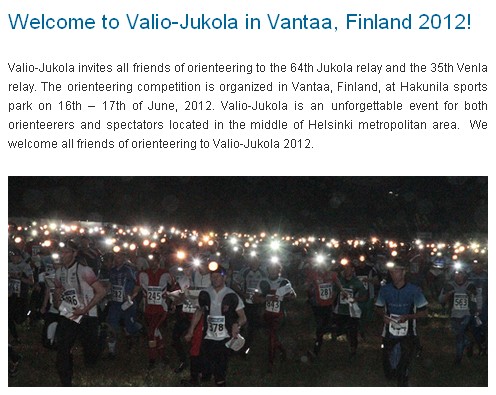 ---
Websites linking to "The Orienteering Achievement of 2011
Thanks to all websites that linked to "The Orienteering Achievement of 2011″, we were able to make the election results as representative for the orienteering community as possible. We got nearly 3000 votes for this years edition!
As earlier announced, 4 free "Sponsored links" for one month at World of O have been drawn among the websites linking to "The Orienteering Achievement of 2010″. The websites winning are:
The winners of sponsored links are asked to send an email to jan@kocbach.net to ask for further details. Note that the sponsored ads must be for orienteering related content!