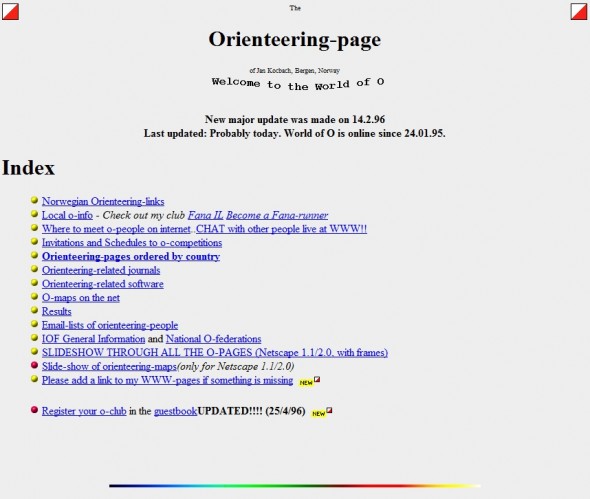 World of O turns 17 today! The Internet is 20 years old, Google is 14 years old, Facebook is 7 years old. Thus 17 years is quite an age in the Internet world. 17 years ago World of O among other things offered "a slideshow through all o-pages" – that wouldn't be too easy today..
From the first small trials until today: World of O has all the time been driven by my personal interest to know about what happens in the orienteering world. And that is the way I plan to continue it – explore new ideas and have fun along the way!
"Mother" of World of O
World of O started as a collection of links. The first orienteering webpage I built up – the "mother" of World of O – was live in 1994 on the server brems.ii.uib.no.
What is now known as World of O was live from January 24th 1995. The original version of World of O was a linkdatabase, orienteering map database and email address database which was updated "by hand". In 1996 some forms were added to make it possible for people to add links and email addresses by themselves. This is the announcement of the revised version of World of O from the good old orienteering mailinglist in May 1996 – this is when it went from updating by hand to "automatic updating" and World of O started growing fast:
---
From: Jan Kocbach
Date: Wed, 01 May 1996 16:37:39 +0200
Subject: Updated o-page: World of O
Message-Id: <31877733.59D@brems.ii.uib.no>

Hi.
The last few days I have been updating my orienteering pages a lot. People can now easily add their results, invitations, orienteering-pages and email-addresses to the pages using forms. The submitted information is sorted in various ways, and is also searchable. Please submit your orienteering pages, results, invitations, etc. to the page. Everything isn't thorougly tested yet, but I think most of it should work by now. The page can still be accessed by the old URL
http://www.fi.uib.no/~jankoc/orientering/orientering.html,
But the real location of it is:
Fancy version: http://www.fi.uib.no/~jankoc/worldo/worldo.html
"Plain" version: http://www.fi.uib.no/~jankoc/worldo/worldoo.html
Jan.
The worlds most linked-to and visited orienteering web-page
In the second half of the 90's "World of O" was probably the worlds most linked-to and visited orienteering web-page. In 1995, it had approximately 5000 visitors, summing up to 25.000 visitors in 1996, and 80.000 visitors in 1997. The domain worldofo.com was purchased in 1997.
I will not repeat all of the history here – but you can see some snapshots through the history of World of O from 1995 until today here.
A long road with a lot of joy! I hope you have enjoyed the travel – and will continue it with me!