Switzerland took two more gold medals in WUOC in Spain today: Raffael Huber won the men's long distance and Isabelle Feer the women's long distance. The runners had a real challenge over hot open hills in an "Alicante desert" today – with a lot of long route choice legs.
The World University Orienteering Championships continutes with sprint tomorrow – expect another hilly race. Start lists and results at the WUOC 2012 page.
Maps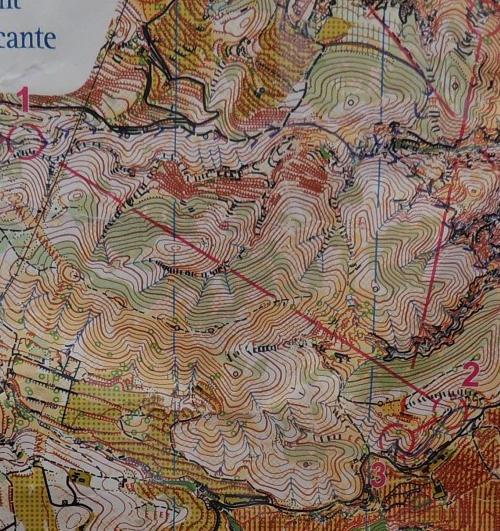 Already to the second control the runners were met by a long route choice leg.  The eventual winner Raffael Huber run left and lost nearly two minutes. Adam Chromy run right and was 1:30 faster than Huber.
Results
Men
| | | | | | |
| --- | --- | --- | --- | --- | --- |
| 1 | 146 | Huber, Raffael | Switzerland | SUI | 1:15:38 |
| 2 | 181 | Kodeda, Štepán | Czech Rep | CZE | 1:16:07 |
| 3 | 142 | Chromý, Adam | Czech Rep | CZE | 1:17:52 |
| 4 | 118 | Martner, Ola | Sweden | SWE | 1:19:17 |
| 5 | 154 | Blanes Reig, Andreu | Spain | ESP | 1:19:53 |
| 6 | 113 | Nurmonen, Antti | Finland | FIN | 1:21:48 |
| 7 | 174 | Dallavalle, Roberto | Italy | ITA | 1:21:59 |
| 8 | 165 | Sirakov, Ivan | Bulgaria | BUL | 1:22:06 |
| 9 | 111 | Mathys, Jonas | Switzerland | SUI | 1:22:44 |
| 10 | 149 | Howald, Florian | Switzerland | SUI | 1:22:58 |
Women
| | | | | | |
| --- | --- | --- | --- | --- | --- |
| 1 | 357 | Feer, Isabelle | Switzerland | SUI | 1:05:32 |
| 2 | 364 | Mathys, Brigitta | Switzerland | SUI | 1:05:37 |
| 3 | 329 | Brozková, Radka | Czech Rep | CZE | 1:06:37 |
| 4 | 321 | Hauswirth, Sabine | Switzerland | SUI | 1:06:46 |
| 5 | 352 | Forsgren, Lilian | Sweden | SWE | 1:07:11 |
| 6 | 356 | Shandurkova, Iliana | Bulgaria | BUL | 1:09:11 |
| 7 | 309 | Jenzer, Sarina | Switzerland | SUI | 1:10:10 |
| 8 | 367 | Forsberg, Anna | Sweden | SWE | 1:10:17 |
| 9 | 311 | Fershalova, Karina | Russian Federation | RUS | 1:11:14 |
| 10 | 354 | Haare, Therese | Norway | NOR | 1:12:59 |