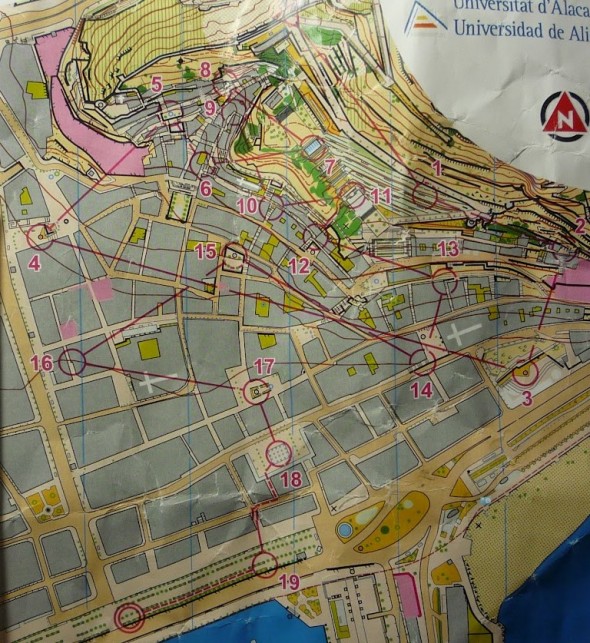 Very challenging sprint dominated by Switzerland and Czech Republic – gold for Martin Hubmann and Iveta Duchova. 4 medals to Switzerland and 2 medals to Czech Republic in the World University Orienteering Championships (WUOC) sprint.
Martin Hubmann – who did not qualify for the Swiss World Orienteering Championships team – took his second gold medal in an international championship this year  after being on the golden Swiss team at the European Championships relay. Hubmann won the technically difficult sprint ahead of the gold medal winner in the long distance race – Raffael Huber. Triple Switzerland among the men: Andreas Kyburz finished third.
Among the women the WUOC sprint was a big day for Czech Republic – with Duchova on top and bronze medal for Ivana Bochenkova. Julia Gross (Switzerland) took the silver medal – and there were also Swiss runners on 4th and 5th (Bettina Aebi and Sarina Jenzer).
According to Orienteering Australia,  the sprint course was a tough one including more than 400(!) stairs.
– The course saw the runners starting near the top of castle Santa Barbara in Alicante. They were led from the pre start to the side of the castle where they started in the middle of the old town. The first controls of the course caused much confusion and many a time you had to stop to plan your next leg. Was technically and physically hard and included about 400 stairs.
The World University Orienteering Championships continutes with a tricky middle distance today.  Start lists and results at the WUOC 2012 page.
Map
Results
Men
1 180 Hubmann, Martin Switzerland SUI 17:53
2 133 Huber, Raffael Switzerland SUI 18:12
3 107 Kyburz, Andreas Switzerland SUI 18:20
4 186 Sirakov, Ivan Bulgaria BUL 18:56
5 148 Lenkei, Zsolt Hungary HUN 18:57
6 199 Procházka, Jan Czech Rep CZE 19:07
7 161 Rüedlinger, Andreas Switzerland SUI 19:10
8 159 Blanes Reig, Andreu Spain ESP 19:14
9 170 Kamenarov, Ivaylo Bulgaria BUL 19:26
10 156 Kodeda, Štepán Czech Rep CZE 19:27
Women
1 370 Duchová, Iveta Czech Rep CZE 17:47
2 350 Gross, Julia Switzerland SUI 18:38
3 337 Bochenková, Ivana Czech Rep CZE 18:43
4 312 Aebi, Bettina Switzerland SUI 18:48
5 367 Jenzer, Sarina Switzerland SUI 18:54
6 358 Forsgren, Lilian Sweden SWE 19:07
7 325 Orr, Hollie Elizabeth United-Kingdom of Great Britai GBR 19:10
8 341 Gil Sánchez, Alicia Spain ESP 19:17
9 362 Rønning Sund, Gøril Norway NOR 19:27
10 349 Forsberg, Anna Sweden SWE 19:53