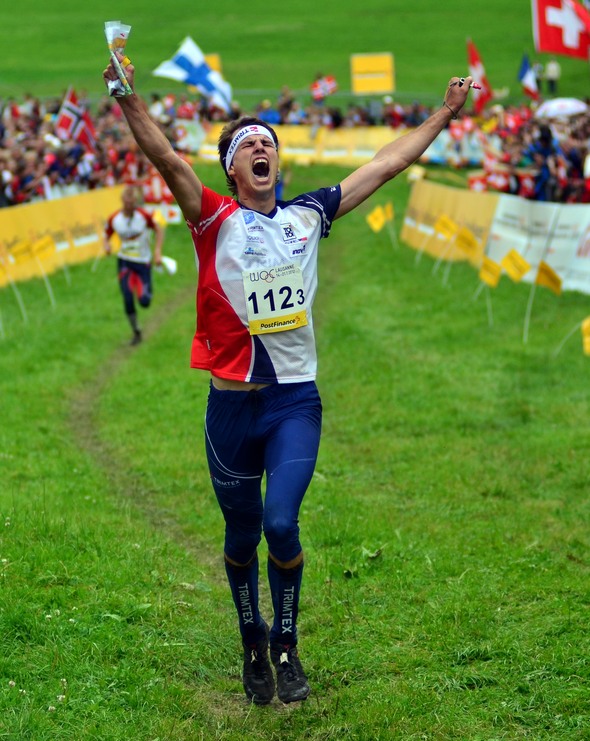 Jan Prochazka decided a very exciting relay for Czech Republic after fighting with Olav Lundanes (Norway) and Anders Holmberg (Sweden) through most of the course. – Olav increased the speed towards the second last control, but then he slowed down and I could pass him, a very happy Prochazka said after the first WOC relay gold medal for Czech Republic.
The Czech relay Team have been running for a medal for years – several times being in a good position on the last leg, but then failing the medals – finishing in 4th place on home ground in Czech Republic in 2008 and on 5th place in Norway in 2010
– Finally a medal, Prochazka said just after coming to the finish.
When asked how he dared to be offensive and stay in front of Lundanes and Holmberg for large parts of the race, the Czech runner said that he didn't want the runners behind to catch them.
– The forest is just like the forest behind my house where I grew up, and I felt strong. I run offensively because I did not want the others furthers behind to catch us.
– Third time in a row
Olav Lundanes was very disappointed after his race – being in pole position towards the second last control and then loosing the gold medal.
– I am very disappointed. It is difficult to be happy about this when we get the silver medal for the third time in a row. But at least we are closer. On Thursday I manage to get out the 110% ones needs to win. I did not manage that today, Lundanes said to orientering.no.
Maps and GPS tracking
Results
1. Czech Republic
2. Norway +0:06
3. Sweden +0:11
4. Switzerland +1:21
5. France +2:56
6. Denmark +3:08