Posted by Jan Kocbach, 02 Sep 2012@16:00
The "King of Middle" is back – Thierry Gueorgiou (France) won the middle distance race in Holmenkollen ahead of  Peter Öberg (Sweden) and Matthias Kyburz.  Simone Niggli (Switzerland) is "impossible" these days – winning again – this time with another Swiss runner in second spot – Judith Wyder.
Overall NORT leader Olav Lundanes (Norway) did some mistakes in the technical first part of the course – finishing down on 5th place – 1:19 behind the flying French. With this result Lundanes keeps his overall lead in the Nordic Orienteering Tour – 34 seconds ahead of Thierry Gueorgiou with another 3 seconds down to the Swiss WOC champion Matthias Kyburz.
In the women's class Simone Niggli has increased her lead significantly to more than 3 minutes. Her lead down to Helena Jansson in second spot is 3:39. Judith Wyder in third is one second behind Jansson.
Overall NORT results are be available at the NORT webpage.
Maps
Today's middle distance had a very technical start – many top runners had problems in the start. Notably second placed Tove Alexandersson and third spot from yesterday Anne Margrethe Hausken did big mistakes early in the course.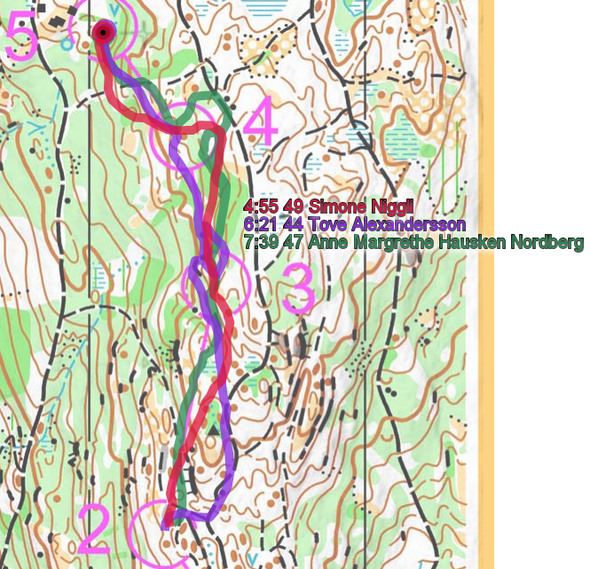 The second part of the course had a long routechoice leg – the same for the men and the women. Interestingly the left routechoice was best for the men – the right for the women – the reason being that the men are much stronger up the steep hill.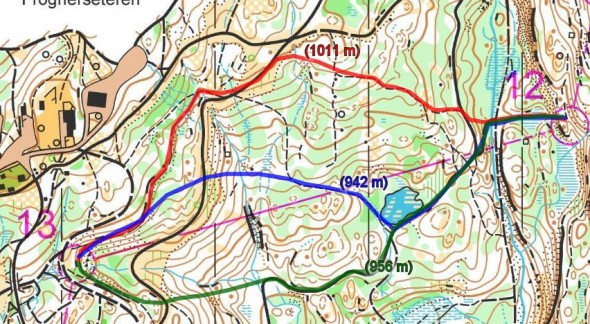 Overall NORT results
Women
| | | | | | | | | | | |
| --- | --- | --- | --- | --- | --- | --- | --- | --- | --- | --- |
| Name | Stage 1 | Bonus 1 | Stage 2 | Stage 3 | Bonus 2 | Stage 4 | Bonus 3 | Stage5 | Tour time | Diff |
| 1  Simone Niggli | 13:26 | 2:00 | 29:09 | | | | | | 40:35 | |
| 2  Helena Jansson | 13:20 | 0:50 | 31:44 | | | | | | 44:14 | 3:39 |
| 3  Judith Wyder | 14:03 | 0:16 | 30:28 | | | | | | 44:15 | 3:40 |
| 4  Lina Strand | 13:49 | 0:34 | 31:05 | | | | | | 44:20 | 3:45 |
| 5  Minna Kauppi | 13:33 | 0:18 | 31:33 | | | | | | 44:48 | 4:13 |
| 6  Ida Bobach | 14:19 | 1:00 | 31:36 | | | | | | 44:55 | 4:20 |
| 7  Tove Alexandersson | 13:19 | 0:50 | 32:39 | | | | | | 45:08 | 4:33 |
| 8  Anne Margrethe Hausken Nordberg | 13:56 | 1:10 | 32:34 | | | | | | 45:20 | 4:45 |
| 9  Merja Rantanen | 14:41 | 0:34 | 31:42 | | | | | | 45:49 | 5:14 |
| 10  Tatyana Ryabkina | 15:04 | 0:13 | 31:00 | | | | | | 45:51 | 5:16 |
| 11  Sabine Hauswirth | 14:26 | 0:36 | 32:23 | | | | | | 46:13 | 5:38 |
| 12  Venla Niemi | 14:29 | 0:03 | 32:00 | | | | | | 46:26 | 5:51 |
| 13  Tone Wigemyr | 14:26 | 0:30 | 32:34 | | | | | | 46:30 | 5:55 |
| 14  Sara Lüscher | 14:14 | 0:02 | 32:26 | | | | | | 46:38 | 6:03 |
| 15  Maja Alm | 14:11 | 0:15 | 32:49 | | | | | | 46:45 | 6:10 |
Men
| | | | | | | | | | | |
| --- | --- | --- | --- | --- | --- | --- | --- | --- | --- | --- |
| Name | Stage 1 | Bonus 1 | Stage 2 | Stage 3 | Bonus 2 | Stage 4 | Bonus 3 | Stage5 | Tour time | Diff |
| 1  Olav Lundanes | 13:16 | 2:00 | 30:15 | | | | | | 41:31 | |
| 2  Thierry Gueorgiou | 13:41 | 0:36 | 29:00 | | | | | | 42:05 | 0:34 |
| 3  Matthias Kyburz | 13:32 | 1:30 | 30:06 | | | | | | 42:08 | 0:37 |
| 4  Gustav Bergman | 13:47 | 0:50 | 30:37 | | | | | | 43:34 | 2:03 |
| 5  William Lind | 14:20 | 1:10 | 30:33 | | | | | | 43:43 | 2:12 |
| 5  Matthias Merz | 14:09 | 0:55 | 30:29 | | | | | | 43:43 | 2:12 |
| 7  Peter Öberg | 14:28 | 0:15 | 29:42 | | | | | | 43:55 | 2:24 |
| 8  Tue Lassen | 14:34 | 0:38 | 30:09 | | | | | | 44:05 | 2:34 |
| 9  Carl Waaler Kaas | 13:54 | 0:18 | 30:35 | | | | | | 44:11 | 2:40 |
| 10  Mattias Karlsson | 14:16 | 0:34 | 30:42 | | | | | | 44:24 | 2:53 |
| 11  Øystein Kvaal Østerbø | 14:23 | 1:00 | 31:04 | | | | | | 44:27 | 2:56 |
| 12  Jonas Leandersson | 13:53 | 0:17 | 31:12 | | | | | | 44:48 | 3:17 |
| 13  Fabian Hertner | 14:03 | 0:15 | 31:06 | | | | | | 44:54 | 3:23 |
| 14  Bjørn Ekeberg | 14:12 | 0:03 | 30:59 | | | | | | 45:08 | 3:37 |
| 15  Eskil Kinneberg | 13:51 | 0:10 | 31:48 | | | | | | 45:29 | 3:58 |
Results Stage 2
Men
| | | | | | |
| --- | --- | --- | --- | --- | --- |
| 1 | Thierry Gueorgiou | 149 | FRA | 29:00 | 0 |
| 2 | Peter Öberg | 141 | SWE | 29:42 | 42 |
| 3 | Matthias Kyburz | 156 | SUI | 30:06 | 1:06 |
| 4 | Tue Lassen | 150 | DEN | 30:09 | 1:09 |
| 5 | Olav Lundanes | 157 | NOR | 30:15 | 1:15 |
| 6 | Matthias Merz | 153 | SUI | 30:29 | 1:29 |
| 7 | William Lind | 155 | SWE | 30:33 | 1:33 |
| 8 | Carl Waaler Kaas | 145 | NOR | 30:35 | 1:35 |
| 9 | Gustav Bergman | 152 | SWE | 30:37 | 1:37 |
| 10 | Hans Gunnar Omdal | 113 | NOR | 30:40 | 1:40 |
| 11 | Mattias Karlsson | 148 | SWE | 30:42 | 1:42 |
| 12 | Jani Lakanen | 128 | FIN | 30:59 | 1:59 |
| 13 | Bjørn Ekeberg | 130 | NOR | 30:59 | 1:59 |
| 14 | Øystein Kvaal Østerbø | 154 | NOR | 31:04 | 2:04 |
| 15 | Fabian Hertner | 142 | SUI | 31:06 | 2:06 |
Women
| | | | | | |
| --- | --- | --- | --- | --- | --- |
| 1 | Simone Niggli | 49 | SUI | 29:09 | 0 |
| 2 | Judith Wyder | 35 | SUI | 30:28 | 1:19 |
| 3 | Tatyana Ryabkina | 32 | RUS | 31:00 | 1:51 |
| 4 | Lina Strand | 39 | SWE | 31:05 | 1:56 |
| 5 | Minna Kauppi | 37 | FIN | 31:33 | 2:24 |
| 6 | Ida Bobach | 46 | DEN | 31:36 | 2:27 |
| 7 | Merja Rantanen | 40 | FIN | 31:42 | 2:33 |
| 8 | Helena Jansson | 43 | SWE | 31:44 | 2:35 |
| 9 | Venla Niemi | 22 | FIN | 32:00 | 2:51 |
| 10 | Silje Ekroll Jahren | 15 | NOR | 32:18 | 3:09 |
| 11 | Sabine Hauswirth | 41 | SUI | 32:23 | 3:14 |
| 12 | Sara Lüscher | 21 | SUI | 32:26 | 3:17 |
| 13 | Anne Margrethe Hausken Nordberg | 47 | NOR | 32:34 | 3:25 |
| 14 | Tone Wigemyr | 38 | NOR | 32:34 | 3:25 |
| 15 | Heini Wennman | 29 | FIN | 32:35 | 3:26 |
Possibly related posts