Today Route to Christmas travels to Switzerland to a long, tough race. The chosen leg is leg number 11 in the H21E course from Swiss Champs long distance 2012 at August 19th 2012. Thanks to Severin Howald for the tip.
In addition to the leg to control number 11, we have a much longer and tougher leg from the same course as bonus-leg below. Some of you might have drawn your route there earlier over at o-training.net though, so therefore leg number 11 is "the leg of the day".
The leg is as usually first provided without routes – you may take a look at it and think about how you would attack this leg (if the image is too small, you may click on it to get it larger):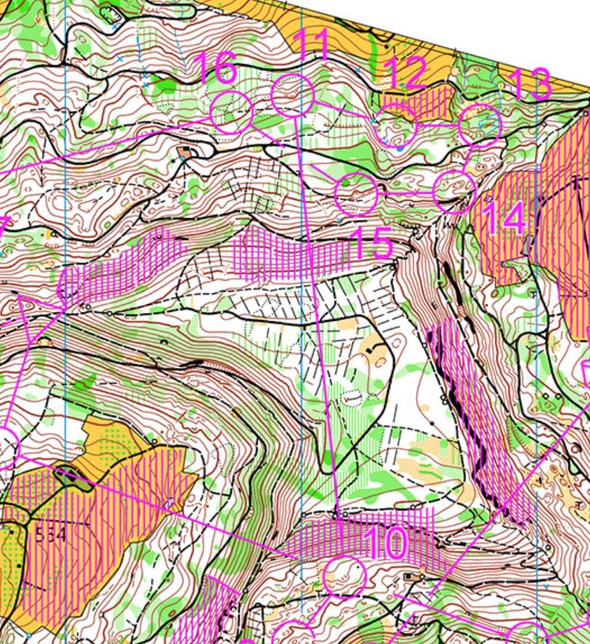 Location
You find other maps from the area in omaps.worldofo.com here. See also latest additions in 3DRerun from this area in order to learn more about this terrain type.
Webroute
Next you can draw your own route using the 'Webroute' below. Think through how you would attack this leg, and draw the route you would have made. Some comments about why you would choose a certain route are always nice for the other readers.
Then you can take a look at how the runners solved this leg below.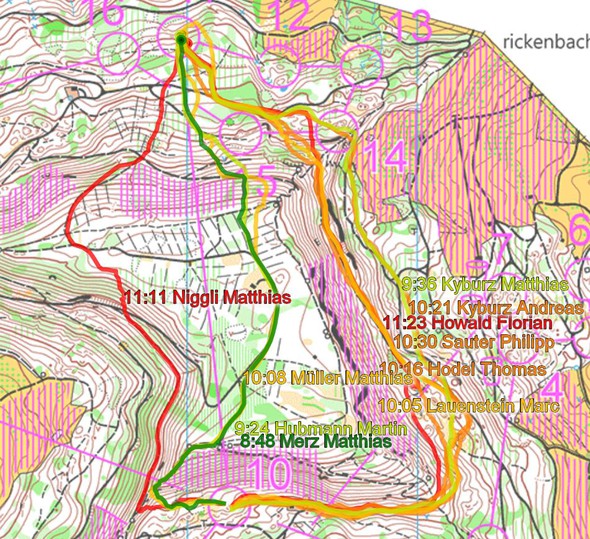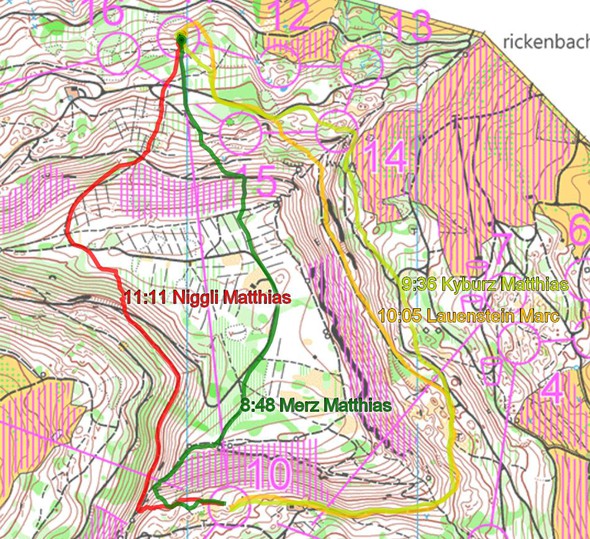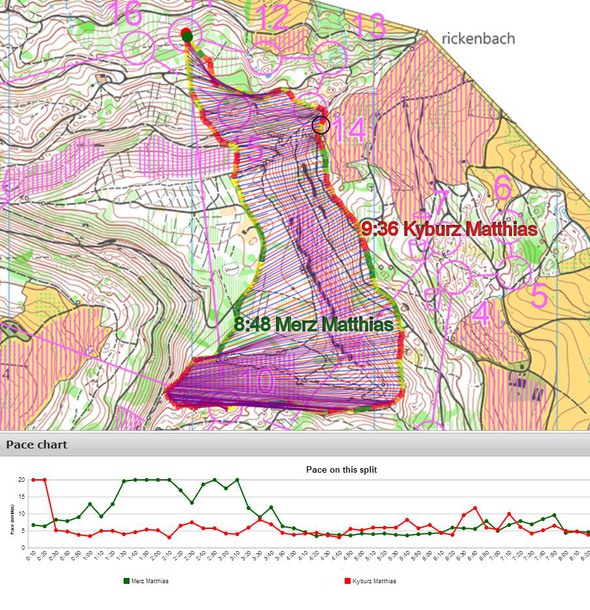 Comments
Matthias Merz is fastest with the direct route – more than 45 seconds faster than Matthias Kyburz on the rightmost route according to the GPS-times (might be off some seconds from the official split times). Note however that Martin Hubmann runs only a few seconds faster than Kyburz on the same route as Merz – Matthias Müller is even half a minute slower (all lost in the first part of the last leg, though).
Thus, the rightmost route is probably not as slow as it may seem from this comparison. By comparing Kyburz and Lauenstein, it looks like Lauenstein's route (the lower road on the rightmost routes) is actually faster than Kyburz's route (but Kyburz had higher speed).
Bonus leg
The long leg from control 27 to 28 is actually more interesting than the one above – as it decided the mens class in the Swiss Championships long distance. However, this leg has already been used at o-training.net, and therefore the "fresh" leg was given first above even if this one is more interesting.
At the start of the leg three runners were fighting for gold: Matthias Kyburz, Matthias Merz and Marc Lauenstein. With good performance on this leg, Kyburz took home the gold medal. Can you find the "golden solution"? First take a look at the leg (click for larger image), then draw your choice in the WebRoute (without cheating and looking at the "solution"), and finally take a look at the best times run on the leg below.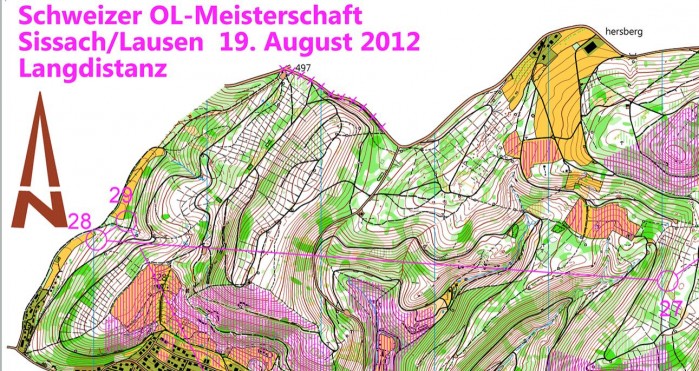 Powered by WebRoute – WorldofO.com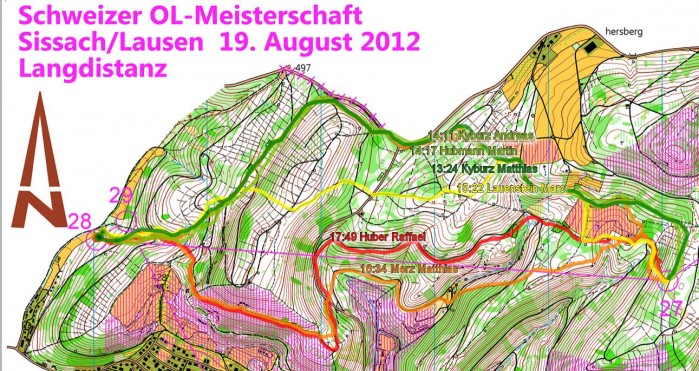 Additional information
You find the complete map in omaps.worldofo.com at this location.
Route to Christmas series
The 'Route to Christmas' series at World of O has been very popular the last years – and I have therefore decided to continue the series this Christmas as well. If you have got any good legs in RouteGadget, GPSSeuranta or 3DRerun from 2012-competitions – or old forgotten ones which are still interesting – please email me the link at Jan@Kocbach.net, and I'll include it in Route to Christmas if it looks good. Route to Christmas will not be interesting if YOU don't contribute.
Not all legs are taken for the interesting routechoice alternatives – some are also taken because the map is interesting – or because it is not straightforward to see what to do on a certain leg. Any comments are welcome – especially if you ran the event chosen for todays leg!
Note that there may be some errors in the Routegadget data (sometimes somebody draws a route for another runner just for fun). Please add a comment below if you spot en error.